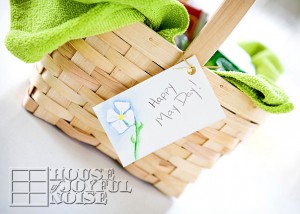 May Day is less than a week away. But if you really want to touch some hearts and make some older folks in your life feel so unforgotten, this is a wonderful thing to do with your children! It not only has the potential to teach them a bit of History, but it teaches them about kindness and compassion, as well. What's more, it couldn't be more fun and exciting!
PLANNING YOUR MAY DAY CONTAINERS
Planning, putting together, and secretly delivering May Day Baskets, is something we have done with our kids for the past 4 consecutive years, from 2008 – 2011. Every year, the number of our recipients has grown. It can be done as simply or as involved as you choose, depending on the time or expense you'd like to put into it. While the traditional May baskets years ago were simply filled with wild flowers, picked special just for the recipient, we have really tended to get into the ideas for our basket contents! (Cheap affordable baskets can be found at any low budget department stores, such as Wal*Mart, as well as places like the Christmas Tree Shoppes.) But you don't need to. The thought and fun behind it is not more or less, no matter what you give in the basket. It's what you give from your heart, to their's, that matters most.
So if just delivering a beautiful bunch of flowers is more the way you'd like to go, here are a couple of other simple container ideas I found on Pinterest: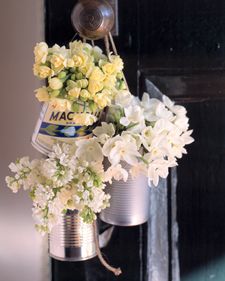 Most everyone has some cans in the house! Wash them out, get rid of any sharp edges, punch some holes in the side and thread with some lovely ribbon or rope for a handle, and fill with flowers! If you really want to dress it up, create a label of your own. Consider having your kids make some drawings, and glue them on!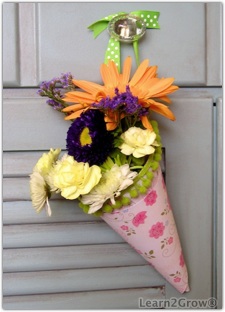 Another idea is the traditional way…..making a simply paper cone. There are beautiful scrap booking papers in any craft store that you can use. Add some pretty trim, a handle, and the flowers, and you have a beautiful May Day surprise!
Today, as we share photos from our baskets over the years throughout this post, we'd also like to share some other tips and ideas, in the hopes that you will be inspired to really make some older folks day! You must know how much the little things mean to them, and this big surprise they find on their doorstep or door handle will be something that talk about for a long time to come.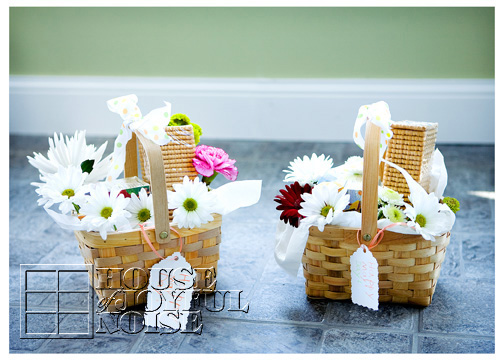 WHO WILL RECEIVE YOUR MAY DAY BASKETS?
May Day baskets were typically delivered to older folks years ago (on May Day of course), so this is a tradition they will well remember and appreciate. Think of what older folks are in your life, who your children might want to deliver to. Once you determine how many recipients you'll have, you'll know how many baskets (or other forms of containers) you'll need. Some people to consider:
Grandparents

Older Neighbors

Older Folks you know from Church

Other Friendly Acquaintances


Anyone you suspect could be lonely or need a smile.
Naturally, for doorstep delivery, you'll need to know where these folks live! Normally, the idea is for the children to sneak up to the door, hang the basket on the doorknob (or place on the porch where the recipient will see it when they open the door), ring the doorbell, and run like the dickens!! With any luck, they'll get away without being seen, and the recipient will only find a lovely basket of flowers and/or goodies.
BUT, another very thoughtful idea is to deliver them in person, to random folks in a nursing home. Many older folks feel quite forgotten at such homes, with few visitors. Just seeing your children's faces will feel like such a blessing to them. Getting flowers and/or other goodies will do their hearts so good. (And yours too!). This is a great alternative if May Day turns out to be rainy too. Consider calling a home to let them know you are coming ahead of time, and ask them to put together (your number) of recipients who do not have loved ones to visit them.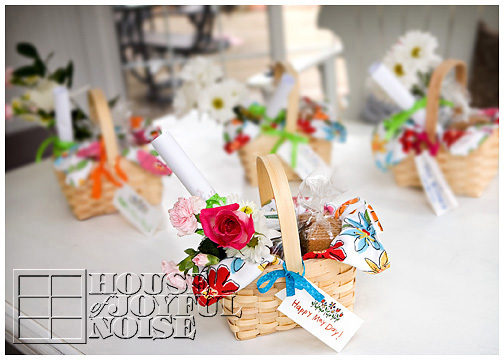 MAY DAY BASKET CONTENTS
If you've decided to fill your baskets with goodies beyond wild flowers, here are some content ideas we have used over the years:
A Tea Bag Variety

Hard Candy (Consider sugar-free for possible diabetics)

Baked Goods from your own kitchen (Mini loves, muffins, cookies, cupcakes)

Pocket Tissue Packets

Prayer Cards

Small Short & Uplifting Story Books

Cross Word Puzzle Books

Tea Biscuits

Flowers

A scroll explaining the tradition of May Day Basket Delivery (A great time to educate the kids about this tradition)
Basically, anything that fits in the basket! What creative ideas can you and your kids come up with?
Lining your baskets before filling, is another option. You can use tissue paper, an open napkin, a cloth napkin, or even a new kitchen dish towel, which is a gift in itself!
BASKET TAGS
It's nice to have a tag attached, that wishes them HAPPY MAY DAY! That tends to remove any confusion of why the basket was left. They will realize it is May 1st soon enough, and put it all together. (And them SMILE, no doubt!) Whether you sign your tag or not is up to you. Sometimes there is concern that the recipients will be frightened, or be afraid to eat the contents. So if that is a real concern, you can sign them. But the real fun is to let it be a mystery! It's also a wonderful lesson for your children, that we can do kind things for others, and not need to get credit.
Here is a free printable tag I made one year, that I am happy to share with you: MAY DAY BASKET TAGS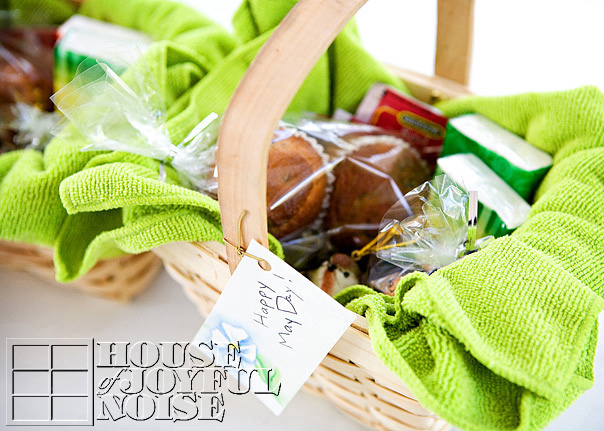 PLANNING DELIVERIES
This year (2012), May Day falls on a (this) Tuesday. Since we homeschool, we have always rearranged our school work for the day, and made our deliveries in the morning, usually between 9:00-11:00 a.m. But if your kids are in school, evening delivery is just as acceptable!
Before leaving home, plan out your delivery route, according to where your recipients live. Knowing the order of stops ahead of time makes for smoother deliveries.
Also important is to plan ahead WHO will be running up to which doors, and running. We have 4 kids. So rather than they all go up to each door, risking injury and getting caught, by tripping over each other, they decided among themselves who would do which homes. This saved any arguing about the matter in the vehicle too, which could really suck the fun out of it all!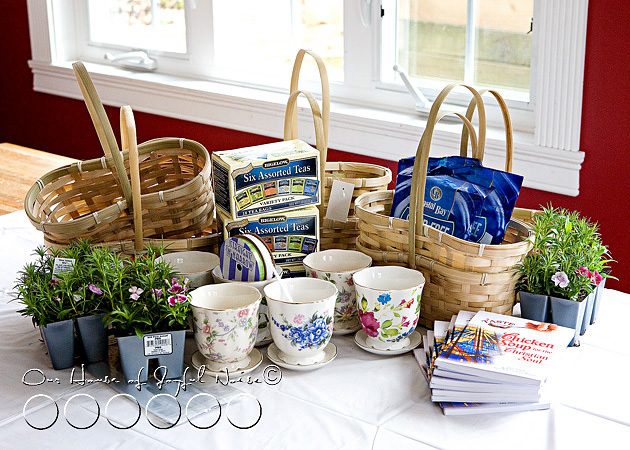 I especially loved one idea we had last year: Making little flowering window sill tea cup plants. Along with some perfect size Chicken Soup for the Soul books! The above photo is all of the basket contents, pre-assembly. The photo below is them all together.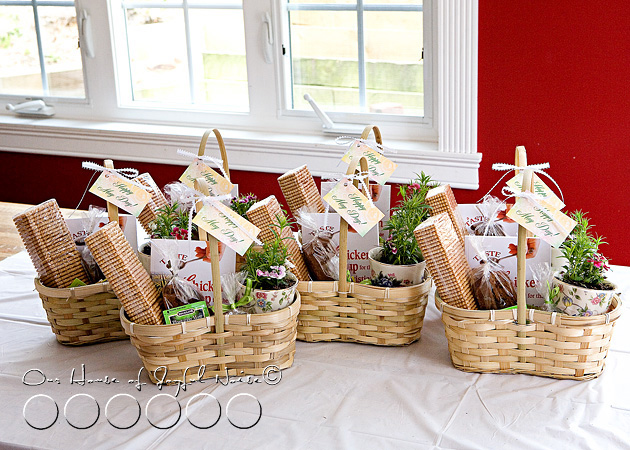 Naturally, every year around May Day, I have taken lots of photos, from basket assembling, to the secret deliveries themselves. Going through those posts always make me smile. Especially when the kids were so little! So if you care to, you are free to visit the previous years blog post links, and hopefully dig up some more inspiration, to deliver some love, yourselves.
Following May Day last year, we decided it was likely our last year of planning and delivering May Day Baskets. Reason being, 1) the kids are getting a little too old (and big! for this particular serving in secret, and 2) after 4 years, we're not such a secret anymore! When you start getting thank you cards in the mail, you know they've finally figured you out! ; ) But, the lessons have been good for our children, and there is nothing better than the feel-good-feeling, of giving in secret! Our hearts are always open to new ideas and ways in which we can serve others, as God calls us all to do. The possibilities are endless, and there are always daily opportunities in our lives, and yours.
Acts 20:35
"In everything I showed you that by working hard in this manner you must help the weak and remember the words of the Lord Jesus, that He Himself said, 'It is more blessed to give than to receive.'"
Matthew 25:40
"And the King will answer and say to them, 'Truly I say to you, to the extent that you did it to one of these brothers of Mine, even the least of them, you did it to Me.'
Save
Save
Save
Save