The kids and I enjoyed a very interesting visit to a nearby honey bee farm, on quite a beautiful day of this spring. We couldn't have asked for nicer weather that day! It was sunny and awesome. We invited some friends to come along with us, as a little educational homeschooling field trip.
* We are/I am . . . sharing all kinds of things we learned about beekeeping in this post.
But YO, DISCLAIMER!: We've been trying to remember all of the great information we were taking in by ear that day, as accurately as possible, and did a little research here and there, too. But no guarantees we got it all exactly right in this post! We're just new beekeeping-learners, chatting with you, here.
So, having very local, raw and organic honey in our house is a must for us, at all times. We not only enjoy it immensely as a sweetener in tea, on oatmeal, toast or waffles, and in many recipes, but teaspoon a day goes a long way with helping fight the symptoms of some our environmental allergies! Not to mention the numerous other health benefits, that consuming organic honey provides. And seriously, this natural medicine could not be any sweeter, or delicious! So we've been buying honey locally for a few years now.
But this spring, I found an even closer source, right down the road! It is one of the locations of Bee Well Honey, in Sagamore Beach (MA). They have a very convenient road side stand there, where we can pick up more honey any time at all! After learning of them and picking up a big jar of honey, I reached out to them via messaging their Facebook Page, and asked if they would be interested in doing a field trip for us, and teaching us what they could, about beekeeping. We were thrilled that they responded they were, so the communications and plans to arrange it, went from there.
We thought we'd share with you some photos, and a bit about it. While we can't relay all we learned to you that day here in this post, we hope it inspires you to want to learn more yourself, about how honey bees play such a crucial part in environment, and in all of our lives! Without them, we'd all be in a world of trouble. And maybe, you'll even feel inspired to find a honey bee farm in your own local visit, and arrange a visit for yourselves.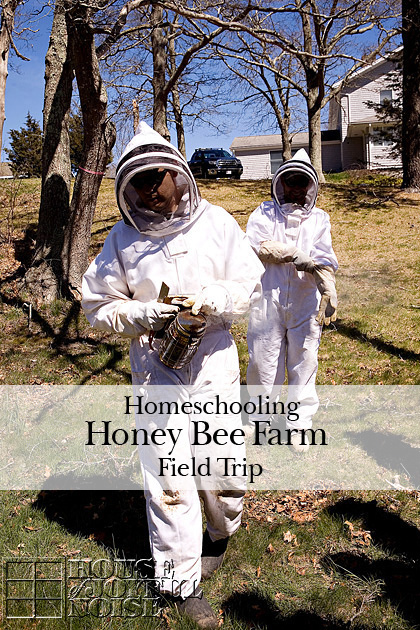 The beekeepers, Rich and Aaron. One lives here on this property, with his family, where there are some beehives. The other lives at another beekeeping location, in a nearby town, where the processing of the honey is also done. However, they have beehives set up all over the south shore, which they manage. And the system as a whole balances and benefits us and our environment, in countless ways.
[Read more…]