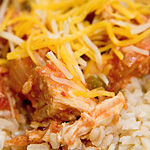 I'm about to rave about this meal, and I have countless reasons why.  It's been a favorite of our family's for quite some time now.  We all really love it.  When we have a very busy scheduled day, this is most always what I plan for supper, because it's that easy and fast, to prep any of it.  Like, ridiculous. Especially for the amazingly delicious meal that it is.  It can actually be made and ready in 2 to 2-1/2 hours cooked on high, if you'd like. Or, you can let it slow cook all day. Either way, it's super quick, easy prep-work, and pretty much ready to eat when you are.
Here's a few other reason why I love it:  You don't have to handle raw chicken at all!  I don't know about you, but I'm just not particularly fond of touching raw chicken.  I will, and I'm not real freaked out. But I'd rather not if I don't have to. And with this meal, I don't have to!  It  is sooooooo good, and it's so healthy too!
It has 4 out of the 5 food groups in my book:  protein, vegetables, grain, and dairy.
You need a slow cooker of some kind. So I hope you have one.
This is the slow cooker we have. It's a GE 6 Qt. Digital Slow Cooker, and I LOVE it. It holds enough to cook at least 2+ full meals for our family of 6.
The container lifts right out of the heating element, to be put on the table, and it's super easy to clean as well.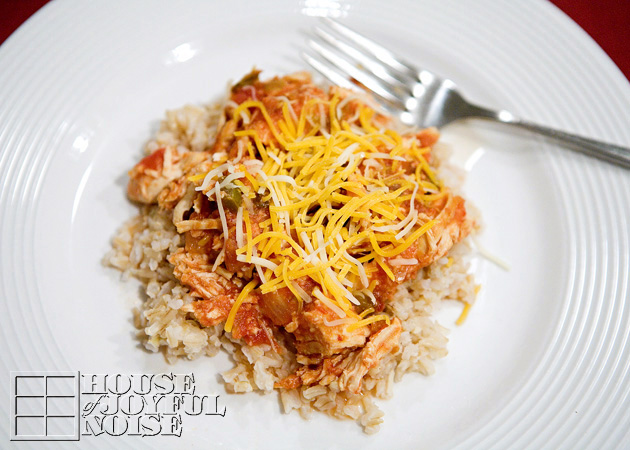 So many different bursting flavors, with every bite.
Let me show you how easy this is to make.   Even the ingredients are minimal.


Chicken breasts, a jar of salsa, brown rice, and shredded cheese.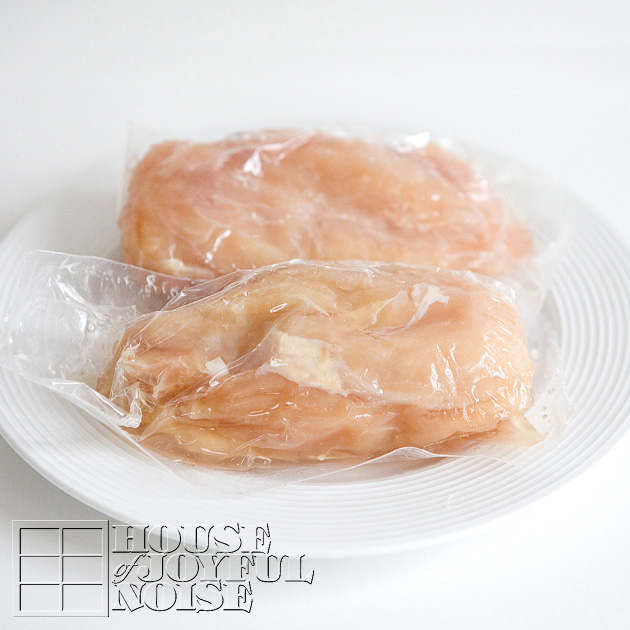 The pre-packaged chicken is our trick.  There are 2 breasts in each wrapper. Just cut open the end of each package with scissors, drain the excess water, and dump the chicken into the slow cooker pot. We make up to 8 breasts at a time, for a batch that last for at least 2 family (of 6) meals, and usually more still left over. The 2 breasts in each wrapper are sometimes attached to each other, so I just use a fork and make sure they are all open and spread well in the pot.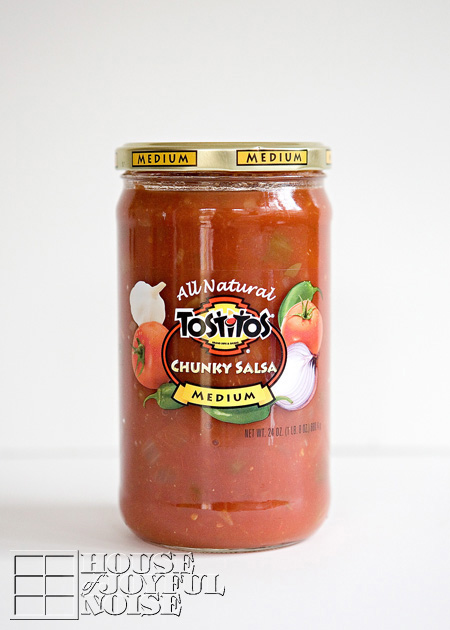 Then you just cover all of the chicken in salsa!
Now, just because I have my little ways of doing things, I actually put a little layer of salsa all over the bottom of the pot first, put in the chicken, and then pour the rest of the salsa over the top.
But that's it!
Then I set the slow cooker.  I can set it to low, and let it cook for 5-6 hours or whatever. Or if it's a last minute idea, the chicken will pretty much cook in 2 or 2-1/2 hours on high.
Now here's an extra step that I personally do, because I want the chicken as flavorful as possible:  As soon as all of the chicken is cooked (it is so tender, it's crazy), I take each cooked breast out at a time, cut it into chunks on a plate, and scrape it back in the pot.  Repeating for each breast until it's all cut up.  Leaving it all simmering in there with the salsa just adds that much more tastiness.
We like to have this chicken and salsa over brown rice. (It's healthier than white. We're all about whole grains around here.) So here's another speedy trick  . . .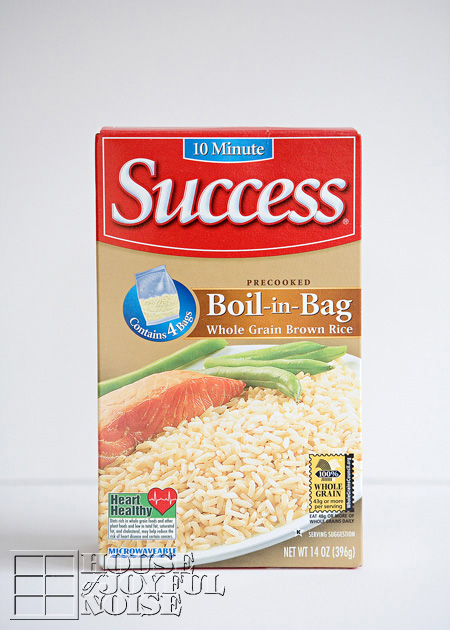 Boil-in-Bag Brown Rice, in 10 minutes. No measuring!  We need 2 bags.
But gosh….could it be any easier? Take the bags of cooked rice out of the water, let drain for a sec, snip off the top, and dump it in a bowl. Done!

At the table, we each just sprinkle some cheese on top.  Because it's just all so good together.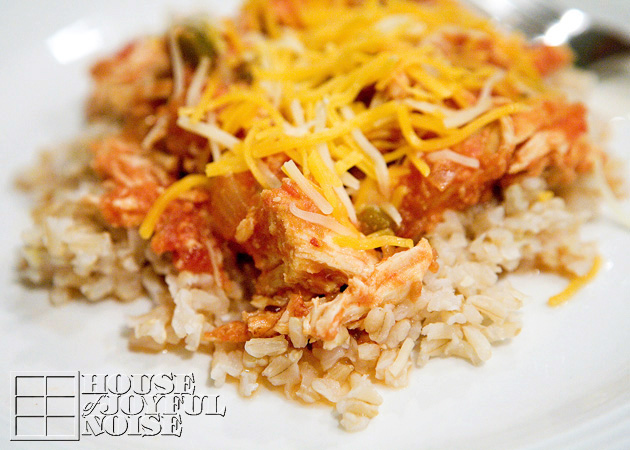 The chicken comes out so unbelievably tender, and so tasty with the salsa juices and bits of salsa vegetables. It's perfect on top brown rice.
And the sprinkle of cheese on top makes a fabulous meal, even better.
I never really feel like I put any time worth mentioning, into making supper, when I make this meal.
And yet, we're all around the table eating delicious food together, and talking about how good it is.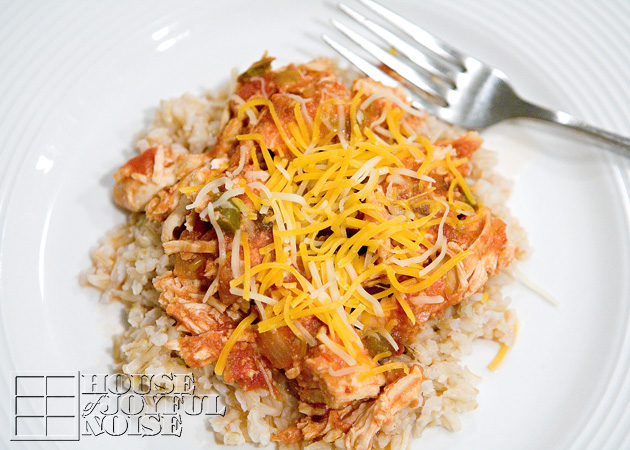 Try it on your family, and let us know what the reviews are.
We'll be surprised if you all don't love it too.
* * * * * *
Please come follow me here and there: