Happy Groundhog Day!
First of all, we have been meaning to express our appreciation for the commenting that's been happening here at our blog, FINALLY!!  Who knew a little whining could go such a long way??  I mean, it doesn't work for our kids, so we've been a little surprised. lol.  All we know is that we are having a lot more fun, sharing bits and pieces of our crazy fun life on our blog here, and getting to chat a little bit with all of you who come to 'visit' us.  You all have had so much to share with us, with your own  creative ideas, witty humor and kind, encouraging words.  We love it!! So a heartfelt thanks to you all!
Today we thought we would actually share our day, on the same day it all happened. That usually doesn't happen, because I have too many photos to go through and edit, which takes time, and just blogging it takes another chunk of time.   But it's nothing a little work-hooky can't fix. lol.  I was at my computer by late afternoon, as I needed to be. But just not doing what I was supposed to be doing.  But it's been a fun day we were looking forward to blogging about.
The kids got all of their 'book and written' school work done lickity-split today, knowing we had Groundhog Fun on the agenda!  First, we got to searching on the computer,  if Punxsutawney Phil in Pennsylvania there, saw his shadow or not.  As you all know by now, NATURALLY he DID. It's hard to remember a year when he didn't, but it seems it has happened twice in the lifetime of our oldest child's life, in 1999, and 2007. (Does anyone remember if we actually DID get an early spring??)   But it's been a great winter, so Phil's shadow wasn't going to ruin OUR day!  Besides, we have our wood stove!  lol. So we then read a little of the history of Groundhog Day, which like every holiday, has much more to it than people in general realize (or care to know, in some cases, I suppose. lol)  But we can tell you that the groundhog tradition stems from similar beliefs associated with Candlemas Day, and the days of early Christians in Europe.   For centuries the custom was to have the clergy bless candles and distribute them to the people. Even then, it marked a milestone in the winter and the weather that day was important.
As the old English song goes:
If Candlemas be fair and bright,
Come, Winter, have another flight;
If Candlemas brings clouds and rain,
Go Winter, and come not again.
Today, February 2nd, also marks the Feast of the Presentation of Our Lord.
Next the kids colored Groundhog coloring pages, while we got some groundhog puppets started to use outdoors.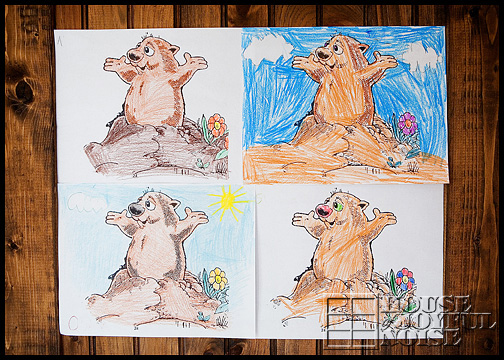 And then we got outdoors.  It was SUCH a beautifully warm and sunny day for our antics in the street, that it was easy to accept the whole '6 more weeks of winter' thing.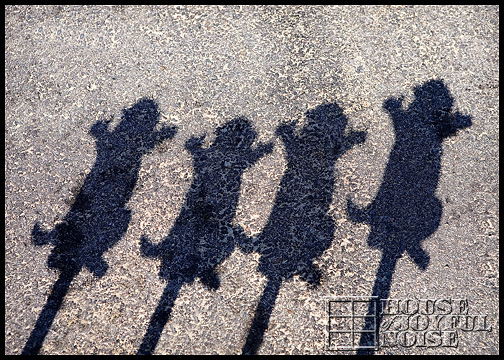 We know how easily we can fool you….So we will fess up;  Those aren't real groundhog quadruplets. lol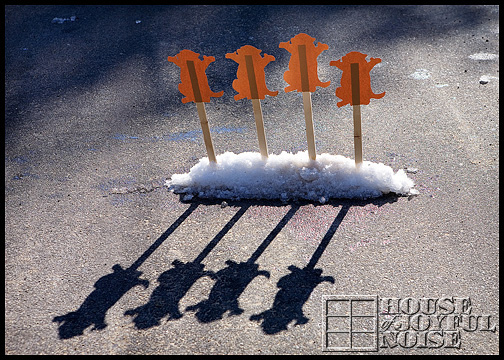 Then the kids (and Kid-Daddy)  paired up, and made shadow poses in the street.  One created a shadow pose on the street,  and their partner had to copy it as exactly as they could.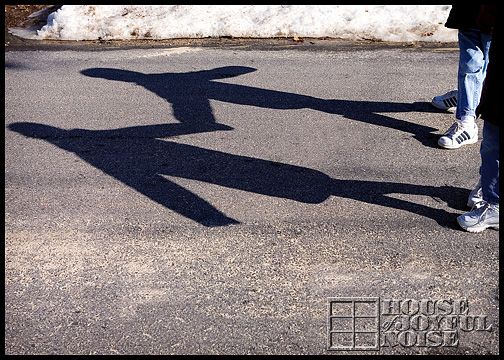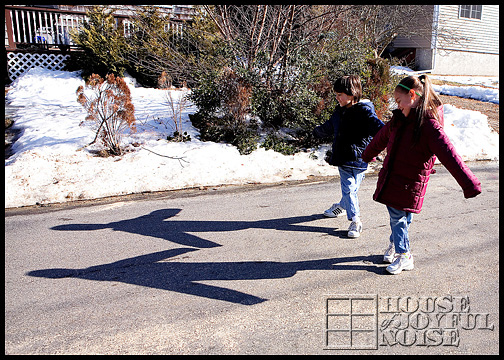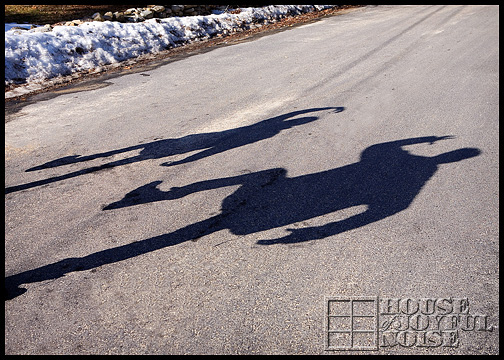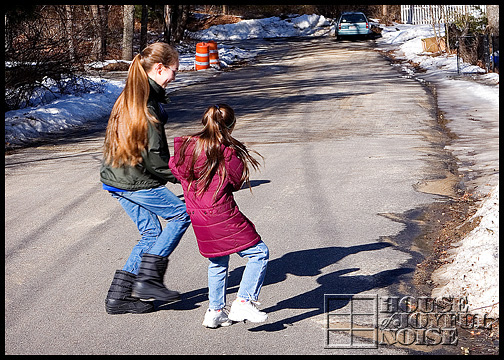 Then they chased each other's shadows, and tried to step on someone else's….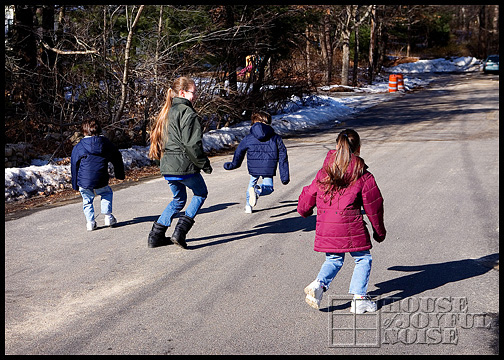 …and would you believe, NO ONE wiped out on the sand?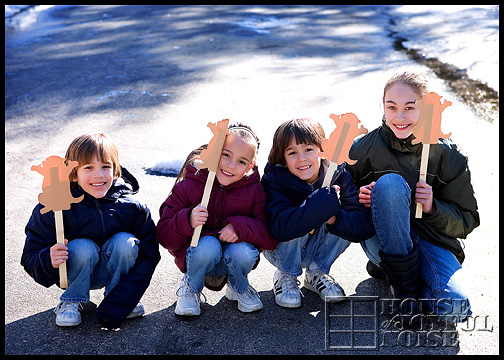 Our Little Shadow Fools, and their groundhog shadow puppets.
We soon came in, made and ate lunch, and read this poem.
And THEN made and ate…..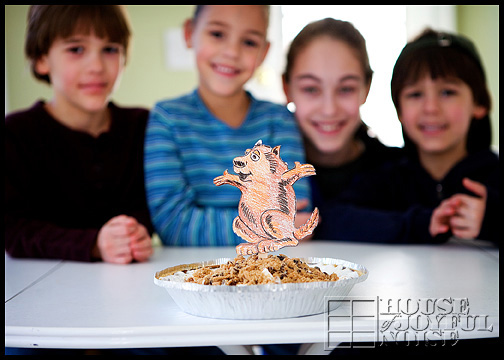 ….Groundhog Pie!!!
(Made with chocolate pudding in a graham cracker crust shell, pushed up to a little mound, with crumbled Chips Ahoy on top for 'dirt', surrounded by some Reddi Whip for snow (melting near our wood stove…lol) and of course…..the Groundhog himself, drawn and colored by Daddy, and taped to a popsicle stick!)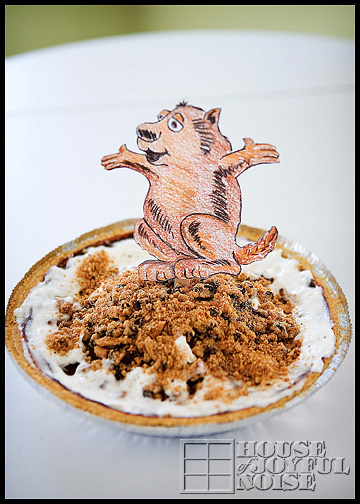 We hope you had some time to act like fools yourselves today!!  It's such a silly day, we might as well!
Save
Save
Save