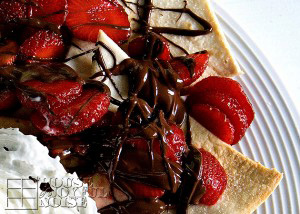 If you love chocolate covered strawberries, this unique treat might be just for you.  I really do love them, but I also enjoy things that have CrUnCh!   So a few weeks ago, when I just so happened to have picked an abundance of fresh strawberries from our (garden bed) the day before, I stumbled across this very unique recipe treat from Our Best Bites.  The recipe was fresh strawberries, drizzled with dark melted chocolate (chips), over some cinnamon tortilla chips she had previously made.   Now, to me personally, eating cinnamon with chocolate and strawberries did not sound appealing.  But the idea of dessert nachos did! And besides, it's not all about me. We've got a crew to feed around here, and I was sure my husband and kiddos would be amused if I surprised them with dessert nachos! So I decided to try the recipe, minus the cinnamon.
We had all of the ingredients I needed, except for the tortillas, which I asked my husband to pick up on the way home. Although I did tell him to get the small ones, because they be so much easier to cut into chips, pizza-style, he got the great big ones. So, I cut them as I had planned anyway, and they just came out as much bigger chips.
It's a simple recipe. So here's what you do . . . . .
Strawberries Prep:  Wash, drain, cull and slice.  Then I put them in a bowl, added just a little white sugar, and gave it a quick mix.
 Preheat Oven: 350 °
Baked Tortilla Chips:  Melt butter, and brush on both sides of tortillas. Sprinkle-dust sugar all over the top side. Cut the tortillas, pizza-style.  Arrange the tortillas triangles on cookie sheet(s), and bake for 10-12 minutes, or until they start to brown and the edges start to curl some.  When they seem done, remove from oven and let cool.
Arrange: tortilla chips over a large plate or platter, just prior to eating.
Melted Chocolate: We strictly use Hershey's Chocolate Chips, because they are safe for our peanut-allergy son.  But Our Best Bites seemed to use some good high quality dark chocolate chips, and that's an option too. Pour an adequate amount of chips in a microwave-safe bowl.  Microwave on high for 30 seconds or less the first time. Give it a good stir. *Tip: I always stir chocolate with the butt end of a wooden spoon, because silverware can alter the temperature of the chocolate. You will likely need to microwave the chocolate for 10-15 second intervals, and stirring after each time, until all of the chocolate is melted and smooth looking.
Spoon: Strawberries all over the sugared chips.  Then with the spoon, drizzle the chocolate all over the strawberries.  Add whip cream if desired.
Our Best Bites had much better visual presentation than I did. But ask my family if they cared.
NOT.
So there you have Fresh Strawberries and Chocolate Nachos . . . . .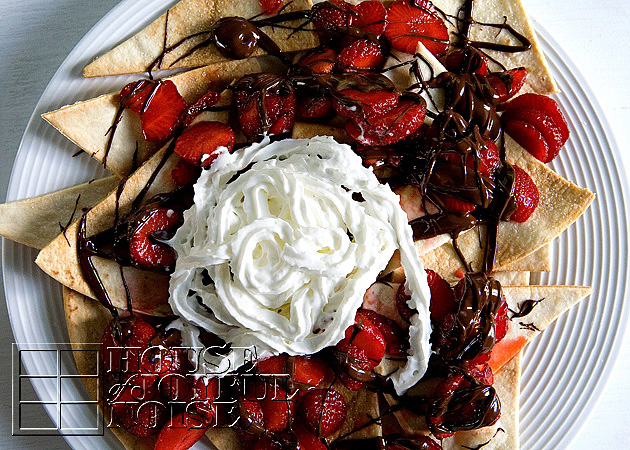 Share & Enjoy!