Granola Goodness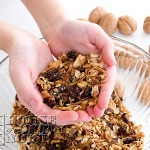 :
House of Joyful Noise blog
4C rolled oats
1½ C shredded unsweetened coconut
1 C wheat germ
½ C natural bran (We used Fiber One cereal.)
2 C raisins
½ C cooking oil
½ C honey
½ tsp. vanilla
(*Chopped nuts optional. We have a kiddo allergic.)
Preheat oven to 350 degrees.
Combine dry ingredients in a large bowl.
In a small saucepan, combine oil and honey.
Stir over low heat until the honey is melted and it's warm and blended with the oil enough. (About 5 minutes.)
Stir in vanilla.
Pour oil mixture over dry ingredients, little by little, mixing to blend well.
Spread mixture on two cookie sheets, and bake for for 15-20 minutes until lightly browned, stirring and flipping mixture over about half way through time.
Let cool completely.
Store in an airtight container. Makes about 12+ cups!
Recipe by at https://houseofjoyfulnoise.com/granola-goodness-recipe/