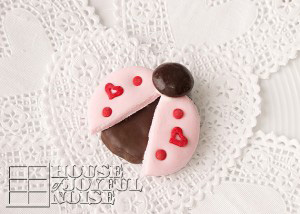 These adorable Ladybug Cookies I came up with, come right in time for Valentine's Day, and I promise you, they couldn't be easier to make! (There's not even baking involved!) I think you are going to love what they are made with, too!  (You know…besides LOVE.)  I'm talking ingredients.  These cookies are also a sweet idea for a little girl's birthday party, or to send in with your kids to school, to share with their class.  You'll look so clever. (You don't have to tell a soul it was my idea. ; )
Does the word fondant scare you?  Ever heard of the stuff? I know it makes more than a few nervous. But it can actually be a LOT of fun to play with! (Think Play Dough. ; )  Truth be told, in this recipe, we did make and dye our own marshmallow fondant, simply because we knew how, and we think it tastes a little better than store bought. But you don't have to!  Rolled and ready fondant is available in craft and baking supply stores, and even comes in colors! I know Wilton sells ready-made fondant, but I heard a brand called Satin Ice, tastes better. I see that the Satin Ice brand is available to order online. I've seen it in a container so you probably roll that out yourself. I have not tried it yet, but I will.  But if you'd like to learn how to make your own marshmallow fondant like we did, we have a tutorial coming up on that.  For today, we're just going to show you how simple it is to put together these cookies, with some light pink fondant all ready to go!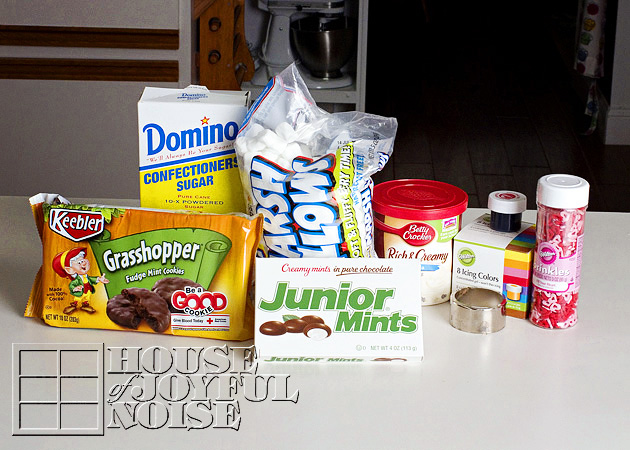 Participating Ingredients: 
Keebler Grasshopper Fudge Mint Cookies *(peanut safe)

Junior Mints Candy (*peanut safe)

 Fondant – in light pink (rolled and ready)


Any kind of icing (for piping glue)

Sprinkles in Valentine shapes/colors (*peanut safety varies with brands)

Confectionery Sugar

(Mini marshmallows and color dye seen are for making your own fondant, if you are.)
* One of our boys has a serious peanut allergy, so we are always checking ingredients carefully, for his safety.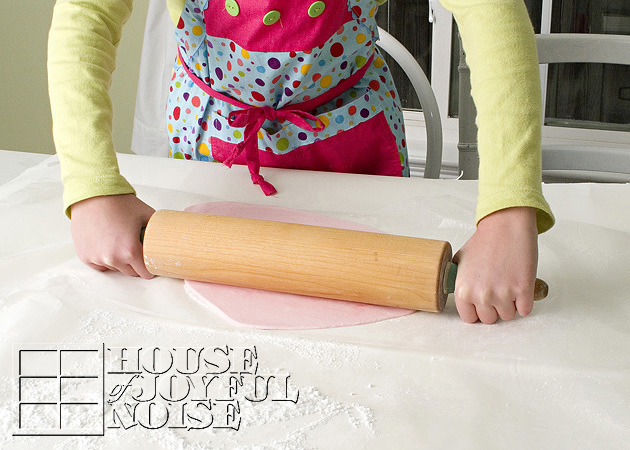 We rolled out our fondant on wax paper and a little dusting of confectionery sugar, making sure to roll it thin and even.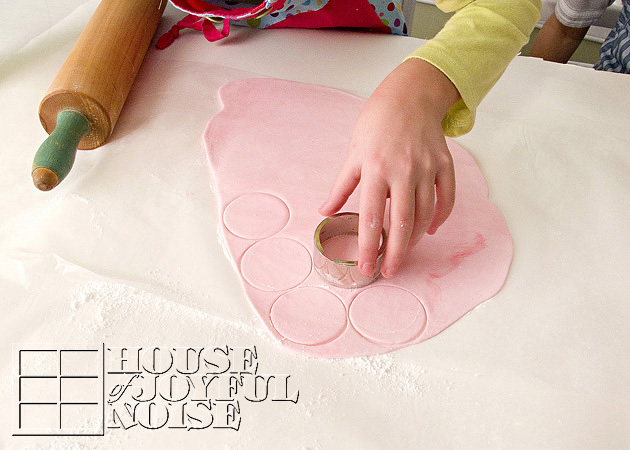 Next, we cut circles out of the fondant.  These will be the wings.  We started with this small cookie cutter, but it turned out to be a little bigger than we wanted the circles to be, as the cookies were smaller than this.  It was the smallest actual circle cookie cutter we had, so we needed to improvise. And so the search began throughout the house, to find something that will cut the circles smaller.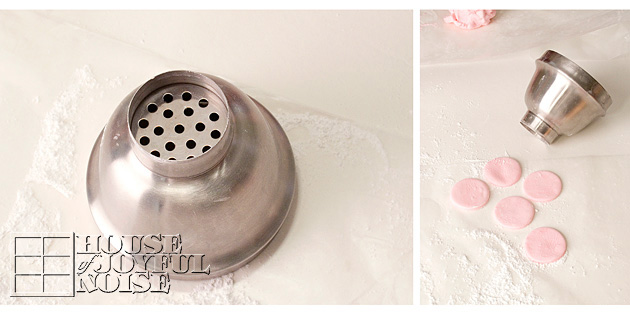 Phew!  Good think we have a drink now and then! ; )  This shaker/mixer top turned out to be just right!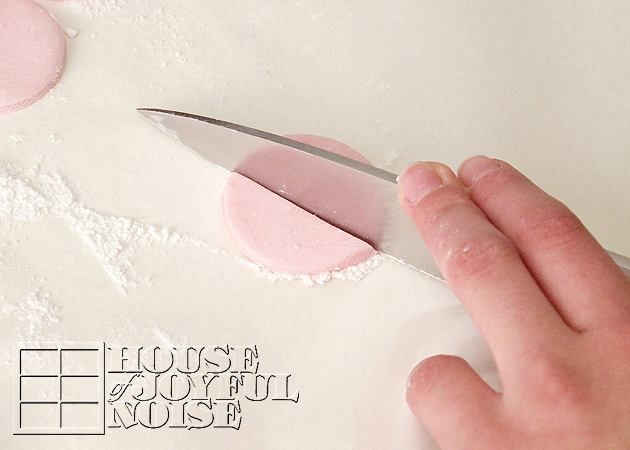 Cut the circles in half, and the wings are done!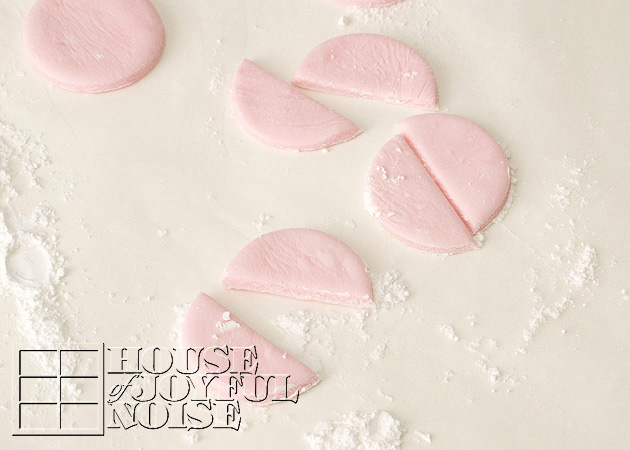 I told you! Easy, right? 
It's mere assembly, from here on out, Friends.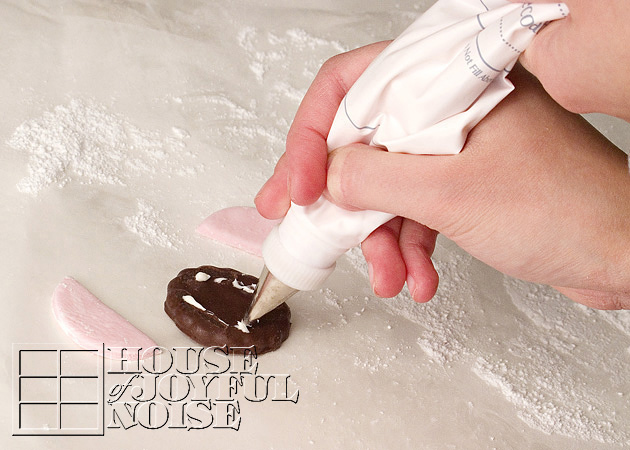 Put some of that icing in a piping bag, with the smallest tip, and just put a little on each side of the cookies.
(These cookies do tend to come a little stuck together in the packaging, so we made efforts to pipe on the messy sides, leaving the smoothest and nicest part of the cookie at the bottom, where it will show between the wings.)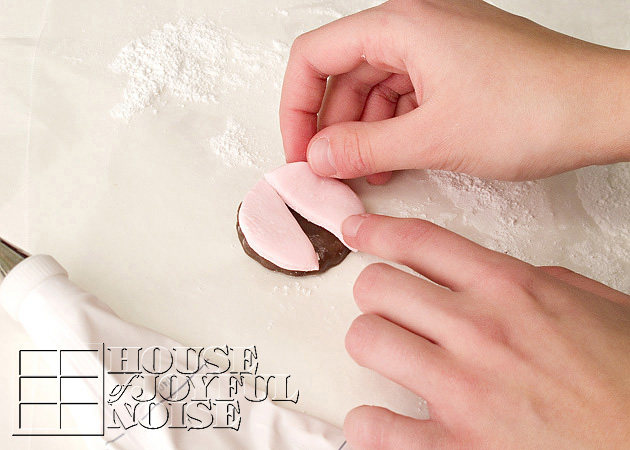 Put the wings on, as shown above. Like a ladybug's wings, slightly spread.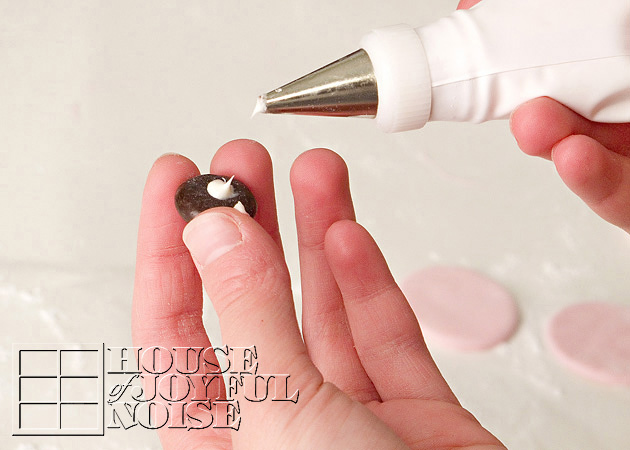 Pipe a little dab of icing on the back/flatter side of a Junior Mint candy…..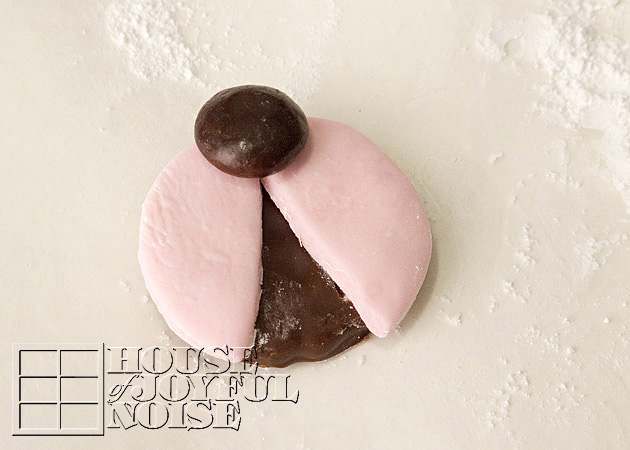 ….and stick on the head.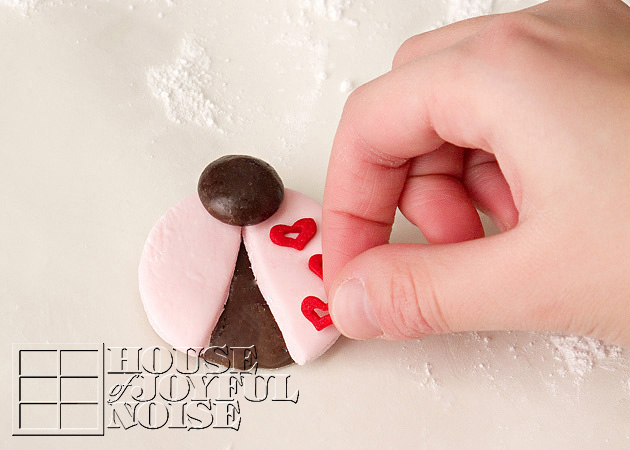 All that is left to do, is decorate the wings a little!  We tried to arrange them, like the dots usually on the wings of a ladybug, as we recalled.  You do want to be sure, that you press the decorative sprinkles down into the fondant.  You may even want to add a dab of water? (Didn't try that).  If the sprinkles aren't pressed down enough, they'll fall off when the fondant sets up more.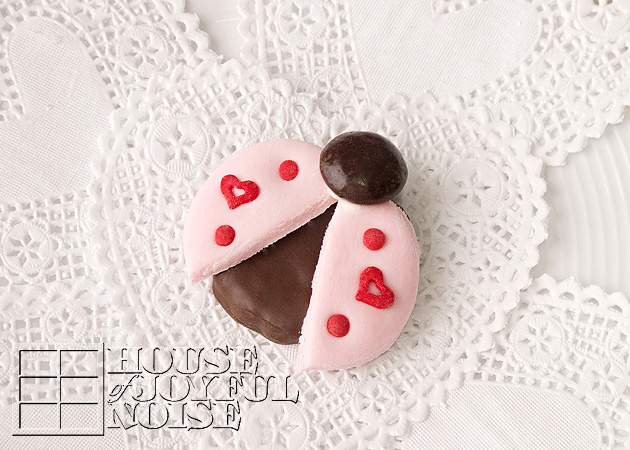 THAT'S IT!!  How CUTE are these?  How EASY are these?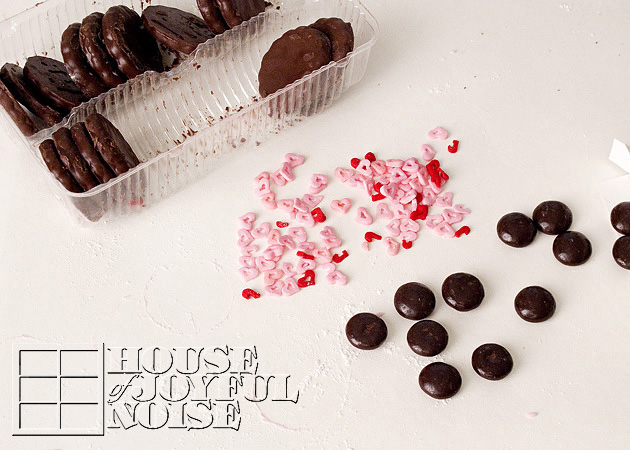 You can make a whole bunch, in no time at all.  And it's fun!

Our kids all got in on the action!  They were on their own (the three younger ones are 9 years old here.).  But even younger ones can put these cookies together with a little help!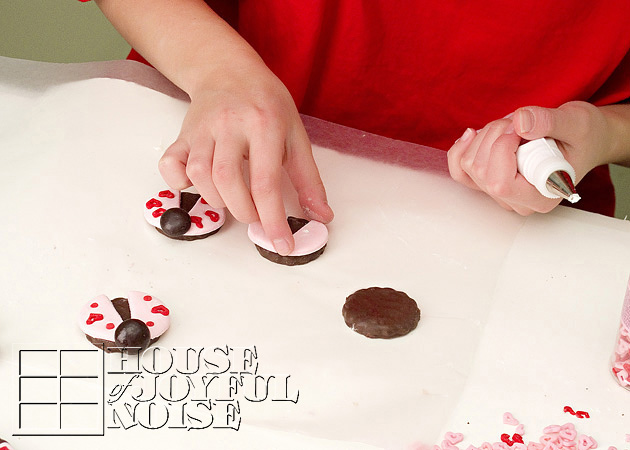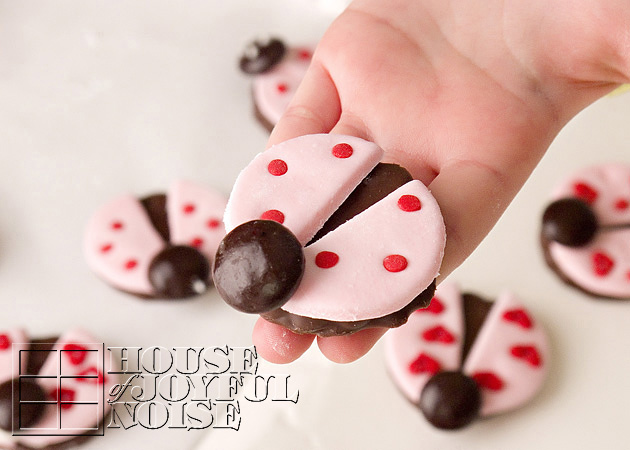 We used the red cots from Confetti Sprinkles too.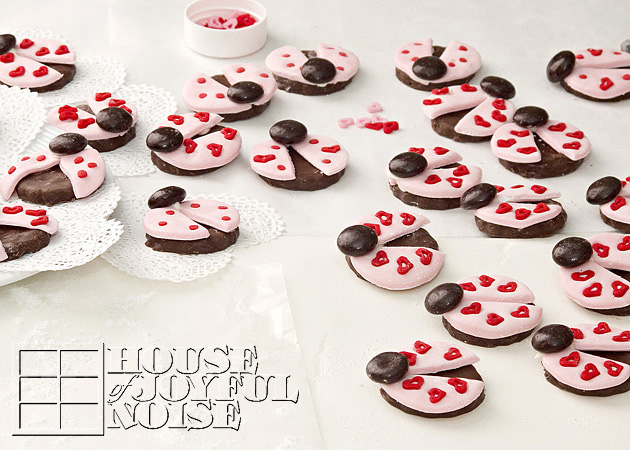 If you think about it, you could use some alternative ingredients, to make these cookies similarly as well. Oreo cookies could be cute. Dark brown M&M's can be used as heads. (They are not peanut safe, for us.) Use your imagination!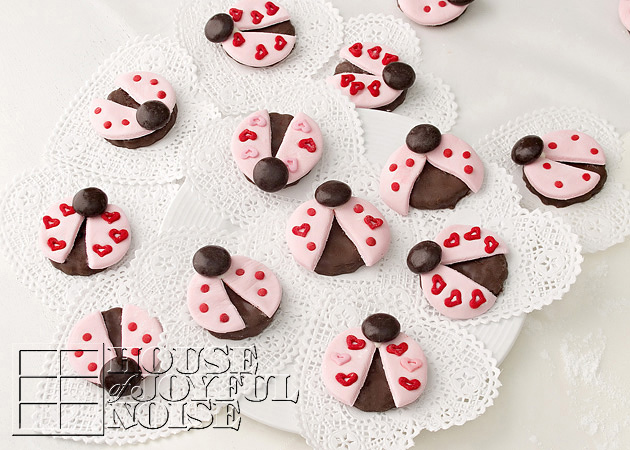 Just for fun, can you spot the ladybug, who's wings were cut too big?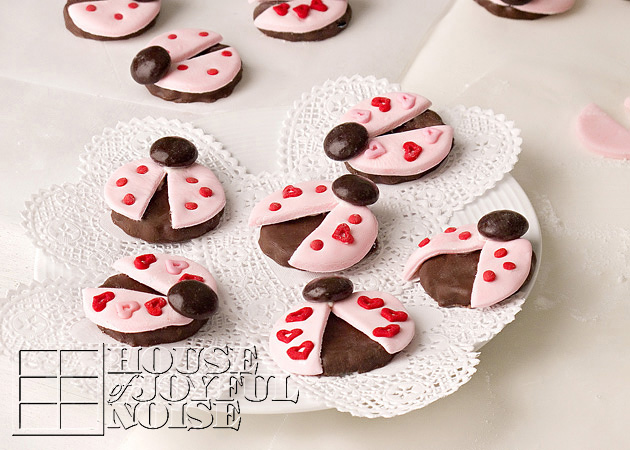 We hope you liked this cute little idea. Share it.  🙂  And thanks for stopping by the House!

Stay tuned, for more thoughts and shares on the way!  Valentine's Day related, and otherwise.

Save
Save