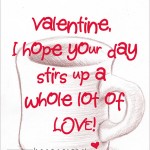 This is a free Valentine card printable, that I specifically designed to go with our Valentine Chocolate Covered Spoons, for our kids to give as Valentines to their friends. But, we are also offering it to you all, as a free printable!
First, here is what the Valentine looks like in detail:

(Minus the watermark….if you print out a sheet of them. Link at end. )
I mentioned I wanted to get back to enjoying some of my hand artwork, and so I did sketch the cup, in a chocolate brown colored pencil. It's been awhile, but I had fun doing it! I hope you like it.

This is what it could look like, given with a chocolate covered spoon, as a very unique Valentine: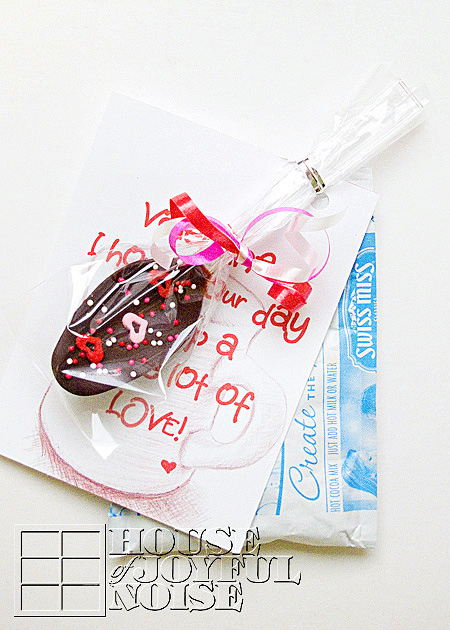 We chose to also add a pack of hot chocolate. That an option.
Here is how we simply attached it all together: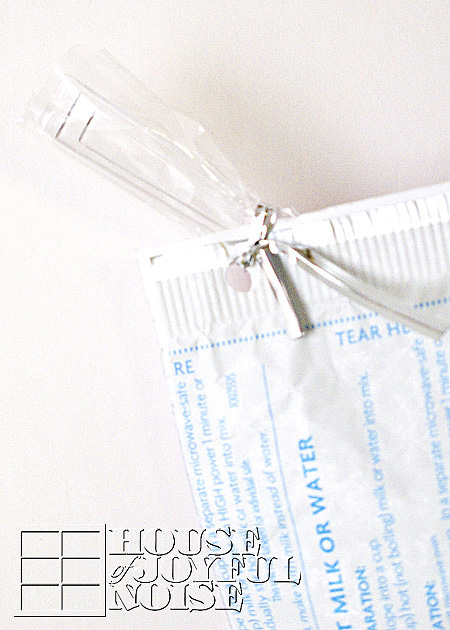 I apologize for the lousy photo. It was growing dark and I was having a hard time focusing. But you should get the idea with an explanation: A single hole punch towards the right side, through the sealed packet of cocoa if you are adding that too. Then using the pretty silver twist ties that came with the clean bags, we just twisted it around the spoon handle, arranging the spoon to be 'inside' the cup, visually. Easy! Cute!!
So if you'd like the free printable, 5 come on sheet. I would recommend printing on white card stock, instead of floppy printer paper. Just make as many sets of 5 as you need, and cut them into individuals! This below is not full size, but just to give you an idea of how they are arranged on a sheet: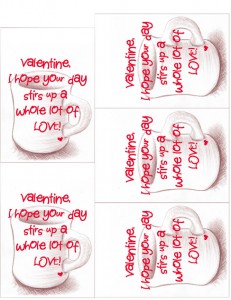 Each card is the same size as Swiss Miss Cocoa packets, if you'd like to bundle those with your spoons!
HERE is the printable as a full size PDF.
If you grabbed these valentine printables, consider it a little gift, and have a Happy Valentine's Day.
If you didn't, please have a Happy Valentine's Day, anyway!
Save
Save