The kids and I enjoyed a very interesting visit to a nearby honey bee farm, on quite a beautiful day of this spring. We couldn't have asked for nicer weather that day! It was sunny and awesome. We invited some friends to come along with us, as a little educational homeschooling field trip.
* We are/I am . . . sharing all kinds of things we learned about beekeeping in this post.
But YO, DISCLAIMER!: We've been trying to remember all of the great information we were taking in by ear that day, as accurately as possible, and did a little research here and there, too. But no guarantees we got it all exactly right in this post! We're just new beekeeping-learners, chatting with you, here.
So, having very local, raw and organic honey in our house is a must for us, at all times. We not only enjoy it immensely as a sweetener in tea, on oatmeal, toast or waffles, and in many recipes, but teaspoon a day goes a long way with helping fight the symptoms of some our environmental allergies! Not to mention the numerous other health benefits, that consuming organic honey provides. And seriously, this natural medicine could not be any sweeter, or delicious! So we've been buying honey locally for a few years now.
But this spring, I found an even closer source, right down the road! It is one of the locations of Bee Well Honey, in Sagamore Beach (MA). They have a very convenient road side stand there, where we can pick up more honey any time at all! After learning of them and picking up a big jar of honey, I reached out to them via messaging their Facebook Page, and asked if they would be interested in doing a field trip for us, and teaching us what they could, about beekeeping. We were thrilled that they responded they were, so the communications and plans to arrange it, went from there.
We thought we'd share with you some photos, and a bit about it. While we can't relay all we learned to you that day here in this post, we hope it inspires you to want to learn more yourself, about how honey bees play such a crucial part in environment, and in all of our lives! Without them, we'd all be in a world of trouble. And maybe, you'll even feel inspired to find a honey bee farm in your own local visit, and arrange a visit for yourselves.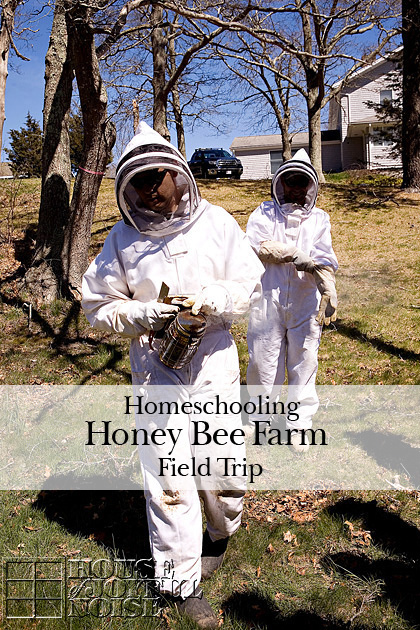 The beekeepers, Rich and Aaron. One lives here on this property, with his family, where there are some beehives. The other lives at another beekeeping location, in a nearby town, where the processing of the honey is also done. However, they have beehives set up all over the south shore, which they manage. And the system as a whole balances and benefits us and our environment, in countless ways.
–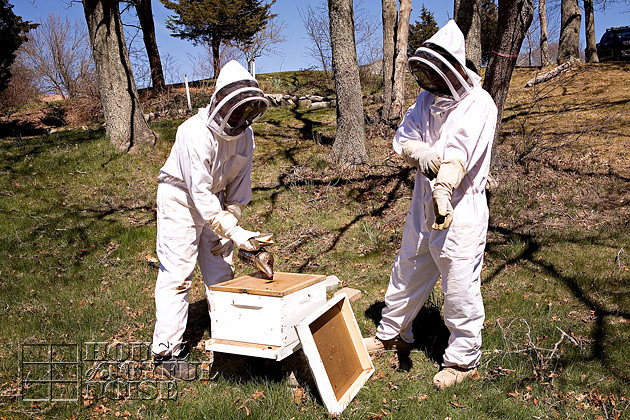 Here they are using a smoker, before inspecting this new hive of this season. They do this for two reasons:

Bees assume that the smoke means there is a fire nearby. So they start consuming (gorging, really) honey because they think they'll have to leave their home and find a new place to live. This makes them lethargic, and therefore very calm, much like us people after a large dinner. With the colony of bees in that state, it is easier and safer for the beekeepers to get in there and do what they need to do, without upsetting the bees, and potentially getting stung, many times.
Smoke masks bee pheromones. Honeybees rely heavily on pheromones to communicate throughout the hive. This is a substance they secrete through their glands. When bees think their hive is under attack, they release an alarm pheromone to alert other bees, which would put all of the bees into panic, and aggravate the whole hive. Smoke masks these pheromones and confuses the bees. This too, keeps the bees calmer, and allows the beekeepers to work in the hive.
–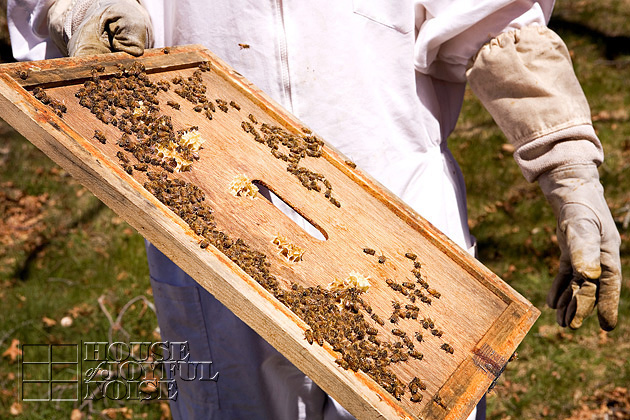 Here the beekeeper is just showing us some of the bees on the bottom-side of the hive cover.
–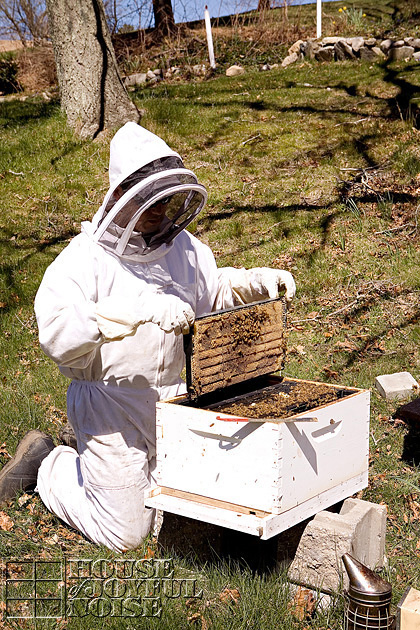 Pulling out the first frame of this hive.
–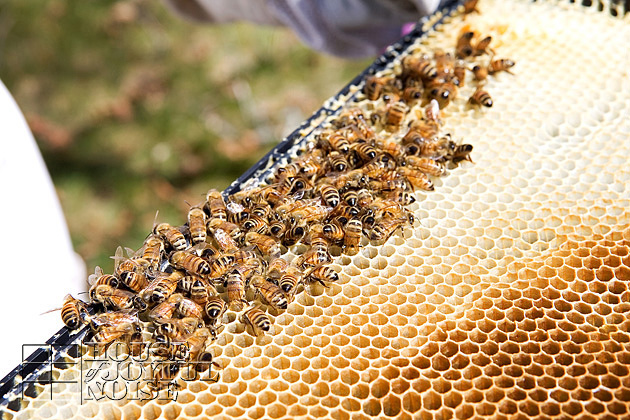 Here is a closer look, of the bees on the first side of the frame. It is fairly evident on both sides of the frame, that this is a new hive. More time is necessary, to really get a hive established, and honey is not harvested from a first-year hive.
–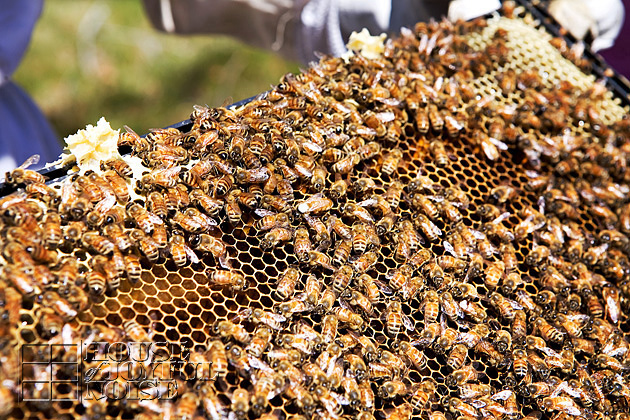 The flip side, is much more active.
There are many key things they look for, when inspecting a hive. One of them is the presence of the queen bee.
The queen bee of this hive was bought commercially, for this hive, and slowly integrated in with the rest. And she was marked to be more easily spotted among the other bees.
Can you find the queen bee in this photo?
–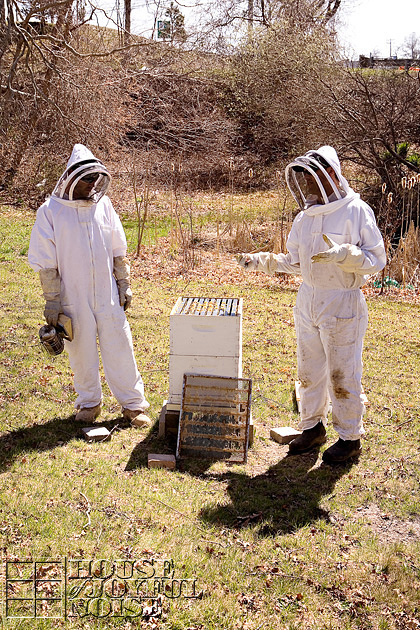 Moving on to a more established beehive for another inspection, the beekeepers continued to educate us, and answer all of our questions.
Did you know, that bees, and their abilities to transfer pollination, are directly responsible for the production of of 70% of fruits, vegetables, seeds and nuts, that we consume on a daily basis? Not to mention, that is $200 Billion Dollars, in Agricultural revenue.
Think about it. Without bees, entire food chains would be at risk. We'd have to depend mainly on wind-pollinated plants for our food source, such as corn, wheat, and rice. And . . . . we rely on bees for our cotton too! We don't know about you, but we like having a lot of our clothes! Are you a coffee lover? (*Raising hand and waving wildly!*) You probably guessed it; Coffee beans also need bees.
–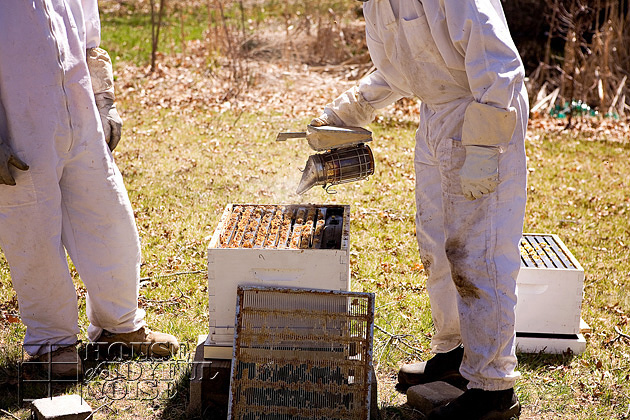 A little more smoke, to check out the lower half of this two-story hive.
–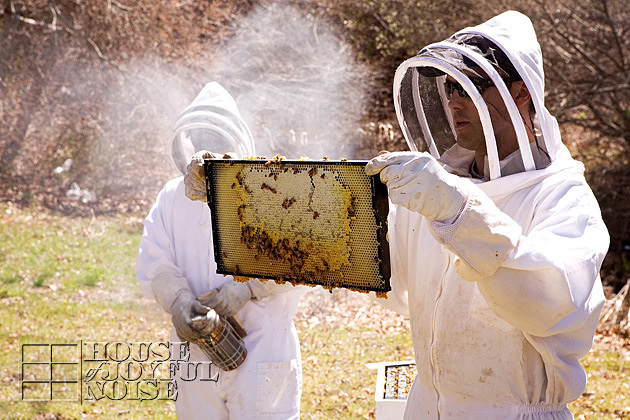 Again, as they inspect, they want to identify that a queen bee is still present, as she is vitally necessary for the success and stability of the hive. They also want to be sure she is laying eggs. They want to be sure there is ample sugar water, that shows the bees are bringing in plenty of food, and to draw out the honey comb, as well as capped off stores, and not too many drones. (If there are, they destroy some.). Also, they want to look out for disease, and any signs of swarming.
I was surprised to learn that honey worker bees leave the hive and can travel up to 5 miles, to collect pollinate, and to collect pollen and nectar.
We're far from bee experts, and can't even guarantee that all we shared with you today is 100% accurate. We were trying to just take it all in, and learn what we could. We heard about so much more, such as the specific jobs of the male and female bees, and all of their stages of contribution to the colony, in their short lives!
–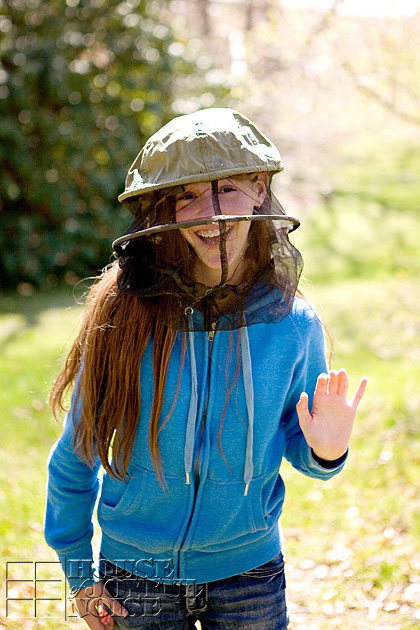 Not only do we love to support small local businesses, but we also are fond of family businesses, that have been passed down through generations! One of the beekeepers, Rich, learned about beekeeping from his grandfather, who was came over from Poland, as a beekeeper. He then taught much to his friend, Aaron, and so, they kept the family business going. The head-piece our daughter is wearing in this photo is an antique beekeeping veil, that was once the grandfather's, of course.
–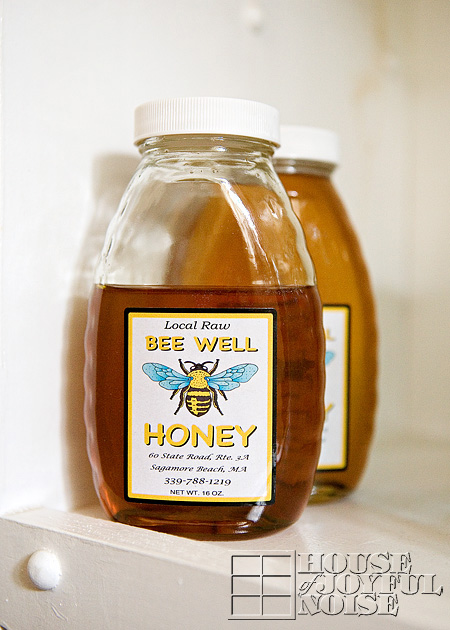 We certainly couldn't leave without buying more organic honey! And we'll be going back for more, and more!
–
We've only just begun to understand the fascinating life cycle of bees. One thing we know for sure, is how very important honey bees are, to all of us!
We encourage you and your family to do your part, in helping Save the Honey Bees!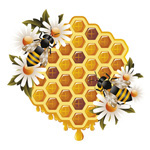 Here are 5 things you can do to help SAVE THE HONEY BEES!:
1. Add your name to the petition urging the EPA and USDA to ban neonicotinoids, a widely used class of agricultural pesticides that is highly toxic to bees and believed to play a crucial role in colony collapse disorder. Europe has succeeded in banning neonicotinoids and we need to act together, and do the same!
2. Let dandelions and clover grow in your yard. Dandelions and clover are two of the bees' favorite foods – they provide tons of nourishment and pollen for our pollinators to make honey and to feed their young. As you know, they are pretty easy to grow! 😉
3. Don't use commercial pesticides, herbicides and fertilizers! These are toxic chemicals, and are not only harmful to bees, but us and our families as well. They contaminate our soil, where we grow our food, as well as our water supply. Even green grass isn't worth that!
4. Plant bee-friendly flowers. Flowers add so much beauty to our yards and gardens!! But you'd be wise, and so helpful to bees, to do a little research, and learn which flowers support our bees! Native plants are great, and even wild flowers planted from seed packets, help!
5. Eat more honey and buy it from a local bee keeper. Support your local beekeeper's businesses, by buying their organic honey, and keeping those bees busy! These beekeepers put a lot more love and care into their hives and honey-harvesting practices, than the commercial honey sellers. That translates to benefiting our own health and wellness. It may cost you just a bit more, but there is good reason for that, and the benefits are worth it.
Thanks so much for coming by, and learning about honey bees with us!
Perhaps next time you see one buzzing around in your garden, or at your family picnic, you'll have a whole new appreciation of what they are busy doing, for all of us.
Save
Save