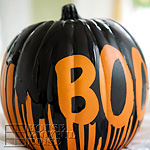 Last year for the Halloween/Hallowtide season, I went bat **** crazy (no Halloween-pun intended ;), with the decorating, inside and out.  I did a huge photo-galore post on it, and it's a popular one, come that time of year again. There is some real creativity there, for you to see. This year, however, I didn't need to do much of anything, because I have all of last years stuff! So I've mostly just been doing little fall-fun crafts, and baking. I did however, decide I wanted to do a little pumpkin project I thought of, and I thought I would show it to you all, and tell you how I went about it.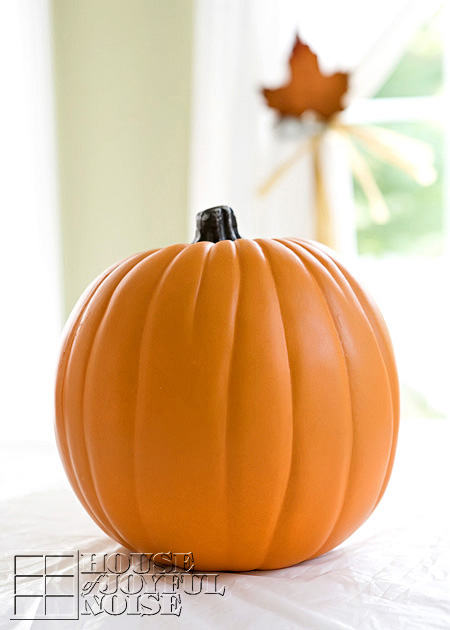 I started with a medium sized faux craft pumpkin.  You absolutely can use a real pumpkin if you'd like, but obviously it will not last beyond this season. So if you want your pumpkin craft for keeps, than faux is the way to go!
I also covered my table as always, to protect it, with a cheap party table cloth, of which I always have a bunch on hand from the Dollar Tree store.  Unless they get real messy (and it sure will this time), you can use them over and over.  Of course old newspaper or something else disposable will do.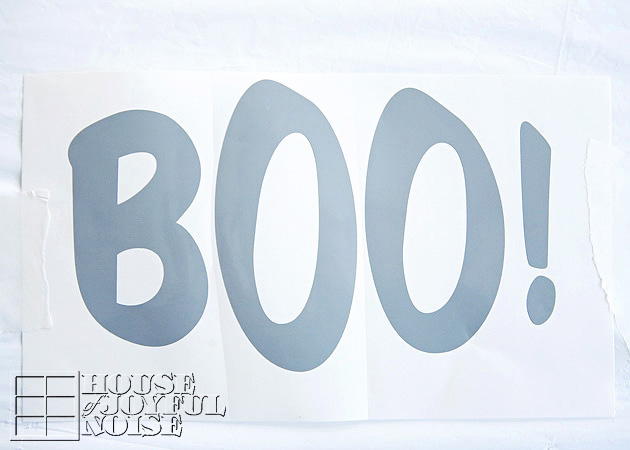 I cut out an appropriate sized BOO! for my pumpkin, out of vinyl.  I don't know why, but I have always loved the whole BOO thing, for this time of year. Probably because it's so . . . . . . childish. Elementary. You know, not a serious scare kind of thing, because I'm really not into that.  Anyhoo, you can use any kind of graphic or word(s) you'd like for this project.  Use your imagination and put some of your own style into it. Or, you can copy my BOO, and I won't BOO-HOO about it.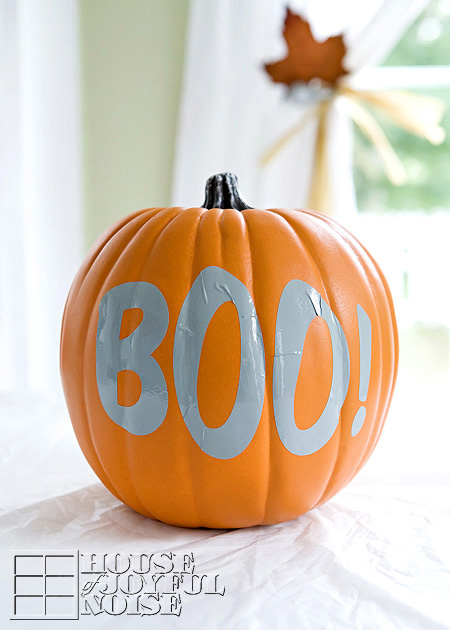 So I properly positioned my vinyl design and applied it to my pumpkin. Now you'll notice it's got wrinkles in it all over the place. That's ok!  My husband is a professional master with vinyl (for real), but I'm not so much.  Of course it's harder to apply to curving surfaces but anyway, but also, I wasn't extra careful either because this is just a mask! I am using the vinyl to protect the pumpkin for where I do not want paint, and will later be peeling the vinyl letters back off. So any wrinkles did not concern me.  I just made sure I went over every area of the vinyl with a lot of pressure with my squeegee.  (As seen in the next photo.)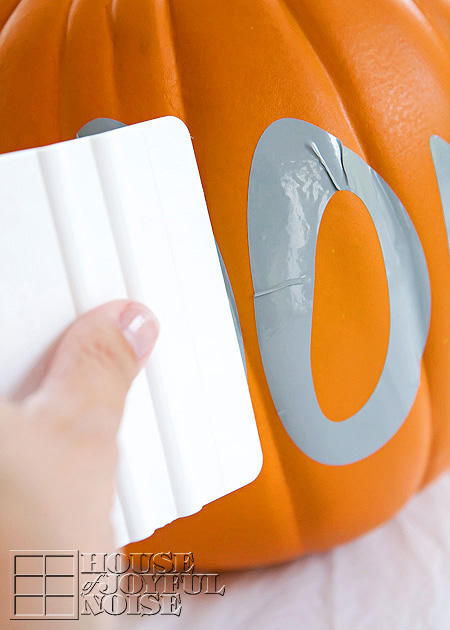 What I did want to be concerned with, was doing my best to close any gaping holes that formed at the edge of the vinyl where wrinkles were.  Because I didn't want paint to get under there.  If you do this project, you really want to do your best to seal down the vinyl edges. Especially at the top!  Chances are paint is going to get under the vinyl somewhere, but the better you have those gaps closed off, the less clean-up on the pumpkin later.  You'll see what I mean in a little bit.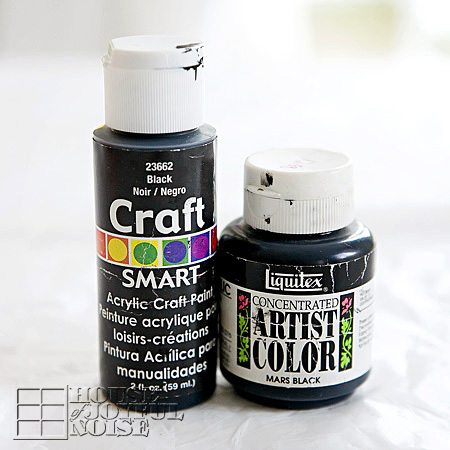 Black was the only color paint I'd be using, and I had two partial bottles in my storage. So I just mixed them up together in a glass measuring cup, because the spout on the cup would be coming in handy.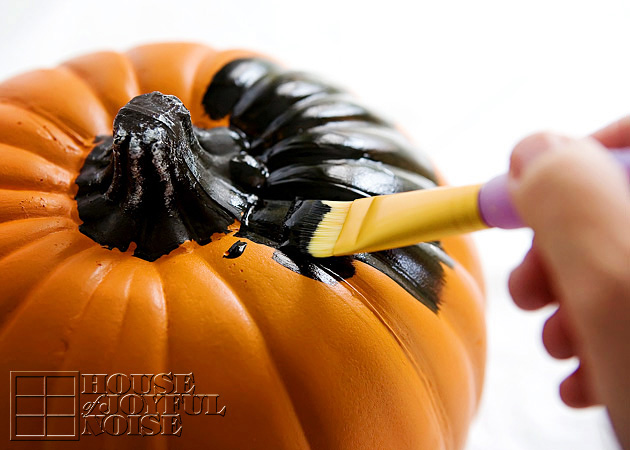 To begin the painting process though, I used a flat brush and painting out the top.  I imagine a foam brush would work fine enough as well.
After I had painted out the top all the way around, it was time to get messy. Thank goodness for the table cloth.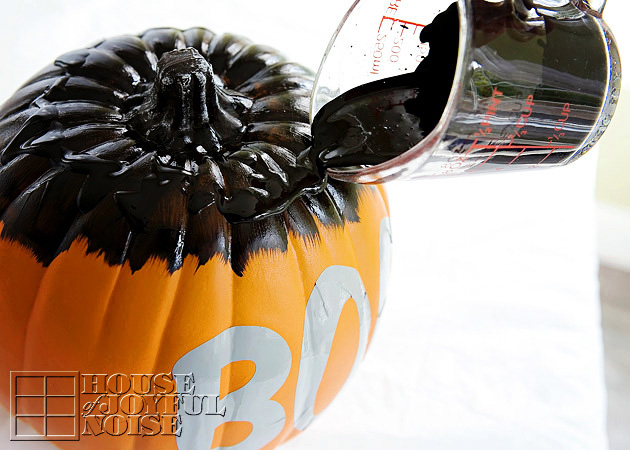 I just started pouring paint onto the pumpkin, right out of my cup, starting on the black where I had already painted black, and about the level where gravity would take over the paint. Because getting the paint dripping is the whole goal here.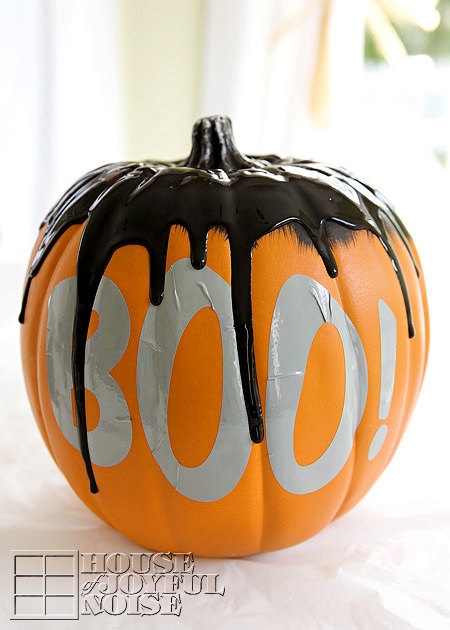 And it was working for me. : )  Now….depending on the consistency of your paint, you may want to add water to it just a drop or 2 at a time, to thin it a little of you need to at all. But really just a drop or 2 at a time, and test it, because you do not want it too thin and runny.  I really loved the look of my pumpkin right there in this photo!  lol. The 3 dimension of the paint was giving me new ideas!  But, for my original project plan here, I needed the paint to cover my lettering, and yet still have a drip look to it.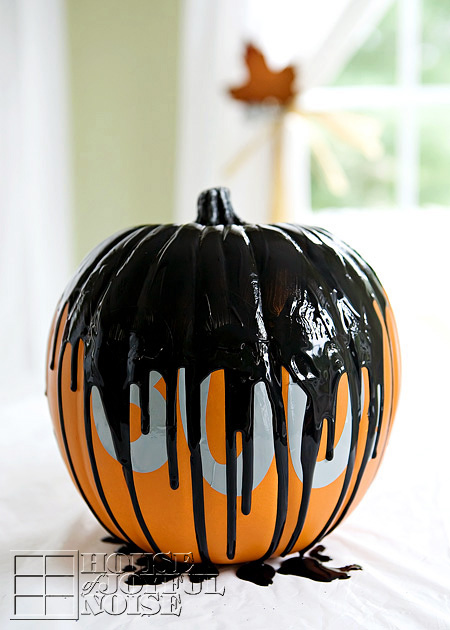 So I really got the drip factor going. You see how messy this is getting? Oh . . . you haven't seen anything, yet. LOL.  As cool as this looked, I knew peeling the letters off with even this amount of paint, would leave it unable to read.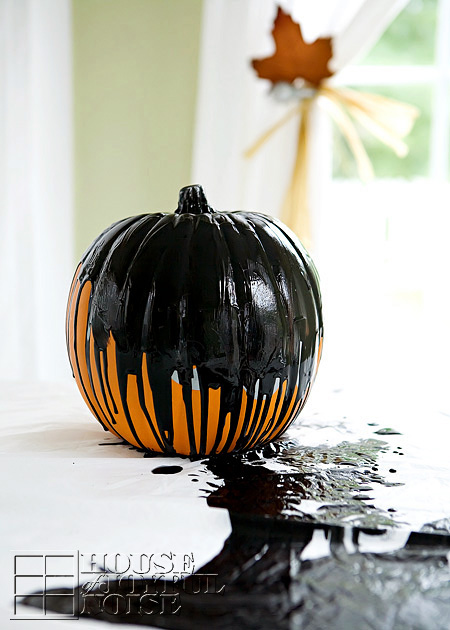 So I just kept adding paint, and helping it along to drip, with my brush when needed.  The paint tended to puddle on top of the pumpkin too, so I helped that out and down. And, as the paint dripped onto the table, I kept moving the pumpkin back out of the paint-puddle.  I really wanted the dripping to be evident after the word, which didn't leave me a lot of room. So I was sure to have the drips starting from higher all around the word, on the sides of the pumpkin.
Basically at this point, I had to leave the paint to dry a little. Not bone-dry.  But dry enough to be able to peel out the lettering.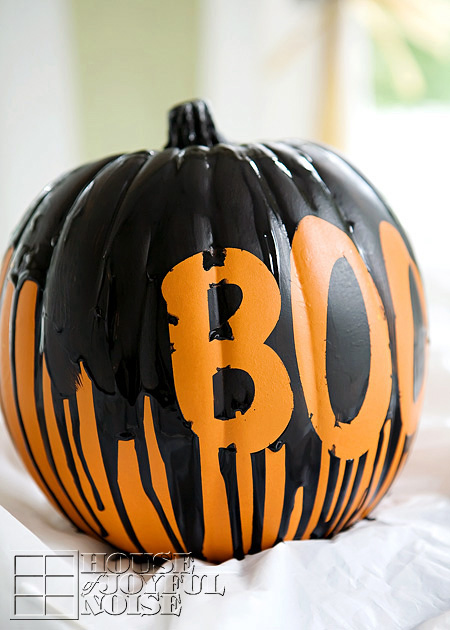 Just awhile later, I did peel out the vinyl. I used the tip of an x-acto to do that.
Now, you can see it's a bit of a mess.  It's obvious where the paint did indeed get under the vinyl and onto my 'negative space' word.  But no worries:  I just used damp q-tips to clean it off.  It took a few q-tips in some areas, and sometimes a little scrubbing with it, but it worked well enough.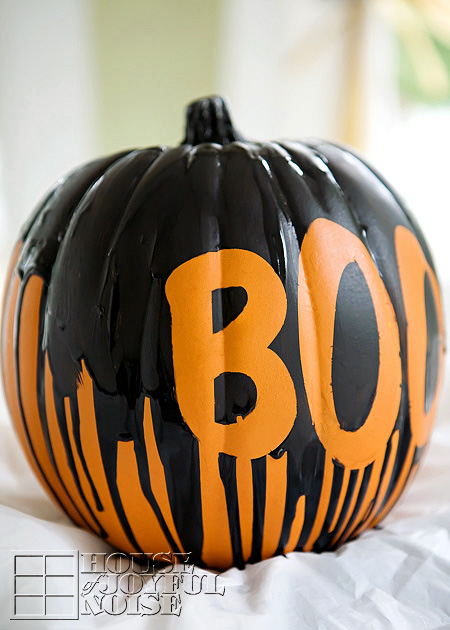 Much better, don't you think? Not perfect, but cleaner lines.  There is still something that bugged me though . . .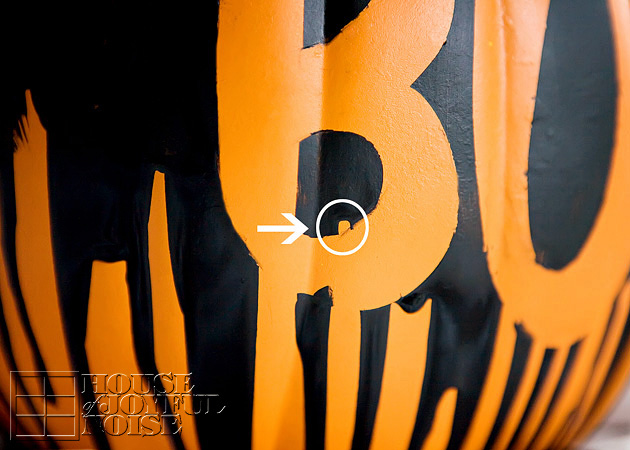 This little spot is where the paint over-dried at the vinyl edge, so when I peeled off the letter B, a little paint peeled off right there.  So to fill that area in, I could have just touched it up with paint. But I didn't. I just used a permanent black Sharpie marker to fill it in there.  And while I was at it, I went around any areas on the insides of the letters, where it could have used a cleaner line edge. I cheated. Oh yes I did.  All over the place.
And I had to paint the stem a better brown; because whatever that color was that it came as, was not working for me!
It never did become perfect, and that was o.k. with me. Because I am working on embracing imperfections since, let's face it….I can be a hot mess some days. And there is only so much time in a week!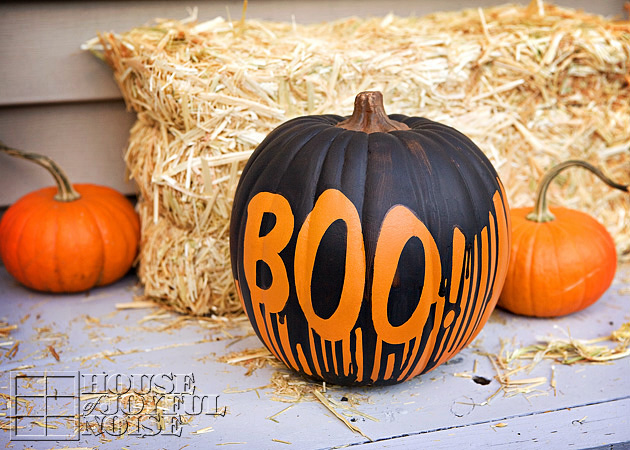 So I called it DONE, and put it on simple display, with a little bale of hay and little sugar pumpkins from my mother-in-law, and I think it came out rather cute.
So BOO!
What say YOU?!
Save