I thought we'd talk a bit today about elementary reading, for homeschooling kids or not. Last March I blogged about our then six year old triplets reading their first chapter book, Nicholas – A Massachusetts Tale.  Since then, they have continued to do lots and lots of reading, in the forms of shorter books, magazines, game directions, and what books their big sister has had in her gigantic collection for their age.   Since March though, our library trips have consisted of other exciting and urgent items on our reading or viewing list.  So just recently did we come around to getting back to the wonderful travels and tales of Nicholas, which is the series of books written by our local, gifted children's author, Peter Arenstam.
Book One of the Nicholas series…. Nicholas – A Massachusetts Tale.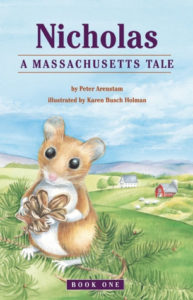 Book Two of the Nicholas series…. Nicholas – A Maine Tale.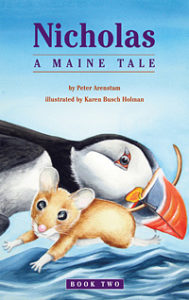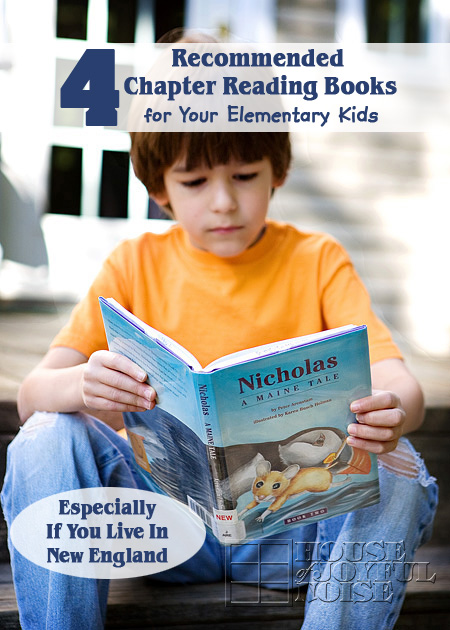 The adventures and New England travels continue in Book Three, Nicholas – A New Hampshire Tale.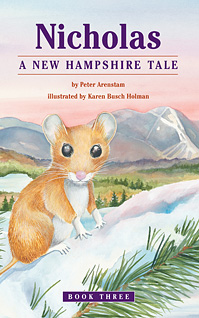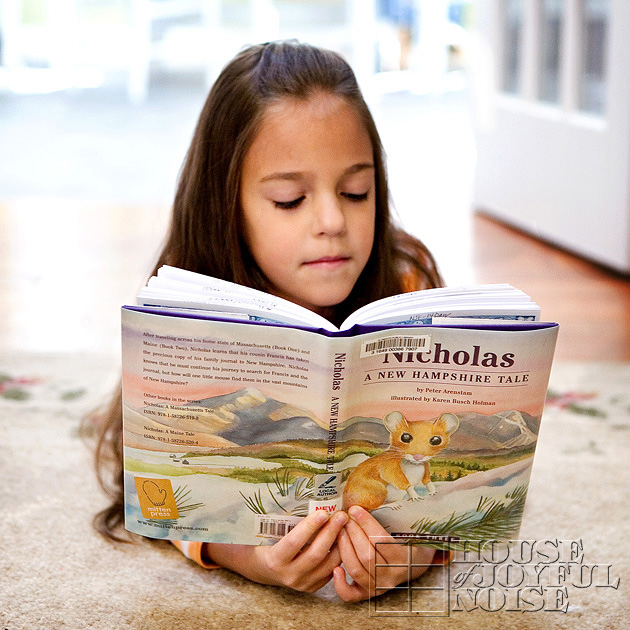 ….and there are yet still  more to the Nicholas series to request, and wait for that exciting phone message, 'This is the library calling….the books you have requested are in, and we will hold them for you.    Please pick them up at your earliest convenience. "
We also picked up another charming children's chapter book, Poppy and Ereth, by Brian Floca, which the kids found as much entertainment and amusement in.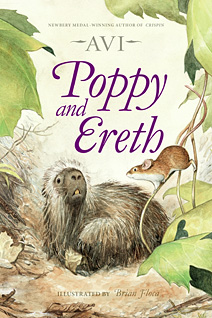 It's easy to understand why!  Just the cover alone entices me enough to want to curl up on the couch with some cocoa, and read it…if I had time for such a thing this time of year.  Here is a description of the book, Poppy and Ereth.
Poppy, a deer mouse, and Ereth, a grumbling porcupine, have been the best of friends for as long as the animals of Dimwood Forest can remember. An unstoppable pair ever since they defeated the tyrannical owl, Mr. Ocax, Poppy and Ereth have enjoyed many happy adventures together. But when a swirl of bitter winter storms buries Dimwood Forest in snow and Poppy's husband, Rye, dies suddenly, all Poppy wants is some privacy. "Dancing doorknobs," Ereth mutters to no one in particular, "how can she not want to see me?" As he waddles back to his log, Ereth fears he may have lost his dear friend forever.
But Ereth has not lost Poppy, at least not yet. As the ground begins to thaw, life returns to Dimwood Forest and Poppy ventures out in search of excitement. Suddenly, swooped up by Luci the bat, Poppy is flying high over the forest and unexpectedly embarks on her greatest adventure. Meanwhile, Ereth, left to his own devices, manages to convince himself that Poppy has died and, as only the old porcupine can do, sets about to give her the best memorial service the forest has ever known.
The last episode of the Poppy stories, poppy and ereth is a rousing adventure befitting one of the great heroines of children's literature as well as a final, heartwarming celebration of the life, love, and friendship of two most unlikely companions.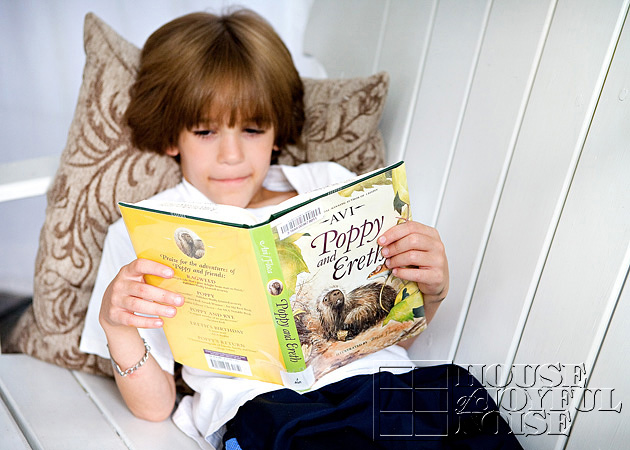 There is a follow up book to this one, titled Poppy Returns.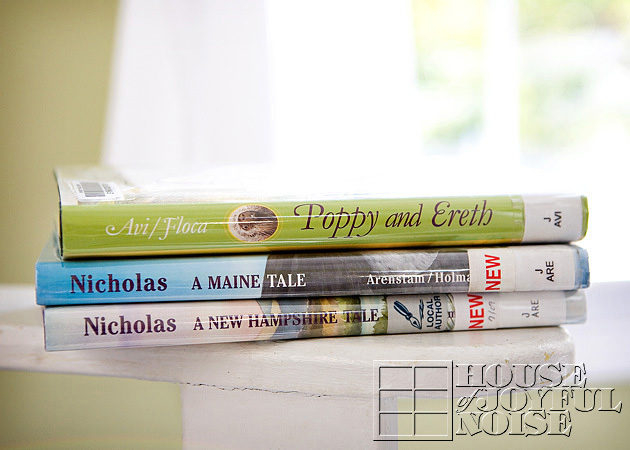 All 3 chapter books, were eagerly consumed, page by page, by all 3 of the little ones, even in time to be returned for their first due date!  No need to renew, because they were all done. Which says something, because with the Nicholas series being books by a local author, their regular ample time is not allowed for the books to be out!  Regardless, they really, really enjoyed not only reading them, but discussing the adventures of this charming mouse, the predicaments he finds himself in, and the friends he meets in his travels to reclaim his family's journal.   Lots of chatter about Nicholas and his friends, as well as Poppy and Ereth.  It's like having our own In-House Kid's Book Club!!
I am all about kids getting lots (and lots) of exercising….running and jumping, swinging and swimming,  climbing and shooting (hoops, that is),…… but you'll never hear me complain for a moment about a kid sitting around and reading for awhile either.  I am so glad our kids find SO MUCH JOY and THRILL OF ADVENTURE and wonderment, within the pages of books, the way they do.
These books are truly delightful reads, for any children, anywhere. But if you are from New England, as we are, they are all the more special. Wishing your children hours of enjoyment, lost in their vivid  imaginations through these beautiful and adventurous, fun-filled tales.


Save
Save