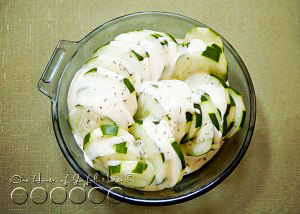 It's a wonder, that our children have not turned into cucumbers, this summer. They love them, and our gardens have been so generous with them, that the kids have happily eaten them many days for lunch, dinner, and sometimes even as a snack.  They've had them as spears, sliced the long way and added to their tomato sandwiches, chopped up in a garden salad, and as this Cucumber Salad, which we are sharing with you today.
We know. It's not the most inventive recipe, if we can even call it that. The 'recipe' is actually more about the dressing it's in.  It's one that I imagine has been around a long time, as my mother used to make it while I was growing up.  Recently we were at our friend's house, getting our families together, and they made us the most de-li-cious dinner.  Part of that meal was a simple romaine salad with sliced fresh strawberries, and a dressing very similar to this one. So as you take note of this dressing, keep in mind the various or creative ways you can use it for, too.  This dressing, and this salad, is a perfect summer-side, to a light meal.
Striped Cucumber Salad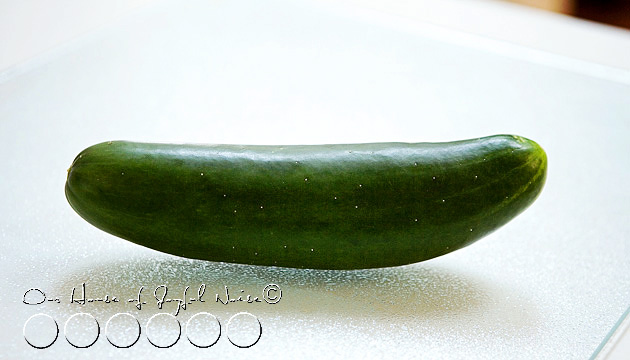 Our Cucumber Salad begins with a fresh organic cucumber, from our own gardens.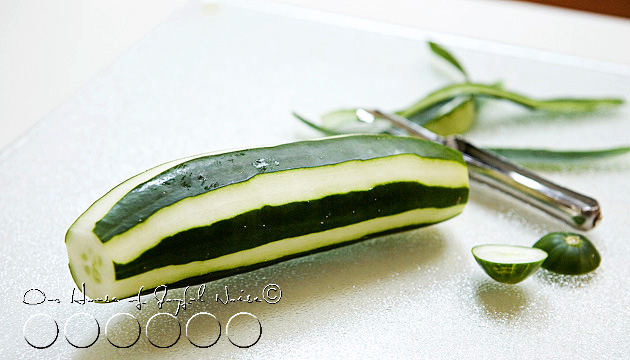 I have always, peeled cucumbers in stripes.  But there have been 2 separate reasons I have done so.
In the off-season, I have peeled the grocery-store bought cucumbers this way because, as we all know, the majority of the vitamins & minerals are in the skin, and I want to get all I can into my kids/family. But also, before we ate organic, the cucumbers from the store were usually waxed.  Man I hated that! I couldn't stand the feel of it trying to wash them, (the wax never came off), and the funny feeling it left on my hands too. Also, we just weren't partial to eating wax. You?  😕 So, peeling the skin in stripes, was a compromise, of sorts.
But even when the cucumbers are organically right from our gardens, I think the stripes just make them fancy & pretty.  So I chop off the ends, and stripe peel them.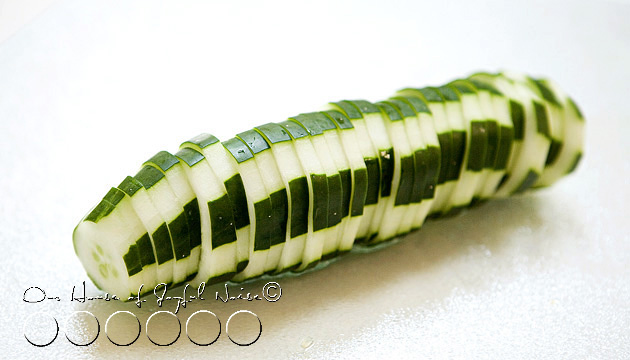 And then I slice it.
And maybe I'll have fun taking photos of it. It's a cucumber caterpillar!!
So much for not playing with my food.
Now I know this is silly, but, I didn't take photos of making the dressing.  It would have been boring, and unnecessary.  It's so simple though, and there isn't actually 'correct' amounts of any one ingredient. It just matters more of how thick you want the dressing, and how much you like this or that ingredient.  All to your preferred taste.  But this is generally my winged recipe, I mix in a bowl well, with a fork.
Cucumber/(Salad) Dressing
1/2 c. mayonnaise (Hellman's Real, for us)

1/4 c. white sugar

4 tsp. distilled vinegar
dashes of:
dill weed

seasoned salt

black pepper
Of course….all of these amounts will vary with how many cucumbers you cut up.  I like it to just coat the cucumbers. My mother made enough, that it was more of a soup, that the cucumbers sat in.  She made a lot! LOL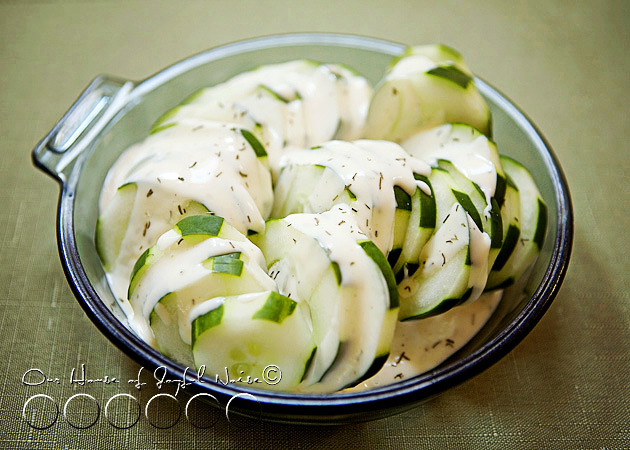 In my antique blue Pyrex dish (missing the handle), that was once my grandmothers, I arrange all of the cucumber slices, and drizzle the dressing right over it.  Then I throw another dash of dillweed on top. This dish is light, tangy, sweet, with a tad of salty.  All at once.  More importantly, it's FRESH, light, delicious, easy, and well……COOL!  It's a perfect side for summer grilled dinners, etc.

I'll warn you, with the same wise words my mother-in-law once warned me with, and of which I shared with my kids recently, and they have found absolutely hysterical, and love to say it now every time they have cucumbers:
"Be careful now. Cucumbers tend to repeat on you, later."
From what I can tell, no one minds repeating around here, except me.  ; )
Save
Save