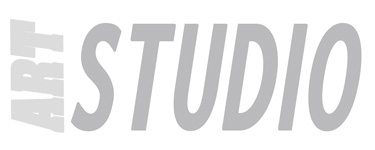 Good gosh! Is it me, or has this been a long. time. coming?
I am THRILLED to say, the art studio is DONE!!
Construction and carpentry-wise, anyway. I'm sure we'll have a few more organization units to install, but I'll figure out just what I need in the process of moving in with all of my stuff!
Before you scroll down and see, you may want to see the previous states of progress, to really appreciate all it is now. It's still just a little bit hard to show you because….I'm afraid you all just might be bored by it! It's the reason I haven't shared more of the progress along the way. I'm the type who has the whole finished version in my head along the way, and so knowing where it's going….anything prior to that is somehow……less than. But, I did give you a few couple of progress updates as you know! It's just that, it's a whole lot of whiteness right now; as I said was my plan all along. My dream was a bright white canvas to work in and on, and to photograph in, with a whole lot of color accents. And I must say, I do love it already, even just as all white at this point! The light being thrown around, is divine!
Here's a look inside now!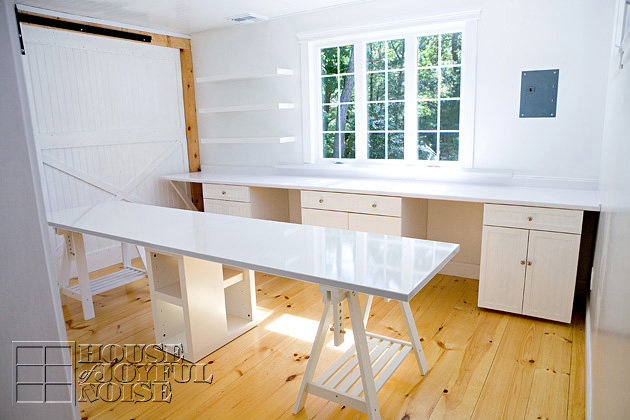 A view from the entry door!
It's instant cheer for me, just walking in.
The bright natural light in the mid-day all through the afternoon, is phenomenal! And if you all know me, I need light.
The creative space/room is 13′ 8″x 12′.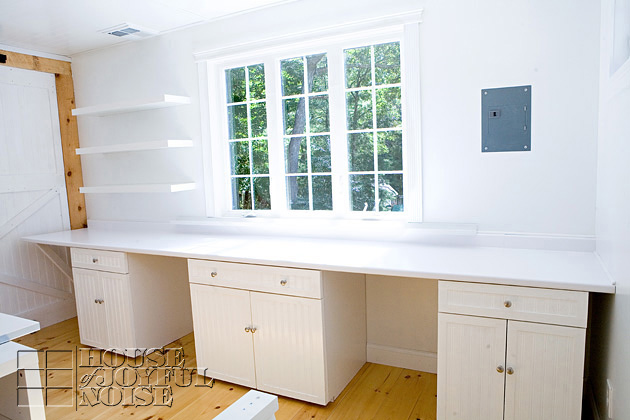 One of the biggest features you may notice here, is that the single window was finally replaced with the larger (relocated) picture window, as planned. It made the world of difference in the light that it lets in, as I knew it would.
Those very simple shelves to the left are from Ikea; love them! While the plan was to build cabinetry, I realized we had white cabinets in 2 different rooms of the house that were emptied (of my craft stuff that was packed up), and they needed to get out of the rooms they were in. After talking with Michael, we realized we could definitely re-purpose them into this art studio, and keep true to our original plans of white storage cabinets, drawers, cubbies, and one single counter space all along that wall. It worked! The counter-top was custom-ordered through Lowe's, and delivered. It is 13'4″.
We have a couple of white stools that fit well right under those cubbies, and are the perfect height for sitting and working. But I believe I'll also be ordering some roll out paper storage, for the loads of paper I have in stock.
Also on the right wall will definitely be some art or a sign, over that control panel, and possibly another shelf or 2.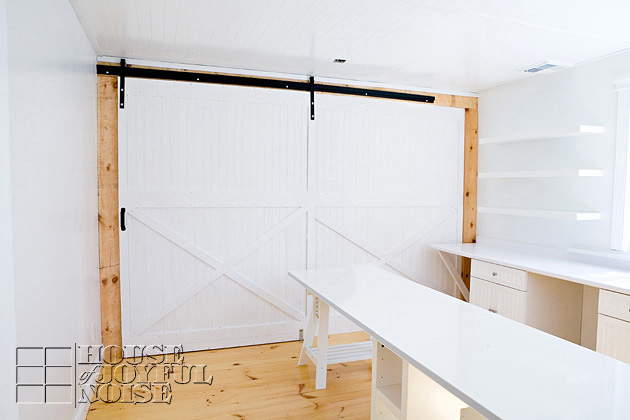 The crafting table is long! From Ikea: it's actually two (60″) tabletops combined for a total of 10′ of workspace.
There is space for 6 people to sit and work comfortably, with foot room and all.
I've picked out the chairs, but still need to order them.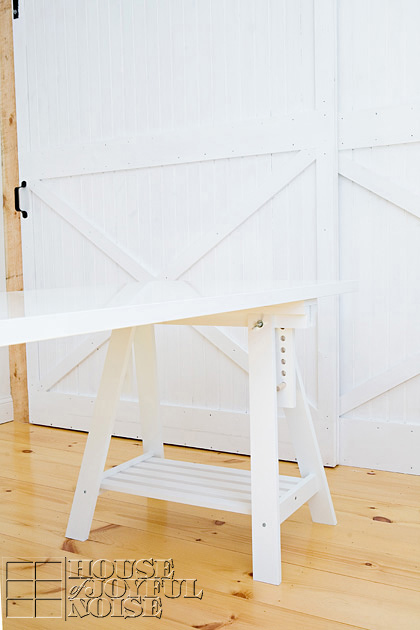 Also from Ikea, to support our tabletops: 2 work-horses, with cute storage shelving.
–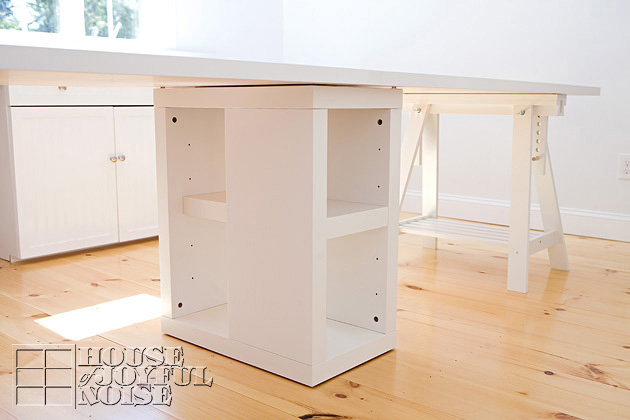 As well as this unit, that offer even more storage shelving.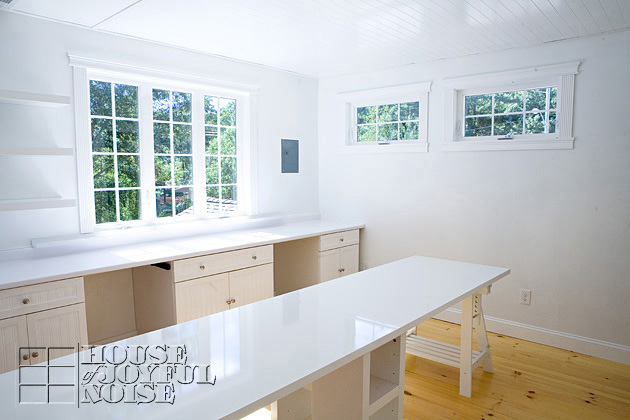 So yes, the length of the work table is almost as long as the room; just like I wanted. The surface is perfect! Quite stain and generally scratch resistant.
But we'll likely always protect the surface with newsprint or something just in case anyway.
In this photo you'll also notice the 2 additional windows we have, to welcome more light in the late afternoon light.
Under the windows will likely be more shallow storage units of some kind, or something like that. I'm still unpacking, setting up, and figuring out what else I need.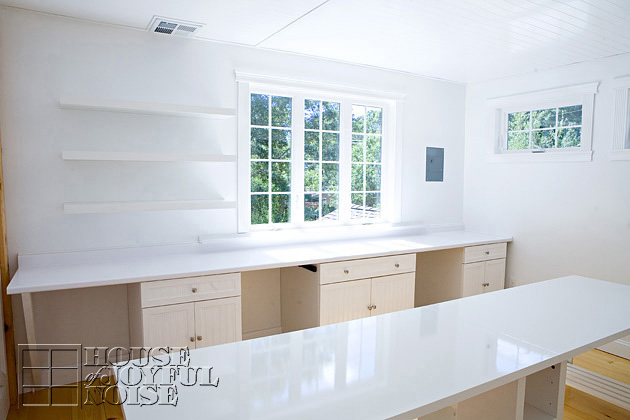 I'll be storing the big, ugly and/or cumbersome items for our crafting projects. The drawers are deep and hold lots of little and long stuff. As I said, there will be more storage worked into underneath the cubbies, but will also offer additional seating, if necessary. My husband will be doing a lot of his designing and cutting at the end on the far left, and be able to weed material easily on the table. (If I don't have a project mid-mess, of course.)
Speaking of Michael, I am SO THANKFUL to him for all of the many hours of hard work he put in, making this dream of mine come true for me, and for our family. I am so very blessed for the many ways in which he is a wonderful husband to have.
Did you notice the amazing barn doors?….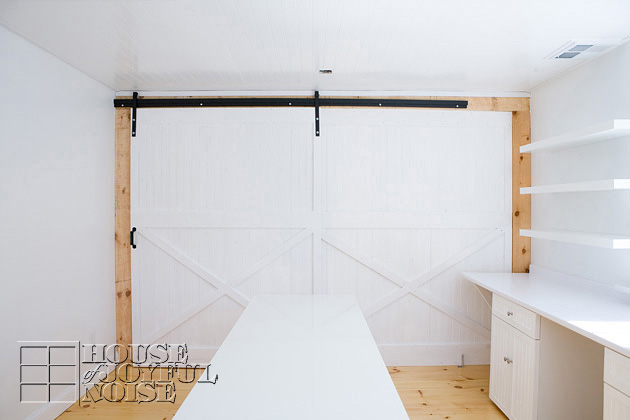 Michael completely designed, custom-built and installed those, too!
No small project! I love them. Perhaps I will do another post just on those, and give you a closer look with more verbal details.
And then there is yet another reveal behind those barn doors: one of our boy's awesome bedroom! He's all moved in, and loving it.
My art studio reveal is not done though!
There will be one more, showing you what it looks like all moved in! Expect lots of COLOR added! And instant happiness and inspiration. We actually started moving stuff in right after taking these photos for this post.
We are so thrilled with how it's all coming together. What do you think? Do you have a dedicated space to get creative? Tell us about it or share your links, please.
And be sure you are following us for our next art studio reveal!
Thanks for coming over, Friends.
* * * * * *
Please come follow me here and there:
Save
Save
Save