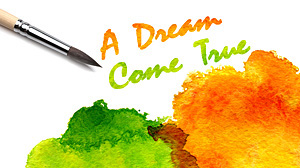 I have had a childhood dream, that has never faded away. Not even with the passing of decades of years, this dream has lived through.
Well, that childhood dream, is about to come true for me.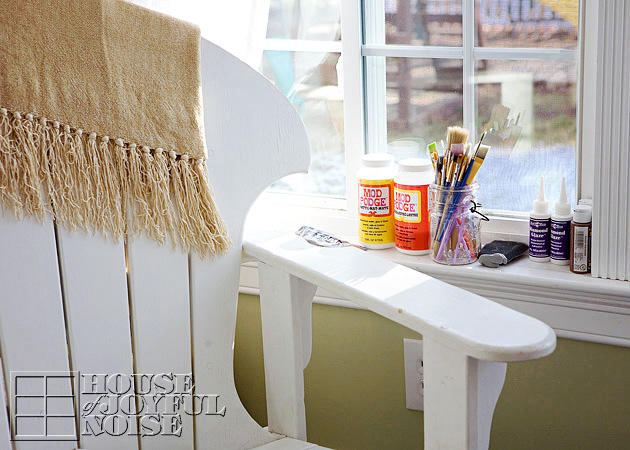 ♥ I am getting a completely customized art studio! ♥

It's in-home, and already in the works. I thought I would take photos of the progress, in case some of you might enjoy watching it come to life along the way.
I was in kindergarten, when I decided I was going to be an artist when I grew up.
That plan never waivered all through my schooling years.  As a kid, I used to see little empty shops with real estate signs around town, and dream of what it would be like, to have my own studio space in there. When I graduated from high school, I went on to commercial art school for the next 3 years.  In the past 22 years since then, I have been a freelance artist and photographer.  Following art school, in my early 20's and back home, my parents were kind enough to give me an extra room in the house for my drawing table and such.  I probably did 100 commissioned, illustrated large portraits out of that little room. And I've had a cozy little in-home photography studio in our finished lower level here, for many years, until a year ago. But never….anything like this, that I've got coming.
Between Michael and I, we always have (all kinds of) projects going on. All over the house. And because I haven't had a dedicated space, I have craft supplies  stored all-over-the-house too.  It is a wild-goose-chase to ever find what I need, when I need it.  Let me show you just a glimpse of what I mean.
But before I do, TAKE NOTE: *In these photos below, I had already started pulling stuff out, sorting, throwing away, and packing stuff up – for the new studio in development. So these areas have never looked like this big mess, unless you looked behind the curtain into the closet or in the cabinets.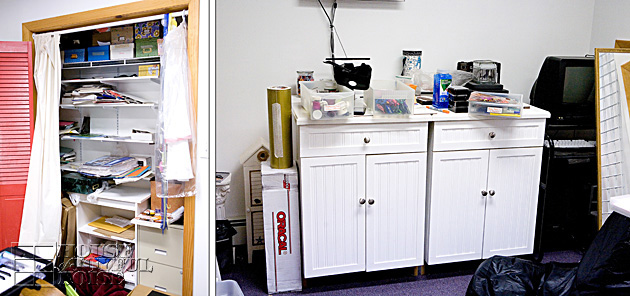 But anyhoo, this is one end of my former photography studio in the lower level of our home.  You can see, one closet that's been chock full. Those shelves were packed. So frustrating finding anything, or getting anything out. Much is already pulled out of the closet you see here, and on the floor and in bins now, not visible in the photo. Across from that closet, is 2 floor cabinets, with drawers, which have stored more craft supplies.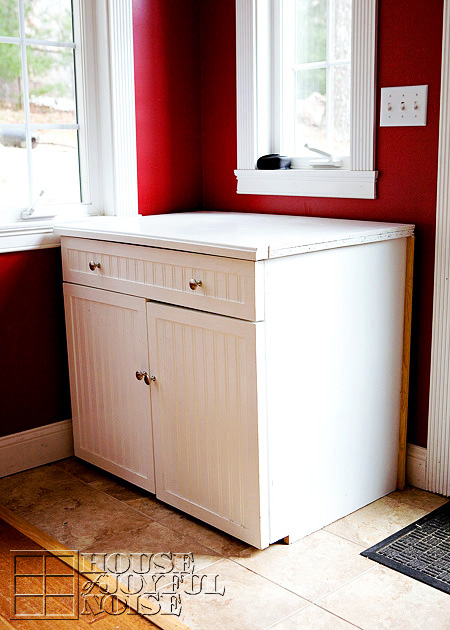 Another cabinet upstairs in  in the corner of the school room by the back door, holds yet more supplies.
But wait…..there's more….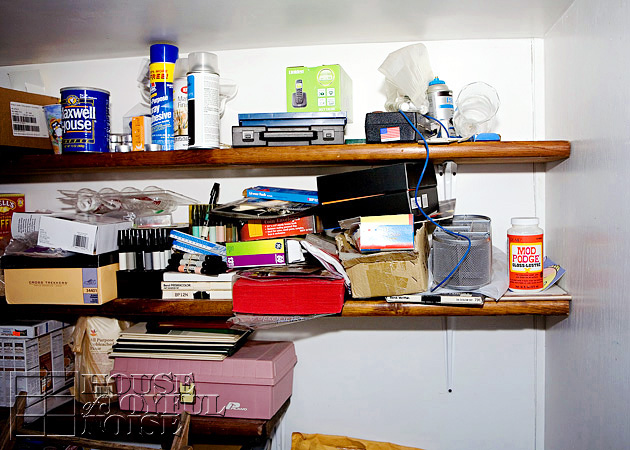 Our cramped little laundry room on the mid-floor, has still-more-supplies.
And, there are various other little places around the house, where there are tools and whatnot.
So as I'm sure you have gathered with just this much observation, that there is great need, for ONE LARGE STUDIO, that is organized, functional, and inspiring, to do our thing.
Art is a huge and active part of our lives and work fields.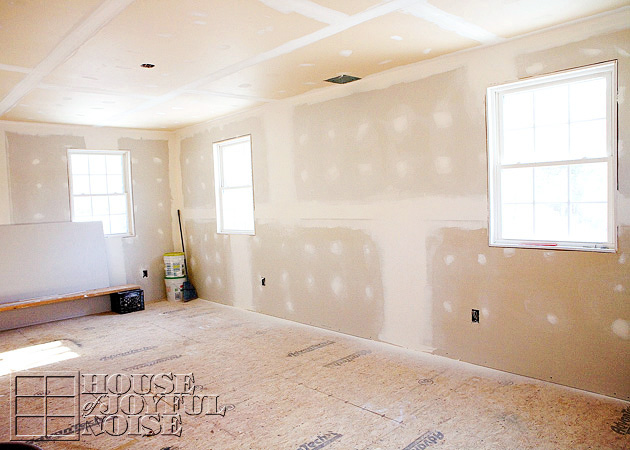 This space in the upper level of our home, is where the new art studio will be. There is mega natural-light, and it is 12′ x 22′. The ceilings are 8′ high.  That's great space!
So this is the view walking into the room.
It's funny how this came to be.  We have been trying to work on our unfinished house for the past 6 years. It's been held up many times, due to finances, or lack of time. And then it was held up for a bit more, while we re-pondered our original plans, and the intent of each room in our home.  The girls' rooms have been done for quite some time, and I do plan on sharing those. But we realized that this one great big space that we had planned on making the boys' room to share, would be of much wiser use, as the art studio that we desperately need. It would be much more appreciated and well-used, on a daily basis.  Although it'll be my studio, and I'll be spending the most time in it, it will actually be a great space for all of us.  It is such a grand space, that even Michael will be able to do his sign work in here as well.  The boys will still get awesome rooms, but of their own.  But much of this space, will be a new art studio. We're back on track to finishing it now until it's done.  And it's well on it's way, as you can see.
The opposite end; which will actually be used for another purpose, and I will tell you more about that at another time.
I know none of these photos are pretty or exciting now – but they will be. Right now, it's a matter of imagination. : )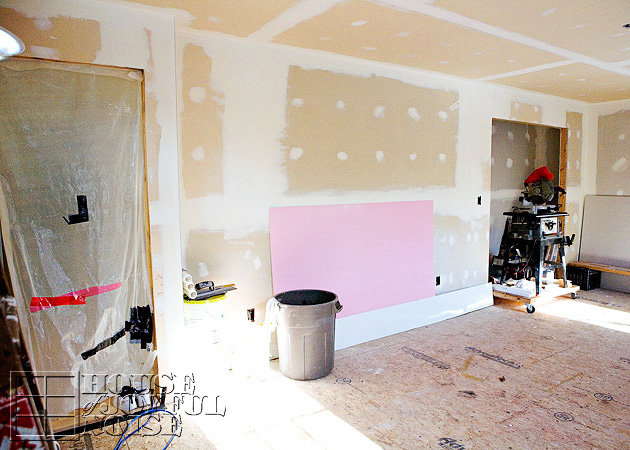 The other side of the room, the long way.
On the left is the entry door.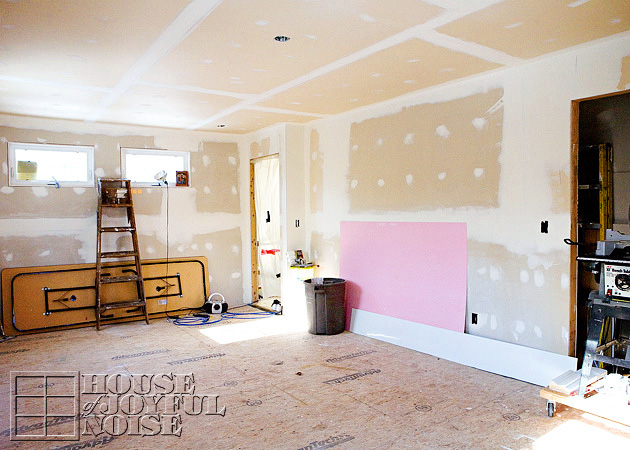 Viewing from the end we first saw, back towards the entrance.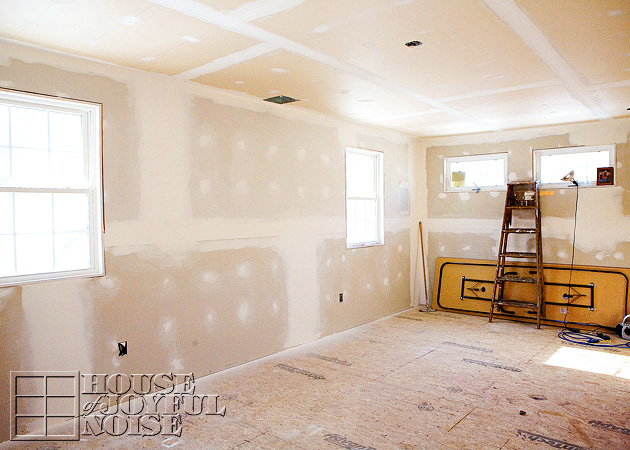 This wall, seen when you first come into the studio, is going to be great.  The single window on the far right, is actually going to be replaced with a picture window, which we are removing from a side of the school room downstairs (which will become a wall.) We have regretted putting that window there downstairs.  It looks out at nothing, gives us no natural light, and would be of more use and more attractive as a wall.  Deciding we need one of these windows to be larger up here in the studio-to-be, gave us the perfect way to make use of the one we take out downstairs.  However, even with the windows, it is going to be a very functional area to work, as well as have a whole lot of storage and work space
We are still in the planning stages as far as design and layout.
But here's what I can tell you for sure:
It will be all white: walls, ceiling, table tops, shelving, cabinets, etc.

There will be splashes of color everywhere, from the supplies, materials stored and organized, much out and accessible, as well as the artwork we create.
It will have natural pine floors.
It will have specialty lighting installed, for dark days, night-time work, and photography.
There will be:
A lot of flat working areas everywhere, for various needs.
An island block on wheels, with a large flat surface, cubby shelves on the sides, and additional storage inside.
Custom built storage spaces in various areas for specific supply-organization needs (paper, ribbon-spools, etc.)
An area specifically set up for photographing anything I need to.
A large, old drawing table.
Dedicated seating for the kids, to do their crafting, and sometimes, possibly their school work, too.
In this studio, designed correctly, here are some of the creative projects we'll be able to do in here, and store all of the supplies/machinery to do them:
all illustration work
designing
crafting
scrapbooking and card-making
small furniture refinishing
sewing
sign-making
vinyl-work (large cutter/plotter
photography
                                   . . .  and more.
And here's my man, who is making it all happen . . . . . .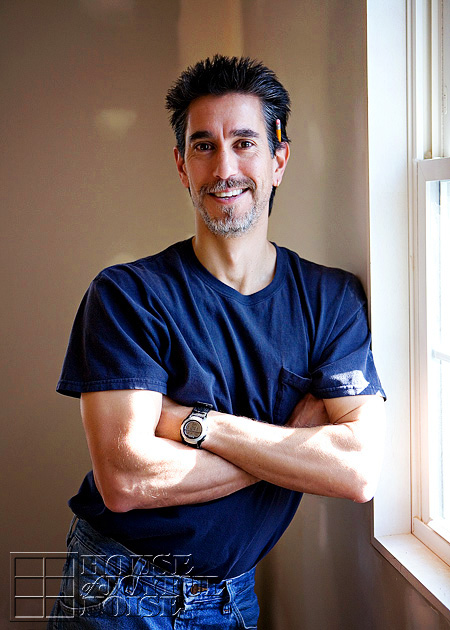 If you follow us, you've seen he's capable of some amazing carpentry work.  One of his greatest builds I haven't even shown you all yet. But I will in time. Nonetheless, he is capable of making this space into absolutely anything I want it to be.  I couldn't be more grateful. We're a pretty good team too, and have a lot of fun bringing our little brainstorms to life.  He works about 50-60 hours a week, so he works on our house when he has time. Usually the weekends. But it should move along now, I think.
I plan to document the progress of this studio, to share with you all. if you'd like to follow along.  Not every little boring step, but a quick update here and there on how things have come along.  We would love your input and ideas along the way!  We know some of you have creative spaces of your own, as well, and we're sure you have opinions and advice, that you could share with us.
I have already started a Pin board, just gathering some bits of ideas, options, and inspiration for storage and such.  And my brainstorming is on over-drive. As always.
We're all too excited! It's not every day a childhood dream comes true.
And by the way, the re-pondering of our home and the rooms/space it offers, will be resulting in 'Musical Rooms' of sorts (like Musical Chairs, but Rooms), and some fun redecorating too.
So there is more room make-overs, besides this one, coming as well.
We hope you'll enjoy following along with us, as we go.
Got any tips or ideas for us already? Let us know anything you'd like to say, in the comments!
And as always, thanks for coming by. : )
* * * * * *
Please come follow me here and there: