It's Sunday night.  Sundays are our family's favorite day of the week. And today, like all Sundays, was filled with all of the reasons why.  On Sundays, we have a somewhat leisure morning, and then we attend the last Mass of the morning.  Following Mass, we chat with some people, and then we spend the day living out whatever plans we had for that Sunday.  Today that plan was: 1) working on the house a little more, 2) cooking our amazing pot roast recipe, and 3) making donuts.  And with a little luck, maybe I would have time to 4?)  do a couple long overdue blog posts.
Well, it's been pouring rain all day, but it didn't put a damper on our usual Sunday spirit! We had our leisure morning, and we went to mass.  We came home, and we lived out our plans, and it was a wonderful day!  I believe I said, out loud, about 4x "I love Sundays."  And everyone responded, "Me too!"
The pot roast came out AMAZING!!  Seriously….like, WOW!! As usual. Incredibly fall-apart tender, and unbelievably flavorful.
So I'm going to share the recipe with you all: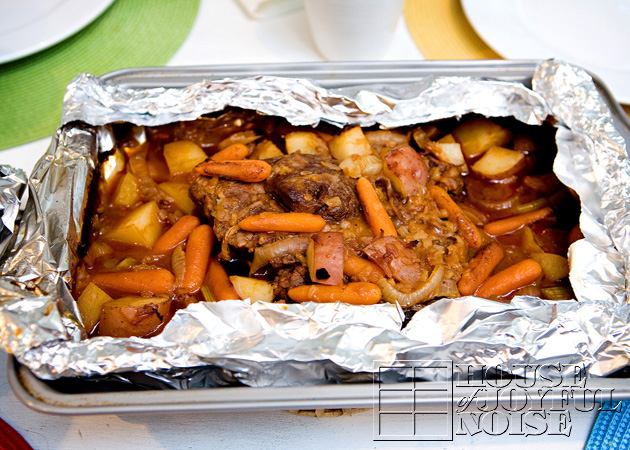 We start with a 2 1/2 pound chuck roast.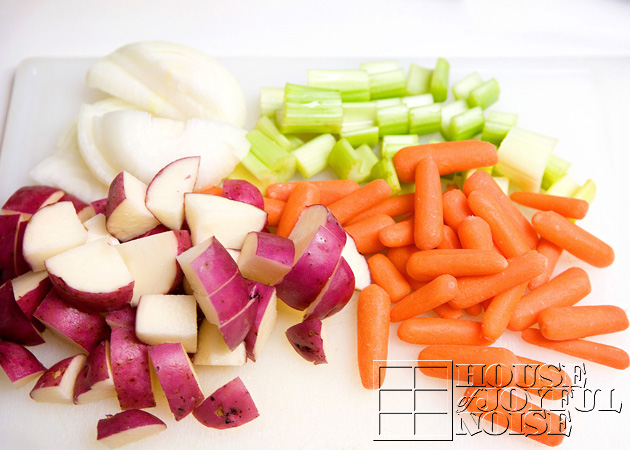 We chop some red potatoes, celery stalks and onion, and add some baby carrots.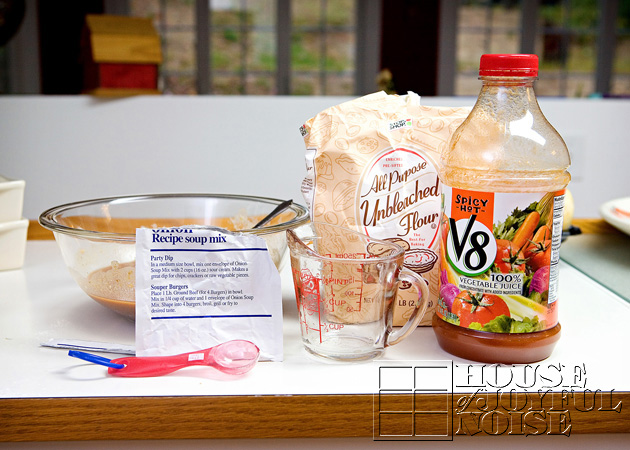 In a bowl, we combine 1/2 cup of water, 1 cup of Spicy V8 Juice, a pack of onion soup mix, and 3 tablespoons of flour.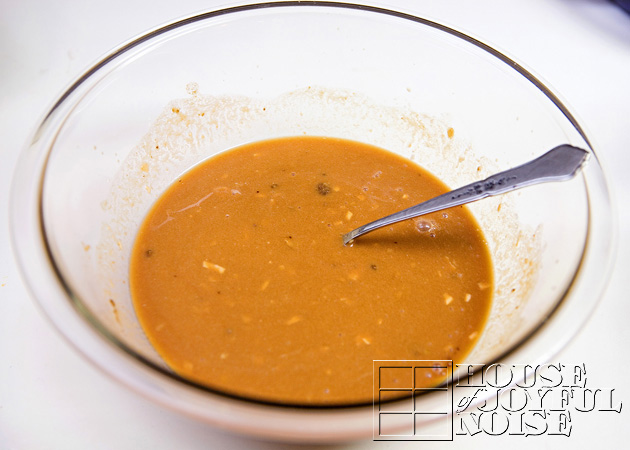 We mix it up in the bowl good.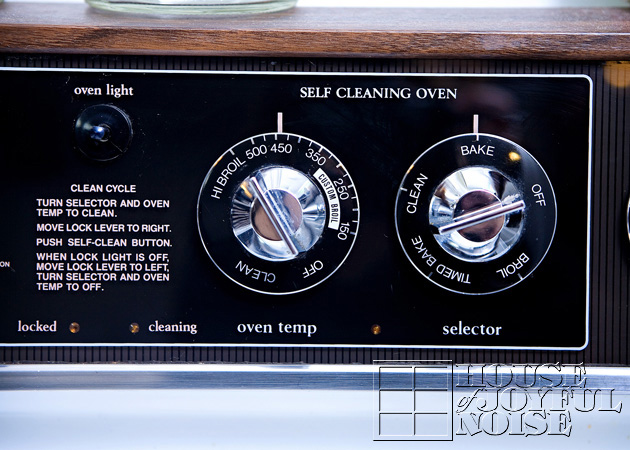 The oven was set to 450 degrees to pre-heat.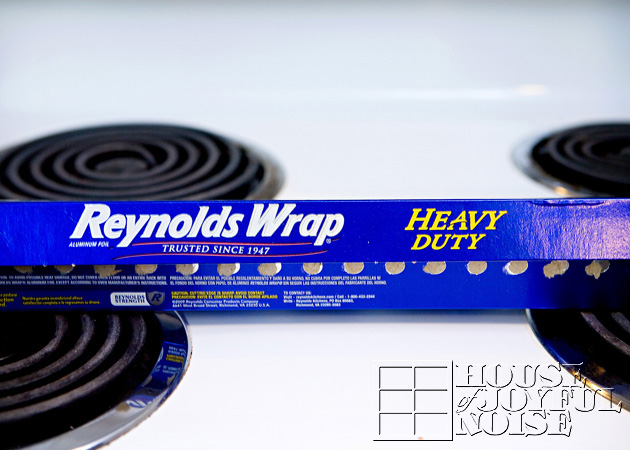 Using a big long sheet of wide roll of Reynolds Heavy Duty Wrap……we drape it over a roasting pan.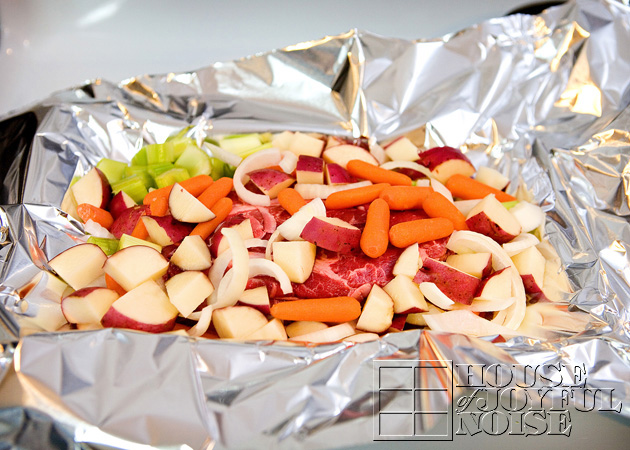 Then we put the chuck roast in, add all of the chopped vegetables…..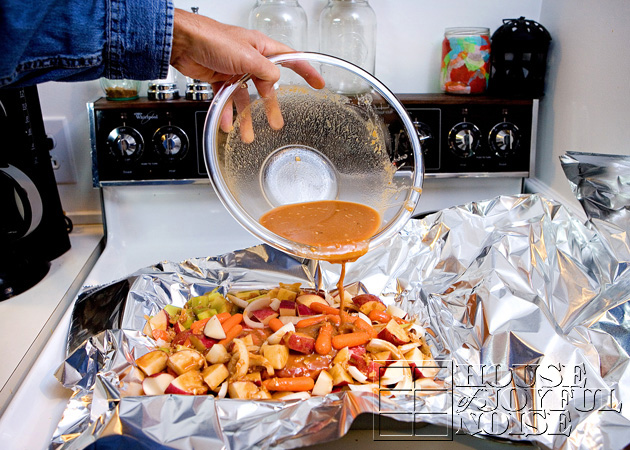 …and pour over the mixed wet ingredients.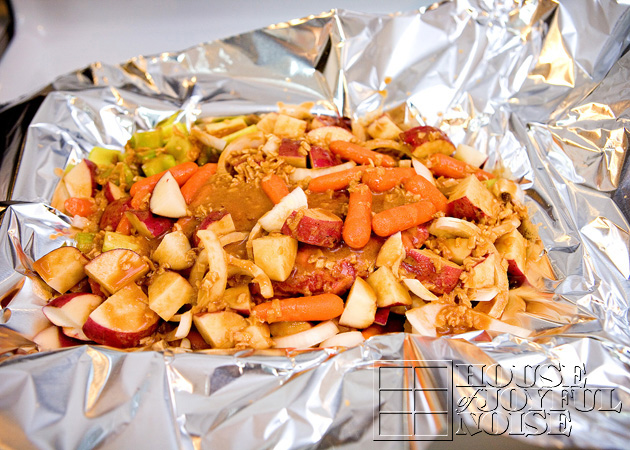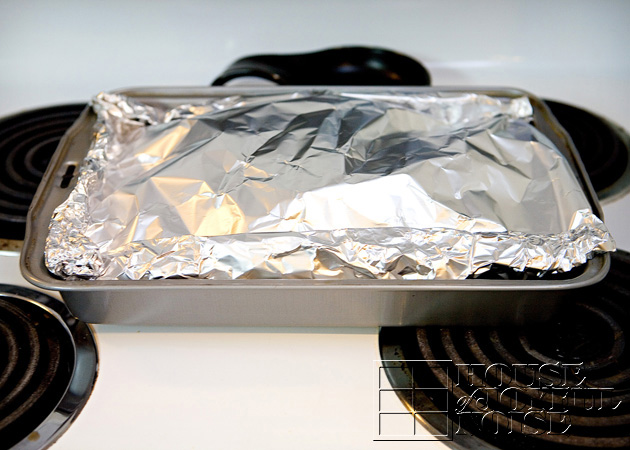 Then we roll up all of the sides of the foil tightly into the pan, and bake it at 450 degrees for about 2 and 1/2 hours.
***Important tip added:
You DO NOT want to overcook the meat!!   Do not let the thermometer get to 'well done' or as high as 170 degrees.  You are better off checking, and putting it in a little longer if it's not done enough.  But once it's overcooked, you can't fix that. ; )
When the timer went off, Michael pushed the meat thermometer right through the foil and it sunk right down into the meat like butter. It was done.  We had been making donuts at that time (another recipe post we'll share) and we were all starving!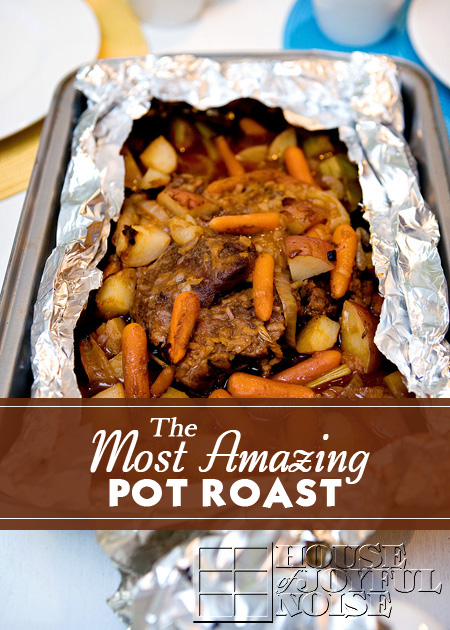 We gathered around the table, and said grace before our meal.  But I noticed no one's eyes were closed.  We were all staring at the pot roast. lol.  We were really very thankful though!!  Maybe a little over eager too.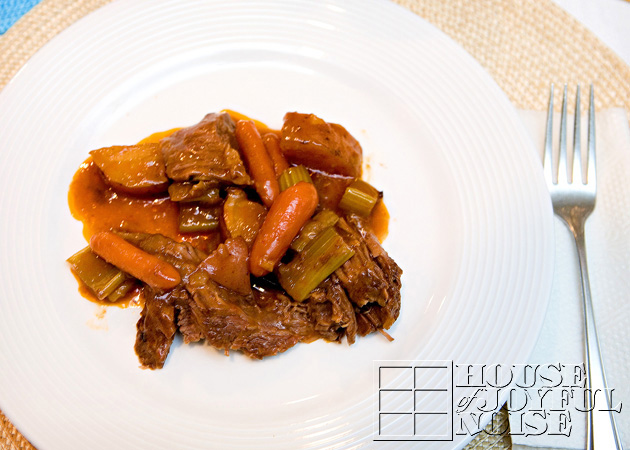 It was indeed…..EVERYTHING it seemed like it was going to be, again  It was another one of those meals…..where the food was all the 6 of us talked about for pretty much the entire meal.  lol.  The sauce was so tasty…..the meat was SO tender…..the potatoes were not in the least bit dry…..it was just….PERFECT.
Definitely a Sunday kind of meal, with family around the table, to remember.
Hope you enjoy with your families, as much as we do.
Save