Here's a delicious meatless meal for the Fridays of Lent, or for any day, for either lunch or dinner! My kids love most vegetables, so these pocket sandwiches are always a real hit with them! They always cheer when they ask what we are having, and they always ask for 2nd one!
I didn't take any photos in the early stages, as I usually do just for fun. But I think you'll be able to follow along just fine without them.
Ingredients:
red peppers
zucchini
summer squash
broccoli
vegetable oil
American cheese
whole wheat pockets
~ Naturally, you can use any stir-fry type vegetables your family likes best.
1.)   Wash *all vegetables well, of course.  : )
*How many of each vegetable you use depends on your family size. Use your best judgement. Once it's all in the pan you'll get a better idea.
2.)  Clean out red peppers, and dice.
3.)  Zucchini and summer squash:
>>>   a.) Cut off ends.
>>>   b.)  Cut length-wise in half
>>>   c.)  Cut again lengthwise,  cutting halves into half.  Now you have 4 quarters of lengthwise slices. (Aren't I great at explaining these things?  Maybe I should have taken photos of this part too. lol)
>>>   d.)  Now slice the quartered lengths the short way, about 1/4″ thick.  You will have nice quarter-0f-a-slice pieces.
4.)    Cut up broccoli into medium sized pieces, chopping off ends first. (You will chop it all up later.)
5.)    Get broccoli going in a steamer. (We have a Black & Decker Handy Steamer. But you can steam however you do.)
6.)   Heat a large stir-fry pan at medium-heat, and add 1-2 tablespoons of vegetable oil.
7.)   Add red peppers, zucchini and summer squash to pan, and stir up.
8.)  Cook all vegetables in steamer and pan, to desired tenderness.  (We call it done when fork inserts nicely.   Be careful not to overcook.)
9.)  Remove steamed broccoli from steamer, and put on cutting board.
With a large chopping knife, chop up into smaller pieces, and then add to the pan on stove-top, with other vegetables.
Stir all vegetables together.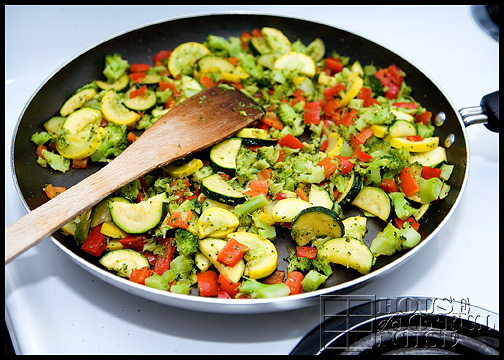 So happy to-ge-THERRRRRRRR! (Name that tune!)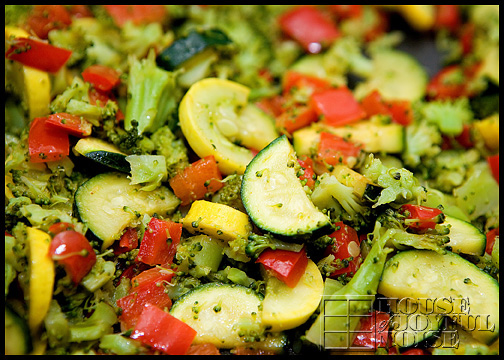 For pockets, we use this brand: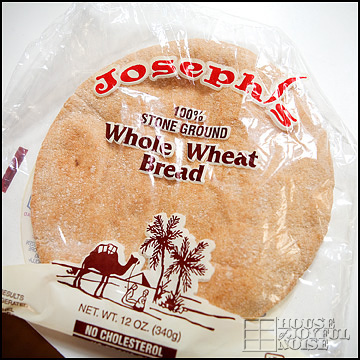 10.)  Take a bread disc out, and cut in half.
11.)  Lay some slices of American cheese in the pocket half.  Break slices up to fit nicely.  (Us grown-ups sometimes put some Pepper-Jack in too, for some kick! But it's delicious just with American.).
12.)    *Fill pocket up with vegetables.
* For the little ones, we don't overload it, because it's a wide/big pocket, and a little bit difficult to for little hands to handle. Reminders to eat over plate are a good idea, with these babies!   But what falls to the plate can be eaten up with a fork, after.
**  Us grown-ups really fill it up.  : )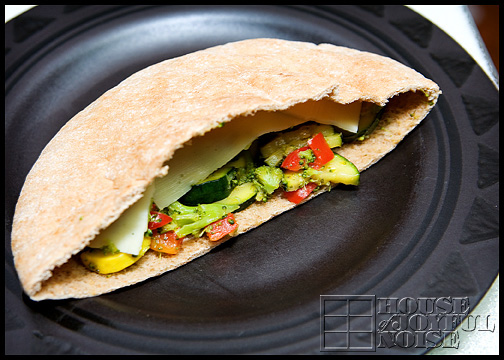 Filled just right for a kiddo.
13.)  When they eat it all up, and ask for another, SAY YES!!  A kid can never eat too many vegetables!   : )
ENJOY!!
Save
Save