After intending to for far too long, I am finally sharing with you our kids' little gardens, today!
All 4 of our kids help in our family gardens at some point or other through the gardening seasons; although some do with more joy and ambition than others. There is always some weeding, dead-heading flowers, or picking vegetables, that needs tending to. I do much of it myself, but sometimes I could use another pair of hands, and the company is nice sometimes, too.
But just prior to the gardening season in 2013, I pitched the idea to the kids, of having their very own little garden.
I explained that they could plant and grow whatever they wanted, but they were also responsible for keeping it up. That meant keeping it weeded, watered, dead-heading their own flowers, and generally tending to it with love. Not only that, but after their father built the frame base, they had to be a team and prepare the bed themselves. They all loved the idea, and each have had their own little garden ever since!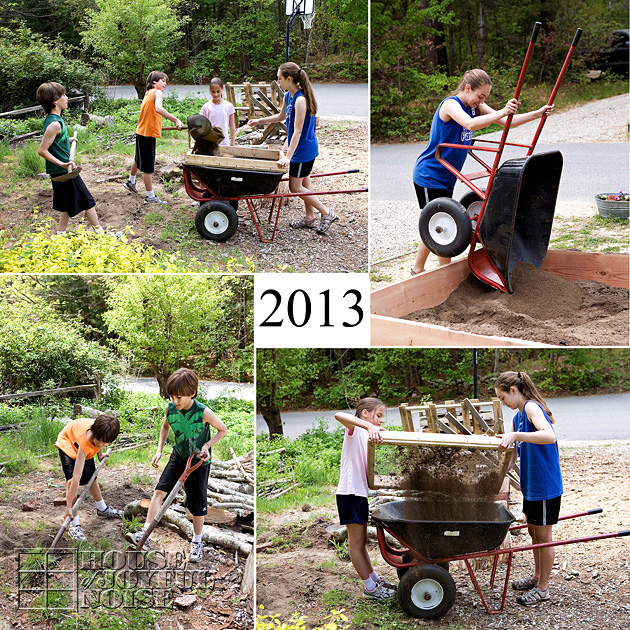 It may have been more work than they anticipated, that first year! Because although we have had loam brought in by the truck full for our other garden beds, we had a perfectly good dirt pile next to the driveway that we didn't really want there. It had been overgrown with weeds and grass, though. Basically, it was less of a dirt pile any longer, and more like a grassy hill, riddled with rocks! So they did work hard, like a team. The boys dug the hill up, pulling and shaking out the grass and weed clumps, and putting shovel fulls earth onto the handmade screen on the wheel barrow. The girls sifted the dirt through, to remove all of the rocks, and then wheeled the barrow over to the garden bed, and dumped the dirt in.
That was the less than fun part. But they made the most of it, and it was good and done for many years to come.
Now let's look at their gardens, today….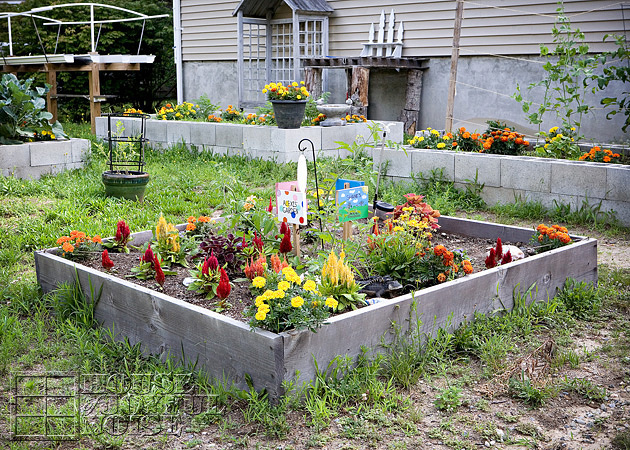 Here in the photo above, is what their garden looks like this year, as of a couple of weeks ago. (I've noticed things have really grown since the taking of this photo! Everything is really tall and full, hiding the signs now.)
It's been somewhat different every year, depending on what they decide to plant and grow, or the fun little things they like to add. (Fun details about that coming up in a minute.)
As you can see, it's a small garden bed, measuring only about 6×6′. And then, it's divided into quarters, for their own sections.
In years past, the square was divided with string, into 4 smaller squares, so they each had a corner quarter of the bed. This year however, Michael decided to make it different, divided it with string like a big X, corner to corner. So each of their gardening areas are triangular this year.
The Little Tour:
A Peek at Each Kids' Garden – Details, Preferences, and Past Gardens
As I show you each kids' triangle space of garden, I will start with their garden sign each of them painted. They made new ones this year, as the ones they made for the previous two years had gotten too weathered. You may notice the string that divided their gardens in some photos, and no doubt, you will notice also that some of the kids are more into their gardens, than others. But that is alright with me. As long as they are responsible and remain committed to caring for the plants or flowers they did decide to put in their garden.
Alexis went with a simple polka dot sign this year, and I love it! It's fun, colorful and quirky, just like her.
Last year her sign had a painted lady bug, bumble bees, and dragon fly, on a white background. Her also. She loves bugs and little creatures; with exception of bees or any other flying stinging insects. In fact she is borderline terrified of those. But she'd hold a snake in a heartbeat.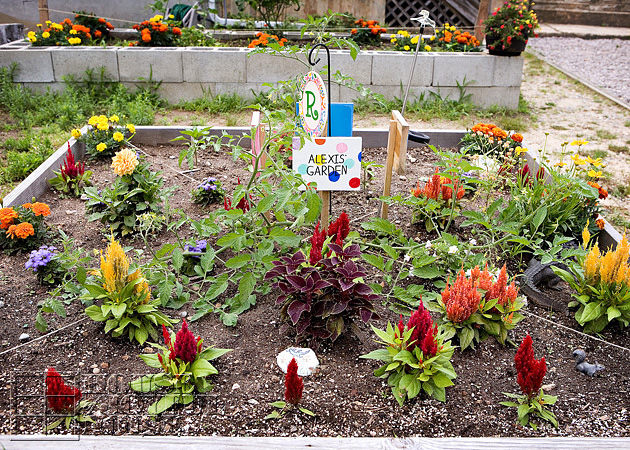 Every year, Alexis chooses to plant lots of Celosia in her garden.
Although she calls them 'Truffula Trees', in reference to The Lorax, by Dr. Suess.
There is also some other big plant. And very much to her dismay, the tomato plant her Daddy put in the center of the garden this year, has overgrown into her garden. She isn't happy about this, because she is not a fan of tomatoes. (And the rest of us just cannot understand it.)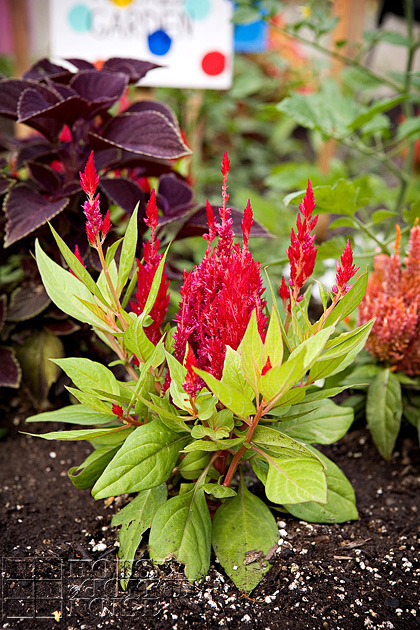 (A …. Truffula Tree.)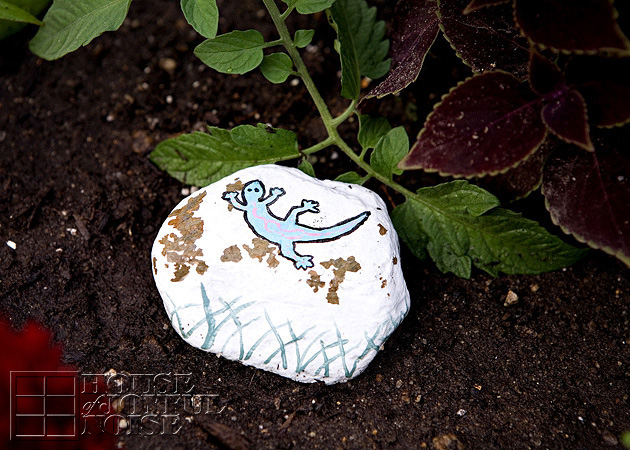 She painted this garden rock last year on a creative day, of a Gecko. Yup, she loves those, too.
This summer she's been working at a kids camp as a counselor, and in between working with the kids, she spends much of her time catching little frogs. Just for fun. She's that kind of girl.
: : : :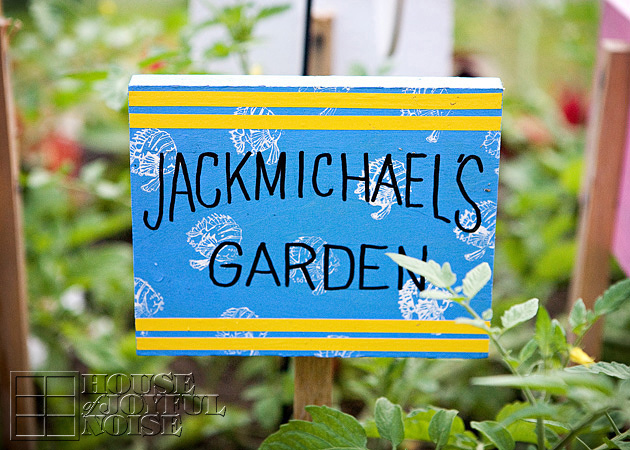 JackMichael has a great sign this year, as well. It was a challenge fitting his whole first name on there! So he needed a little help with that part. He stamped the fish on.
Last year his sign was the same blue background, with little, happy, orange goldfish painted all over it.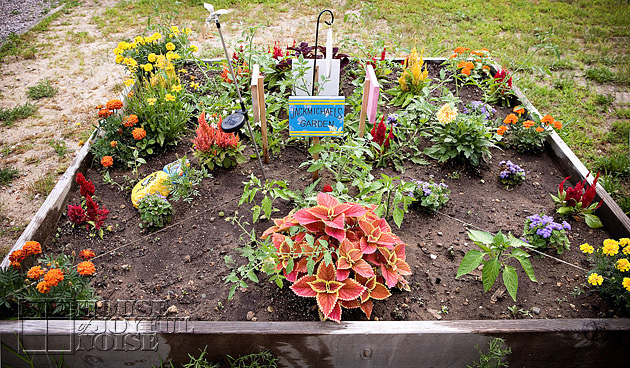 He kept it pretty simple this year, too. The Coleus Defiance plant is the main attraction, although he also chose to grow several hot pepper plants. Looks like the center tomato plant spread his way, as well. In the corners he shares some marigold plants with his neighbor gardeners.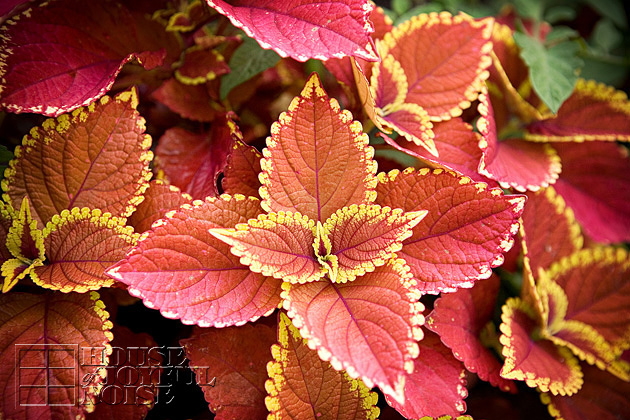 (A closer shot of the gorgeous variegated Coleus leaves.)
In a previous year JackMichael's garden had a sea theme, and along with his goldfish (well, not really sea, I guess) sign, he put a large message-in-the-bottle in his garden, which I thought was super cool and creative. Wish I took a photo of that.
: : : :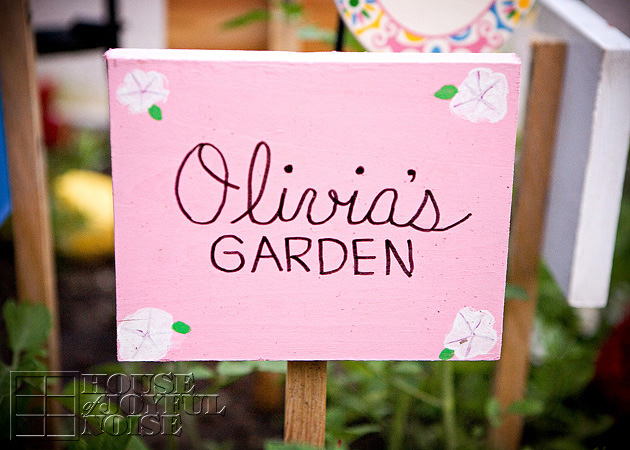 And now, Olivia's garden.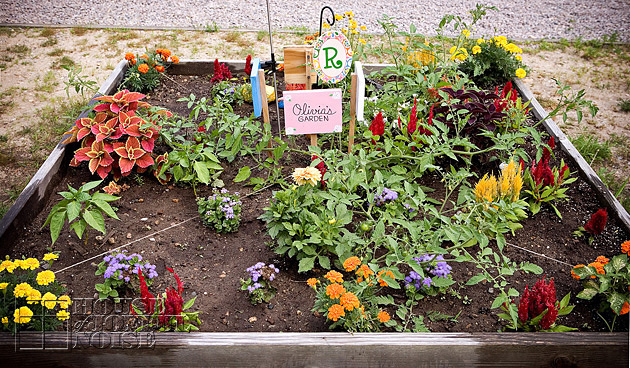 Olivia has several things growing in her garden.
There are some Marigolds, Celosia, Wild Agertum, and my new favorite flowers……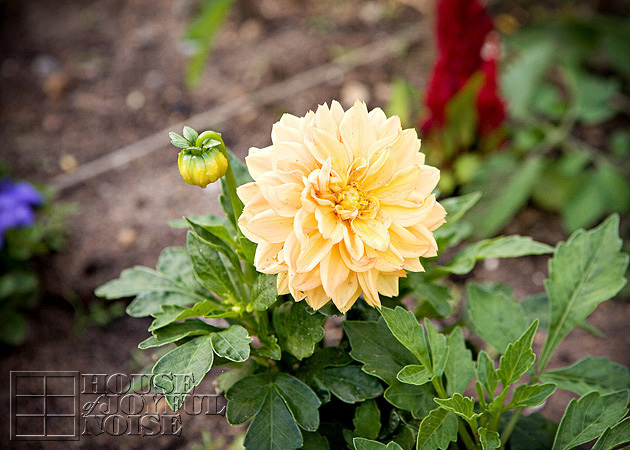 Dahlias!
Olivia enjoys gardening, and pretty much all things domestic. So she is a great help in any of the gardens.
: : : :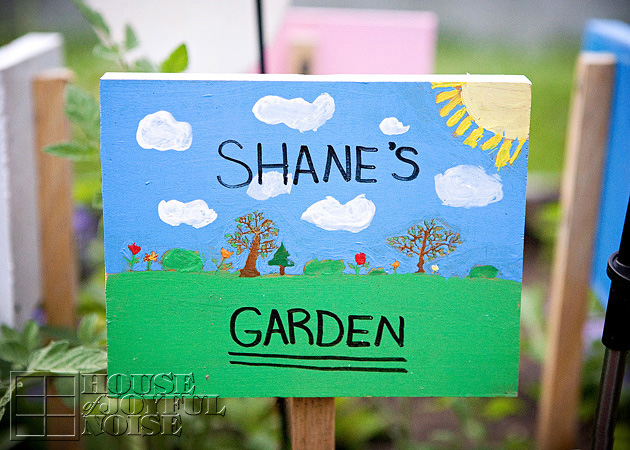 Shane is a detail kind of kid, and made a little landscape on his sign.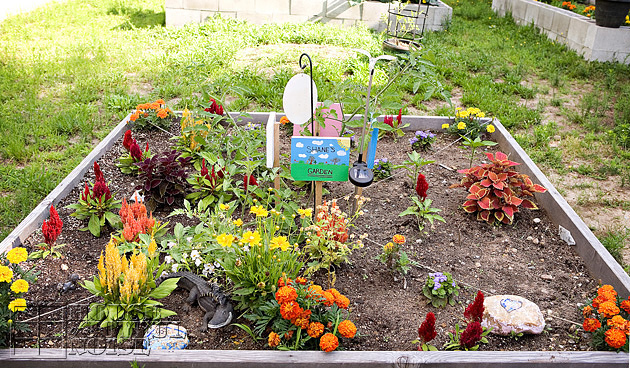 It seems he's got a little of what everyone else has growing in his gardens! Plus different variety of Marigolds, as well as two other white and white-pink flowering plants that he actually dug up from the wild and replanted in his garden. I forgot to check what they even are, but one looks like a daisy variety, and the other some tiny bell flowers.
The details of Shane's garden are always fun….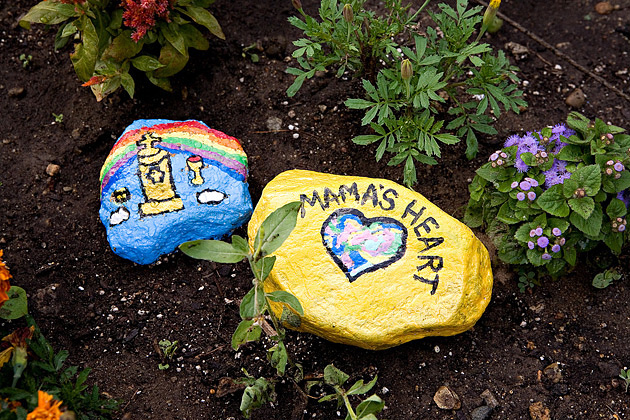 He repainted his rocks (since taking the photo of the garden as a whole, before this one), on a creative day this past spring, but repainted them exactly as they were before. I just think they are the sweetest thing ever! The many colors in 'Mama's Heart' is symbolic of all of the love and joy he knows is always in my heart, for my children. The other is a Holy Communion themed: a Tabernacle, with the Body and Blood of Christ on each side.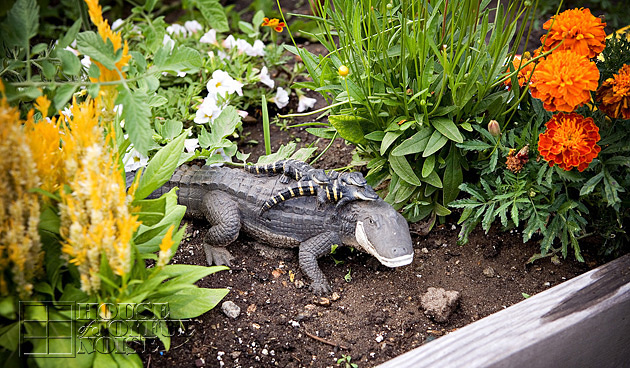 He also bought this big Mama gator, with babies on her back, for his garden.
Love it!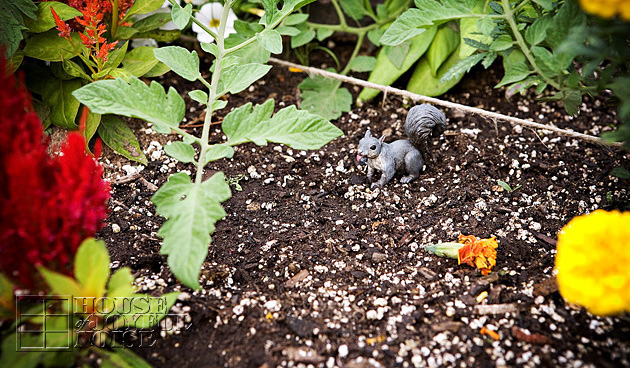 I love to find the little surprises, that they have added to their gardens.
I truly enjoy gardening, although this year I have not been able to do as much myself as I normally have, due to my broken ankle in early spring: prime garden prepping time! I had even gone above and beyond with a strong start to my gardening plans, starting many of the plants from seed indoors, growing under lights. (Remember?; if you follow us on Facebook.) But then, the ankle accident happened, I was thankful just to get my family to get them all planted outdoors in their garden beds. From there, the gardens have not gotten AS MUCH of the amount of love and attention they have in previous seasons. I just feel bad asking everyone else to go weed or water, and bad because I really wanted to do it myself. I'm quite better and able now, but the gardens are also quite out of hand by now, rampant with weeds, etc. Still producing but….clearly not being tended to with time, love and attention.
But for many years now, I have gotten so much joy and other rewards, from my time spent in the gardens.
And….
I truly feel that gardening holds so many valuable lessons for children too!
….giving many, many fruits beyond what it physically produces. I could think of my children's gardening as homeschooling, and in part, I do. Because it certainly is home economics, agriculture, science and science experiments, nature studying, etc. But regardless, I think it's important life skills. Knowing how to grow your own food, and perhaps herbs and flowers, too. It's at the least, a necessary part of true homesteading. But beginning some gardening when children are young, also teaches them other important lessons, such as responsibility, seeing the fruit of their hard labors (quite literally, where gardening goes!) and the sheer value and beauty in nurturing LIFE.
Gardening helps us all see the beauty and provisions in the details of God's Creation, that He blessed us all with.
More than anything, and because of all of those things, I hope what they really learn, is to love gardening, too.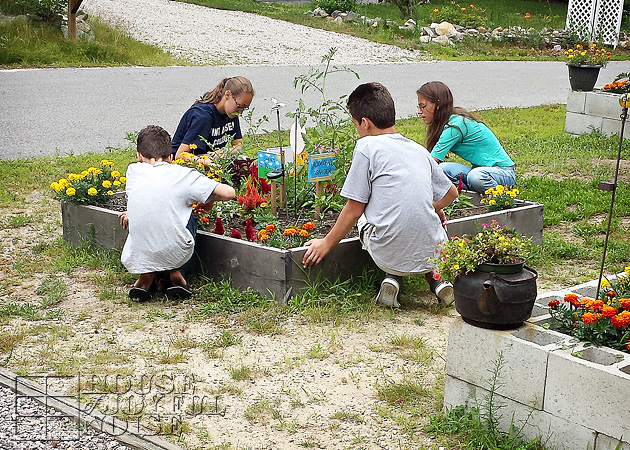 I think it's working, already. They may not all love gardening yet, or love it all, but the seeds have been planted, and I am confident they will keep growing
When I was a little girl, I enjoyed gardening with my mother, and playing in the dirt in general.
In fact, I have a little surprise-photo for you today!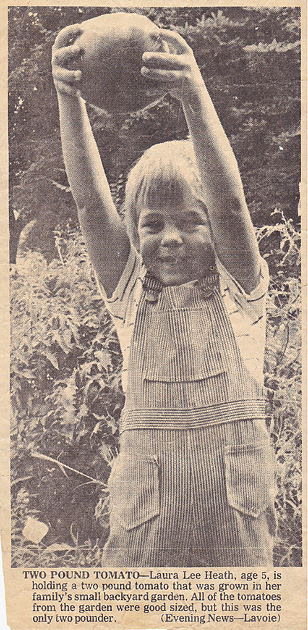 This is an old newspaper clipping of me (1974) when I was 5 years old, that my mother kept, then passed on to me, and I have had it in safe-keeping, for years now. We had grown some great big tomatoes in our garden, but the two-pounder put us in the local paper! I am thrilled to still have this, if only for how much my children love to see it! They think I couldn't be any cuter, of course. I hope to keep track of it in a safe place, for the generations to come.
In my adolescent years, and even through the first many years of marriage, I had lost my love for gardening. I had no interest in it at all, and couldn't understand anyone who did. I felt it took so much time, effort and….patience. But thankfully, I got back to my roots, and came back to really enjoying the process and rewards of growing things again, and putting food on the table.
So I am happy that my kids have their hands in the dirt at a young age, just as I did when I was little, with my mother. I am confident at least some of them will one day be digging up their own yards, planting and picking, and maybe even calling Mama up for some of her gardening advice. And I believe all of them will treasure these memories of gardening together, with their siblings and me, as kids. And if it sticks….encourage their own children, to get their little hands dirty in the gardens, too.
But I don't want to think too much about someday.
For now, I am going to be present, knee-deep in the here and now, planting seeds in hearts and soil, and with God's grace, watching all of the beautiful details that grow from it.
Happy Gardening!
Save
Save