After intending to for far too long, I am finally sharing with you our kids' little gardens, today!
All 4 of our kids help in our family gardens at some point or other through the gardening seasons; although some do with more joy and ambition than others. There is always some weeding, dead-heading flowers, or picking vegetables, that needs tending to. I do much of it myself, but sometimes I could use another pair of hands, and the company is nice sometimes, too.
But just prior to the gardening season in 2013, I pitched the idea to the kids, of having their very own little garden.
I explained that they could plant and grow whatever they wanted, but they were also responsible for keeping it up. That meant keeping it weeded, watered, dead-heading their own flowers, and generally tending to it with love. Not only that, but after their father built the frame base, they had to be a team and prepare the bed themselves. They all loved the idea, and each have had their own little garden ever since!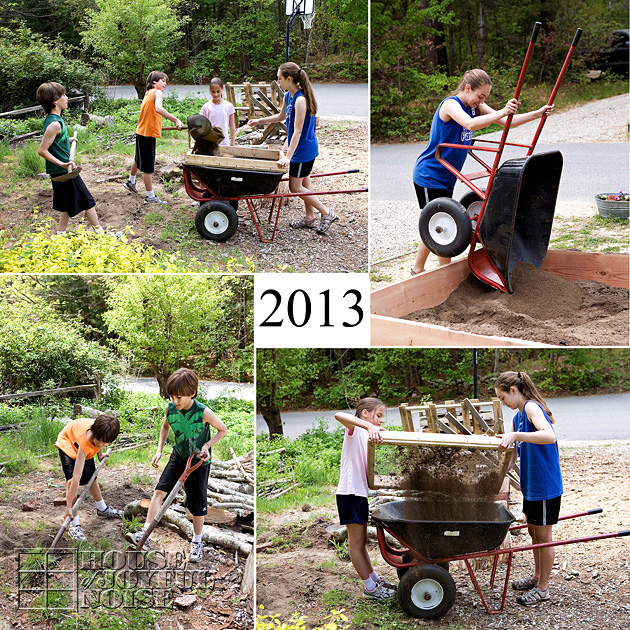 It may have been more work than they anticipated, that first year! Because although we have had loam brought in by the truck full for our other garden beds, we had a perfectly good dirt pile next to the driveway that we didn't really want there. It had been overgrown with weeds and grass, though. Basically, it was less of a dirt pile any longer, and more like a grassy hill, riddled with rocks! So they did work hard, like a team. The boys dug the hill up, pulling and shaking out the grass and weed clumps, and putting shovel fulls earth onto the handmade screen on the wheel barrow. The girls sifted the dirt through, to remove all of the rocks, and then wheeled the barrow over to the garden bed, and dumped the dirt in.
That was the less than fun part. But they made the most of it, and it was good and done for many years to come.
Now let's look at their gardens, today…. [Read more…]