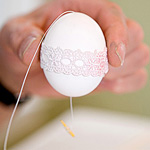 A couple of pre-Easter seasons back, we blew out and decorated eggs, and prepped some for hanging. I took lots of photos of the process of the way we did it, but never blogged it for you all. It's not all that hard. And the best part is, you don't have to figure out what you're having for dinner that night! You'll have a bowl full of egg yolks, ready to scramble. : ) Breakfast for dinner! We do that sometimes around here.
Scroll down to read and see just how simple it is to blow out eggs, and string them for hanging after decorating them.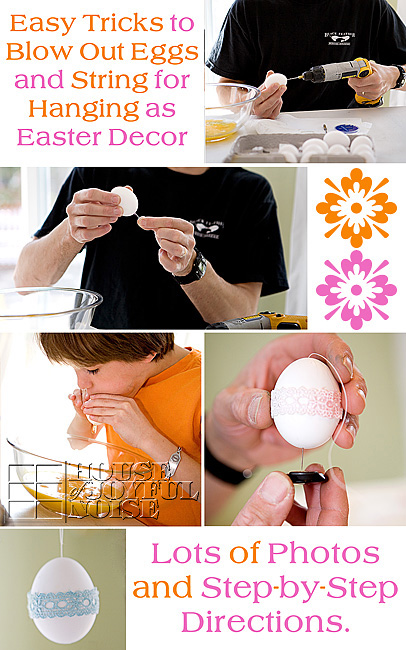 When you're done reading through, the above collage is the perfect Pin It image for these tutorials.
(Hint, hint. ; )
So let's pierce some eggs.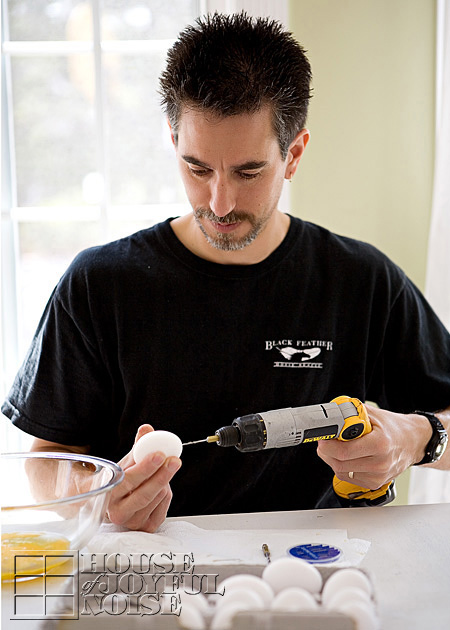 Using a drill makes putting the holes in the egg very easy. Use a 1/16 drill bit for the top of the egg. This is the smaller hole.
On the bottom of the egg, make a slightly bigger hole, using the 1/8 drill bit.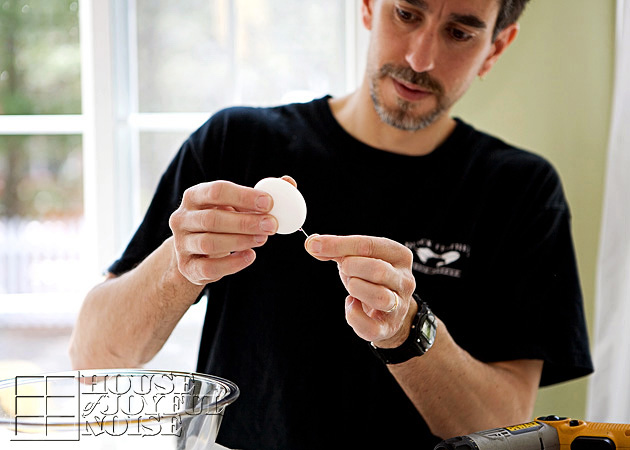 Next, use a long pin in the bottom/big hole, and move it around and jab in and out, to break up the yolk sac some.
Now it's time to blow that yolk out.


We let the kids take turns blowing them out. They thought it would be so fun. But I was worried their head would explode, seeing how red their faces were getting! I was like, "Oh my gosh! Breathe!" Ha ha ha.
It took them a little bit to learn how to direct the air from their blow, into the hole. You need to do that best you can. You can also try a syringe, to push air through. Once the yolk starts coming out, it comes out pretty fluidly.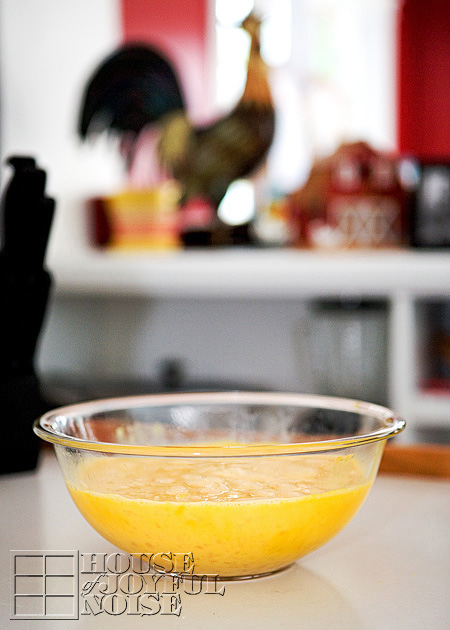 Plenty for our family of 6.
So after you have blown all of the eggs you want hallowed out, you'll want to wash them off and out a bit. Run them under warm water, getting water inside the egg too, and shake them some, to wash the inside of the egg. Drain them as well as possible. You can then put them all on a plate in the microwave for microwave them for 10-15 seconds
Now you can decorate them. It is a little tricky to dip-dye the hallowed eggs, because they tend to float now. So if you are dyeing them, you'll need to keep it submerged with a spoon or whatever. Of course, there is a host of other ways you can decorate eggs. And remember, since these are blown eggs, you'll be able to keep them! So consider drawing on them, doing a little decoupage with dried flowers, using Washi tape, or embellishing them in a number of ways. Just use your imagining and have fun.
If you'd like to hang your hallowed eggs, here is how you can string them: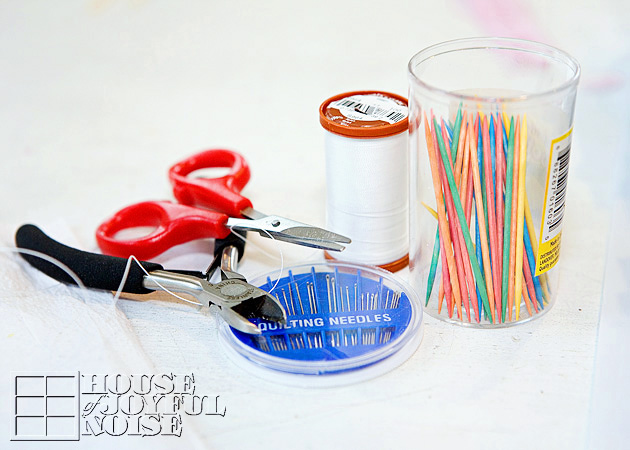 These are helpful supplies to string your eggs:
strong thread
eye needles
little scissors
toothpicks
small (wire) cutters. As you have probably caught on by now, my husband was the executor of this project this day, while I was the photographer.
(Please excuse my husband's hard-working hands in these detail shots. Love this man so much, for all he does for our family. And then he does fun things like this with us, too.)


Thread one of the larger sized needles, and tie it off as a single thread.


Insert the threaded needle in through the top of the egg, all the way, but leave plenty excess out of the top for hanging later.
Now it needs to come out the bottom, and as you can imagine, it would be challenging to make the needle do that.
So here's the trick . . . . .


Hover a magnet underneath the egg at the hole.
You can gently shake the egg as you do this, to try and get the tip of the pin to the hole as well.


The magnet will draw the the threaded needle down out of the hole.
Cut the pin off the thread now. You won't need it anymore for this egg.


On the same end of the thread that you cut the pin off, tie on a toothpick, and wrap the thread around it, as shown above.

You only need that little piece of toothpick where the thread is wrapped, (maybe 1/2″ or a little more) so you can cut the rest off using your cutters.

So now you have this little piece of toothpick, tied onto the thread, that is coming out of the bottom of your egg.

Now carefully push the whole thing back up into the hole of the bottom of the egg. Let it fall in all of the way.
This will act like an anchor inside the egg, for the string coming out of the top of the egg, to hang it.
So with the single thread coming out of the top, tie it in a loop, to hang your egg.

That is the process you do with all of your eggs. If you don't wish to hang some or any of your eggs, of course you won't need to string them.
All of it is fairly quick, and you'll have your beautiful decorated eggs for years to come.
Here's how we have used some of ours: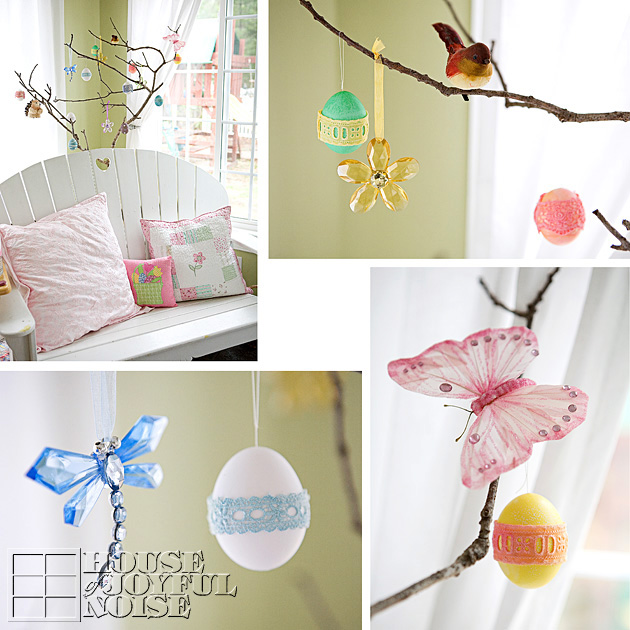 Hung on an Easter Tree.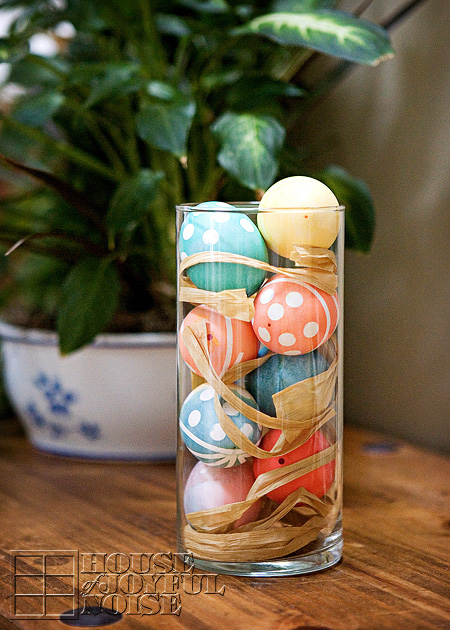 In a glass cylinder vase, with some pieces of Raffia paper.
What ways will you use yours?
I am considering making some more this year, decorating them in a new beautiful way, possibly personalizing some, and giving some of them as gifts!
We hope you found this tutorial helpful and learned some tricks that will help you blow some eggs of your own, and maybe string a few as well.
Thanks for coming by! May your Easter celebrations with those you love, be beautiful!
* * * * * *
Please come follow me here and there:
This tutorial was shared at Joyful Homemaking's Think Tank Thursday Link Party #230!