DISCLAIMER:
This post was published with special permission from one of our two teen triplet boys, Shane, who is featured in this real life story of ours quite a bit. He read it and approved it. I have *always* checked with my kids before sharing their business or photos anywhere online. It's just the right thing to do. – Laura
–
It finally happened on a late Saturday afternoon, this past December, actually. After keeping chickens for nearly 2 and 1/2 years, a predator finally got one. And it was all kinds of sad. Of all of the ways such a loss could have gone down, and any chicken it could have gone down with, it was about as sad as it could get, if you ask us.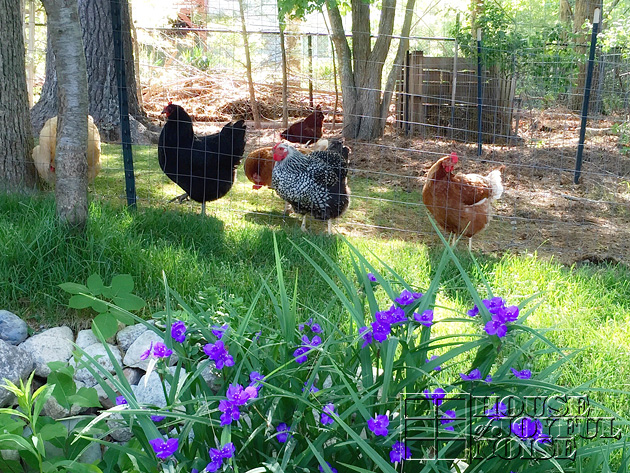 (Just a picture of our chickens from last year, for your enjoyment.)
Before we tell the sad little tale, we have to say first, that we still maintain that our predator deterrent set-up has been working very well! It was never meant to be, nor going to be, predator-proof. But it has definitely done it's job well in serving it's intended purpose, in deterring hawks, especially. It was only a matter of time though, that a more unusual situation with a predator would arise, and well….that time came.

And it was indeed a hawk, anyway. Just not a swooping hawk.
As I said, it was a Saturday. The chickens had been left to free range in their predator-deterred big open run, which is the fenced upper-yard. We had been out all afternoon, Christmas shopping for needy families. Our church has a great program to help out those who cannot afford to buy presents for their children. Those specific gift requests are written anonymously on hundreds of numbered paper stars, along with the child's sex and age, and all hung on a Christmas tree in the lobby of our parish center. Parishioners can take as many stars as they would like, and must return the wrapped gifts, with the corresponding star attached, to the parish center by a specific date. Our kids all work now, and make good money for kids. So they were very excited to each take a star of their own this year, go shopping, wrap their gifts, and make other kids' Christmas brighter.
Now, we share where we were and what we were doing, for two reasons:
1. In case anyone reading would like to take this charity idea to their own parishes, and help out their own community families in this beautiful way.
And 2. To let you know that we were actually busy doing something very important and good, completely oblivious while one of our chickens was getting brutally murdered at home.
It was a wonderful sunny afternoon spent together. We had every intention of being home before dusk to put our chickens in the real predator-proof run (attached to the coop), when the concern about predators coming around increases. You know….dinner time, and all. But, I wanted to make one last stop at the Dollar Store, to pick up transparent tape, some gift bags and tissue, etc. In that time frame while we shopped a little bit more, the sun dipped down below the horizon line.
Dusk. And quite likely just while we drove the short way home, with all of our parcels, all excited about what we had picked up to put a smile on many kids' faces, feathers were a-flyin', and a very special chicken was fighting for her life, trying to defend herself from a much bigger feathered-creature, that was simply no match for her.

It was Pembroke.
Our sweet black australorp. The thing is, there were other chickens we would have sacrificed first, if the predator had asked us. Ones that didn't mean so much to a certain boy, especially. But….it didn't ask. It didn't even wait until we got home, so we could fight along side our chicken.
We didn't even know what had happened, at first. All was done and over with by the time we got home. We piled out of the van with all of our packages, and went right up onto the back deck, past our chickens in a huddle(?), into the house, to unload. Then Michael went back out to get all of the chickens into the smaller predator-proof run, which is attached to the coop. They'd be going right in very soon too, as it was rapidly getting dark. (As it does early in December.)
He did notice the flock was all huddled together by the coop, and behaving strange. They didn't run over and line up to see us at through fence, as they usually do when we come home, and they didn't run up to Michael when he came in through their gate. It was odd. We didn't notice coming into the house, and he didn't think too much about it as he went up to put them away. He didn't know, that the flock had just witnessed the most horrific event of their lives, and were likely traumatized and panic-stricken. As if they were thinking….it could have been any one of them! And they sure didn't want to go anywhere near over there….
As Michael shoo'd all of the chickens into the run, he counted, and realized then that one was missing. Who was missing, he wondered? I could see something was up, watching through the window, as he looked around. So I opened the door and stuck my head out….and he told me, "Pembroke is missing. There's only 7." "Oh no," I thought, "please….not Pembroke".
My heart dropped, and I started yelling through the house for one of our boys, Shane (one of the two triplet boys), asking if he had Pembroke with him. Praying he did. It was very possible, because they were known to be together, frequently. Shane and Pembroke were like this. (Showing you my crossed fingers.) They were special to each other. They just hung out a lot. And sometimes, Shane brings her into the house. Maybe I missed that he went back out before Michael did and grabbed her, because he missed her being out all day.(?)
But Shane didn't have her.
And he knew by the way I was calling him, that something was wrong. And obviously, it had something to do with Pembroke. Meanwhile, Michael was looking around the upper-yard run with a flash-flight, and found Pembroke's bloody body, by the back fence. She had clearly fought a real battle. And lost.
For the past 2-1/2 years, Shane and Pembroke did indeed spend a lot of special time together. They'd hang out in the sun, laying on the grass reading a book, walking around the yard, and sometimes he'd let her poke around in his garden. He even had her out on the front deck rail with him on Halloween night, with an orange ribbon around her neck, passing out treats to trick-or-treaters with him.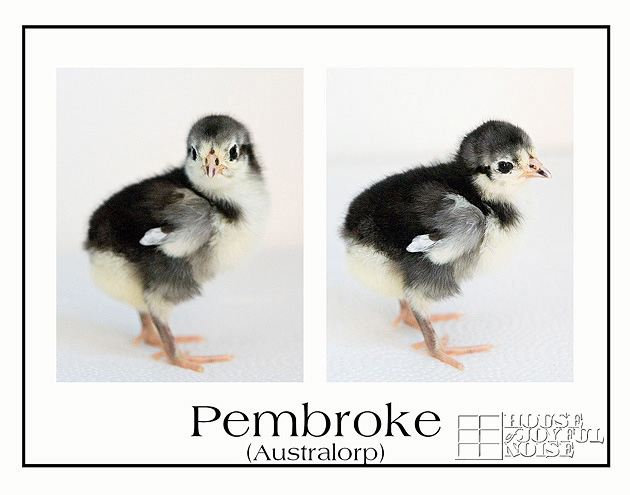 From the time Pembroke came to grow up with us in July 2014, as a 1 day old chick, with the rest of the flock, Shane took to her in a special way. The triplets were just going to turn 12 that next month. It's crazy to say, but it wasn't long before we all could see how much Pembroke and Shane seemed to be a lot alike. A young boy and a chicken, yes, but….they were both sensitive, sweet souls. Shane was a deep thinker, and a deep feeler. He wore his heart on his sleeve, as they say. Pembroke seemed to understand, and think and feel things too; as animals go, anyway. And they both had musical talent! Shane can learn to play instruments quickly. He has perfect pitch. Pembroke sang, and when she did, she sounded like a flute! He loved that unique thing about her, too.
It's strange to understand how this little boy and newborn chick connected with each other from the beginning (out of a whole batch of chicks), without really knowing each other yet. But they did. It was instant. It lasted for 2-1/2 years. And it was beautiful to watch, as they grew up a little bit with each other, every day.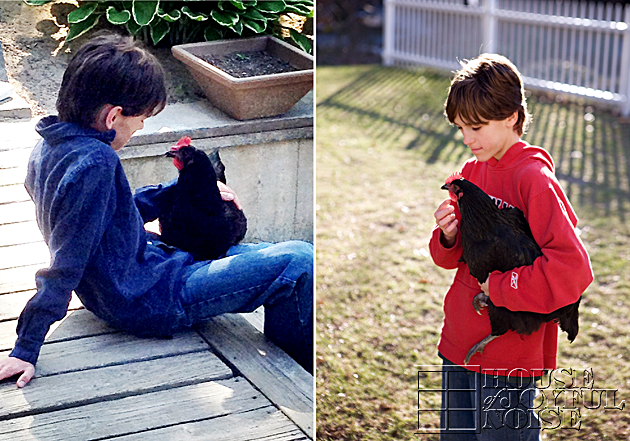 Pembroke wasn't as fast as Shane, though. (Shane is fast.) And it cost her her life, this day. We believe that hawk just landed on the fence post, and hopped right in, after watching the chickens for days from the nearby trees. She was trapped between him and his wing-span no doubt, and the fence. We had noticed the hawk, flying around that week. And we knew, that the hawk knew, there was prey down below. Food is scarce for a hawk in the winter. It seemed to us that the strings were enough to deter it from swooping in and making a quick escape. But this day, while we were away, it seems it decided to get in, and figure out how to get out later. He managed to get in, but not out, with our chicken he killed and tore open, in claw. She was killed for nothing, in the end.
–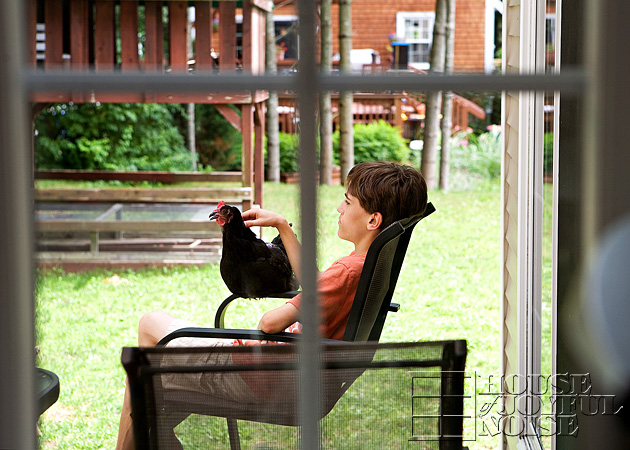 Losing a chicken, generally speaking, is not that big of a deal. We all know that nature is nature, and the chickens have not been completely protected for that reason. (Although we did add a few more strings, in the following weeks.) The upset, is that it was Shane's chicken. Granted, the chickens were never supposed to be pets, really. They aren't. But it doesn't help much when you name them. As we do. And it just happened, that Shane really loved that feathered-girl. And it sure seemed like she loved him. Of all the chickens, why his?
The Inevitable Heart-broken Boy
When her limp bird-body was found, all I could think was….our little boy is going to be crushed. I was sure it was going to be really hard on him. So I was surprised when he didn't actually cry, as the details of the situation unfolded. Nor did he break down when I gave him one comforting hug after another, in the following days. He was just….quiet, about it all. I knew he was sad. I worried he was stuffing all of his emotions because….this just wasn't like him, to have show such little emotional reaction. I was sure he'd write all about it. (He's a big time journal-er. And he sure should be a songwriter some day, because he is magic with words on paper.) But he never cried.
I was puzzled.
It was while giving him yet another hug that I was sure he needed, that I realized….somewhere over the course of the past many months, my baby boy grew up quite a bit. He was taller, come to think of it. As I hugged him, again, his shoulder was right there for me to rest my cheek on. And oh yeah…his voice had dropped, too, and he definitely had a mustache coming in. A new maturity was evident in this boy of mine. He was stronger, and apparently learned to manage and direct his feelings in new ways. Day after day, I guess I had just continued to see my little boy. As I tend to do with all of our kids. But suddenly, that fact was there, plain as day in the midst of this sad little tragedy. He was growing into a young man.
And though that's a good thing, that was the saddest and hardest part of it all, to me.
So Pembroke, our first black australorp chicken, is gone. And so is my last little boy, in a way.
Life is in a constant state of change, and there isn't really anything we can do to stop it. (Yes, I've tried.)
But you know….the cycle of life is a beautiful thing.
Our kids are growing strong and healthy. And new chicks will be arriving soon.