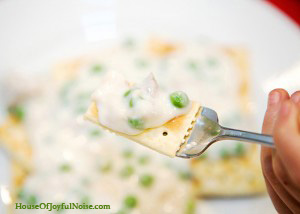 When I was a kid, my absolute favorite meal, was Tuna Pea Wiggle.  Honestly, I thought maybe my mother or grandmother made up the name for this recipe.  But no, it turns out 'wiggle' is a real term, for 'cream sauce'.   I think that just having the word 'wiggle' in the name of this dish, is enough to intrigue any silly kid.  Having crackers for dinner, may be another plus. At least, that's how we make it. There are other variations I'll mention after, but my kids and our whole family, LOVES Tuna Pea Wiggle, just as much as I do.   As Catholics, this is a great meatless meal for the days of abstinence of Lent, and we often have it on those days. But that doesn't keep us from eating it the rest of the year!
Here's how to make it: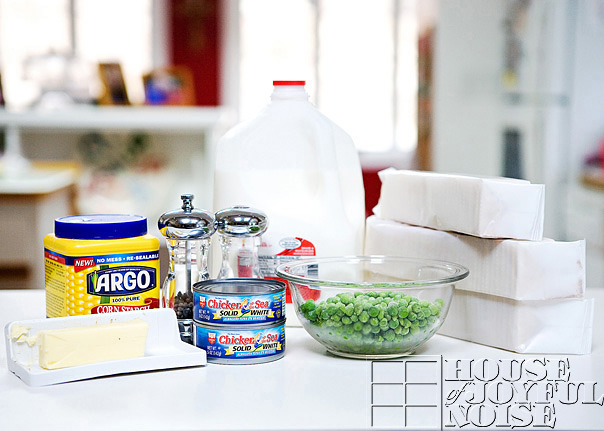 * Participating Ingredients:
2 cups milk
1 tsp. butter or margarine, and add to milk above
3/4 cups peas (we use frozen)
1-2 cans of tuna
salt & pepper
2 Tbsp cornstarch, mixed w/ 1/4 c. milk
saltine crackers
*  We double this recipe, for our family of 6, and we eat it all in one meal. Everyone has seconds.  For a doubled recipe, we use 2 cans of tuna. We like it a little saucier.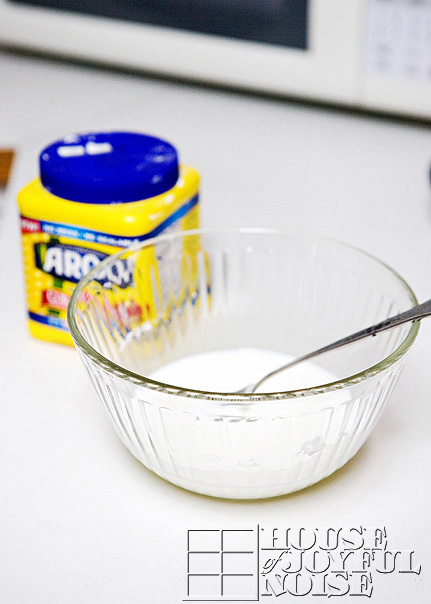 Add 2 Tbsp. of cornstarch to1/4 cup of milk, and mix to dissolve with fork.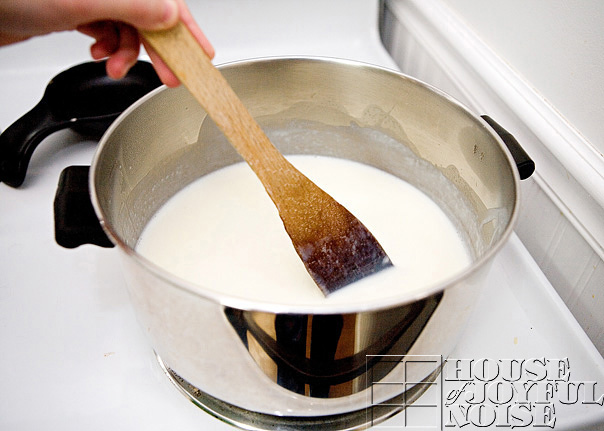 In a medium saucepan, heat the milk and butter/margarine until bubbles form around edge of pan.         
DO NOT BOIL!
Stir in the cornstarch and milk mixture.   Cook until it thickens.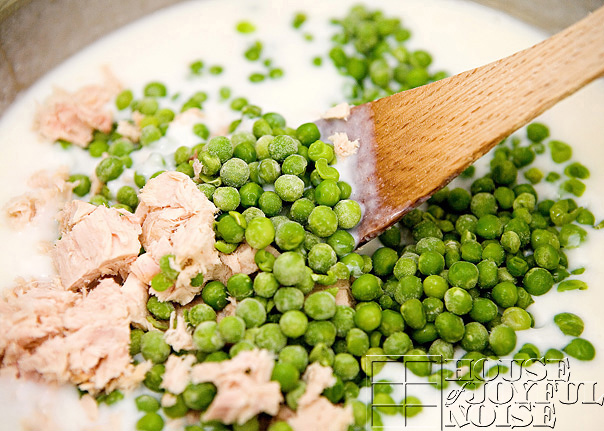 Add tuna and peas.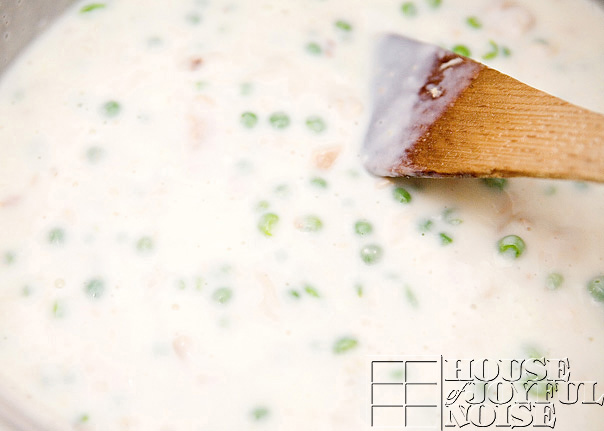 Mix it all in.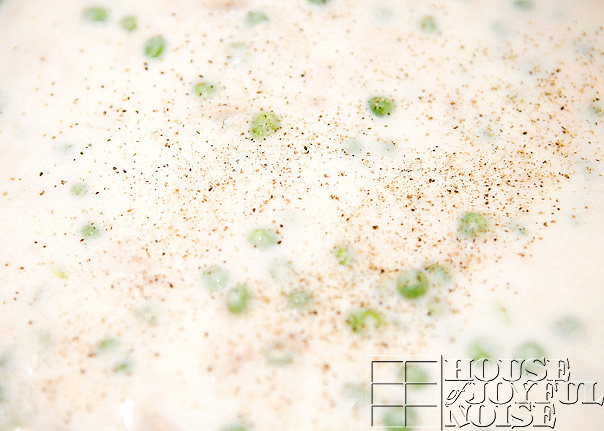 Add salt and pepper to taste.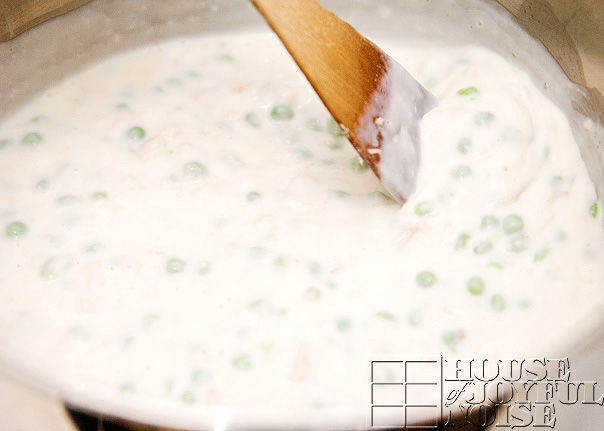 Stir and let thicken a bit more.   It's just a visual thing. There is no amount of time, right, or wrong way.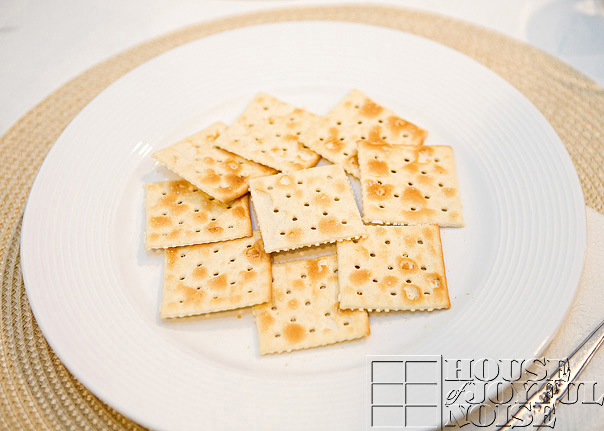 Spread saltine crackers on a plate.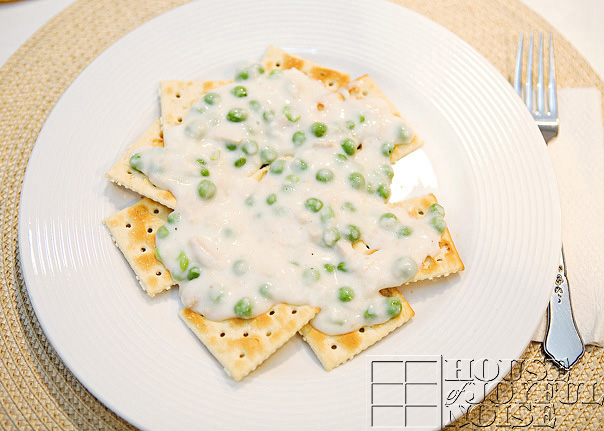 Ladle Tuna Pea Wiggle over the saltine crackers.  Salt and pepper a bit more, if desired.  I desire.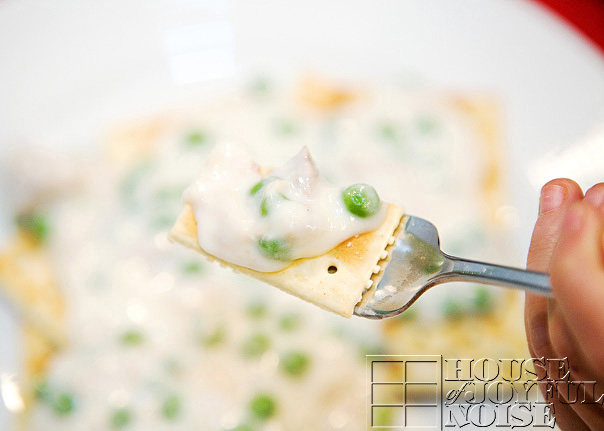 Enjoy every-single-bite.
Don't be afraid to have seconds.
Now, here are a few variations:
– My cousin told me she has always had 'Salmon Pea Wiggle'.  She has never had it with tuna. Interesting!  The opposite is true for me.
– I've heard of people adding cheddar or Velveeta cheese to the sauce.   I love cheese, but not with tuna and peas, personally.
– Tuna Pea Wiggle can also be served over toast, biscuits or boiled potatoes.   But I have always, always had it over the saltine crackers.  Because I'm still that silly kid.
Have you ever had Tune Pea Wiggle?  Does your family eat other variations of it? Do you call it something else?
(Update – You'll enjoy reading the comments on this one, as much as we have! This post has been so popular, from 'Tuna Pea Wigglers' all over the world! Lovin' it)
Save
Save
Save
Save
Save
Save