No one could have known how sad I have been this season, without my gardens to work in, and watch grow.
But I have been. Until I was blessed by surprise, with a Tropical Hibiscus and Blueberry Bush.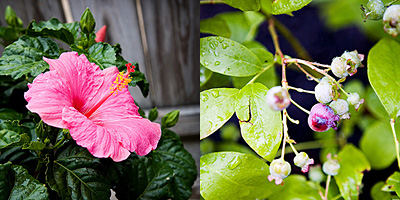 We had decided to completely overhaul our garden area this year, in an effort and plan to re-plot and grow a lot more of our own food. Although I'll be the first to admit, there's been many plans made over the years, that never materialized. And considering we're deep in July here now, with little accomplished still, I'm losing hope on this one, too.
But I've happened to get a lot of joy and satisfaction out of working in the soil and growing things in my gardens over the past years. Growing anything, beautiful or nutritional. This year, however, there has been nothing out there, but dirt.  Then, some gardening-related joy came my way. On two separate occasions, I was given these two very unexpected gifts:
A Tropical Hibiscus and a Blueberry Bush.
And oh, how they helped soothe my little gardenless-woes! I have been loving having them to tend to, and seeing them grow. But what makes them mean the most to me, is where they came from.  Let me tell you a bit about that.
The Tropical Hibiscus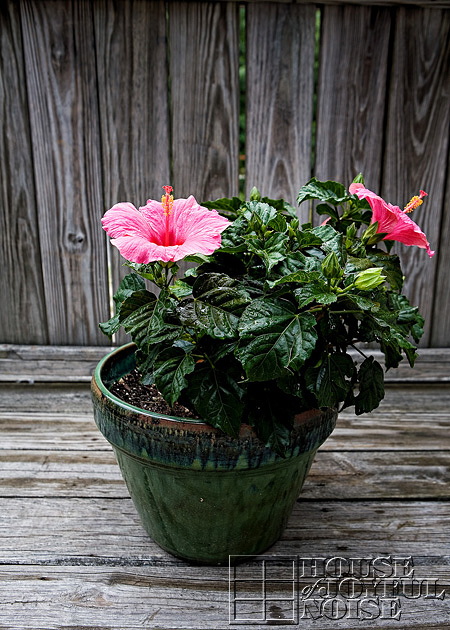 This is probably the kind of beautiful plant that I would always want to buy, but never buy for myself. And therefore, I would have probably never had something so bold and lovely.  But now I do.
And how is that? Because . . . . a very special and thoughtful young man in my oldest daughter's life, surprised me with it. I think he got quite a surprise, himself, by my very excitable reaction! I just couldn't believe he showed up with this, for me!  I already loved this young man, for so many more important reasons. But I was additionally impressed, and a little amused by this bulls-eye gesture. I mean, I don't even think he could have known how over the moon I would be with this gift but, I was thinking, 'Good move, Boy. Gooooood move.'  But I know it was really from the heart; he wasn't just playing this Mama.
Different than a hardy Hibiscus, which can survive freezing winter temperatures, Tropical Hibiscus, (as evident by it's name), can only live and thrive in warmer environments. So it will come indoors each winter, and it's this characteristic that makes it so suitable as a large potted plant for the deck.  Then, I'll have the opportunity to enjoy it's live beauty in my home, and have it to care for, throughout the dark and dismal winter, as well.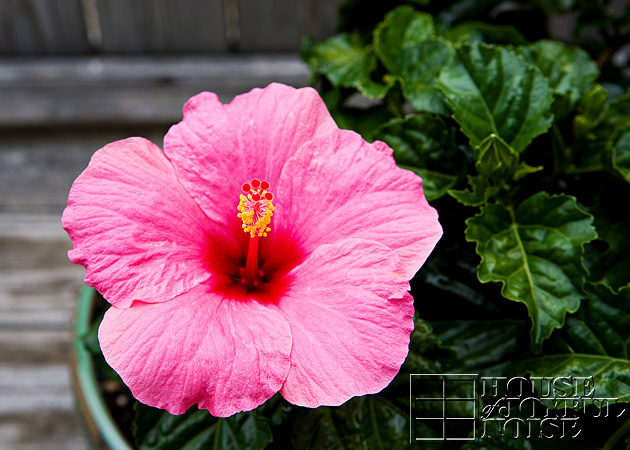 The blooms it gives make quite the statement. They are large, but delicate, bold in color, and so very beautiful.  Each bloom only lasts a day or two, before it drops off the plant. But that's what makes me appreciate each one, even more so.
.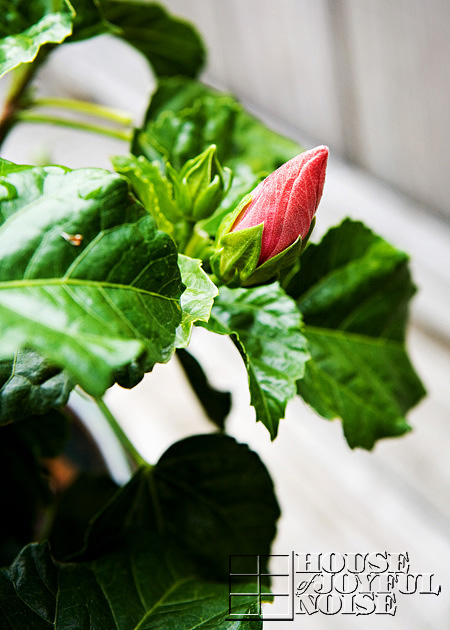 While each flower doesn't last long, there are always healthy developing buds on the plant, promising more breath-taking blooms.
.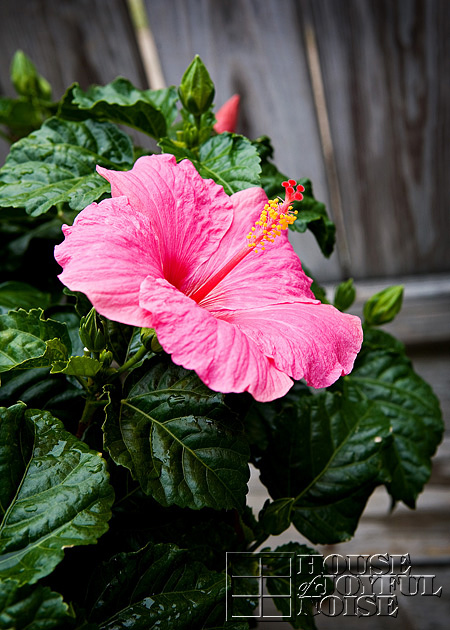 The details of these Hibiscus flowers are fascinating. And do you see all of the buds surrounding the face of this bloom?
.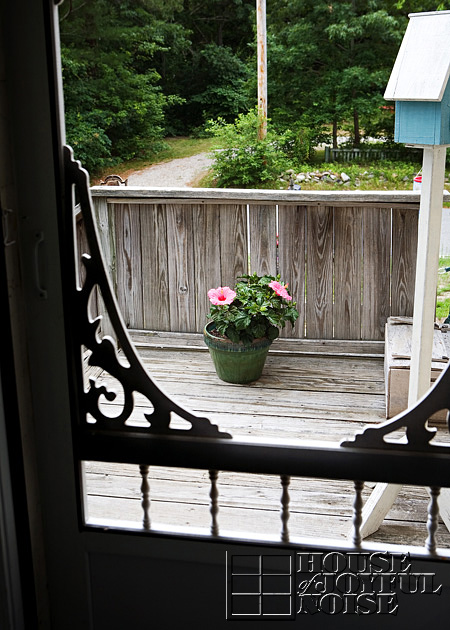 Each time I take notice of this beautiful plant sitting on my deck, outside of our front screen door, it makes the heart of this gardener smile. And each time that happens, I say a prayer for the incredible young man who gifted it to me. He truly has such a heart for God. It's amazing to me what great lengths and distances he has gone to, to serve and share that love, with others; all over the world, away for many weeks at a time, and often not in ideal conditions.
For example, as I type this, he is in Cuba on his ninth mission trip, with a team he is leading, digging a foundation for a retaining wall, and repairing the roof of a church or school, as well as sharing the love and mercy of God, with the children in the village there. At such a young age, he is truly living his faith in this way, with such courage, perseverance and action. We need more young men in this world, just like him.
So my prayer is that he is always watched over and protected, that he continues to stay on the path he is on, always growing in his faith. I believe God's plans and will for his future holds many promising buds, as well.  No matter where this young man goes, or what he does, he's been a blessing to know and love, just as he has been a blessing to so many others, all over the world, already. So may God always keep him safe, lead his heart with His voice, as well as bless and blaze the path of his whole life.
.
The Blueberry Bush

A dear friend of mine came over one day, to talk 'paint colors', actually.  She is currently building a new home, and we got talking about paint colors at church, and the ones we chose for our home.  So she came over later in the afternoon to look at our rooms again, and help her make decisions for her own home. The funny thing is though, we connect on so many other mutual interests, that we tend to get chatty and distracted! About our faith, health, raising kids, home decor, and so much more, such as gardening!
So on this afternoon that she came over for paint colors, I met her outside, and off the bat, we got to talking about my yard instead, our new gardening plans, and all of that kind of thing. She has kept incredible gardens at her former home in the past, and she knows quite a bit. It's so fun to talk to her, about anything, including gardens. But I did not have much at all, to show her this season, in the way of gardens, myself!
Except for my beloved new potted Tropical Hibiscus!
Oh and, over on the far side of my yard, . . . . . .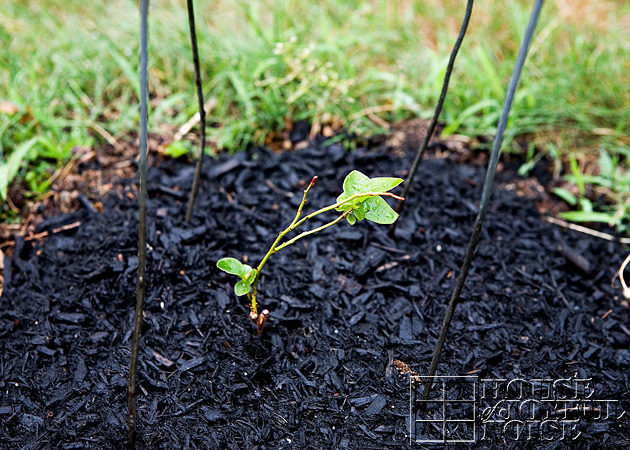 . . . . what I have called, my 'blueberry stick'. Ha! Literally. It was a blueberry bush that Michael bought me one day last spring (2015), and it proceeded to sit on the window sill of my sun room for say…..oh, a year! Yes, shameful, but true. I was waiting for Michael to decide with me where it should be planted, and dig the hole for me (I had a broken ankle at the time, on my digging foot).  And well,….spring turned to summer, summer to fall, fall to winter….it was pathetic. And a wonder how it was still alive (barely) a year later. But it finally got planted, with a little love and a prayer.
A few weeks later, the same friend called, and asked if she could swing by to drop a little something off for me. I had no idea what it could possibly be. But I had pre-arranged plans to talk with my sister on the phone at about the same time, so I told her she was welcome to drop it off anyway, and the kids should be around. She was fine with that.
Later, when I ever looked out my front screen door out onto my deck, I could not believe my eyes. A real, live, already thriving beautiful blueberry bush!!  That's what my dear friend dropped off . . . . for me! She later told me that she came out of a store, and saw the blueberry bushes there, and thought of me and my blueberry stick.  And she just had to get it for me. I felt so thought of.  Again! You know?
She then told me that although she does have faith that my stick will grow, 'you need two to make blueberries, anyway'. Ummmm….Hello! You do?  I mean, I seriously thought she was being funny and pulling my leg at first. But then I Googled that.  And it's true – most varieties do better with two or more plants, for cross-pollination. Goes to show you what an amateur gardener I am.  But it's sure enjoyable growing, learning, and knowing more all of the time!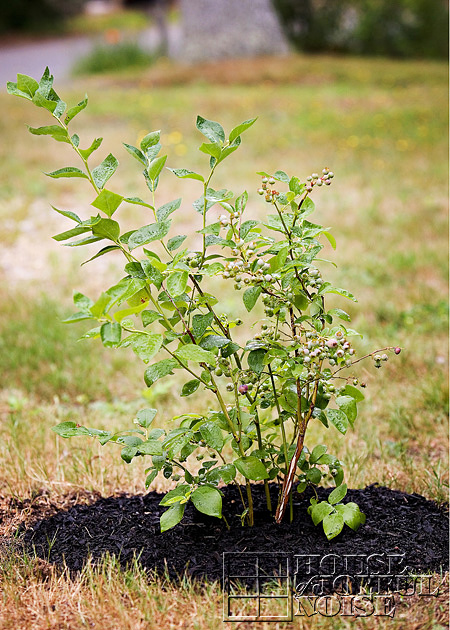 My new blueberry bush was planted right beside my blueberry stick, and they have become great companions! Both of them have visibly grown from these photos. The stick has grown taller, and put on new leaves. My gifted bush has settled right in, grown bigger, and many berries are currently ripening, turning purple and blue.
Whenever, I look over and see my blueberry bush there at the edge of our yard, or when I am watering it, I say a little prayer for my dear friend, too. She is an incredible woman, and friend. Beautiful, inside and out. I remember the day she started talking to me and asked my name after Mass one day, in such a friendly and sincere manner, many years ago. I couldn't help but notice then, and every time we've talked since over the years, how intently she listens to me. Or anyone she is ever speaking to, for that matter.  And there is a kindness that never leaves her eyes.
Our friendship has grown over the years, and she has never stopped being a blessing, or an example of a solid, God-loving, selfless woman as a friend, (as well as a daughter, mother, grandmother, sister, servant, etc). So my prayer for her is always that God protects her, maintains her health, and fills her with much peace, joy and strength, as she continues to serve Him, by serving and loving those in her life. (And she does!) May she always feels as loved and appreciated for the beautiful woman she is, to me and so many others.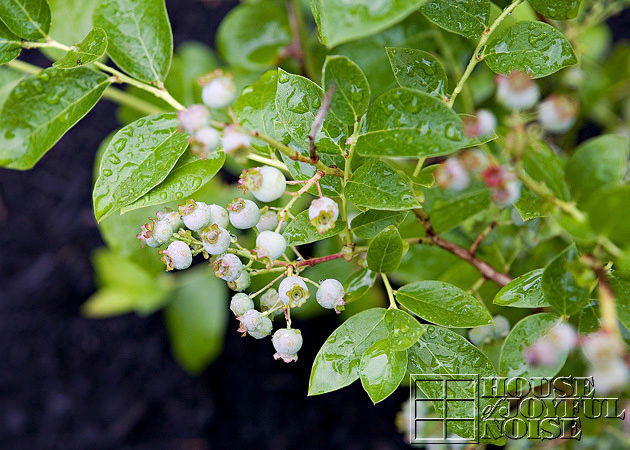 Blueberries are absolutely one of my very favorite fruits, you know. And that's a great thing for me (and my whole family), because some of the benefits really speak to some health areas I could use a little help with.
.

Say, age-related memory loss, for example. They boost the brain! That's a great perk for our whole family, and anyone else. But I personally have been tested before to reveal that I have definite issues with short-term memory loss (and my family will tell you, it's long-term as well. One just can't very well be tested for that.). I can only guess though, that since the abundance of antioxidants (called flavanoids) can help reverse age-related memory loss, they can help me, too. If nothing else, I am definitely aging (which blueberries also combat), and I don't need more memory issues on top of the ones I already have!  One thing is for sure;  no one will have to remind me to eat more blueberries!  Trust me!
.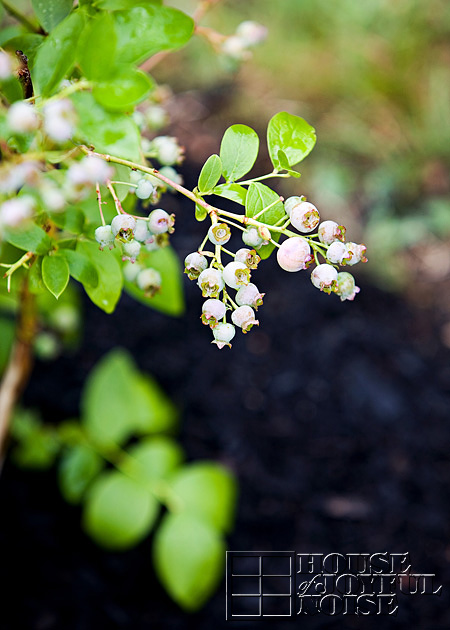 Did you know that Blueberries also block cancer?
And they lower cholesterol and fight heart disease, which unfortunately, runs heavy in my family.
.

Perhaps we will add one more bush, in time. As well as some other berry bushes.
I can hardly wait until we can pick blueberries by the handful!
.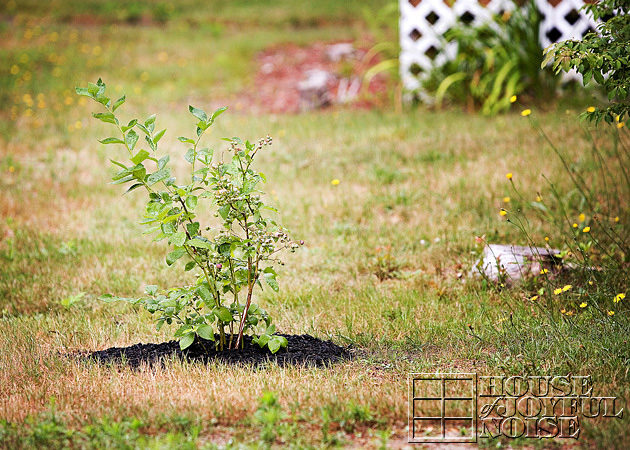 But until then, I am content in just tending to these plants that I have, and watching them grow.
And remembering, that if my vast yard of gardens never comes to fruition, due to time or circumstance, it's gratitude,  and the cultivation of the heart, that matters most.  I am blessed.
Save
Save
Save
Save
Save
Save
Save
Save
Save
Save
Save
Save
Save
Save