Doesn't it figure, that not even a week after finding a new home for our over-abundance of roosters from our hatch, did we face the very unexpected death of our rooster, 'Weymouth', who we have had for over a year? We somehow went from having too many roosters, to none, in no time flat. And it's honestly left us scratching our heads.
In our last blog post about the flock, in September, we played a fun (and super easy) guessing game, determining how many birds from our new hatch in the spring, turned out to be roosters. Roosters, mind you, that we could not keep, because we already had one, that we never had intended on having, but ended up with anyway. The new tally came to 3 out of 5 more roosters. We knew they couldn't stay, and we updated at our Facebook Page ( < we invite you to 'Like' it) when we did indeed find a new home for them all together. A nice guy who was very excited to use all three of them for breeding, took them.
Not even a week later, our big, beautiful healthy rooster, who has been the head of our flock, started our day like any other, crowing up a storm. And then in a matter of moments, he was gone.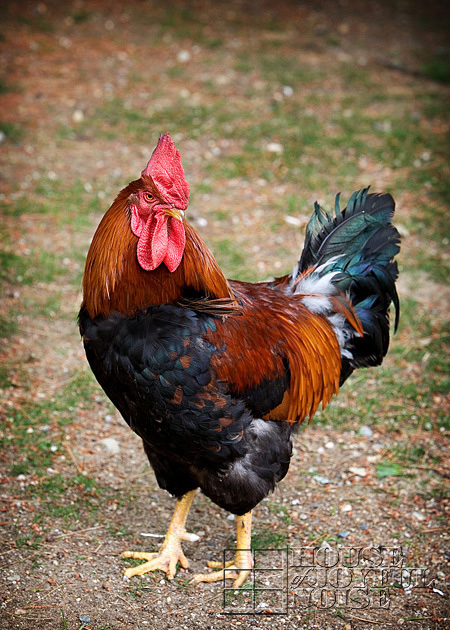 We are still not entirely sure what happened. We were only left to speculate, and our guess is really all we'll ever have, by this point. This is how the events of that morning went down.
Michael was up and getting ready for work, as he always is at that hour of the morning. He gets dressed, washed up, and by that time, 'Weymouth' begins his morning crowing. So Michael always goes out and lets the rooster and all of the chickens out of the coop prior to having his breakfast, coffee, and quiet prayer time in the house, before heading off to work. But for whatever reason on this morning, while he heard the rooster crowing, he decided to just have his breakfast and prayer time first, and just let the flock out before hopping in his truck to head off to work down the road. Except, things didn't quite go that way.
Our youngest, whose room is upstairs at the back of the house, woke up to the sounds of a great upset in the coop outside of her window. There was all kinds of chickens squawking and frantic flying around. She hopped out of bed and ran downstairs, asking her Daddy/Michael (who was doing his prayers at the counter) if he heard all of the commotion, along the way. (He didn't, and wasn't paying much mind to her, as he was reading.) She turned on the TV coop-monitor in the school room to take a look at what was happening, and saw a big dark form under the roosts, that she couldn't quite make out. She called Michael over, and when he looked and saw something was clearly wrong, he ran out to the coop as fast as he could, and opened the doors. There on the floor under the roosts, lay 'Weymouth', dead. Michael scooped him right up. He was still warm, but no longer breathing.
We may never know what happened to him, or why. What we do know for sure is that he was by all accounts that we could tell, a healthy rooster right up until his death that morning, crowing as normal like any other break of day. It may be an important factor, or we wonder if it is, that he was wearing a rooster collar, that has never prevented him from crowing, but is designed to just restrict roosters from crowing quite so loud and long. These collars are quite commonly used. It's a collar that he's worn for nearly a year, and one we always checked to be sure it had at least a pinky finger's (Michael's) worth of wiggle room between his neck and the collar, to be sure it wasn't too tight. It hadn't been tightened or adjusted in over a month.
Still, for whatever reason, we can only guess that 'Weymouth' choked on his crow, this morning. He had been crowing a little longer that morning, and Michael thinks maybe he just choked, couldn't catch his breath, and passed out, falling off the roost. Maybe even breaking his neck on the way down. We really cannot imagine that the collar caused his death. But it's crossed our minds, as we've wondered. We can never be sure, and it's made us feel bad, nonetheless. Roosters are made to crow, and they should live where they can crow, as much, long and loud as they have the instinct to. Even if it drives us people crazy. We've actually been blessed that our close-by neighbors have never minded, and many have actually expressed they enjoy hearing our rooster crow! But we just never wanted to push it, and keep the volume and frequency down a bit, if possible.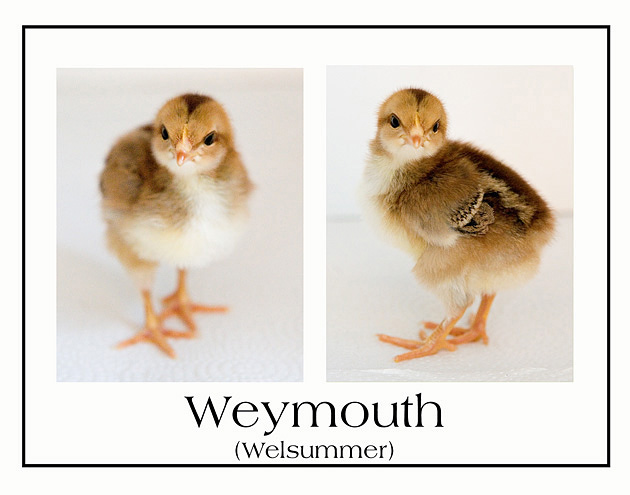 The unexpected loss of our rooster shook us up a bit. But no one more than Michael, who still shakes his head and feels some weight in his heart, at the thought of the fact that he didn't stick to his normal routine that morning, and let the flock out as he always did at the normal time. Although it was only a matter of 20 minutes, he's afraid that maybe then, the whole event would have never happened. The rest of us know it is not his fault, and we would never dream of blaming him.
It's funny how this rooster came into our lives as a chick, that was supposedly vent-sexed as female at order, like the rest, and he left our lives just as unexpectedly.
We wonder how much the feathered 'girls' miss their Master. He was fiercely protective of them, and was a loving Master; always keeping the peace, and keeping them all on schedule. On the flip side, he was also a very loving Master. Like, these poor girls never seemed to get a break, from his ambitious sex-drive. There have been many-a-day the kids and I have been gathered around the table in the sunroom doing schoolwork, whilst witnessing all of the activity out in the chicken run, and just all bust out laughing as we thought the same thing: " 'Weymouth', will you give it a rest already, and leave the girls alone!?"
So we imagine they feel much like we do. We're somewhat sad, and will miss him and his moody ways, as he strutted around as if he were the Boss. He was a fine rooster, indeed. On the other (farm)hand, there is a new kind of peace around here that's rather enjoyable, too. And in all fairness, this was no place for a rooster, in the first place.
We just wanted to let you, our readers and friends, know. As always, thanks for coming by.
Save