Just a quick post today, to share with you all a few details about the new House of Joyful Noise rooster, since we mentioned we would tell you a little more about it in this come-back post.
When I got to thinking about freshening up our blog and giving it a bit of a new look, for some reason the idea of incorporating a rooster with a fancy tail, popped into my head. And once it did, I couldn't let it go! We love roosters, and their big fancy tails anyway, and it felt like it fit well, because they are certainly farm-ish enough. We do keep chickens, and have certainly dealt with our share of roosters. We had a big and beautiful rooster with a fancy tail for awhile, until he died unexpectedly. We miss him on the one hand, and he took real good care of his hen girls. But on the other hand, he was getting pretty aggressive too, and keeping his behavior in check and reminding him who was actually boss around here, was getting to be more or a challenge all of the time. So, his unexpected death left us stunned, and with a real mix of emotions.

Anyway, I knew the rooster for our blog design would need to be a painted illustration. While I am an artist (both Michael and I are), I didn't really feel my skills were up to par, for the sort of rooster painting I had in my head. I'm mostly experienced in watercolor, where painting illustrations goes. Although I hope to grow more in acrylic skills at some point in my life, too. Also, I liked the idea of seeing someone else's spin on my idea.
An artist who's artwork I have admired for a couple of years came to mind. She is more of an established artist (and author), with successful product lines of cards, calendars, prints, etc. She also creates a lot of helpful and popular illustrations to work with for the Bible journaling community. Her work is very faith-based, encouraging and inspiring, and her name is Karla Dornacher.
I thought I'd try to reach out to her, and see if she had any interest or time for a small commissioned piece. We let her know what we were willing to pay ahead of time. I felt like it was a long shot, but to our shock and joy, she accepted the offer! She said she thought it would be fun to create a rooster for us. You can see a lot of Karla's work by visiting her site here.
So, Karla and I collaborated a little bit. I sent her many reference photos of roosters I liked, with notes about this or that. Whether it was the stance of the rooster I liked, or the whimsical shape of it's tail. I also gave her a lot of input on colors. Because we wanted him to be colorful.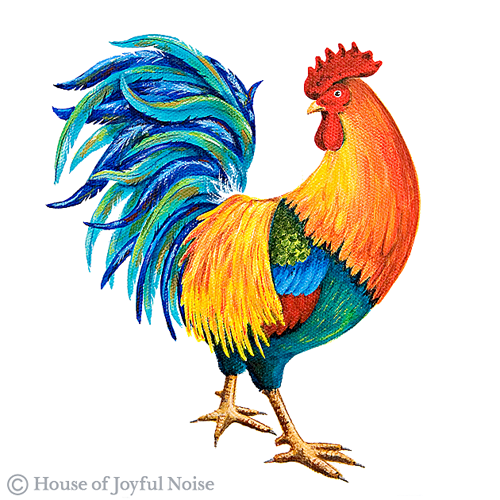 We really loved what she came up with!
How do you like him?

( Please note: The actual painting, as well as the web image of this rooster, is purchased art that we now own. We ask that the image is not used without our permission.)
A Bit More About Why a Rooster for Our Blog
Aside from loving roosters from a simple country life standpoint, roosters also have some Christian roots and meaning. Some churches even have a rooster on their steeple, instead of a cross. So the idea of a rooster appealed to us for that reason, too. Such a colorful rooster is also a reminder of one of many milestones of growth in our faith in particular, when Michael and I went on separate Cursillo weekends. These Catholic retreats were very powerful, Holy Spirit-infused experiences for both of us. In the Cursillo movement, being "in colors" is to be in God's grace. Yet another reason for our desire for a very colorful rooster.
Naturally, when the painting itself arrived, I had to photograph it, scale it down, and prepare it for the blog and social medias. While he is our profile pic for most of our social medias right now, I know I really should be using a head-shot, to connect better with others. I hope and plan to do that soon.
On that note, we did want to say that this rooster is not actually a logo for our blog, House of Joyful Noise.
He's more just . . . . kind of a mascot of sorts!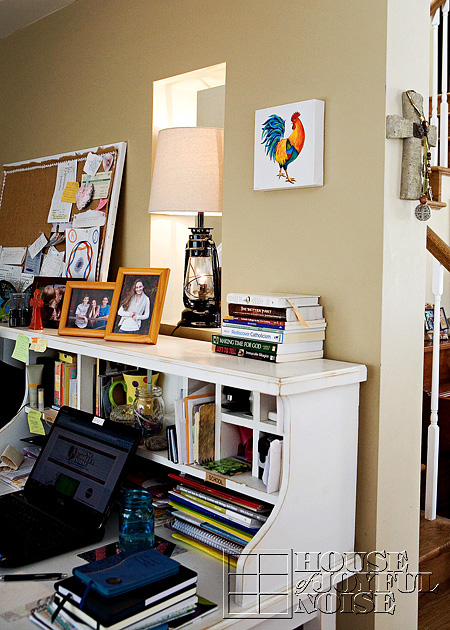 The actual painting is in acrylics, and is only 8×8″ on canvas, considering it's original purpose. He hangs on the wall right over my desk, and is a reminder of the many good things I just told you about, as well as an encouraging reminder to keep blogging, while working at my desk. He just makes us smile.
So, that's about it. We do hope you enjoyed learning the backstory behind the rooster, and we hope he brings as much cheer to your days when you see him here and there, as he does to ours! Because we intend to keep him around for a little while.
Coming Up! . . .
We plan to share our very ambitious and exciting gardening plans, some recipes, and tell you a bit about our homeschooling style.
Take care, and see you all again soon!