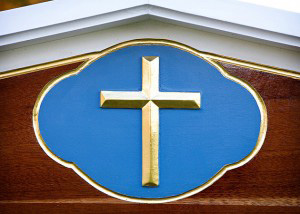 Hey Friends! This is Michael here. Recently my own parish, St. Bonaventure in Plymouth, MA, commissioned me to restore our Church sign out front.  The original had been done so many years ago, and it was looking worn and weathered.  It definitely needed to be refinished.
The original sign's background was painted with a heavy coat of burgandy. The Church asked for it to be all stripped, sanded and repainted, with the trim as white, the gold reguilded, and the background the blue as you see above.  This blue matches the doors of our church, which is symbolic.
So anyway…..I got it home and stripped all of the paint off.  What I found underneath that old paint was the most beautiful mahogany wood!  As I was sanding, I was thinking what a shame it would be to paint over that gorgeous wood.  I decided to take a photo of the wood, and bring it to my pastor, to try and convince him to just varnish over the wood, with the carved letters re-guilded and the white trim.  He agreed, saying he loves the look of natural wood anyway, and that he trusted my judgement. I think his decision about the sign was wise, as well as trusting my judgement. ; )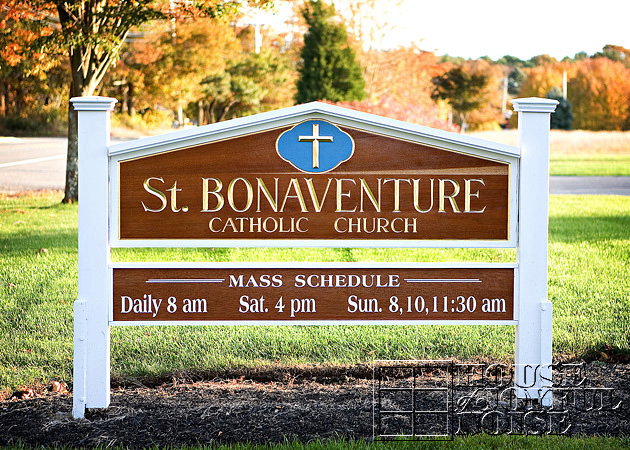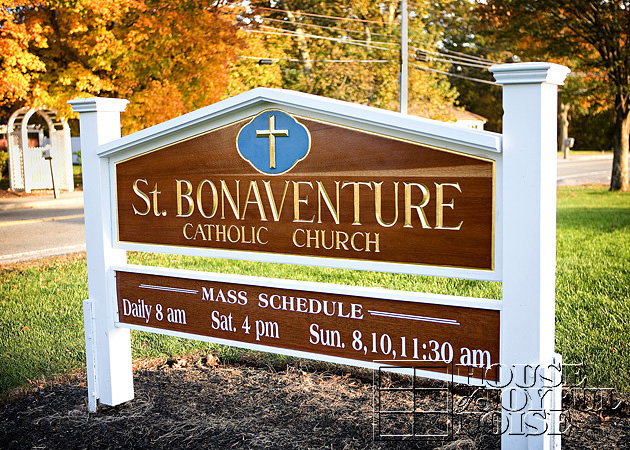 I really wish I had BEFORE and AFTER photos for you all. You would appreciate the beauty that was revealed, all the more. But with the original intention of just refinishing the sign in the exact same style, repainting it burgundy, there didn't seem to be a purpose to taking a photo before I started stripping it.
Anyway, it's nice to have your work respected enough to be asked to provide such an important feature of the Church.  It would have been a shame to paint over such beautiful wood, again. I enjoying restoring it to it's intended beauty, and it feels good to see it there in front of the Church, as I drive by every day, and pull in every Sunday.  I'm really happy with how it came out, and we hope you enjoyed seeing it, too. Thanks for letting us share it with you.
Save
Save