Here's a soup recipe that'll be sure to warm your chilled bones.  If you love tacos, you'll love this taco soup! I do love tacos, and I also love soup. Good soups – which are usually home made of course. I also LOVE Panera Bread's Broccoli Cheddar Soup (and so do our kids). I had some today as a matter of fact. It was just the pick-me-up I needed in between the stores of a little Christmas shopping.  Ate it in a quiet van.  It was the weirdest experience! lol
Now I didn't invent this Taco Soup recipe, but I did revise it a bit to make it…well, better!  No one needs as many beans as was in the original recipe, to start. Unless you just want a bowl of beans, with a little burger mixed in.  My kids keep asking me when I'm going to make my Vegetable Soup again. (That was another altered version of a recipe. )  But I just feel like that's a spring/summer soup…when vegetables are fresh and more locally grown.  This is a heartier soup that suits winter meals, and they love this one too.  So here's how I make it, and I hope you give it a try if it sounds good to you:
Ingredients:
1 lb. extra lean ground beef (I use 85%)
1 onion, chopped
1 15.5 oz can pinto beans / undrained
1 8 oz can *Green Giant Niblets Corn / undrained * (we use this brand because it's sweet and and has snap)
2 8 oz tomato sauce
1 pkg. Taco Seasoning Mix
1 1/2 C water
Shredded Cheddar Cheese
Brown beef with onions in large saucepan; drain.
Add all remaining ingredients except cheese; stir. It's important NOT to drain the cans of beans and corn! That's where some of the flavor and liquid comes from.  Bring to a boil. Simmer on medium-low for 5 minutes, stirring occasionally. At this point it's ready to eat really, but I like to turn it to low and let it continue to simmer, still stirring occasionally – letting all of the ingredients get to know each other a little better.
"Hello!"  "Hi there!"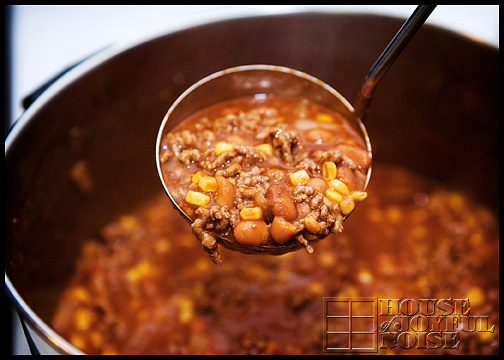 Then just serve up in bowls, and top with as much shredded cheddar as you'd like.  We like a lot. : )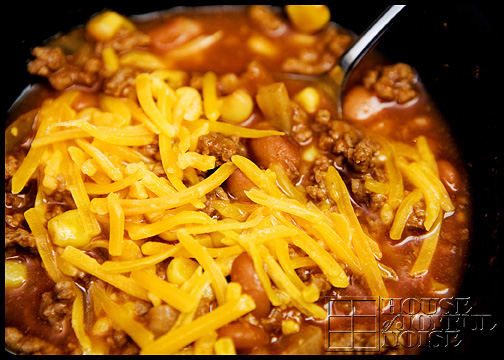 If you try it out, let us know how many gold spoons your family gave this recipe.  : )