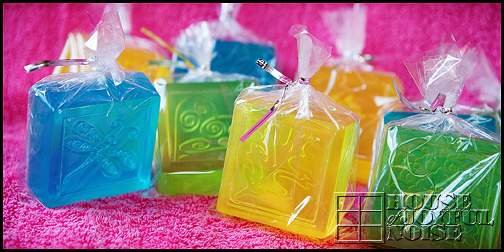 This was one of my personal favorite crafts we made;  Embossed Homemade Glycerin Soap Bars! It was so much fun choosing designs, colors and scents.  Yes, we know most people use soap pump bottles now.  Bars are sometimes considered too messy….but my kids make a pretty good mess with the bottles too, anyway! The thing drips all over the place.  Anyhoo…..if one MUST use the pump bottles, these are pretty enough to just sit in a bathroom and look nice!
So here are the EASY steps to making them.  I tried to combine the photos of steps, in a storyboard format.  So the steps are left to right, or top to bottom. I'll do my best to explain the steps as well.
You will need:
2lb glycerin soap block
soap molds
rubber soap embossers
soap scent oil
soap coloring
clear bags
bag ties
From Home:
a microwave
a glass measure cup
Many of these soap supplies can be found all together in the soap supply aisle at your craft store.  We always go to Michael's Arts and Crafts.
Steps described below photos.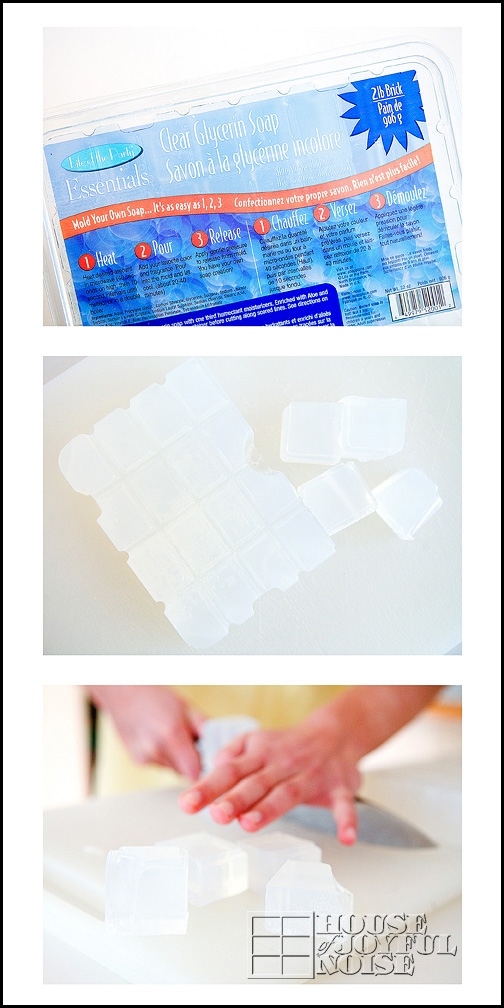 1) This is what a the package of the soap glycerin soap block might look like.
2)  It is scored so you can cut chucks easily, with a large knife.
3) You want to cut the chunky cubes into groups of 4.
Next….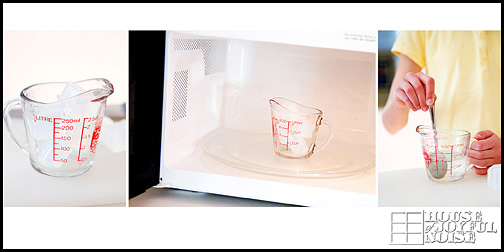 4) Put 4 cubes of soap into a glass microwavable measuring cup.
5) Microwave for 40 seconds, take out carefully, stir, and see if it is all melted. If it needs to go in again, do so in 10 second intervals, until it's all completely melted.
6) Stir again.
We used scents and coloring put out by Party Lite.  The oils are called Essential Oils.   They all come in little bottles, in hanging packaging. These are found with the soap supplies at the craft store as well.
So then……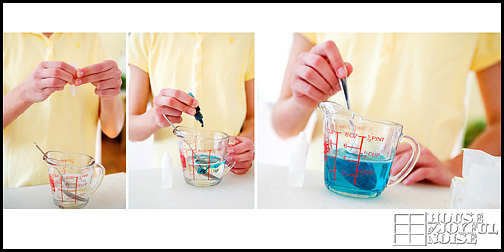 7) Add 6 drops of your preferred scent. We used Green Apple.
8)  Add 3-5 drops of a chosen color. How much you add depends on how deep you want the coloring to be.
9) Stir again.
~~~
Embossing Your Soap Bars

They sell these rubber embossed designs, to lay into the bottom of your soap molds! Some soap molds come with a design embossed into the plastic mold as well.
Soap molds come in all kinds of shapes as well;  oval, octagon, rectangle, square, etc.  We went with the squares, as they fit these rubber embossers perfectly.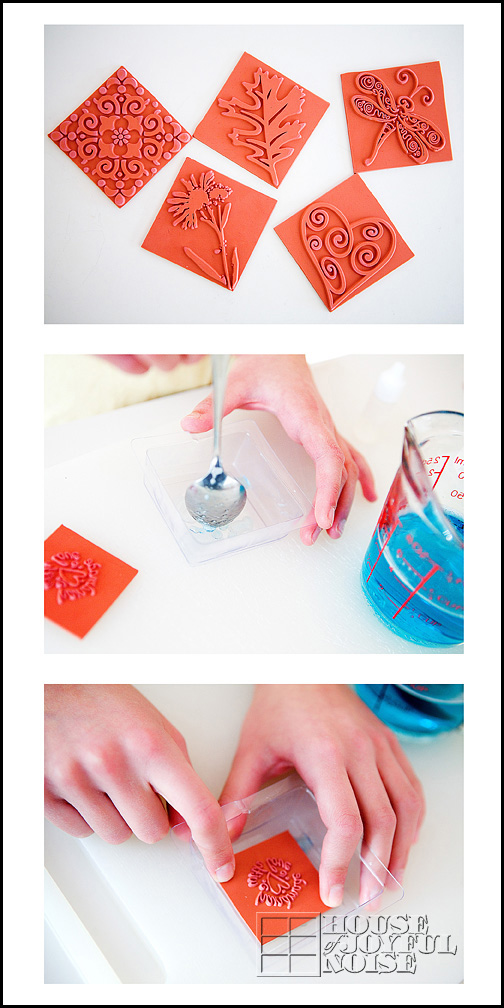 10) Rubber Embossers
11) With a spoon, put some dabs of the hot melted soap in the bottom of the mold.  This helps keep the rubber embosser in place.
12)  Place the embosser on the soap dabs, and gently press down well all over.
Next….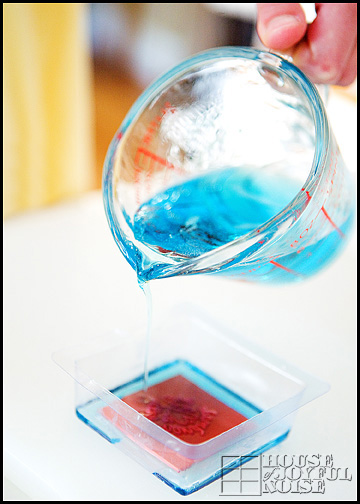 13) Start pouring the scented/colored/melted soap into the mold fairly slowly, but consistently.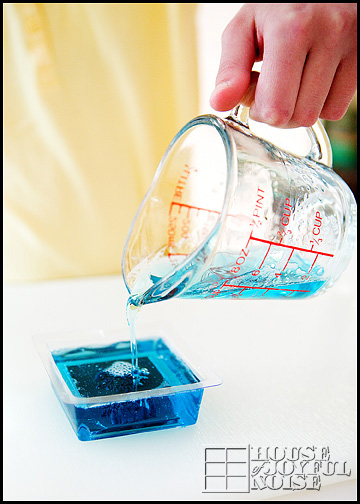 14) Fill nearly to the top.  We just leave any bubbles. They mostly dissipate on their own.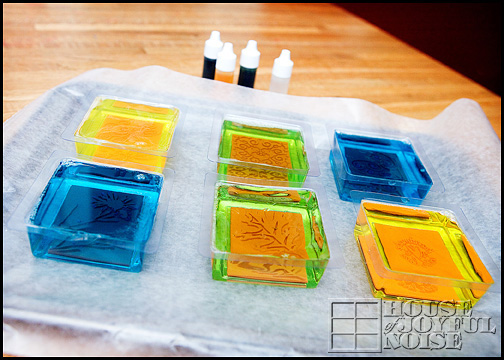 As we filled each mold, we placed them on a cookie sheet lined with wax paper.
They need to set for….awhile?  lol.  We always just let them set for a day or so, or overnight, to be sure they were turned solid.  But we're not sure how long it really takes.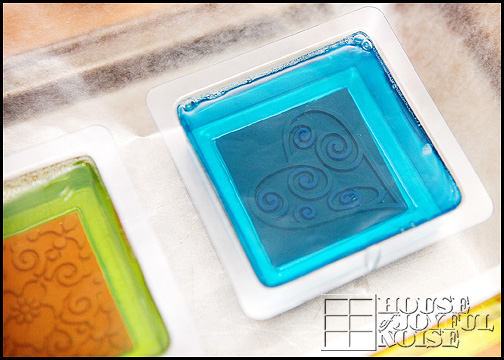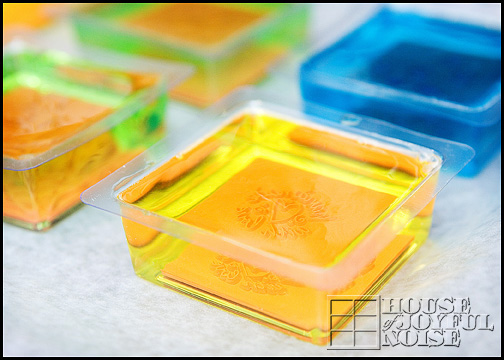 As they do start to set, you will see the soap start to get less crystal clear.
~~~
The next day they'll be set for sure.
All you need to do is work them out of the mold.  They don't pop or slip right out, but it's not that difficult with a little effort.  The goal is just to try and not mark up your beautiful soaps.
Once they are popped out, you just peel off the rubber embosser, and admire your COOL design on the soap! Try not to get finger prints all over them too. Especially the tops.
We just packaged the soaps with the proper size of clear bags, found in the candy aisle of the crafts store, and the fancy silver twist ties came with the bags.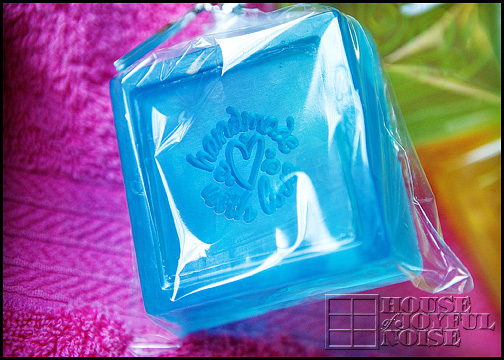 "Made With Love".  My favorite design.  Although the dragon fly and the ornate tile ones were close seconds.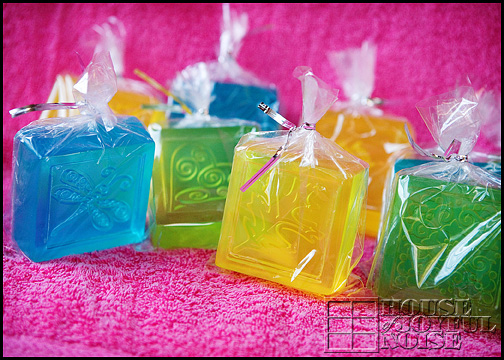 That's it for this craft!!  Easy, huh?? And so PRETTY!  We think they made lovely gifts.
Trust me, they come out so nice, and smell so good!!  I love the clarity of glycerin soap, but there are other kinds of soaps you can make too. I am sure the directions are a little different though.  Naturally, with this soap making process we showed you here, there are certain steps you will not want your children to do alone;  such as any of the steps that involve the hot melted soap, or chopping with the big knife! But they can count out 4 soap cubes and load the measuring cup up, choose and add drops of scent and coloring, pop out the soaps and bag and tie them, etc.
We do hope you try making some yourselves sometime!!
STAY CLEAN NOW!  : )
Save
Save
Save
Save