A privacy fence certainly serve it's purpose well. But it can also appear really unfriendly, sterile and boring. And everyone knows we especially don't like boring.
So having had the plan to put up a 6 foot privacy fence around our new front yard garden sanctuary, we started brainstorming on how we could give our own new privacy fence a creative and unique, eclectic decorative flair.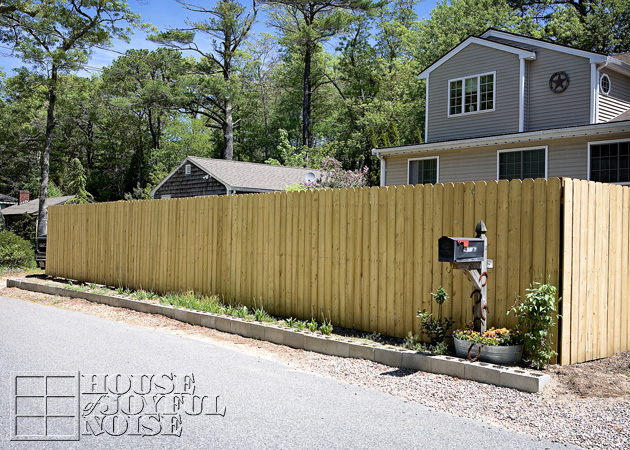 Because especially right on the street like this, and partially blocking the view of the house from the front angle, we knew it was going to just look a little . . . . well, as we said, a little unfriendly, sterile and boring. And not necessarily nice looking in any way. And we wanted it to look nice! Our goal was to customize the fence, and alter the whole feel if it in some way, while still allowing the fence to serve it's purpose of privacy.
And I think we came up with a pretty great idea! We really love where it's going, anyway.
It's going to look even nice, when we have plantings all along the front of the fence as well as along the side.
Probably Hostas, but maybe some ornamental grasses, too. We just haven't gotten that far yet.
It was recently lined with spring tulips, but they are died out now.
NOTE also . . . .
. . . . that like the gardens area, the fence decor itself is not done yet, either. We will be adding to it in time, as well, without going overboard. But we feel like it's an appealing improvement!
Take a look at what we did. . . .
[Read more…]