A privacy fence certainly serve it's purpose well. But it can also appear really unfriendly, sterile and boring. And everyone knows we especially don't like boring.
So having had the plan to put up a 6 foot privacy fence around our new front yard garden sanctuary, we started brainstorming on how we could give our own new privacy fence a creative and unique, eclectic decorative flair.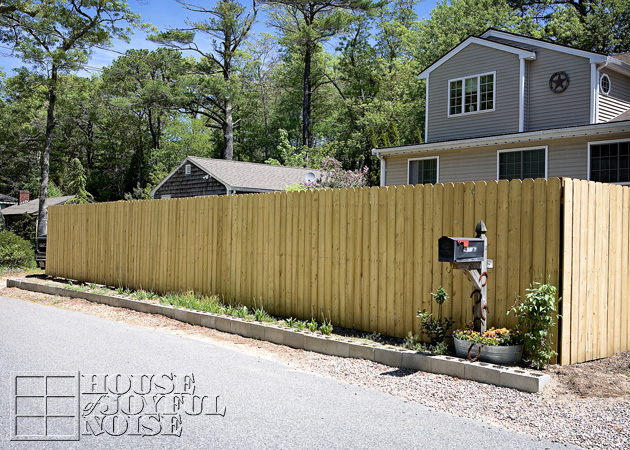 Because especially right on the street like this, and partially blocking the view of the house from the front angle, we knew it was going to just look a little . . . . well, as we said, a little unfriendly, sterile and boring. And not necessarily nice looking in any way. And we wanted it to look nice! Our goal was to customize the fence, and alter the whole feel if it in some way, while still allowing the fence to serve it's purpose of privacy.
And I think we came up with a pretty great idea! We really love where it's going, anyway.
It's going to look even nice, when we have plantings all along the front of the fence as well as along the side.
Probably Hostas, but maybe some ornamental grasses, too. We just haven't gotten that far yet.
It was recently lined with spring tulips, but they are died out now.
NOTE also . . . .
. . . . that like the gardens area, the fence decor itself is not done yet, either. We will be adding to it in time, as well, without going overboard. But we feel like it's an appealing improvement!
Take a look at what we did. . . .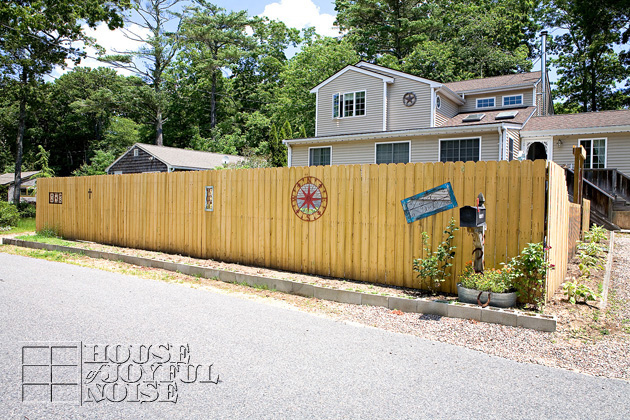 We shopped around in stores, junk places, and online, looking for any sort of wood and/or iron decorative panels and elements, to not hang on the fence, but to inset into the fence panels, and function like little fancy windows. To break up the wall feel of it. And we were so happy to have found some really different pieces to use!
As you can see in that photo above, there is still a panel not done in the middle-ish area there. We are just looking for the right pieces that would work there. We will give you a closer look at each piece we have put in so far in a minute. But can we just say, we really love the overall look already! It's probably not for everybody. And that's ok.
To us, they not only add fun and mis-matchy eclectic interest to the fence, but it takes the edge off of that unfriendly vibe that a solid fence can maybe give neighbors and such.

So anyway, yes, where it is/was a privacy fence, the open iron designs now give some real peek-a-boo kind of opportunities. But honestly, we don't really care about that. No one is going to see much walking or driving by, looking in trough these decorative insets. And besides, it's not like we ever intend to garden naked. 😉 It was just being so very openly on display, while we tended to the garden beds, the whole time someone was slowly walking or driving by, that really made me (personally) slightly uncomfortable.
This idea for the fence, that we made a reality, couldn't have been a more perfect solution. Because these pieces inset into the panels not only beautifies the fence and adds interest on the outside, but the inside of the garden space, as well . . . .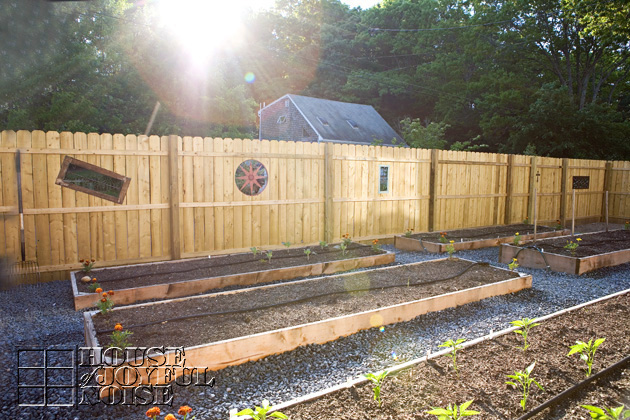 While we are looking at the backside of pieces from our garden-view, it totally works for us anyway! I love it even more on the inside, with the divisions of the posts and support trim. Over time, we will be hanging other things on the fence inside the garden, without letting it get too cluttered.
–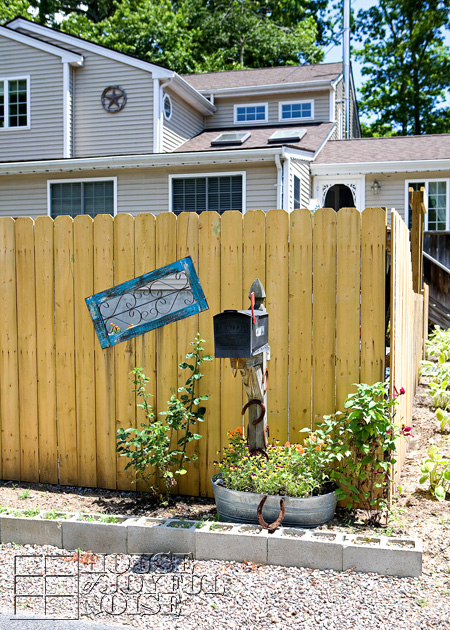 So let's show you each one we put in so far, real quick. Shall we?
This first one near the mailbox, looks especially nice when the pink roses are in bloom. That rose bush has grown a lot since this photo was taken. On the right is a Clematis, with burgandy flowers, and that was really full of bloom before this photo. The Clematis will be climbing up fence as it grows.
–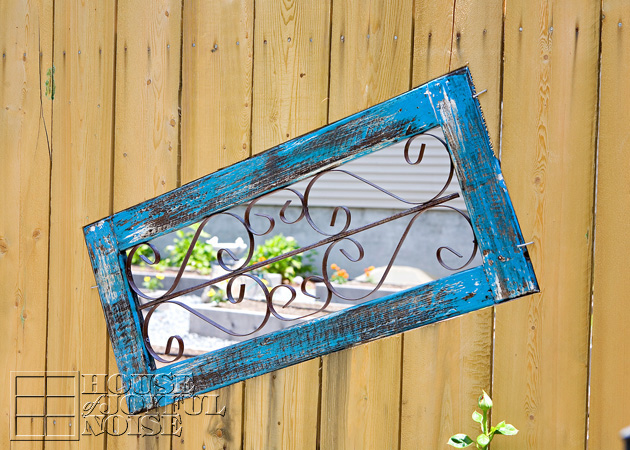 Here's a closer look at this one. I love the color. (Wish the back was painted as well.)
We found it at a real junk place. One of those run down places on the side of the road, that is so packed inside and out, that you hardly have room to walk around and see everything there. This piece was just hanging outside on the side of the building, and I think it had been there for 10 years. We grabbed it immediately! It was the perfect kind of thing we were looking for.
Can I tell you, it was hard for Michael to put this in tilted, as it is. He had the urge to make it straight so bad; but he did it like this for me. I thought it would make it even more different looking than the others. I am quite sure the look of it grew on Michael. He just had to get over it and used to it.
–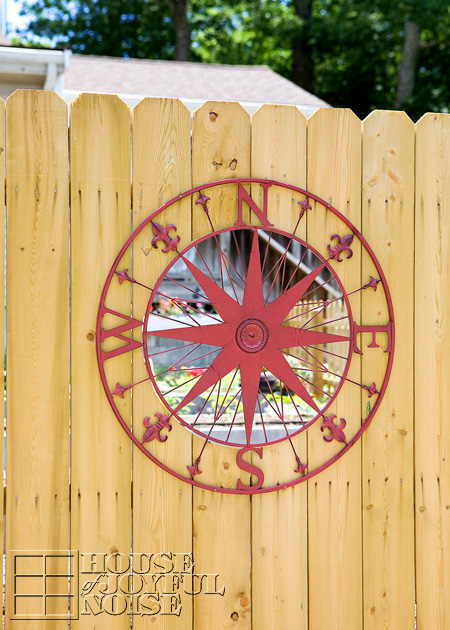 This is a large piece, and we are so glad we came across it online, searching for iron pieces. It's one of those things we didn't even think of trying to find, but when we saw it, we knew it would be awesome. And we do think it is awesome!
–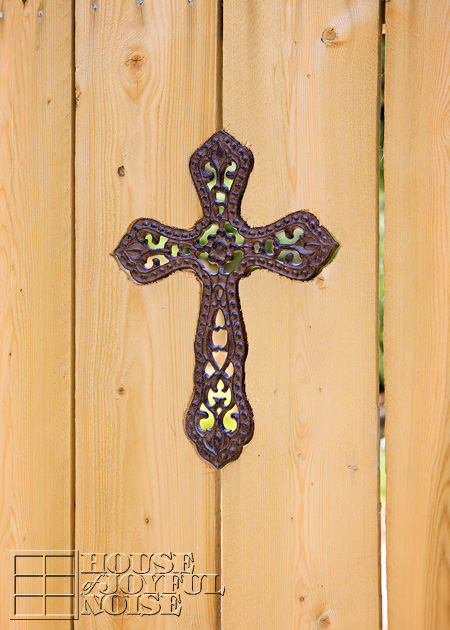 Michael did an incredible job cutting the fence boards to fit every piece just right. But this cross design was especially impressive. He used a jig saw, and it took a little tweaking to get it right. But it finally fit right in there. We were thrilled to find this cross. It's a little smaller than we would have chosen but, still a lovely addition. We found it at Kohl's.
These next 2 are different and interesting in their own way, too, and also found online. . . .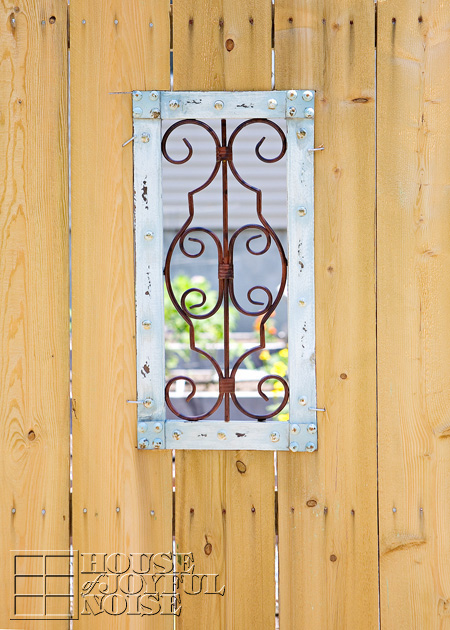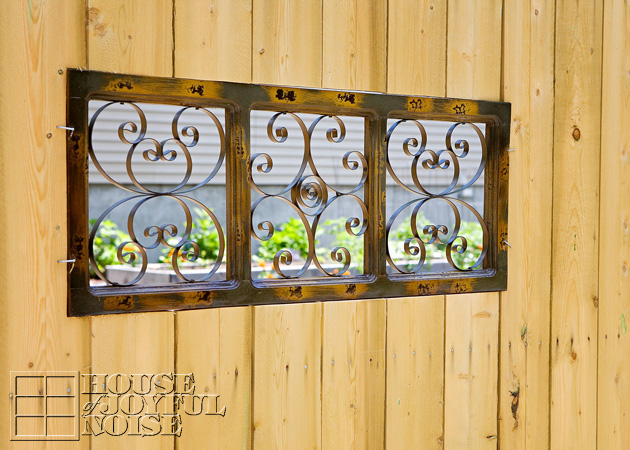 –
By the way, I forgot to mention the front fence also has a discreet gate door that opens, for convenience to get trash barrels out to the street (from the side of the house) on pick up day. It's seamless on the outside, and hardly noticeable hinges with a little latch, on the inside. The cross is actually in the door.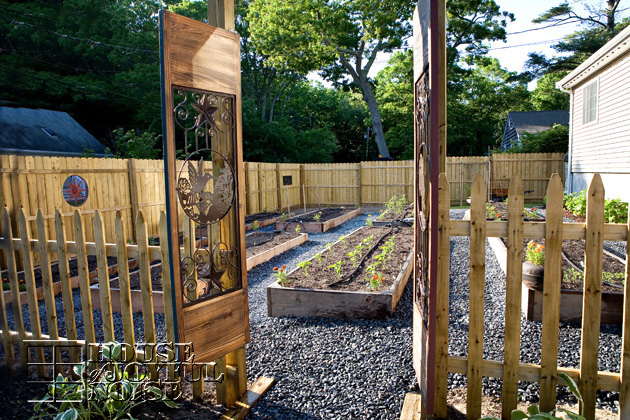 And that's a wrap on our progress so far, with our big front yard to garden transformation project, which we've been so excited to show you all.
Got thoughts or questions? Let them fly, and we'll be happy to respond best we can!
Looking ahead, we'll be sure to make an effort to share with you all of the new additions and changes to come, as we continue to add all of the finishing touches. No doubt it'll just evolve over the years, too. You will always be welcome, in our little garden.
Thanks so much for always allowing us share the things we love to do, with you.
Save
Save
Save
Save
Save
Save
Save
Save
Save