The details of the season of Fall inspires me so much!
This time, it was to make a custom fall decor sign for our home.

–
I was going through some scrapbooking supplies recently, when I came across a handy little quote book. Naturally I took the opportunity to take a break from the big task at hand, to read through it, because I was sitting in the middle of an overwhelming mess. One of the quotes I came upon expressed some of the many little things I so love about the season of Fall, and I was immediately inspired to use that quote as a custom sign for my home decor. The quote read:
Scarecrows, corn rows, pumpkins on the vine.
Leaves curl, wind swirls, Fall is right on time.
There was no credit to the quote, so I did an internet search. I found the quote has been widely utilized, which tells me I'm not the only one this beautiful little phrase speaks to. I had just never heard of it before. Still, I found no credit, or else I would feel compelled to give credit where credit is due! (It's only right to, Folks.) Whoever you are though, thanks for such a lovely expression of the picturesque moments of Fall, and for the inspiration!
Here is a look at the finished sign, and then I thought I would share the makings of it with you today.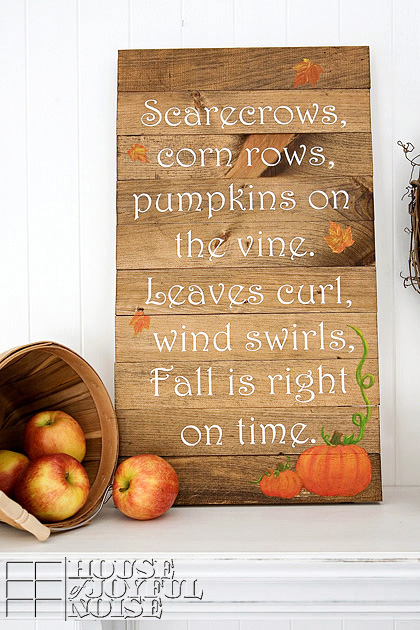 My mental vision of the sign was instant, really. There was no brainstorming session, although I did sketch out on paper the structure of the sign I was asking Michael, my husband, to build. Could I do these things myself? Yes, but why would a girl, when a girl doesn't have to? It would take me so much longer, and it probably wouldn't come out as perfectly. Michael is happy to whip up these things for me in astonishing time, when I ask, and I say that with much appreciation.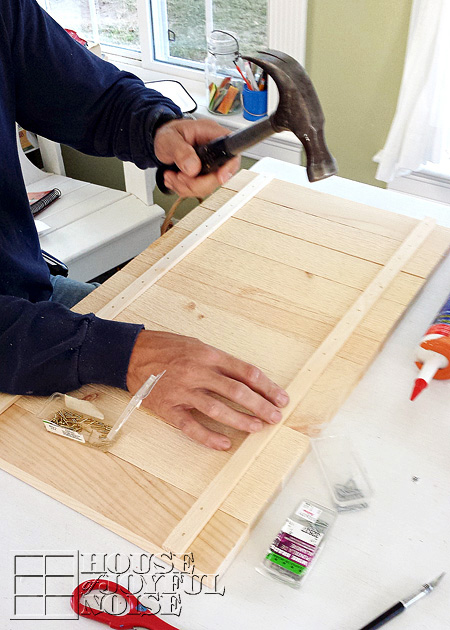 The 14 x 25″ sign consists of 10 2.5 x 14″ slats of wood, secured together on the back as seen above, with 2 little strips of pine.
–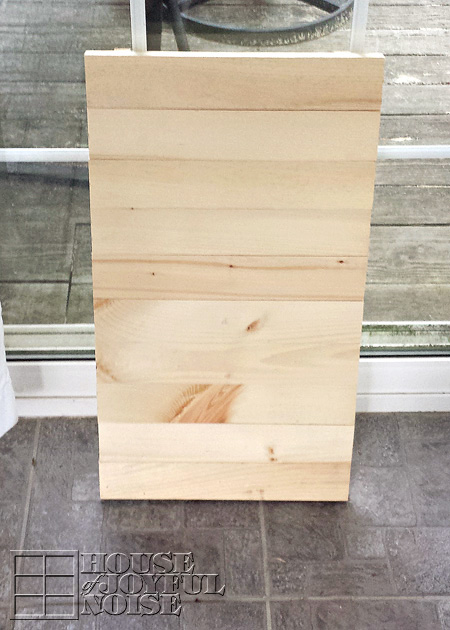 Finish build, and ready to stain.
I chose a dark stain.
(Minwax brand; Provincial)
The lettering was laid out in design to have a line of text on each slat of the sign, with a spare slat at the top and bottom, for any artwork.
The lettering was cut out and applied in vinyl.
My vision also involved some hand-painted artwork on the sign. Oh, these grand ideas are always pulled off so very simply in our minds; aren't they? 😉
I foresaw pumpkin vines climbing all the way up the side of the sign, and many leaves, swirling everywhere.
But my physical execution of painting these things, proved to be a bit more challenging than I managed so beautifully, mentally.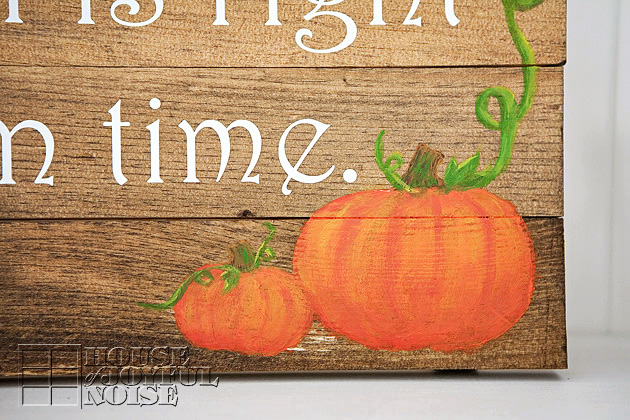 While, after much effort, I don't think my pumpkins came out too bad in the end, my vines didn't climb quite as high and wild, and I acquired far fewer leaves swirling about, than I had hoped as well. Still, I am happy with the simplicity of the final outcome.
I'm also encouraged, because I realized when I was all finished with the painting project, that I really worked with a difficult medium. They were acrylic paint tubes I had around and found in a baggie, but really poor and cheap quality. They were very soft and clumpy, which really made it challenging to paint smoothly, and the paint application itself did not have any longevity for longer strokes. Having painted with my more high quality acrylic paints on another project some days later, I really saw and experienced the difference, and I won't make that mistake again. I look forward to trying my hand at some more hand-painted work soon, with more cooperative paint, and I suspect I'll have a more enjoyable time in the midst of it, with more pleasing results.
Nonetheless, I do love my sign, and believe I will include it as part of our Fall decor for many years to come.
If you saw the tour of our Fall decor mantels post, you may have noticed the sign then. It was one of four handmade items included on the mantels.
Did you guess any of the others?
I hope this inspires you to try making some simple signs yourself, or purchasing some to include in your own home decor.
~Laura
* * * * * *
Please come follow me here and there:
Save
Save
Save
Save