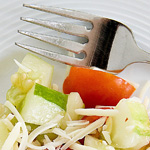 When it is summertime, I want meals that are as simple and quick to make as possible. If we don't have a tight schedule that day, then we've spent the day involved in some project or other. Especially on weekends, when Michael is home too. Usually it's been it's blazing hot out all day too, being summertime and all. And let's face it, the heat and humidity really has a way of draining anyone's energy and ambition that much more.
That's exactly how I happened to come up with this simplest of salads. Dinner was not even planned, never mind started!  Michael threw some steaks on the grill, and I just grabbed the vegetables we brought in from the garden that day, off of the counter, and threw together a cold side dish. I was not going for anything grand.  And anyway, my kids pop cherry tomatoes in their mouth off of the vine, and they love cucumber spears, with or without a dash of pepper.
The big surprise was that it was far more delicious than I had even begun to anticipate, and it was the talk of dinnertime too.
Long term, it's a fabulous dish for the whole family to love this much for another reason:
We need to have a variety of options, to use the abundance of certain vegetables we get out of our garden almost daily, in the summertime.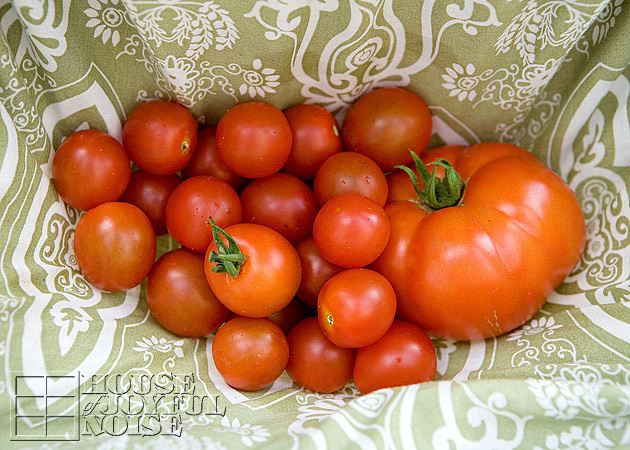 Here's one day's picking, carried in my skirt.
It's likely that the next day will harvest about same amount, ready for picking, again.
Especially given that Olivia has her own garden this year, too, and is also growing cherry tomatoes.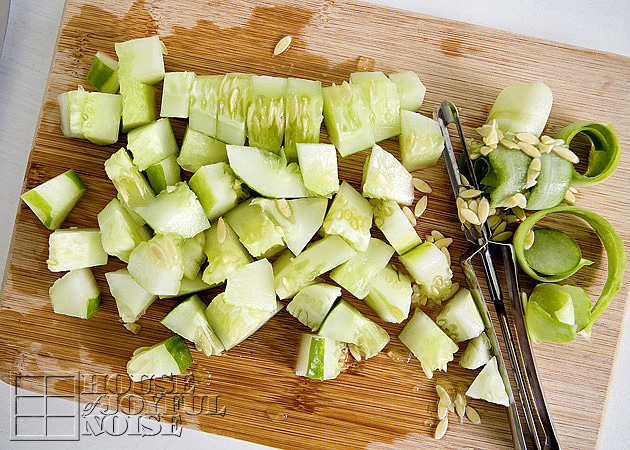 She's growing the cucumbers alone, but she shares with her siblings at lunch sometimes, or for a snack, and she's happy to offer one for our dinner anytime, as well.
Those 2 vegetables, were the simple main staples for this recipe:
Quartered Cherry Tomatoes.
Cucumber, quartered the long way, and then chopped.
TIP: I always stripe my cucumbers with the peeler. It makes them a littler fancier looking, and even more enjoyable.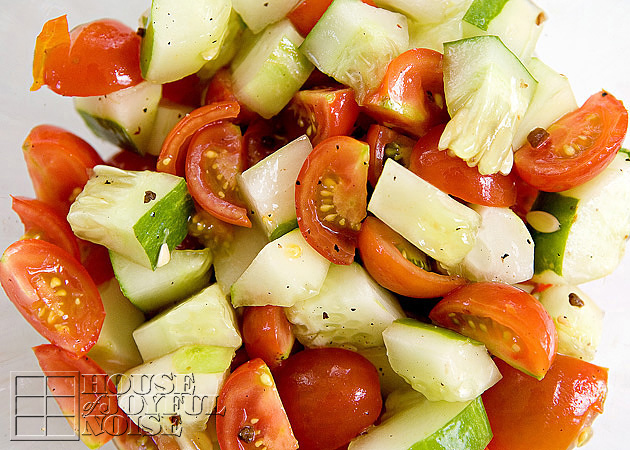 Throw in a dash of kosher salt, and drizzle all over with Balsamic Vinegar Salad Dressing.  We also add black pepper, because we love it, and put it on just about everything. The dressing, as opposed to straight up balsamic vinegar, has all kinds of little bits of seasoning goodness already in it.  Give it a quick toss.  I like to let it marinate just like that for a few minutes.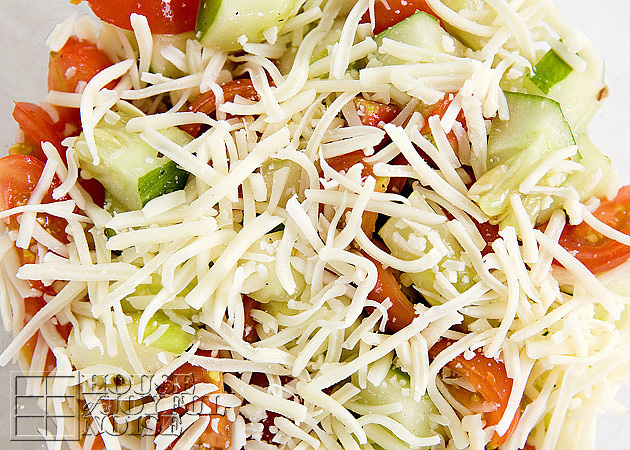 When it's time for dinner, I throw some shredded mozzarella cheese on top.
It's done.  Does it sound plain, to you? Well I'll tell you what . . . . . .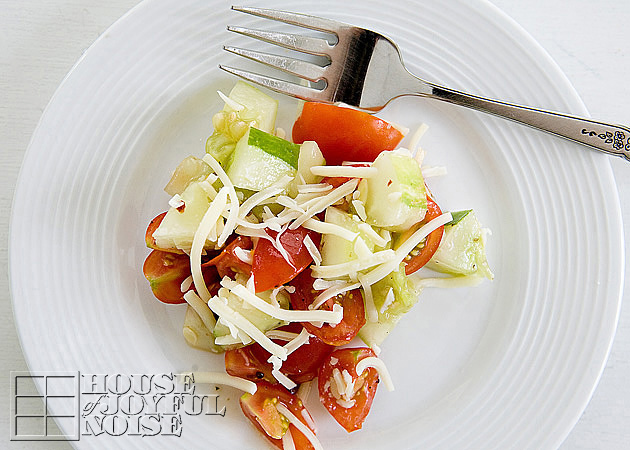 It's simple all right, but it's sure not plain tasting!  The tang of the Balsamic Vinegar Dressing, really brings out the sweetness of the cherry tomatoes.  The combination of the two compliments each other so well. The fresh cucumber, and the soft and subtle flavor of the cheese adds a new texture, and another surprise taste.
We have also used this salad, rolled up in a tortilla, with grilled chopped chicken. Also simple, quick, and delicious.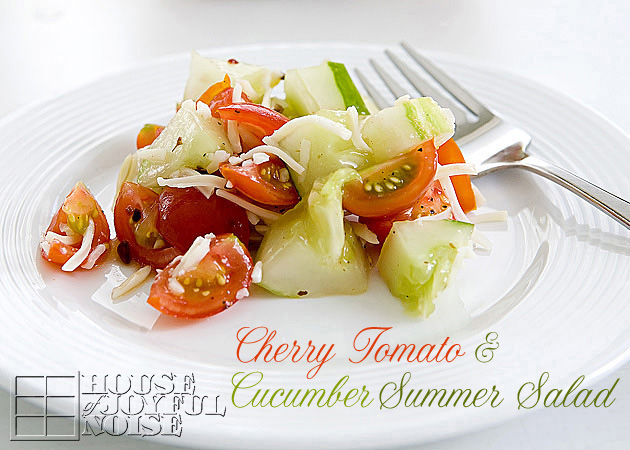 This is what summer tastes like.
It's that simple.
What is your simplest summer dish?
Save