With the Fall season, comes apple season! And we all know there are innumerable wonderful and delicious things, that can be made with apples!
They really are a fruit of so many gifts. But some recipes take a lot more ambition, than others!
If you just want to enjoy the simplicity and goodness of apples, while still having a great celebration happening in your mouth, than this applesauce recipe is for you!
Applesauce is also a versatile food, that can be used in so many different ways. We'll talk about there here, too.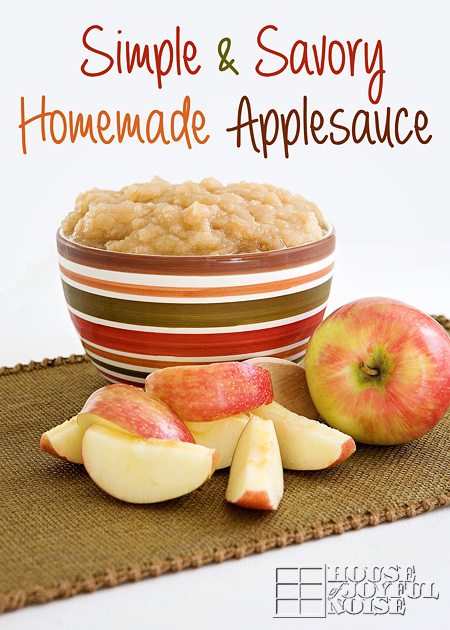 4-6 pounds Apples, Peeled, Cored, And Cut Into 8 Slices
1 cup Water
Juice Of 1 Lemon (or 6 shakes of Lemon Essential Oil)
1/2 cup Brown Sugar, Packed
1 teaspoon Cinnamon or Cassia, More Or Less To Taste
(*Optional Ingredients: Nutmeg, Maple Syrup, Allspice, Butter)
It's This Simple:
1. First, we always recommend you begin with washed, organic apples, if possible.
What kind of apples? That's up to you! But varieties of the sweet and soft kind, are best when making applesauce. In this recipe, we used all McIntosh apples, and so can attest to the goodness of an applesauce made with that variety! But other varieties you may want to consider, that we have heard are very good also, are Galas or Fujis.
For us, we'll use whatever organic soft and sweet apples that we can find available at the store, Farmer's Market, or orchard.
2. Wash, peel, and core your apples. You'll want to cut them into 8 pieces generally the same size, so if you have one of those round apple slicers, then this simple recipe, just got even simpler, for you.
3. Combine *all ingredients in a large pot and cook over medium heat, stirring occasionally, for 25 minutes.
* NOTE: Let's talk about all ingredients for a second, and what we use:
– We did not use any of the 'optional ingredients', but you are free to make it to your own taste!
– We used Cassia (fresh and fine ground), because we had that, and did not have cinnamon.
– Also, instead of squeezing a fresh lemon, I just did about 6 bottle shakes of our Lemon Essential Oil! (It may have been the secret ingredient, that made this recipe such a hit!)
On to the cooking…..
4. We just let it cook down, as we stir it now and then, and don't try to break up the big pieces. We love it chunky! But if you prefer your applesauce pureed, you can do that in a food processor or blender once it's done cooking, to your preferred texture or consistency, in suitable size batches for your appliance.
OHHH, the Many Uses for Applesauce!
Store in the fridge and serve alone as a breakfast side, or an afternoon snack!
Or, warm and ladle over your pork chops, or on the side with your ham, cold over ice cream, or a instead of syrup over pancakes or waffles. You can even use it as delectable surprise filling in your baked goods! Also, did you know that pureed applesauce can be used as a substitute for any baked good recipe that calls for vegetable oil? That's a less fattening option, that's much healthier for you.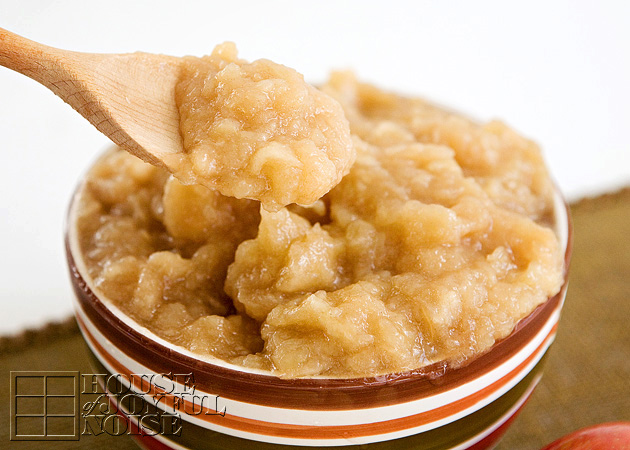 It's This Savory:
One first bite, and my husband, Michael, was love-ing-it! He was like…"Honey, is there lemon in this?!". He loves lemon anything! He was clearly really enjoying it. I told him I used our lemon oil, instead of the fresh lemon, and he was so impressed! He also loved it chunky. Everyone does!
As my family stated, "This is way better than the boring applesauce from the store." I sure agree.
So there you have it! Fresh, homemade applesauce.
It couldn't be simpler to make yourself. ENJOY!
——
**P.S. If you'd like to get some lemon essential oil, or any other oils for yourself, you can email me and I'll point you to where: TheRichardHome@aol.com .
Save