Last night, we re-homed one of our cockerels; Boston.
He was our Americauna Easter Egger.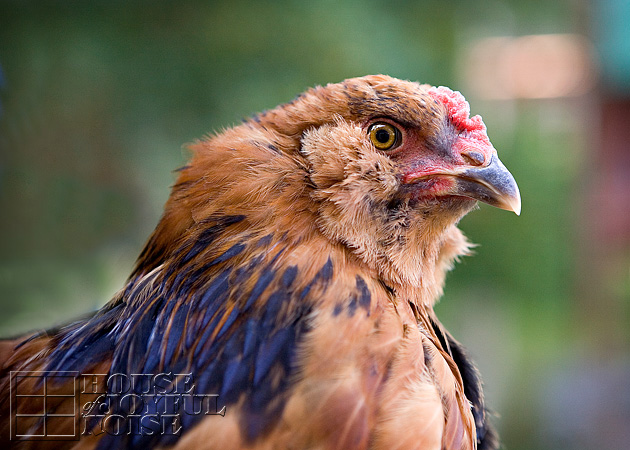 We knew in time, we were in all likelihood, going to have to get rid of one, if not both, of the roosters.
We never intended on having one in the first place!
For those who do not know the back-story; We ordered 8 vent-sexed 1-day old chicks, as females in July. But as time passed, we realized we not only had 1, but 2, roosters on our hands. 6 hens, with 2 roosters, is a very bad idea. A ratio of 6 to 1 isn't much better! But we figured we had at least until the end of the year, when the hens started laying, to figure out what we needed to do. Or until a neighbor complained about the cocka-doodle-doo'ing, bright and early. We believed it would probably become clear which of the two, if not both, had to go, as the months passed on. It became clear much sooner, however, that that one, was Boston.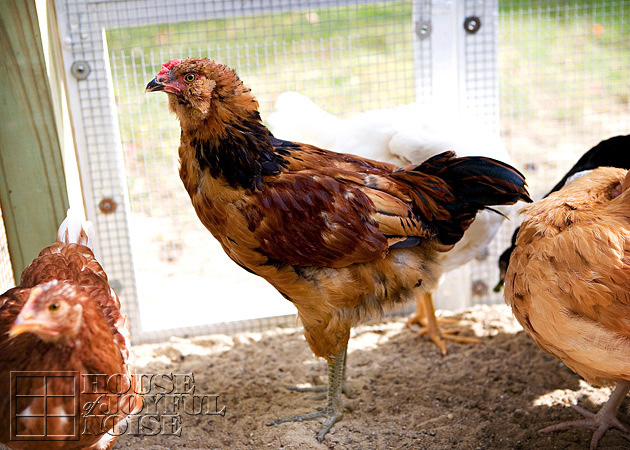 What happened, is that at only 10 weeks old, Boston definitely seemed to have already developed an early sexual drive, that had us concerned for our young hens.
So yes, we had one rooster, Weymouth (our Welsummer), that started crowing very early, at only 4 weeks old, as opposed to 4-5 months! (And he sure has his crow fully developed by now.) And then our Americauna Easter Egger, who was all boy. He was going after the girls, every morning, obviously in an effort to mate. (Is this sounding familiar to you, at all, Ladies?) He seemed to especially have a hankering for Pembroke, our Australorp. Boston must have preferred brunettes, and thought she was extra pretty.
Now, we've seen the videos. We are aware that roosters never ask the hens politely first, for some love, and then handle them with loving wings and gentleness. They pretty much take any loving they want, whether hens want it or not. It's never a pretty sight. They pretty much jump on the hens back, and pin them down with their claws, all the while biting the back of their neck, to keep them put. So I never was looking forward to seeing my hens being essentially raped, on a regular basis. However, Boston seemed to be quite aggressive. And given the young state of the girls, we were just concerned for them.
I tried to hold out hope, for as long as I could, that Boston was a female. I wanted to believe he was. Because the truth is, we all fell in love with him, and every other chick, from Day 2!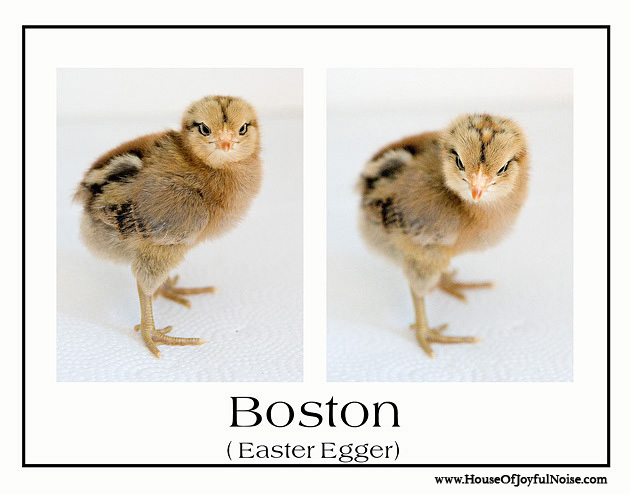 I mean, we ordered all females! And with all of that eyeliner? Did you see?
There was no way it was a boy.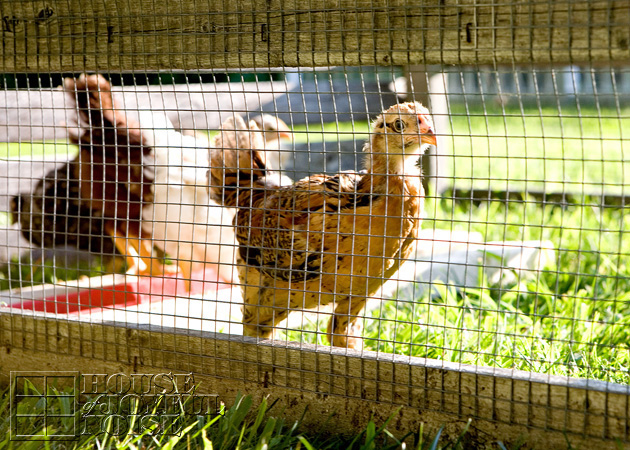 It was cool to watch him grow up, some. A chicken forum I am on told me it was a cockerel. But I was hoping they were mistaken. But actions speak louder than……eyeliner, I guess.
He crowed a few times, too. But it was rather….girly. And we figured/hoped he was just mimicking the Alpha Rooster. Hens do that sometimes.
Boston was so cool too, because he had such hawk-like qualities, and was just a beautiful bird.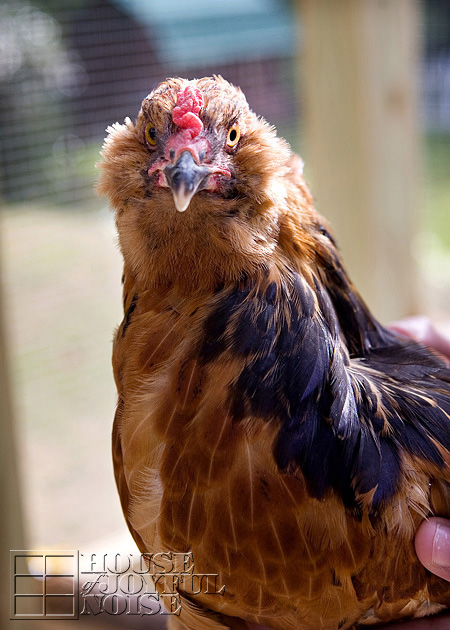 But the reasons not to keep him, were too many:
– Our 6 hens would be very tired, if not sore, living with 2 roosters. 😉
And he was generally kind of pushy. For example, he wanted to be the only one beside Weymouth, on the top roost at night. And he'd get nasty about it. So it took them all awhile to all find their place, and settle in for the night.
– The 2 roosters would probably have a throw-down, now and then. Watching cock-fights was never appealing to us.
– We couldn't pretend that some eggs, might not be fertilized, sometimes. (Not that it makes any difference, or we'd ever be able to tell.) But with 2 roosters, well, come on. It's fertilized.
– I wanted an Easter Egger, for the the Easter eggs! The pretty pastel colored eggs! A rooster is not going to lay me any. Not even one.
–
The reasons we are all sad to see him go:
– We loved him. We all did. He was a very, very cool bird.
Except in the morning, and an occasional afternoon, when he took what he wanted, so-not-nicely.
– He was named after the big city, where our triplets were born! That was very special.
– We'll be counting the chickens to 8 for awhile, and having a moment of panic, until we remember….right; it is 7 now.
We will really miss Boston.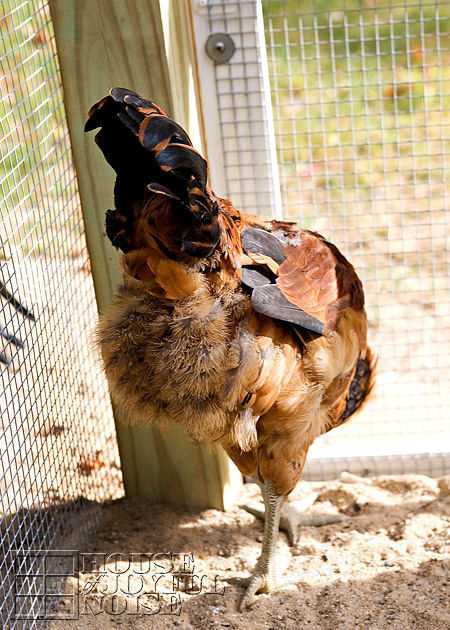 We will miss his floofy bum.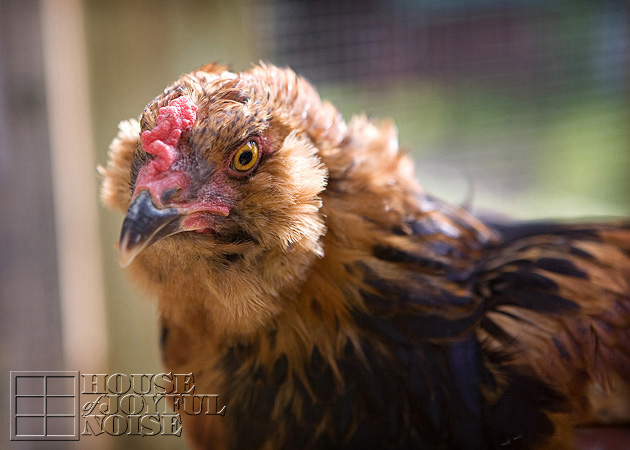 We will miss his floofy cheeks.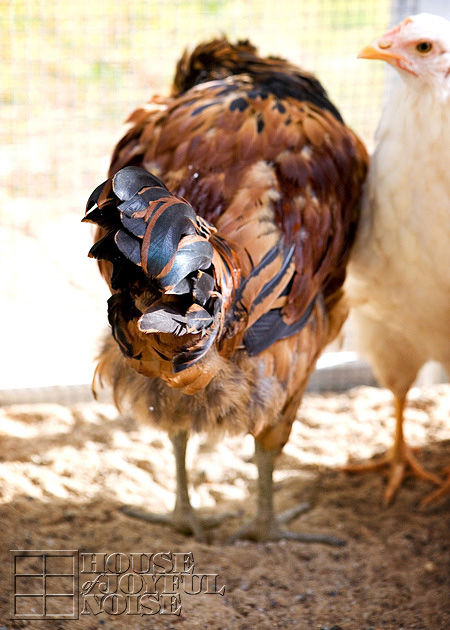 We will miss his floofy, shiny tail feathers.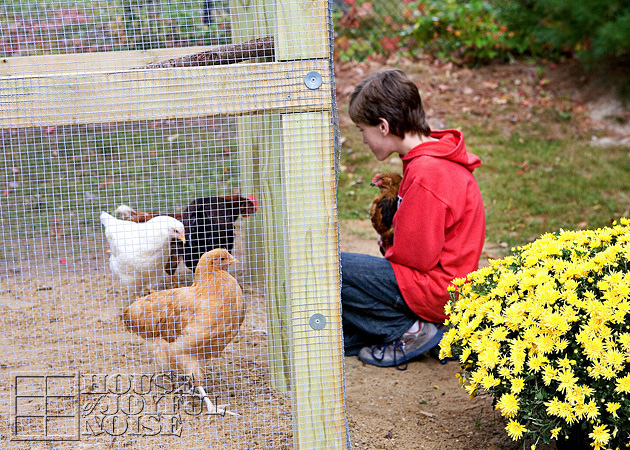 Some of the flock family, says goodbye.
Notice Pembroke, and a few of the other girls, aren't heart-broken, and at the gate.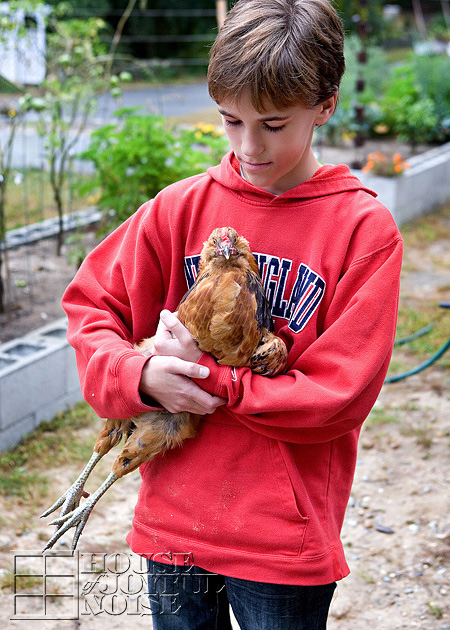 Getting ready to go……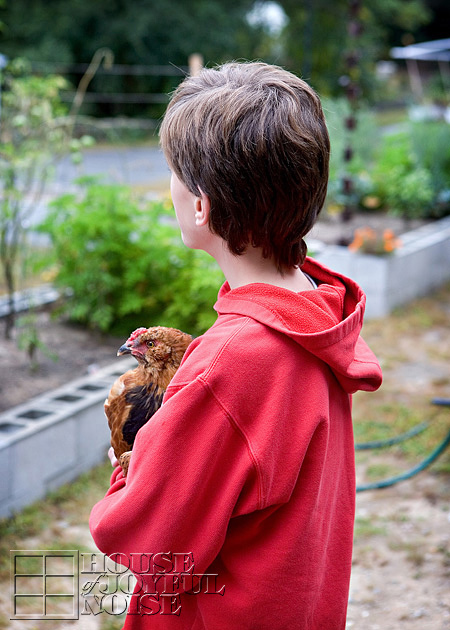 We knew there would be a whole lot of fun, and many inevitable sad times, that all comes with chicken-keeping. This will certainly not be the last.
It's part of life. And it's for the good of the rest of our flock.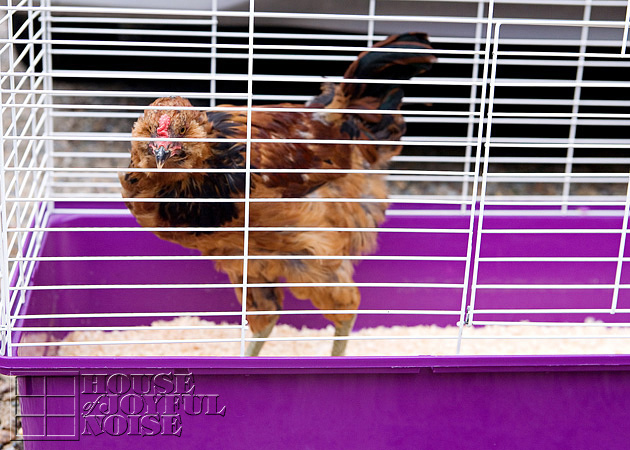 It would have been cool to see him fully grow. We wonder what he would have looked like as a full grown rooster.
We have an idea. But still.
We are not particularly completely at peace, with where we brought Boston. It's for sure not a forever-home, for him there. Where he'll end up is anyone's guess. It's only the next day, and we are aware that we still may have time to go get him, and relocate him elsewhere. (Update: We did.) Somewhere, better. Maybe somewhere where he can be with older hens, and be the Alph-Roo Head Honcho. We're weighing our options for him. In case you don't know, it's not easy finding a good home for a rooster!
So that's the story of Boston.
There will be sadder stories, I am sure. Hopefully far more happy and fun ones, to live and share!
Thanks for coming by, and maybe saying goodbye to Boston, yourself.
-The Richard Family
Save
Save
Save
Save
Save