Alright, so maybe you've already seen the pallet mug holder idea a good many times. But there is more than that to this post. And anyway, give us a little break here; you know most all of the time, we are sharing our own custom and very unique projects with you! Like the time we built our shoes-storage bench out of old doors! Or custom-designed and built our mac-daddy chicken coop! So we have no shame in being inspired by others ourselves now and then, and running with it! Creative people sharing their ideas is what it's all about. Right? Being inspired by others is why we all share. And we're not immune to loving other's ideas! Anyway, today I'm going to share some how-tips about this popular project, and why I personally wanted a pallet mug holder (just like I've seen), so bad.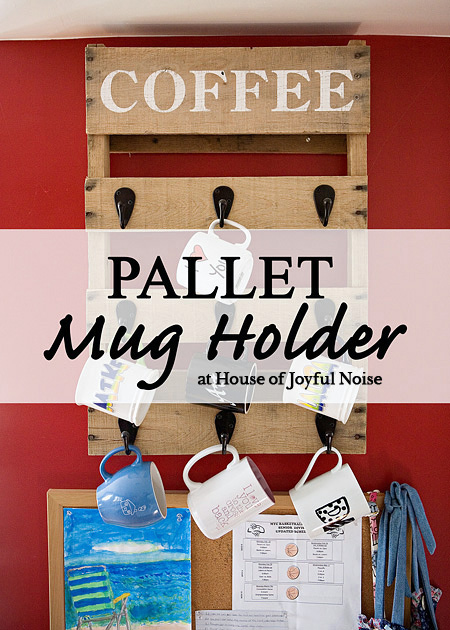 So yes, I've seen a few variations of the idea many times online before, (also). However, it was this exact style of a pallet mug holder, with this lettering font, and these kind of hooks, that had stuck in my head for a long time. I love it because it's so rustic, fitting in perfectly with our farmhouse style. It's just a raw, bare pallet- no stain or anything. We've got some rusted nails, too, which are always awesome to me. (As long as no one will be stepping on them.)
It was also a great recycling idea for us, because we are never short on pallets around here! We know where to get them for free, and actually mainly use them to heat our home, all winter long. We tear them apart, and burn them in our wood stove. (Solid oak burns a long time, and makes the best heat, y'all!) So, with the exception of the hooks to hang the mugs, it was otherwise a free project. And one I had even more reasons to jump on the bandwagon for. (As you'll read in a milli-sec.) I truly wish I did know who originally came up with this idea, because given all of the above, we are grateful, and would love to give them the credit they are due! (Whoever you are….THANKS!)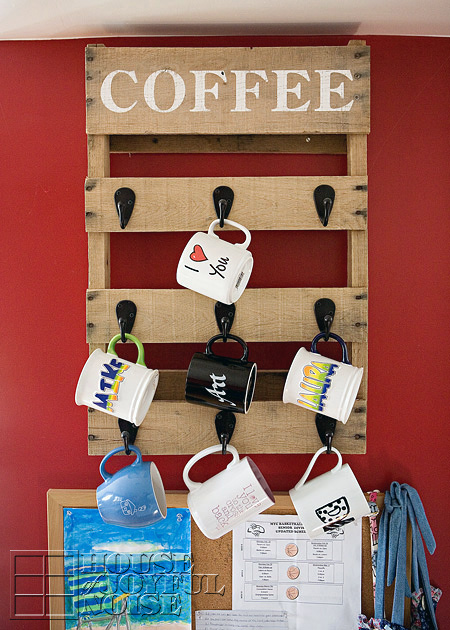 Why I Had to Have It
Naturally, the pallet mug holder lends itself well to organization and extra-storage space. And it does it's little bit for those reasons, too. Aside from our eclectic collection of mugs shown here, we have a couple of matching sets. Maybe most would hang matching ones, instead of the quirky ones we decided to. But, it's these that mean the most to us.
A couple of the mugs, Michael gave to me back when we were 'courting'. (That's just a funny word we use with each other. We're not really that old. 😉 ) There was another one he gave me, that was so special to me, that I dropped one day many years ago, while I happened to also be on the phone with my mother. She's been gone for over 10 years now, so that tells you how long ago it was. Still, I vividly recall the way it smashed to a million pieces on the kitchen floor, and I cried like a baby on the phone to my mother about it. (It had X's and O's all over it!) I was so sad about losing that mug but, you know….it was just a mug. You think you miss a mug, until you're missin' your mother. The harder life experiences tend to give us a reality check like that, sometimes, eh? Anyway, hanging there on the pallet is also our matching personalized mugss we have had for many years, another there that was a surprise gift from my sister, a Scripture one that is special to me, and one the kids made for their Daddy. The point is, they all have sentimental meaning, and . . . . . .
I most love to have things on display in our home, that matter to our hearts.
Family pieces, things gifted to us, or made with our own hands. Those kinds of things. It doesn't really always matter how nice they look. So while it may not be as pretty as matching mugs may be, seeing these makes our heart sing. And let's face it, we're all-mixed-up kind of folks, anyway. No sense in trying to hide that, when it's so obvious, anyway.
Want to Make One, Too? Here Are Some Tips!
You may have noticed it's not actually a whole pallet. We started out with a regular full size pallet, and generally, they are all constructed the same way. So get yourself one of those. But then we modified it a little. So Michael sketched out this little drawing, so you can see which parts would be sawed off . . . . . .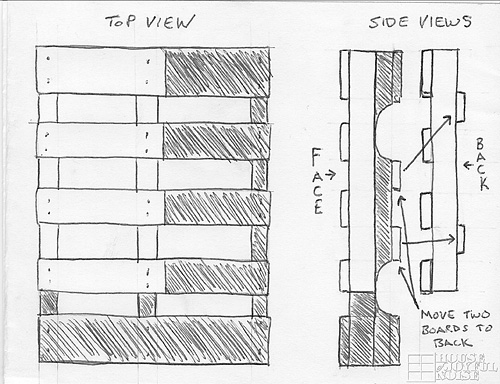 All of the shaded parts, were removed. And then he moved a couple of the supporting boards on the back.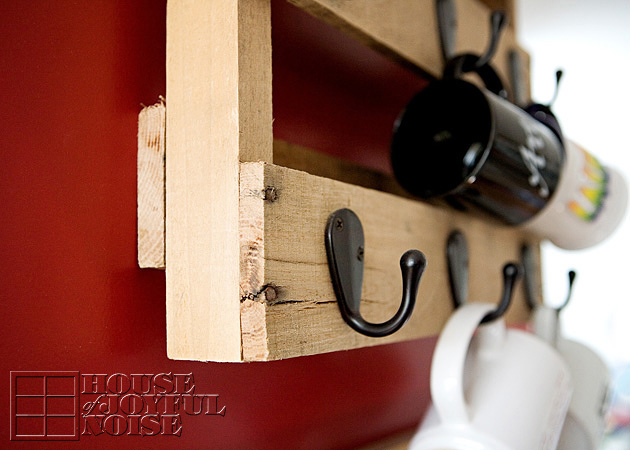 The hooks were found at Home Depot. Just spaced out evenly and screwed in.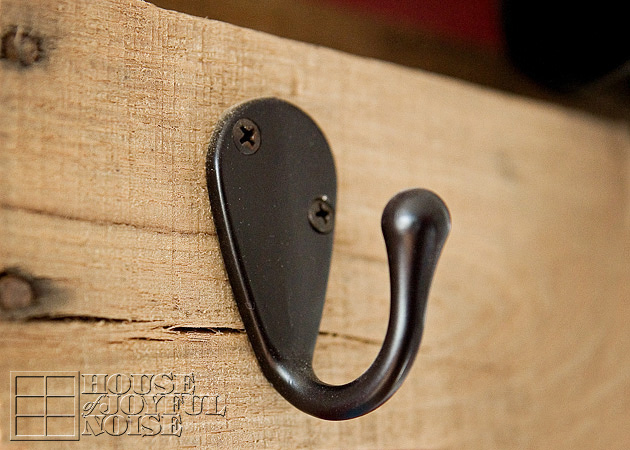 They are made of metal (coat hooks, actually), and don't scratch or anything. Good solid hooks. But you have the option to go with any style you'd like, that best fits your home. Get it anchored securely up on your wall, and hang your mugs!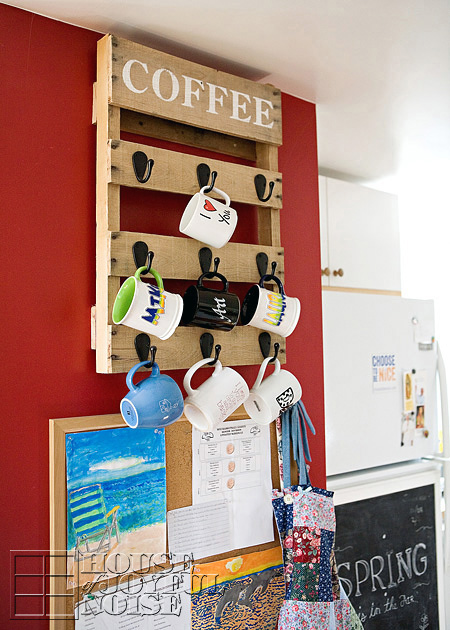 Just a Reminder, Before You Go
That concludes our copy-cat project. But stay tuned for all kinds of fun and inspiration coming up! You'll want to be sure to either subscribe, for new-post notifications delivered right to your email, or follow us on Facebook, with your notifications turned on there. Either you can do just to the right of this post, in that column. We are quite sure you are really going to enjoy a lot of what we've got coming up.
Thanks so much, for coming by today! Feel free to share your thoughts, before you go!