For those of you who have been itching to know what the winner of Our First Giveaway received, this is the post you've been waiting for!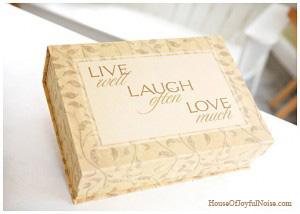 For those of you who are new to our blog, and have no clue what we're talking about here, these links may help:
Announcement for our blog's First Giveaway!
Now that we're all on the same page, here we go…….
The first thing the winner received, was the box itself, that we put all of our hand-made gifts in! I'm telling you, I just loved this box.  We did not make it, we bought it.  It was just the perfect size, sturdy, and simply lovely. The cover had a front flap that magnetics closed!  I opened and closed it several times, just for the fun of it!  :  )  The cover adorned the phrase:  Live well, Laugh often, Love much.   Wise words we try to live by around here.  It really was a great box.  One could use it to store all kinds of things, like letters, cards, drawings from your children, or any kind of special momentos.
But here's what WE put in it…..
….an assorted collection of handmade gifts.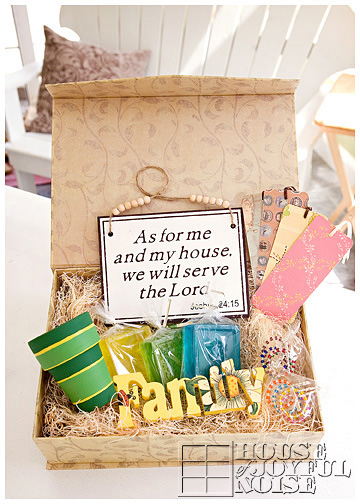 One of my favorite handmade gifts was this sign….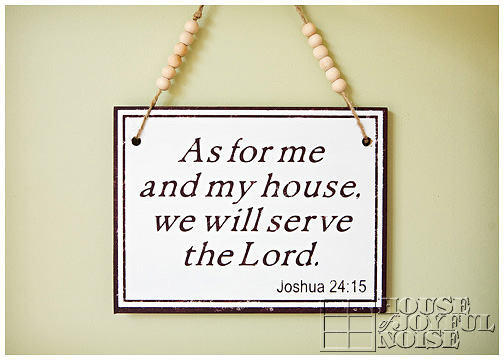 This was my idea and I designed it, but Michael actually made it.  We bought the sign unfinished, and Michael painted and lettered it. The paint is not solid, but more old looking, which is also one of the things that I love about it.  It's rustic, and humble, and I think he should make me one now.
Next, I made glass stem bracelets….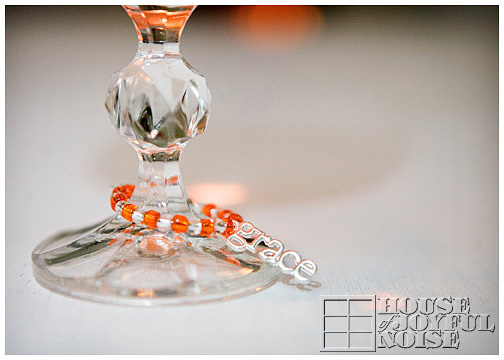 For those who are unfamiliar with these little doo-hickeys, these bracelets go on the stems of wine glasses or pedestal mugs.  They are made with wire rings and beads, and any other functional charms. These glass bracelets have a couple of purposes:  The first is simply to make your glass sets more festive and pretty. The second, is for social gatherings involving several guests, and therefore several glasses around. The assorted bracelets help people differentiate which glass is theirs, on the counter or table-top.  This was my other favorite gift we made. I think they are beautiful, style-ish, and frankly, I feel fancy and clever having them on my wine glasses.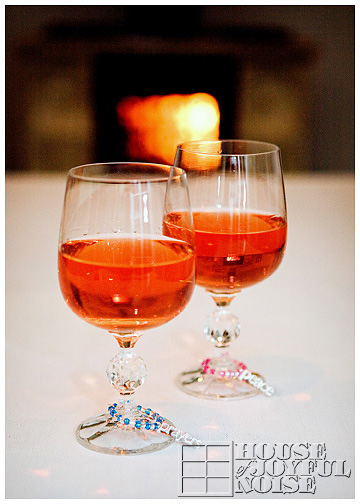 I made a set of eight different bracelets.  It was really hard to photograph them together, and make all of the sentiments readable, so I labeled them all for you, because I have a thoughtful side.  : )

Also, while I was making them, I was mesmerized by all of the colorful beads on the table, and lost control with my camera once again.  I loved this shot, so I'm throwing it in here to share.  There are people out there who understand this problem I have, in needing to take such photos, and they appreciate it!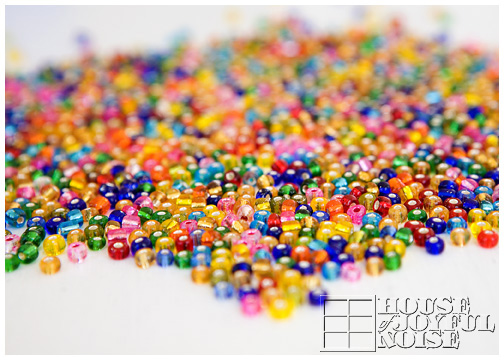 Next up……..I bought this wooden carved word, which is very important to me, and many of you:  FAMILY.   I painted it pale yellow, and then just rubbed on some floral and ladybug decorations.  That came out like this…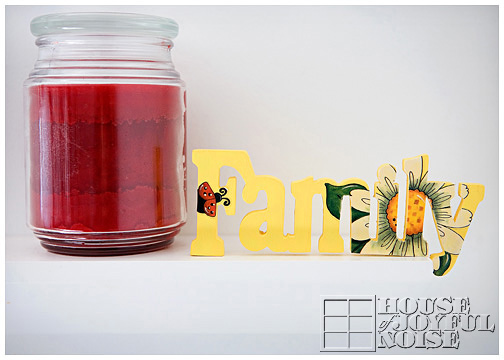 (Candle not included.)
The soaps we made as Christmas gifts were a big hit, so I made a few more (one of each color) for the Give-Away.  I love glycerine soap, and we scented it a lovely apple aroma.  I didn't take a new photos of the new soaps alone, though….this photo is from the Christmas batch, just for a closer look…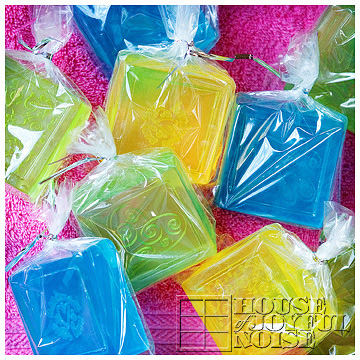 I also threw in some bookmarks, which honestly were from the abundance of leftovers we still have from making them as Christmas gifts.
Lastly, a charming little hand-painted pot….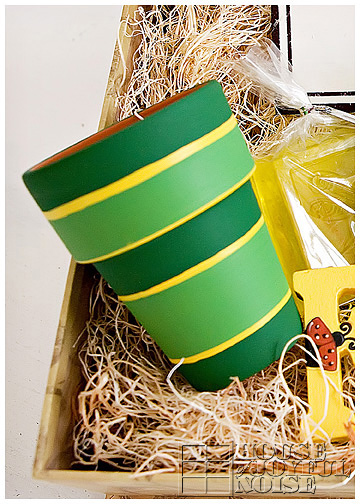 Michael painted this, and even pulled the painted stripes free-hand around the pot, with a fancy long-haired brush.  I think it came out really cute.
That would conclude the up-close review of the hand-made gifts given to our First Giveaway winner.  We plan to plan (lol,) another Giveaway, of some sort,  soon.  We'd like to wrap up our over-due 'Michael Project' we started first.  IF, that is, you all are interested, in another Giveaway??  If so…speak up People!  We'd love to know what kind of interest is out there.
The Regan Camp reports that the favorite items were the sign and the soaps.
What would your favorites have been?
Save
Save