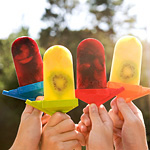 Popsicles are just necessary for kids in the summer time. Don't you think? It's right up there with swimming or sprinklers, catching lightening bugs in jars, and camping. Our kids actually made these fruity ice treats themselves, and had so much fun making them, as much as they did eating them! I have to confess though, that I'm not sure how legit it really is to call them tropical. They are truthfully partly tropical though! And well, the word tropical just went so well with popsicle, that I couldn't pass it up. (Please forgive me!)
Anyway, I have always wanted that Zoku popsicle maker by Williams-Sonoma, that freezes popsicles in like, 7 minutes. Have you ever seen it? But for one thing, it only makes 3 at a time. That's a problem with 4 kids. And I figured, how urgent can popsicles be? (Now if it made chocolate….I do see the urgency in that sometimes.) It's good for my kids to have to wait for things they are looking forward to. I think we have enough instant gratification in kids' hands these days. Don't you?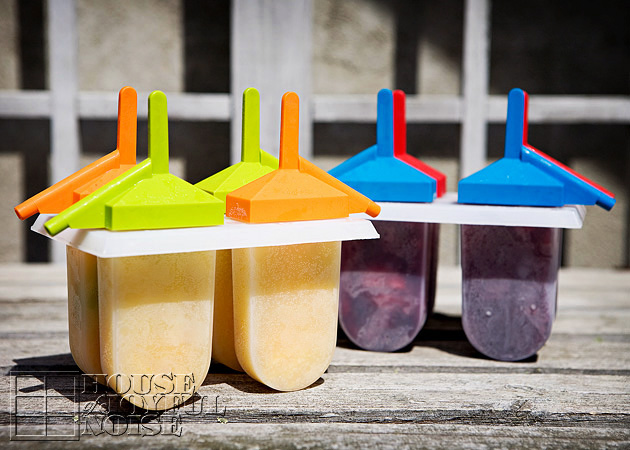 What I did get are these fun popsicle molds at Wal*Mart. They are typical molds, except they have a great catch tray for the dripping, and a built in straw tunnel to suck it up! As a kid, I could never stand the stickiness of popsicle juice on my hands, and the design of these really helps cut the mess. I love that, and the kids think they are great too.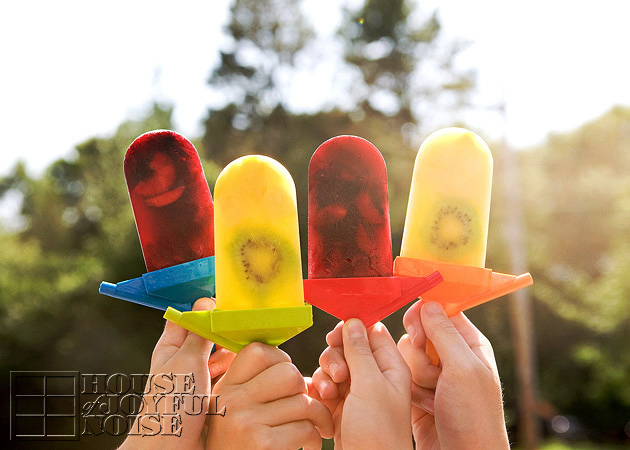 Making our own popsicles is a great option to me most especially, because most store-bought brands are loaded with sugar, artificial flavors, artificial colors and just stuff I don't really want in my kids. What's more than keeping such ingredients out of them, in giving them store popsicles, is giving up an opportunity to get into them what I want to.
So what are our Tropical Popsicles made of?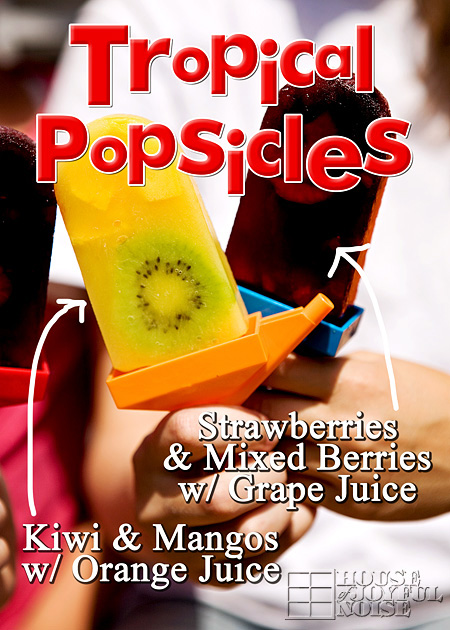 Well for this first batch of pops, we made two flavors, by simply using a couple mixes of fresh fruit, and juices.
For one flavor, we added sliced strawberries picked from our own garden, and frozen mixed berries, to 100% Grape Juice (with no added sugars).
For the second, we sliced fresh kiwi, and also sliced frozen mango chunks (keeping them frozen), to 100% Orange Juice.
Of course, you can come up with your own concoctions! That's half the fun, right?
Or you can try ours.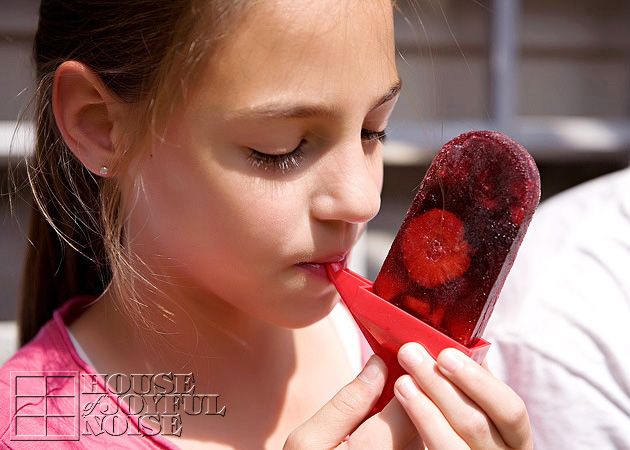 The kids loved them.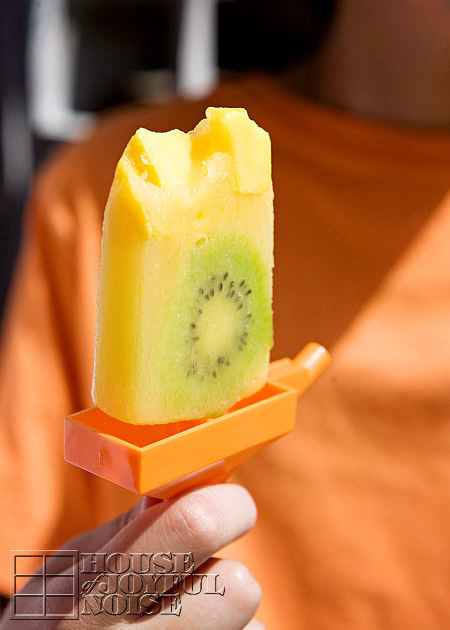 The fun part is getting to the frozen fruit!
–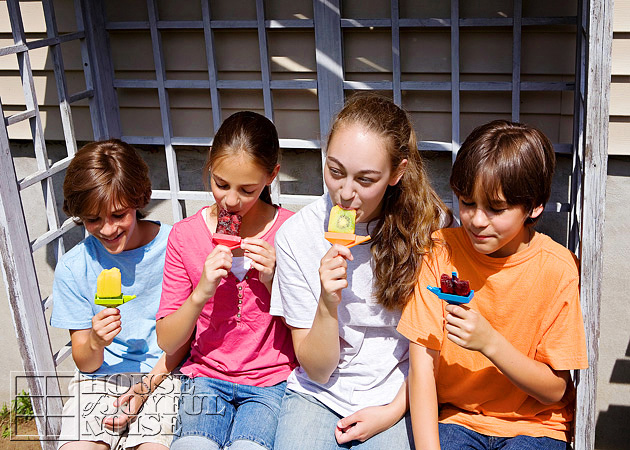 The kids will definitely be making more popsicles with our new molds.
Tropical, or otherwise. We're thinking on some new recipes. Maybe some creamsicles!
Feel free to share any ideas or healthy popsicle treats that you've tried and enjoyed.
Thanks for coming by as always, and HaPpY SuMmEr!!
* * * * * *
Please come follow us here and there:
Save