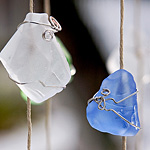 Today I am sharing with you a craft project that was a true labor of love. Or….I should rephrase that: It was labor, in the name of love. This wind chime made with sea glass was a Christmas gift we all wanted to make for Michael's mother/Grandma last year. I was so excited about it. It was only once we got going and invested time we didn't want to write off, that we realized it was not going to be a quick gift-making project, by any means! But, it was a gift of love and so, it would be worth it.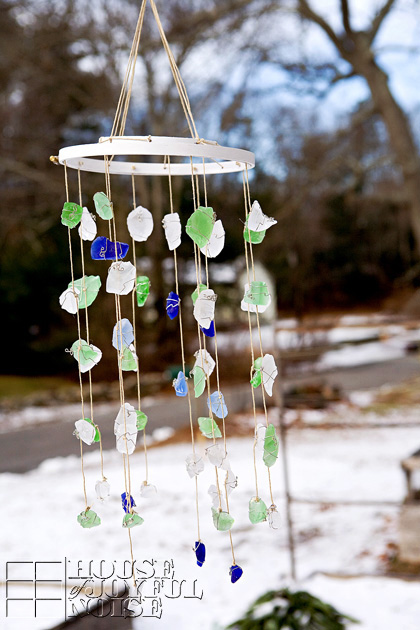 Here it is all done. Photographed last winter, before packaging it up and shipping it off.
It's an idea I actually borrowed from my always clever and creative fellow bloggin' friend Angie of The country Chic Cottage. When I saw hers, I just loved it, and thought it would make a nice gift for my mother-in-law who lives in Florida part of the year. In the end, I am sure Angie's took a lot less time to make, because she managed to find some nice, big flattish pieces of sea glass to work with. And frankly, I just like hers better.
All we could find were glass sea glass rocks; just bulkier and impossible to work with as her tutorial went. So we had to improvise. Big time. And thus put a lot more time into it. BIG TIME.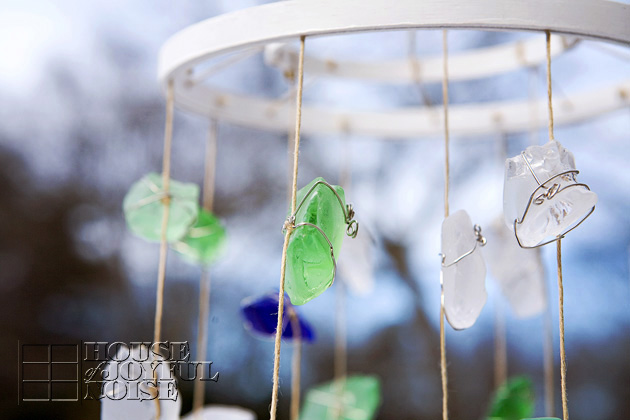 The supplies needed were two embroidery hoops; a bigger and smaller one, lots of sea glass in various colors, jute string, E600 or some string glue, and in our case some silver-plated copper *wire and a set of needle-nose pliers. (I forget if the wire was 18 or 22 gauge; but it needs to be pliable enough to really reshape and work with well.)
My post here is not a tutorial by any means. I didn't take photos along the way for that, as my hands were busy doing tedious work in late hours of the night. And I sure cannot tell you all about how we made it exactly because, for gosh sakes, it was last year! My memory skills leave much to be desired. Such as, remembering things. And I struggle with recalling yesterday morning.
Anyway, no one in their right mind would take the time to make this lovely wind chime our way, with this bulky sea glass. So if you'd like to make one, I'd recommend finding big sea glass with big flat surfaces, and make it the way Angie did. Unless you just like the fine art wire-work on ours. 😉 I do think it adds some fancy.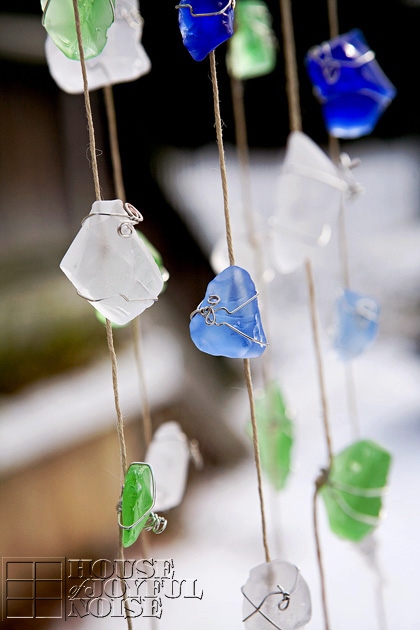 We tied a knot everywhere we planned to put a piece of sea glass. But since tying on and gluing the rocks to the jute was not going to keep them secure enough, we used wire as well. We took a long pieces of cut wire, laid each over the front of the sea glass (with the back being glued to the jute where the knot was), wrapped it around to the back, twisted it a couple of times over the knot placement, and brought both ends to the front again. Then using the needle nose pliers to create nice designer curls with the ends.
–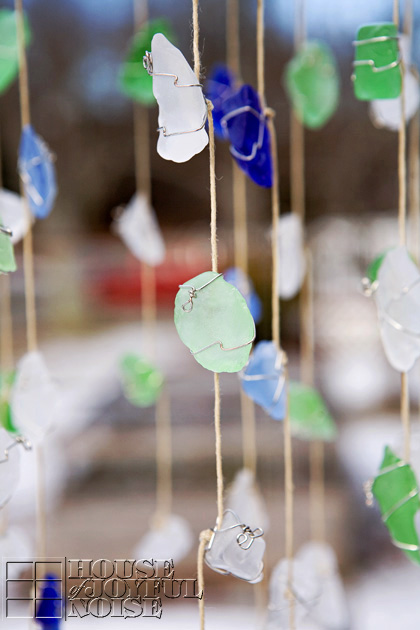 Now do you see those kinks in the wire, here and there? That's from tightening everything up to make the glass nice and secured, once it's all wrapped and curly-cued. By taking the tips of the needle nose pliers, grabbing the wire in a suitable place, and giving it a little twist, we'd get this kink that gave it even more of an artistic element, and also made everything tighter.
–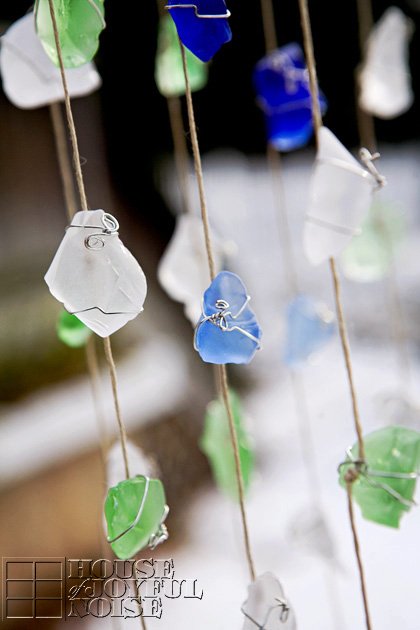 We did actually really like the look of the wire work, since we turned it into art. But it was truly hours of work, for such a simple gift, that really did look homemade in the end. (Not saying that with any kind of pride.) 😉
As I said earlier, it was from all of us for Michael's mother/my mother-in-law/the kids' grandmother. (I wanted it to be really nice!) And it was a collaborative effort among us all. The kids went shopping with me and got everything we needed. They also picked out all of the pieces to use out of our batch of sea glass, and helped with other little tasks. But Michael and I did all of the gluing, and especially the wire work, for 2-3 hours every night, until it was finished.
When all was done, it took so long, this Christmas gift for our loved one was belated! When Michael happened to be talking to his mother on the phone, he told her that her gift was going to be late, because we were still working on it!
–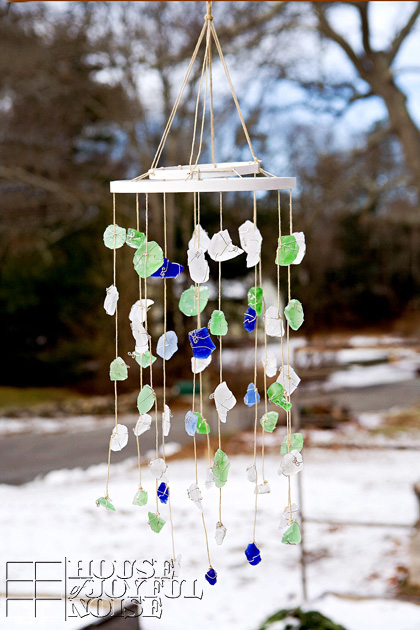 She did receive it shortly thereafter Christmas, and called us with many expressions of gratitude.
I think she realized how much work we really put into it, and she even convinced us that she loved it. 😉 I'm not sure it really chimes per say. It takes a mighty wind for those rocks to hit each other. But when they do, it does make a pleasant and interesting sound. I just wouldn't describe it as, you know, chime-y. Of course, it's also decorative for her deck or yard.
We realize that some crafts are just going to come out better than others. We were going for something more like……well, like Angie's! But hey…..it was made with love, and received with love. And that's always nice, no matter which way the wind blows.
Thanks Angie, for the inspiration!
And thank you all, for coming to see our wind chime.
Save
Save