Just a short but lovely post, to share with you all the beauty of the flowers blooming all around us, that we have been enjoying every day around here. We have a long list of vegetables growing in the garden beds as well right now, that most likely we will show you at a later date. This early in the season, however, they all have much more growing and producing to do, and they are hardly worth photographing quite yet.
But oh, the flowers blooming!
As you will see, this year we went crazy with Superbell – Calibrachoa hybrids, by Proven Winner. And we have to say, I think they are a favorite we'll be sticking with, year after year, from here on out! They are so easy to maintain! They are tolerant of the heat, the occasions we didn't get to watering, and there is never any deadheading to be done! We've got them in all kinds of colors, blooming all over the place, and couple of other kinds of flowers as well to let you take in, as well.
Let us show you!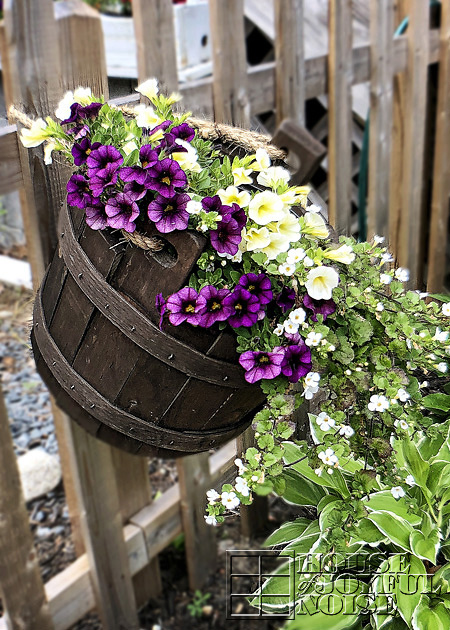 This wooden bucket holds a bountiful spillage mix of Superbells in Plum and Chiffon, as well as some Snowstorm Giant Snowflake. So in love with it.