Just a short but lovely post, to share with you all the beauty of the flowers blooming all around us, that we have been enjoying every day around here. We have a long list of vegetables growing in the garden beds as well right now, that most likely we will show you at a later date. This early in the season, however, they all have much more growing and producing to do, and they are hardly worth photographing quite yet.
But oh, the flowers blooming!
As you will see, this year we went crazy with Superbell – Calibrachoa hybrids, by Proven Winner. And we have to say, I think they are a favorite we'll be sticking with, year after year, from here on out! They are so easy to maintain! They are tolerant of the heat, the occasions we didn't get to watering, and there is never any deadheading to be done! We've got them in all kinds of colors, blooming all over the place, and couple of other kinds of flowers as well to let you take in, as well.
Let us show you!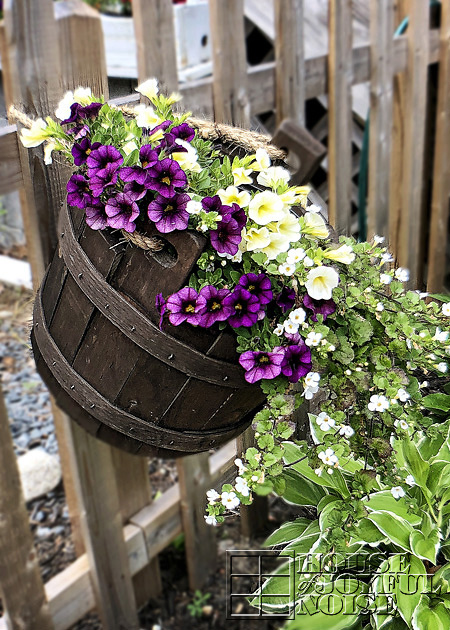 This wooden bucket holds a bountiful spillage mix of Superbells in Plum and Chiffon, as well as some Snowstorm Giant Snowflake. So in love with it.
–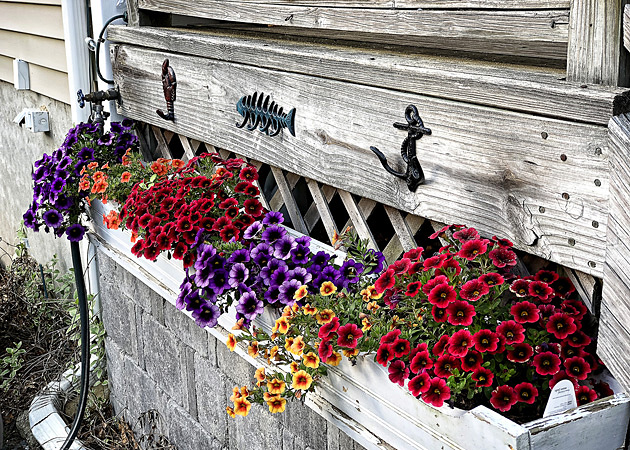 Just over the fence, in the garden area itself, is a colorful mix of the Superbells, in Pomegranate, Apricot Punch, Grape Punch and Spicy.
_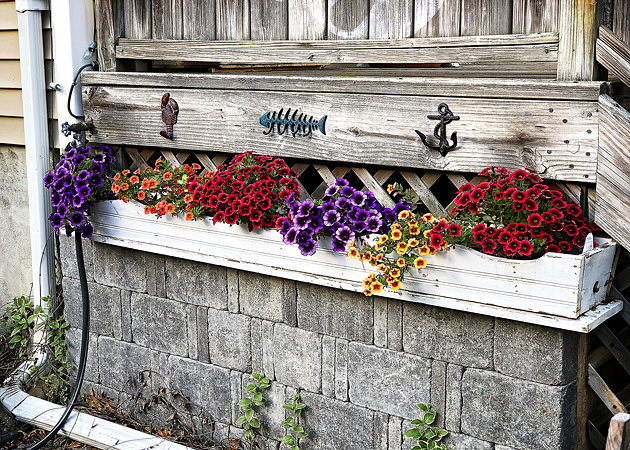 I just love this area, where we are often working with the hose, filling buckets with water, and what not.
Our ornamental iron pieces (made to be coat hangers) lined up over the flower box always make me smile, but I even love the look of the water spigot near the flowers at the end, for some reason.
_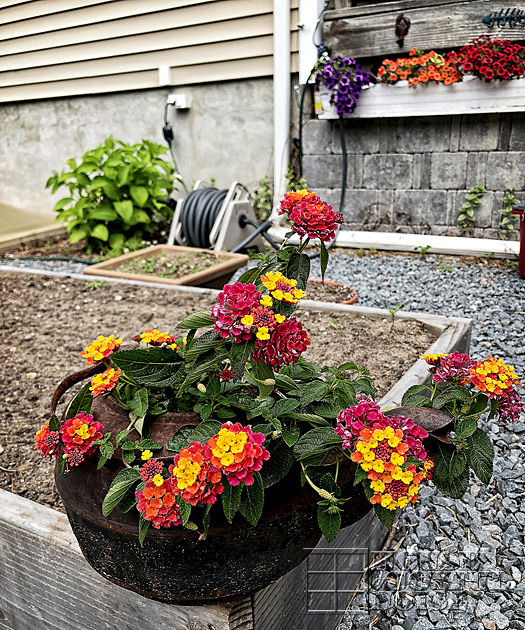 This old black kettle is holding Lantana this year. Like many of the flowers around here, the colors are so bright, they are hard to photography properly sometimes. Especially if the sun is out. I have to say, I don't think Lantana are quite the right type of flowers for this kettle. Something more contained would be nicer, so the kettle spout could be more visible. But, I saw the Lantana at the nursery, and had to have more (as we had some last year), with no idea where we would put it this year. In the end, after all of our planting, the kettle still needed something, and the Lantana was all that was left.
It may or may not stay. If it gets much bigger I think I"ll relocate it.
_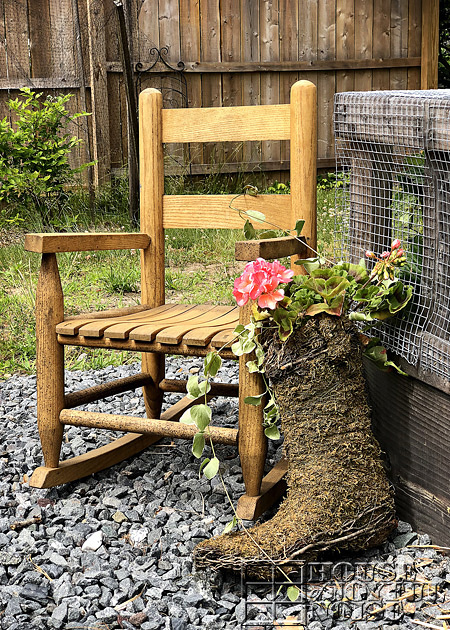 An old moss boot, growing some pink Geranium and Vinca Vine, leans up against a little wooden rocking chair and the strawberry bed.
_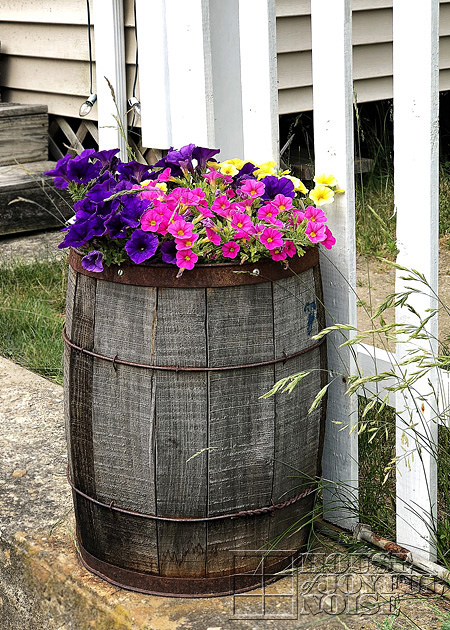 Our little old wooden barrel holds more Superbells, this time with a mix of Pink, Saffron, and Grape Punch.
_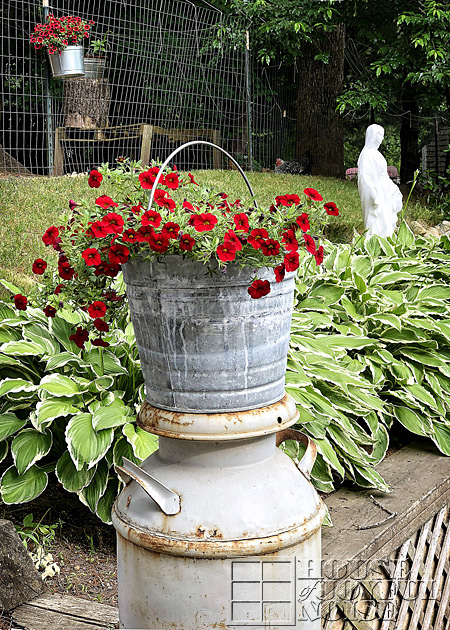 This old metal pail also hold some Superbells – Calibachoa, but by Cabaret here, in Bright Red.
_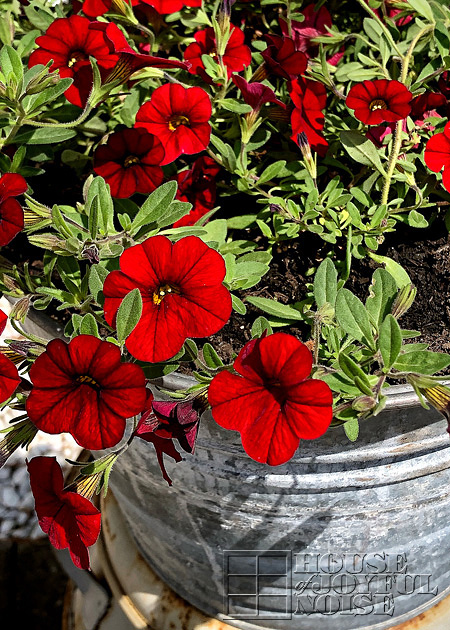 Such a deep, beautiful red.
_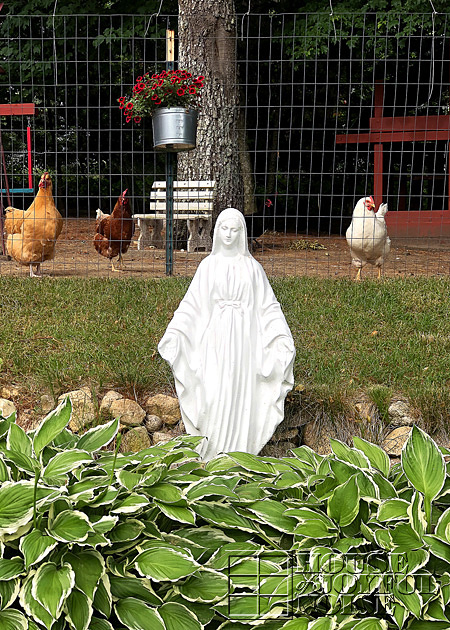 The Blessed Mother needed to be elevated, because she was totally getting lost in the huge growing Hostas.
Can't have that.
_

And lastly, for today….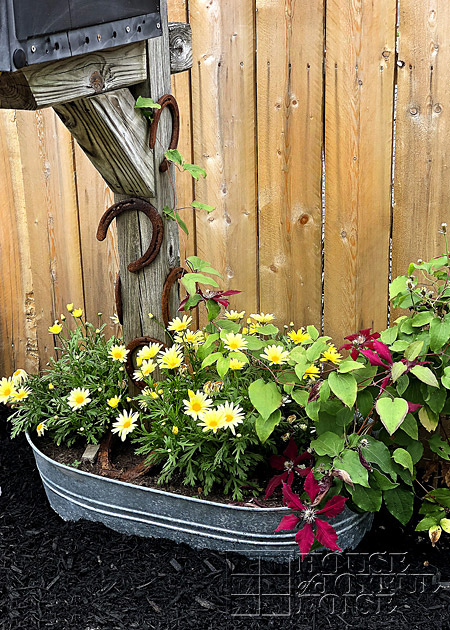 ….out front by the street, in the metal tub that holds our mailbox post, we have some beautiful yellow daisies this year. There is also some burgundy Clematis climbing up the fence and the mailbox post, but on this day, many of the blooms were spent, with more on the way.
We have more blooming flowers, to share. I just couldn't get to everything this round. One of our other very favorite features will be reaching it's potential soon, so we'll be sure to show you that as well, soon enough. Perhaps on our Facebook Page ('Like' us if you're there!), or in an upcoming post. But for today, we hope you enjoyed the beauty we did had to share.
We welcome you to share thoughts, or any other chit-chat, while you are here! What is your favorite thing you are growing this year, or what did you love most of ours?
Thanks so much for coming by!