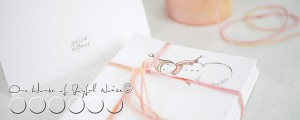 Last week, I decided rather spontaneously, to have a surprise giveaway to the 100th 'Liker' of our Facebook Page for House Of Joyful Noise. The unsuspecting 'Lucky Liker', Tammy N.,  got a happy surprise, and I had so much fun doing it!   I've decided that using our Facebook Page, when announcing having such giveaways, and sharing other random tidbits, photos, and inside-info, is the way to go!!  SO…..if you haven't 'Liked' our Facebook Page yet, you might want to do that riiiiiight now.  Or else, you'll be missing out.   (It just means, you'll see us in your Facebook feed, and you'll be in the know, with things not necessarily here on the blog.  It's fun!  Please join us.  Buttons are in the sidebar. )
Here's the sweet gift we sent out to Tammy, today!
Custom-designed thank you note-cards, by artist, Jessica Dittmer.
She's a true artist, in many senses of the word.  Painter, graphic artist, photographer, crafter…..it's ridiculous, really.  She has designed for the Demdaco Company, you know.  You know…the company with the Willow Trees line?  True story.
 So I am always watching Jessica's work, and fell in love with this watercolor snowman she created.  I wanted to get some note cards with it, and so inquired with Jessica about it.  It was just easier for both of us at the time, for me to just purchase the file.  I was finally getting ready to order my note cards from the printer, (for MEEEE!! : ) when I had this giveaway idea.   I thought maybe, I should share my set.  Even though it's a little hard! ; )
They were printed on watercolor stock, which is perfect for them.  I know you can't tell the texture in these photos.  I didn't try that hard. lol.  But beautiful quality.  They are just s w e e t.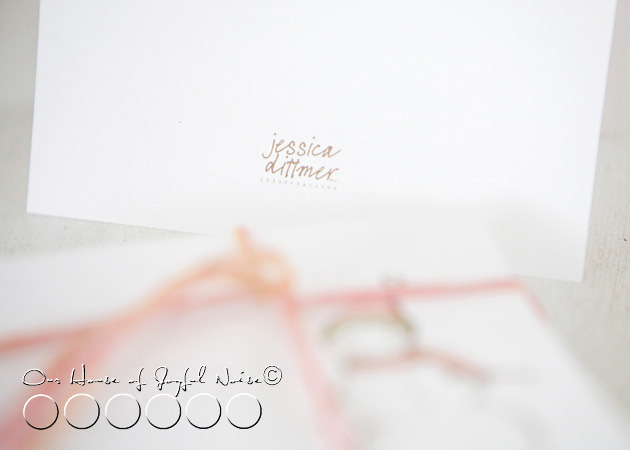 Interestingly, I got several extras in my pack, from the printers.   That happens sometimes. But, I think this time they got a little print happy, knowing Jessica is, you know… somewhat famous.  In this creative world we all float around in, she is.  (Maybe outside too, but I'm in my own little world here. lol)   The printers certainly know who she is.   So this name on the back is her mark, and it makes these custom designed cards extra special.
Of course….I wish the printer sent as many envelopes. (HELLO? <sigh> It's o.k., I can get more.)  But, I did spread the blessing with the extra cards.   I gave our winner a dozen, instead of 10!   ; )    (Notice I didn't tell you how many extras I got. lol.  But really….it was nice of me to give her more!)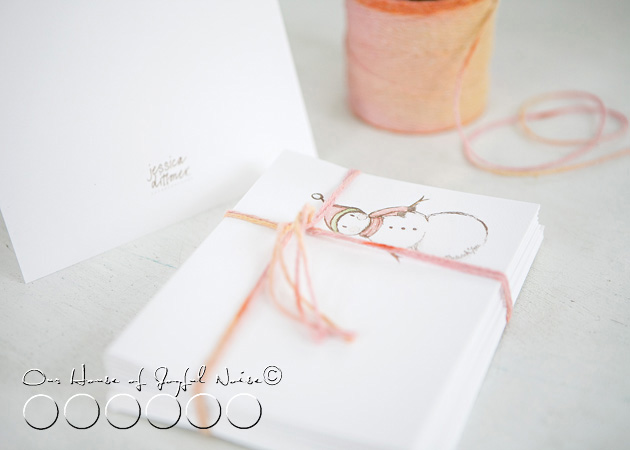 I knew I would find more uses, for my dyed string.  ; )   It matches soooo perfectly.  I put it next to the cards and was like…."NO SIR!!  GET OUT!!!"   (And then, per usual, the whole family is calling from various places in the house….."What?!  What's going on?"  Just every day happenings around here.  I get excited about the little things, a lot. )
I really had fun getting this little package together for Tammy.  Don't be jealous.  There will be more giveaways coming up!  It' not the first giveaway we've had…. and it sure won't be the last.  But sure hope you've 'Liked' us on Facebook!  ; )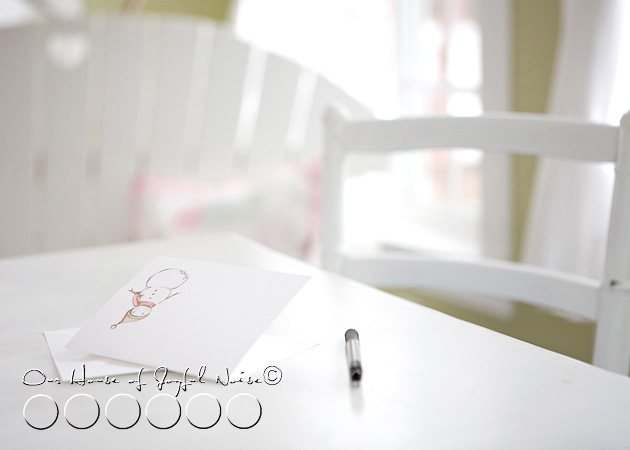 I decided to use on of my own thank-you note cards, to thank Tammy for 'Liking' us.  We like her too.
–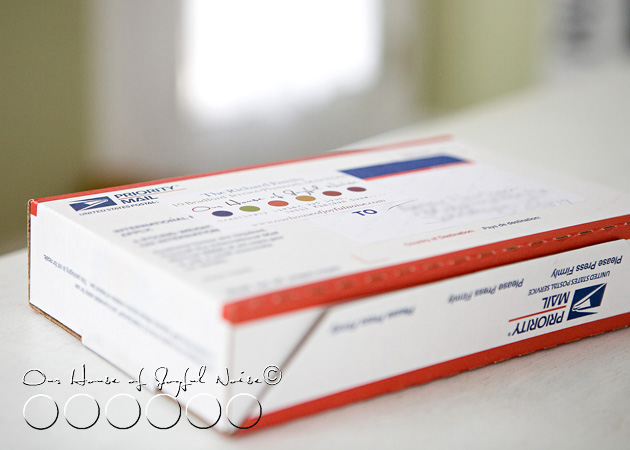 Here's her package, all ready for Michael to drop off at the post office, on his way to….somewhere. I forget.   I was thinking….it sure would be nice, if the post office offered some nice designer packaging options.  Don't you think?  Some a little pretty…..some a little festive for holiday shipping….you know. Like they have special edition stamps.  Can I talk about the postal service like that?  Am I going to get arrested now?  Just saying.  I hate making my packages all pretty, and then having to put them in these standard boring boxes.  The should hire Jessica Dittmer, for a nice designer line of packaging.
Well, we hope the arrival of this little package at your door, puts a smile on your face, Tammy.  Who will our next giveaway gift-receiver be?  We'll seeee!
Save
Save
Save