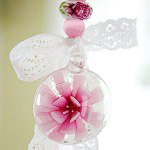 I know!  It's been awhile since I've made a ceiling fan pull, huh?  Hey, a girl only has so much time to craft! But once I got this new one in my head, I couldn't go out & get the supplies to make it, fast enough.  I made it, and then I was so excited to see it up, that I took down my summer fan pull, to put it up.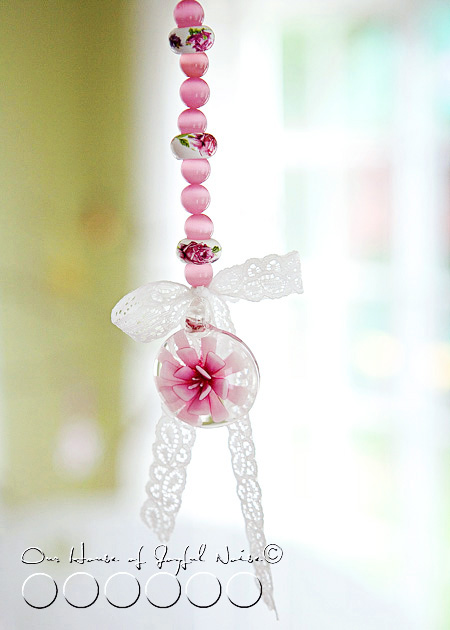 I'm all about farmhouse style, to the core. But I definitely dig a little Shabby Chic. It's just a wonder to me, because when I was a little girl, I hardly had a feminine bone, and I was sure I never would.  I even recall a mylar motorcycle poster on my bedroom wall at one point. But here I am!

I really dig pink, lace, and Shabby-Chic-ness.
This fan pull has that kind of feel to me.  You?  That's what I was going for, anyway.
I found THE perfect beads at Michael's Arts & Crafts.  I used the style of the round soft pink ones (in various colors) so many times.  But how about those rose ones, huh? I swear my heart skipped a beat, when I saw those.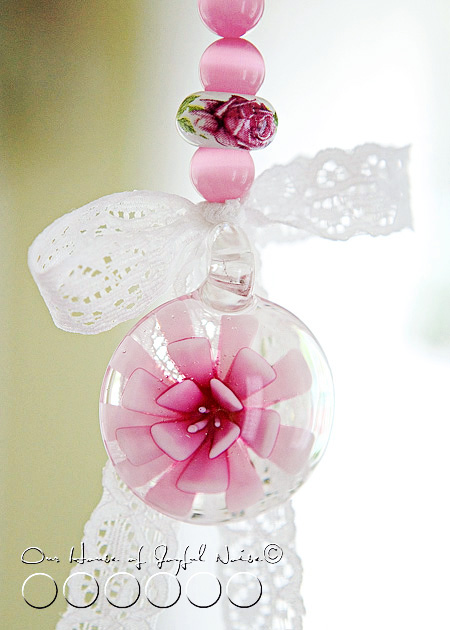 And despite the fact that I used a large glass pendant just like this one in green, for a spring fan pull, this pink one went way too perfectly, for this pull too.
Besides, I couldn't find a big pretty rose to use. Not at that store anyway. And this worked nicely.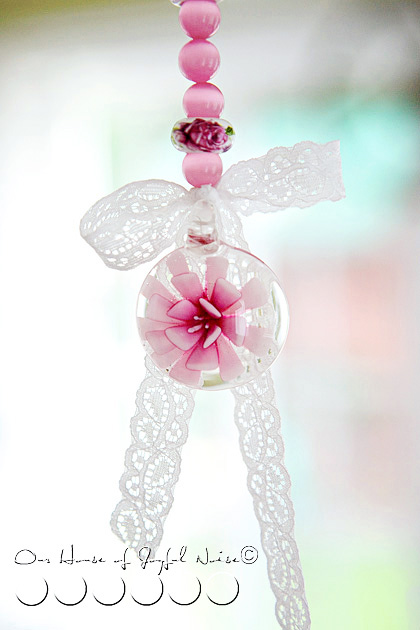 I was so excited to add my last little touch: a lace ribbon bow.

It looks so pretty, hanging in the middle of the room, that the summer fan pull may not make it back up, this year.
(If you'd like to check out all of my other fan pulls I've made so far, you can search 'fan pulls' in the category box later, in the sidebar.)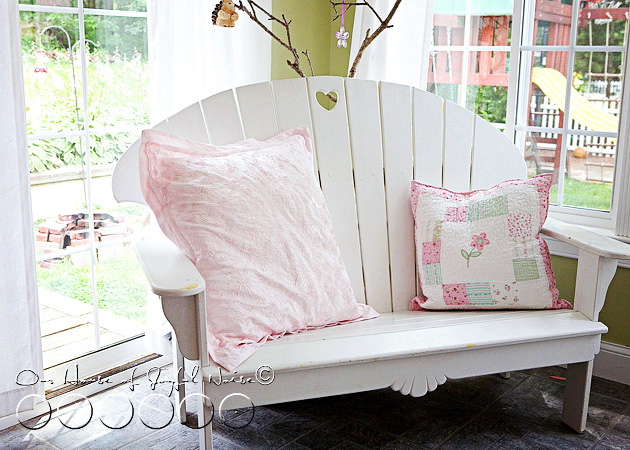 I've been meaning to share something else with you all, since um….February?!  The big Shabby Chic Pillow, that Michael got me for Valentine's Day. <3
How pretty is this embroidered pattern?
It's a satin like thread, on a light polyester, I guess.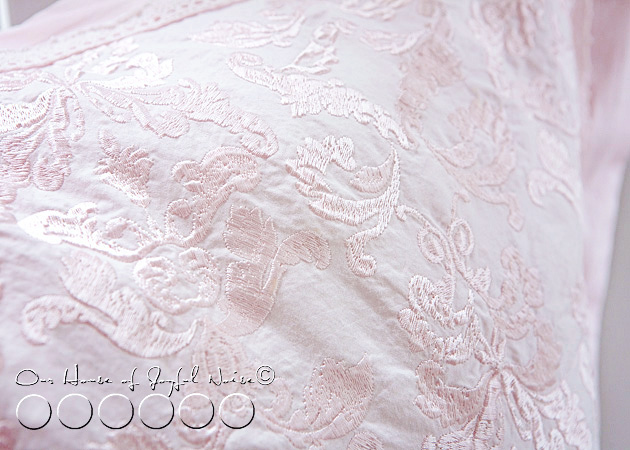 The texture of the thread-work plays so awesome in the light.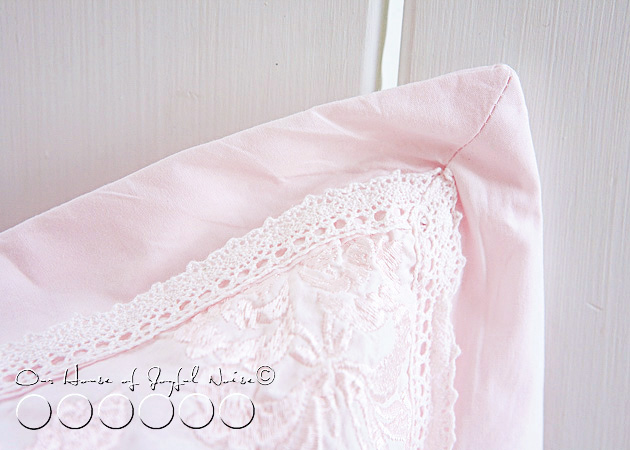 So does the crocheted lace trim.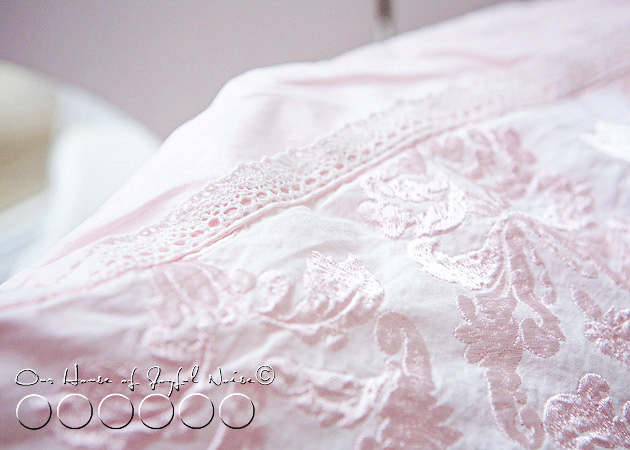 Lovely, isn't it?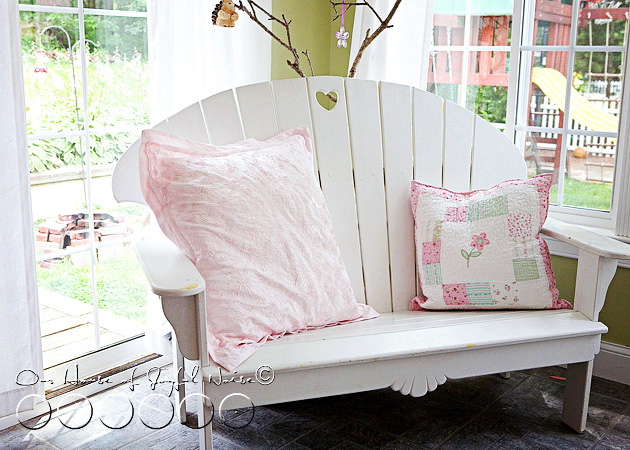 Yes, when the kids come in from playing, all covered in dirt, I preach! "Oh boy!  You better be SURE not to touch-my-PILLOW!".  (And between you and me, I may have a few heart palpitations with that preachin'.)
Yes, I COULD just wash it.  But then I'd have to iron it again too! And I really despise ironing.
Oh, which reminds me, that yes, this pillow cover IS removable.  Check out the back….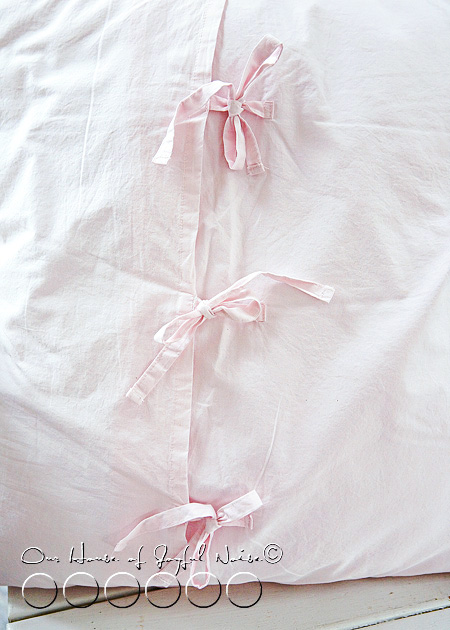 It's the details.  You know?
I don't know why I get so crazy over this stuff.  But I do.  Like….butterflies. Over so many little things in life.  Not kidding.
Well, I hope you enjoyed seeing my Shabby Chic fan pull & pillow.
Thanks for stopping by.

*

Save