I'm so happy to offer you some free printable designs I created just for you:
Thanksgiving Place Cards
 as well as an adorable turkey craft to hold the cards, or as beautiful added detail to your table, if you'd like.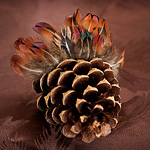 Thanksgiving is only days away.  If you are still scrambling to add a little 'fancy' detail to your Thanksgiving table setting, here's an idea for you.  This idea is one I came up with for my own Thanksgiving table setting from last year that I never got a chance to share with you all.  Our guests loved them, and hopefully you will too.
Turkey Place Card Holders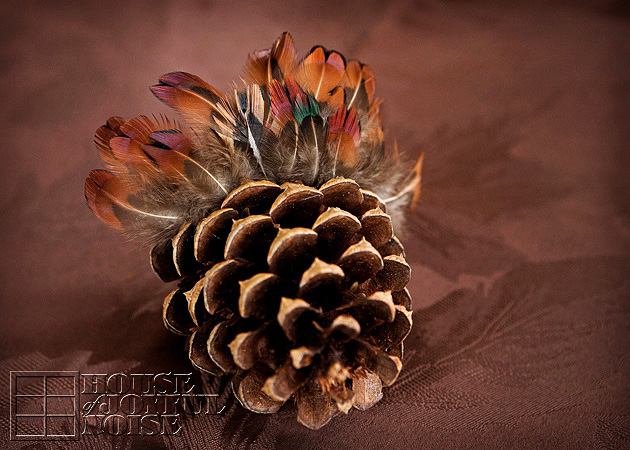 I think they are just simple, yet classy and beautiful looking.  They are easy to make, and require minimal supplies.  It's so easy, there is no point in even showing you how to make them, when I can simply tell you in a few words:
I got a net bag of plain, natural pine cones at Michael's Arts & Crafts.  They are for crafting and decor. I recommend not using the pinecones from any kind of potpourri, because they can be so strongly scented, and really clash with the otherwise enjoyable aromas of your Thanksgiving dinner.
The feathers were also bought at the same craft store, and come loose in a clear, flat cellophane bag.
The kids and I simply put some glue right between the last two rows of blades, on the backside of the second to last row. Then we simply stuck the feathers onto the backside there, starting in the middle and working our way outwards to the sides,being sure they were facing forward, and fanning nicely as we worked across. That was it!  These particular feathers are very fine, so it took just a little patience.  But I chose them because I loved the colors in them. We used toothpicks to be able to maneuver the feather into the position we wanted on the still wet glue, without using our fingers and getting glue all over them.
I made them to be place card holders, so I needed to make some of those too . . . . . .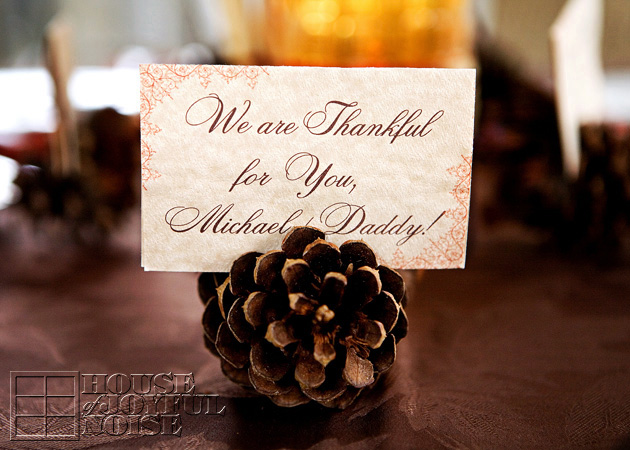 . . . . . . and I'm going to share that customize-able printable with you too, so you can have your own personalized settings like this.
I printed them out on sheets of card stock that a variegated warm beige color to it, rather than bright white.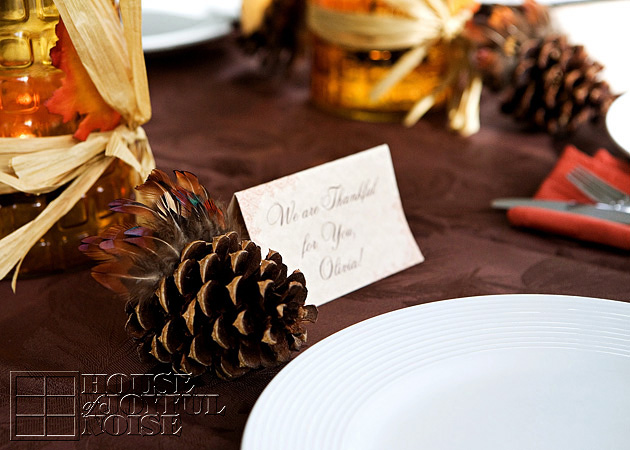 Of course you also have the option of putting the place card on the table, beside the turkey, as seen in the photo above.

We also did something special on the inside of these place cards; and so this is another idea or suggestion for you:
In light of Thanksgiving, and being most thankful for the blessing of those we love, the 6 of us in our family wrote a little something on the idea of each person's card, expressing something about that person that we love or are thankful for.  It was an unexpected surprise for those joining us around the table this holiday; my father, brother, and a family friend. And I'll tell you what; they all cried, finding more inside, and reading it!  The kids wrote the sweetest things.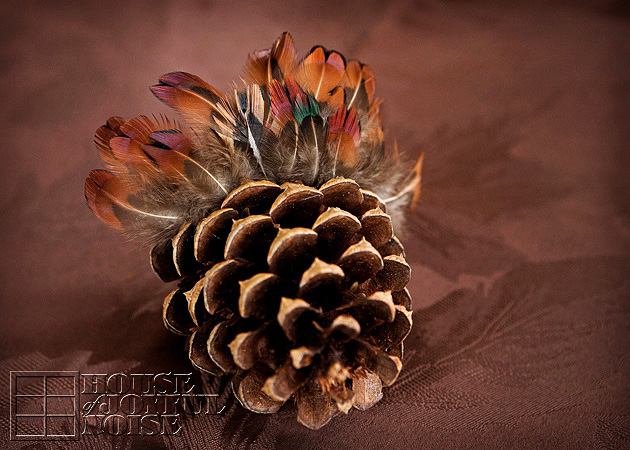 If you would like to add a more whimsical flair to your turkeys like these, for just the kids or for everyone, you could add some googley eyes on white cardstock, and an orange waddle with felt, foam or construction paper.  I just happened to love the more subtle indication of a little turkey.
–
Free Thanksgiving Place Cards Printable
O.k., here is the customizable/personalizable place cards printable I promised you, but you must get it using one of the links to the downloadable file (you choose) below . . . . . .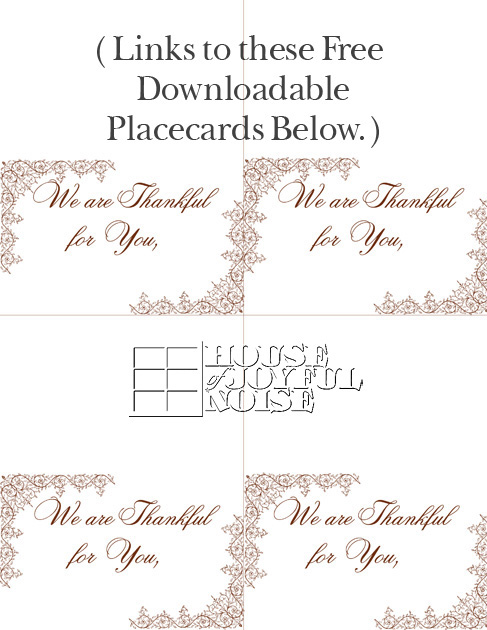 PSD FILE:  This version is still in layers.  If you use Adobe Photoshop or any other program that works with PSD files, you can add in each persons name, to personalize each card. The color for the font is hexcode #6f3014, and the font style I used is Cecily.  I forget the font size, but if all I just mentioned didn't go over your head. I'm sure you'll figure it out. Ha ha.
-or-
JPG FILE:  This version is flattened, and ready to print as is. You can simply write in each person's name with a marker.
Specs:  8.5 x 11 printable – Use same size card stock; I'm suggesting a light and warm or compatible color, perhaps that goes with your table setting.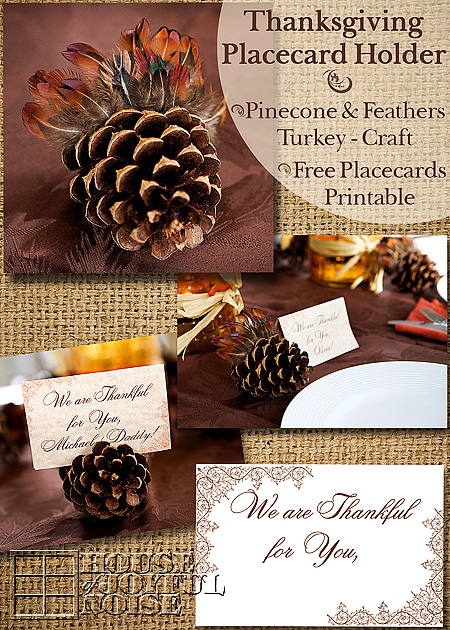 And now for a little Giddy-Diddy:
If you love this idea . . . . .
Just SHARE it however you do!
But most of all please know this year . . . .
We'll be giving THANKS for YOU!

* * * * * *
Please come follow me here and there: