HAPPY NEW YEAR, EVERYONE!
Well now . . . . we've all talked about the coming new year enough. Don't-ya-think? Now it's HERE.
Time to just LIVE IT, People!
That includes us.
We've told you we have some all new and exciting things in store for this year, and I'm about to tell you about one of them.
At the beginning of last year (2012) I resolved to get back to my hand-created artwork skills.  Many of you (may) know I went to art school, worked in the illustrating art field for some years freelancing (mostly doing large portraits of people), and then got more and more in depth with photography.  Something I had always studied. But in the course of my 13 great years in my (photography) business, I really got away from my love for creating my own authentic artwork. : ( You know….artwork created on paper. With pencils, paints and palettes and other fun tools in my hands. I got to missing it so much, it almost hurt. I'm not kidding. But I had no time to spend with it!  No time to really make a mess, and create something – mine. Without my camera. So in 2012, with putting my photography business aside, I found the time! I did. Not quite as much time as I wanted. But I did create a handful of things! Things that I found so much great joy in creating.  In fact one of those things turned out to be our #1 most viewed project of the year 2012!  Maybe because that one was made with extra love. Or maybe because the world was a little mesmerized with my doodling. (Something anyone can do, by the way. Just give it a go!)  But back to the here and now.
This year, I will find even more time, for my artwork. Yes-I-will. And I know I will, because I need to so badly now. The more I indulge in creating, the more I just have to.  After anything with my children, or singing a song that gives praise to the Lord, just sitting . . . . and fooling around with different mediums, is way too much fun for me. And therapeutic. And it just puts a happy in my heart and soul, that I would never be able to describe. All is right with the world, when that's what I'm doing.  Hours escape me. ("Really? I should have started dinner an hour ago? What in the world time is it, Honey?")
Of course, along with hand-created illustration work, I'll always have what photography and graphic skills I might have too.
And that leads me to what is in all of this for you, this year!
Using any one of those skills, I decided to create a series throughout all of the year 2013, called . . . .
House Of Joyful Noise 'Social ShareIts'.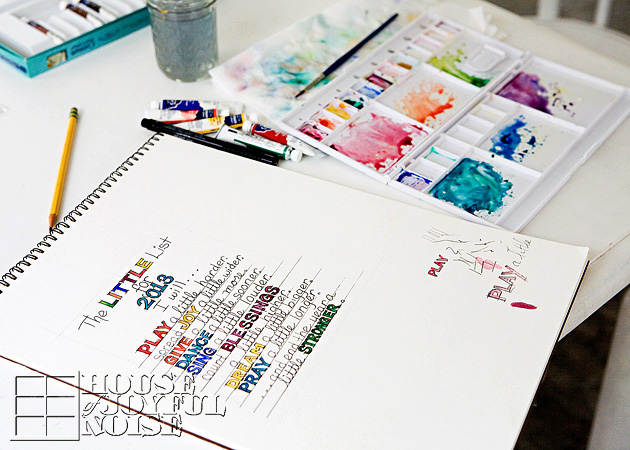 What are House Of Joyful Noise 'Share Its'?
They are those little mini-poster sort of things, that you can share all over your social world.
You can Facebook them
Pin them on Pinterest.
Tweet them on Twitter.
Google+ them in your circles.
. . . or anywhere else you socially network.
I'm going to have a blast, making more and more.
They will be created with various forms of my artwork….and express quotes of my own or others (credited.)
Some will be hand hand-illustrated.  Others will be created with photography or graphic design.
The bottom line is…..If they speak to your heart, or inspire you in any way, you'll be so welcome to grab them and share them for yourself.
The test run has proved way successful.
(Thanks to all of you, who follow us on Facebook!)
I shared my first two New Year's Eve morning, and they have already been SHARE'd  hundreds of times over. AND counting.
Here are those two – and you are welcome to save them right from here, and SHARE them wherever you'd like.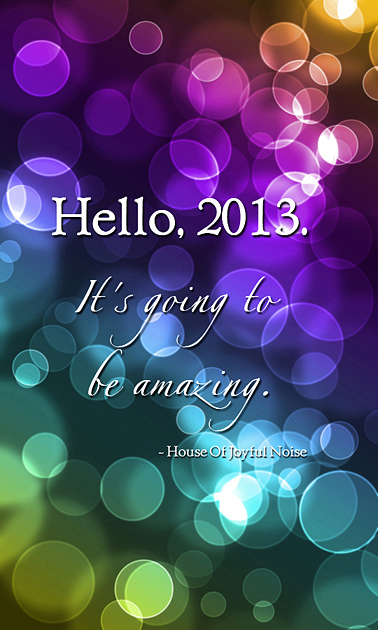 As they are created, throughout the year, and just as I am inspired to make them, I will share them right here on our blog, and at the various places you may follow us.
(See links to follow us, below.)
 There's SO much more to come, here at House Of Joyful Noise.
Here's to an AMAZING 2013, to all of us.
♥
* * * * * *
Please come follow me here and there:
Save