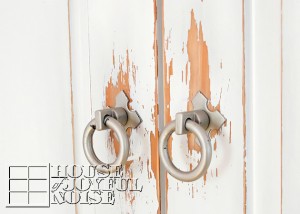 It's been awhile since we've shared a furniture refinish project with you.  Unlike the last one which was extremely meaningful and refinished with much love, my mother's dresser, this one is not so special.  It's a useful piece for our home, but it's just a piece we picked up years ago at some department store or other.  Regardless, it has been in a room we wanted it out of.  The only other place we could figure that it could be used and where we also would have room for it, was in our youngest daughter's bedroom.  Yes, the same bedroom my mother's dresser was refinished for.  And I was NOT putting this darker piece up there, in that bright, fresh and airy room. So, it needed to be refinished to fit in up there, first.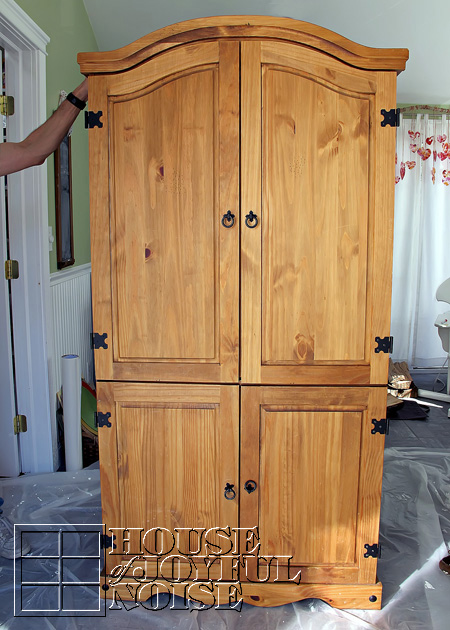 I'd always thought this piece was cheap quality, because it's just seemed so, to me. Maybe because I have since bought another armoire (years ago also, but after this piece), that to me, has a lot more character than this one.  I just love the latter one more.  I'm not positive what type of wood this one is made of, but my husband's guess is Poplar.  After researching his guess, I'm guessing he is right. Because something about it has reminded me of something like 'balsam type wood'.  It's not light in weight, but it is hella-absorbent!  Lord have mercy, painting it was no fun at all.
I have to admit, my heart was not in the refinish of this piece at all, as it was with my mother's dresser, but it simply had to be done, = chore.  So I begged my oldest to help me paint it.  She agreed, but she wasn't having any more fun than I was. So we were miserable together. We don't have a paint sprayer and compressor yet, but this piece has really encouraged me to get one!  We had at it with good old paintbrushes and rollers.   And because of all of the hardware, it needed to be taken apart. Ugh.
I thought using a paint and primer in one, would keep it from needing to be painted twice, but no such luck.  Poplar = Sponge!  Maybe there is a prep trick to help with that, but I'm just an amateur learning. And what I learned this round was…..look into that before painting poplar again!
Here, I just wanted to show you a little trick for moving heavy furniture on hard flooring. Put a large enough sized towel or blanket under the piece.  It makes it easy to just slide across the floor, without the need to literally pick it up and carry it.  (Unless steps or carpet are involved, of course.)   In this moment, we were just moving it through the family room into the sun room to be painted.  But then….it did need to go up a flight of stairs.
I did not take photos of the painting process. Not much to see but 2 busy people pouting, with paintbrushes. But the goal was to make it match, or at least coordinate, with my mother's dresser in the same room it would be in. Although, I had no intentions of using the same entire refinish process as my mother's piece.  And also…..the two pieces are completely different kinds of wood, as well as two completely different colors of original wood. But my hope and goal, was that somehow, they would pair well enough together.  You'll see they did, if you stick with us here.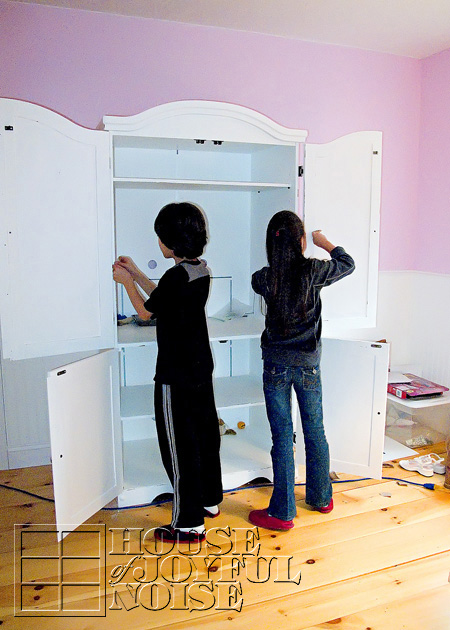 Once it was completely painted, it went right upstairs, because we needed it out of the way where it was painted in the sun room.  But it still needed to be distressed.  If you know me, I'm not much into uniformly and perfectly painted pieces. Luckily, I had a couple littles who were begging to help.  I thank my lucky stars daily, that they think helping with most anything, is fun.  So I gave them some course pieces of sandpaper, and showed them all of the edges I wanted done.  We worked together until it was done. 
They were willing to work for free, but I gave them great big XOXO's for the help. ; )

Here is a look at the finished piece, but then I'll show you some details and another little step I took with it: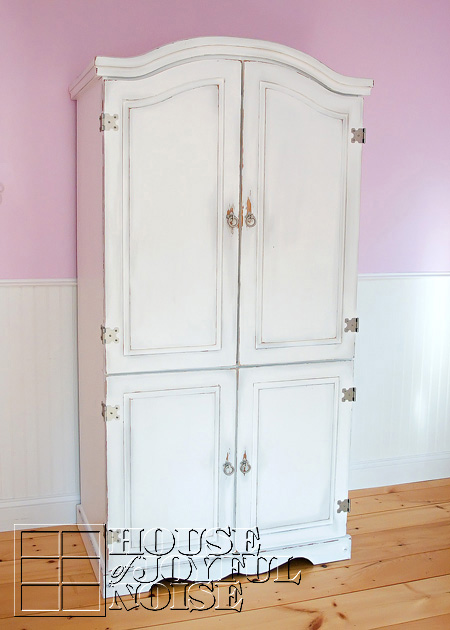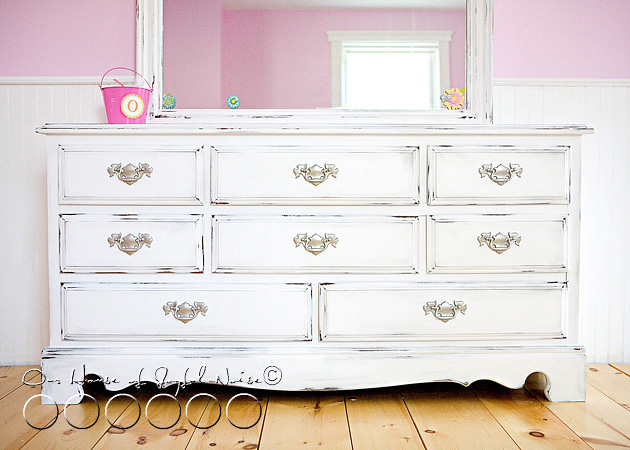 This is my mother's dresser. But you really should check out the whole post to see the amazing transformation.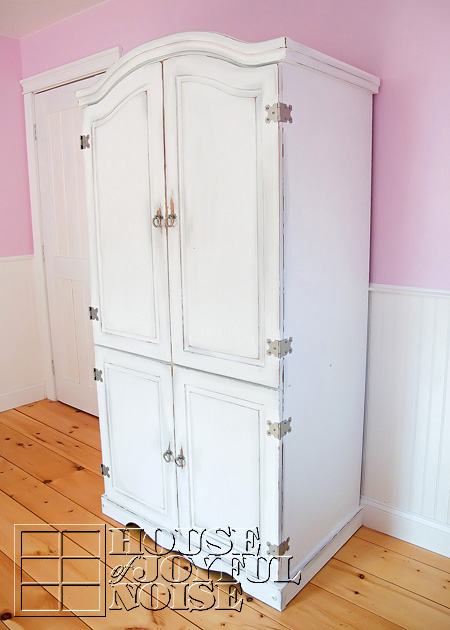 They go together pretty well enough, don't you think?
I did two things to really help age the look of the armoire, and help it tie in with my mother's dresser.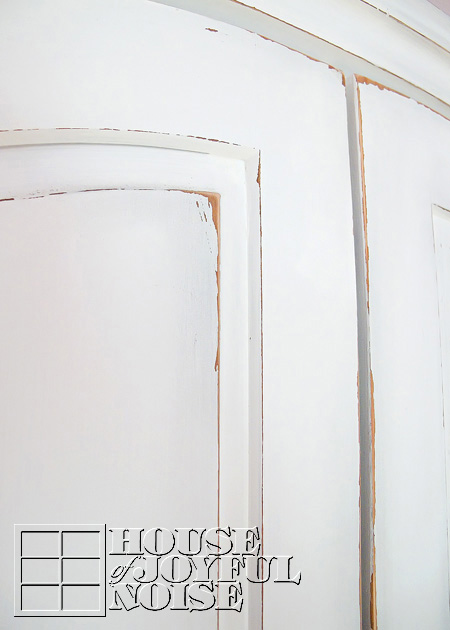 The first as I said, was the sanding of the edges, to wear down or chip off the paint. That's what the kids helped me with. 

There were a lot of edges, inside and out!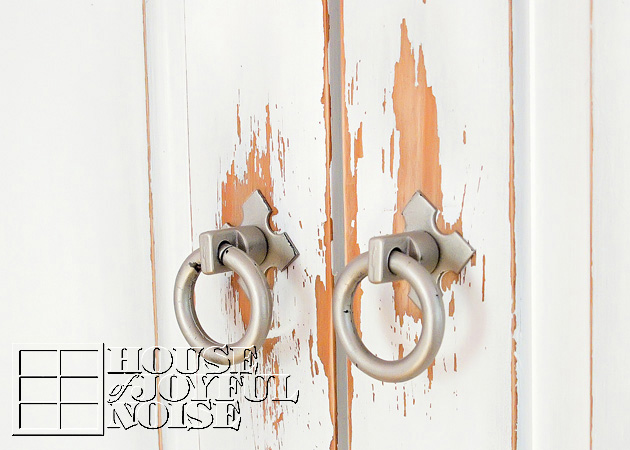 We also spray painted the hardware the same nickle color as the hardware on my mother's dresser. It's nicking off some on the handles here, but that only adds to the charm of it, to me.
 Lastly, if you notice the aged color to it in the photos of the whole piece, where it looks kind of dirty, (not done yet in closer detail photos above), as opposed to all fresh white, this was done with a plain old dry piece stainless steel wool. It really, really changed the look of the whole armoire, and made me finally love it! I think I do!  And here, is the Before and After….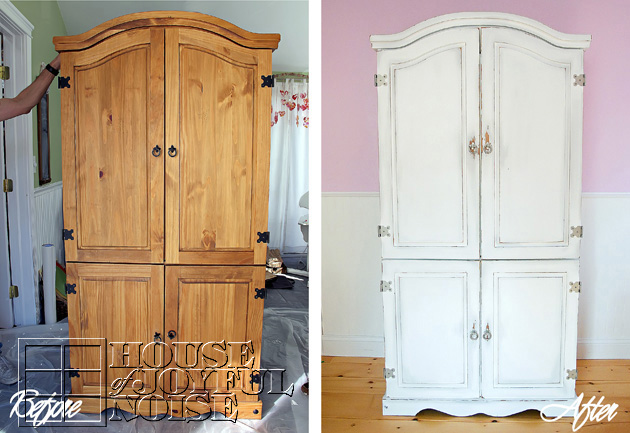 In the end, it was really worth it, I think.  But only because I had lots of help! What are your thoughts?  I'd love to know, just out of curiosity. I learned in my research, that Poplar wood is meant to be a beautiful natural wood. So maybe most would never venture to paint it. (Or maybe they know how absorbent it is!).  But I didn't hesitate. Would you?
Save