I wanted to share with you some fun photography I did of my yard pansies, verbenas and berries.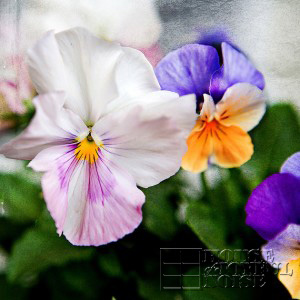 Yesterday morning, I found myself up wicked early.  And not at the computer, in my bathrobe, with coffee. But up, dressed, and outside with my camera, taking photos around my yard.  (With coffee.)  I had to wonder what in the heck was going on with me lately.  I have never-ever been one to  get up early, unless I absolutely-no-way-out-of-it-have-to.  This morning, I was not only up at the crack of dawn, but after a night where I had laid in bed during the night, for at least 3 hours, wide awake!  I thought for sure I'd be sleeping like a rock, come morning. But no. I was more than up-and-at'em.  I am becoming more and more convinced, that this means I am indeed 'approaching elderly'.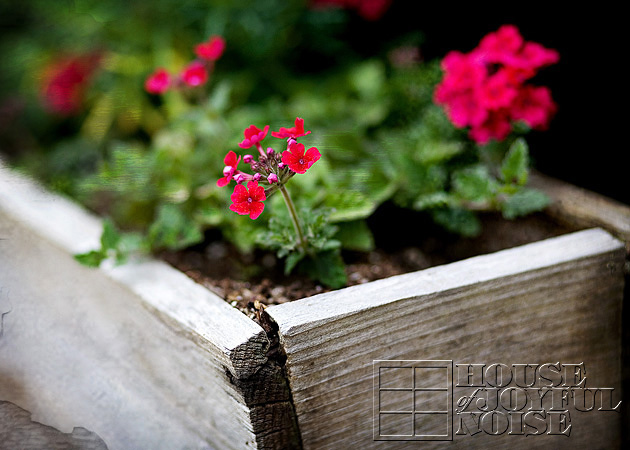 Doesn't this sleep- pattern mimic the old folks?  I always hear many of these dear old ones talk about how they "just couldn't sleep all night".  And on the occasion that 'I' have had to be up and out early to be somewhere, old folks are everywhere.  Why? They are retired! They have no kids to get off to give breakfast to and get off to school!  It puzzles me. Ok, maybe there is a handful with a doctor appointment that morning. ; )   But not THAT many.  I want to go up to them and say, "WHAT, on God's green earth, are you doing up this early?  Don't you know, you can do anything you want with your time now!  Why aren't you sleeping in?!"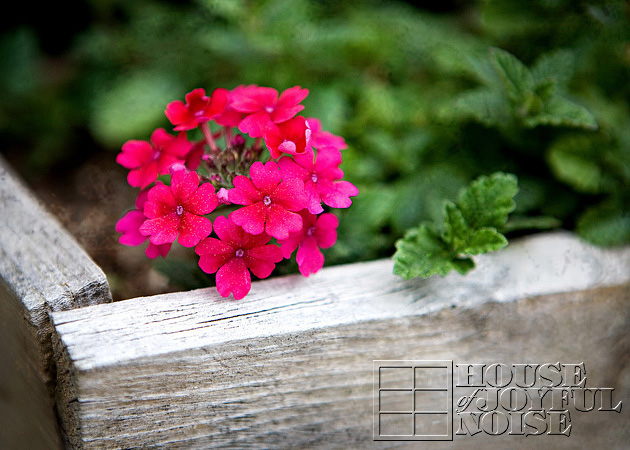 Later in the afternoon, I was telling some friends about this new mystery of myself and sleep.  One girlfriend replied, "Maybe the spirit was a-movin' ya.".   Another said, "I think you have a condition called Spring Fever. No worries though, I hear it cures itself. ;)".   A third friend just came right out and said it:  "I was going to say…..your age!".  We all need a friend who will tell us the truth, no matter what. Don't we?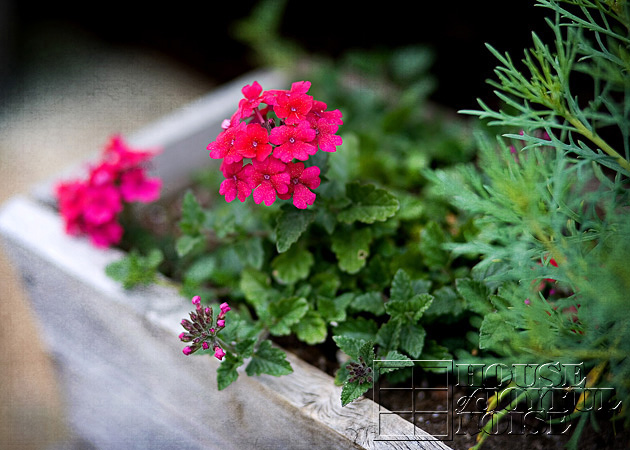 So back to the photos I was out in the yard taking.  These gorgeous dark pink flowers are some of my verbenas.  I have some planted in the 'window box', that is actually sitting on a foundation wall, under the ledge of my front deck.   Upon the sight of little flower buds in my pots, boxes and gardens, I get little butterflies of excitement inside.  I love to watch them slowly open up, or happen-upon the surprise of sudden full blooms.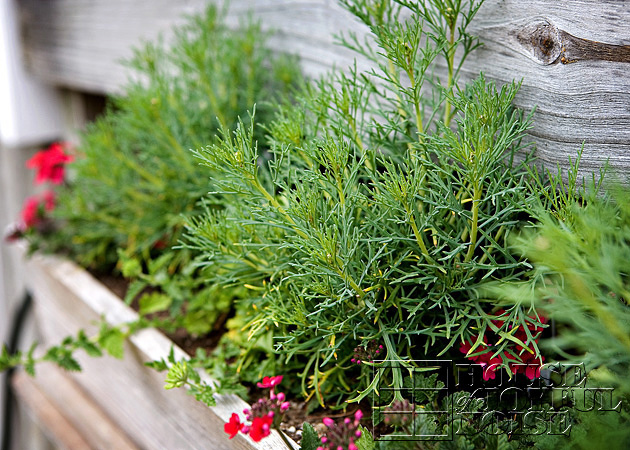 In the same flower box, in between the verbenas, I have planted shasta daisies.  I am not all that familiar with them yet, so I'm not sure if the little nubbies I see on them are almost buds?  But if they are, I'm excited.  There is also some white verbenas in there somewhere,  but for some reason or another, they aren't blooming yet.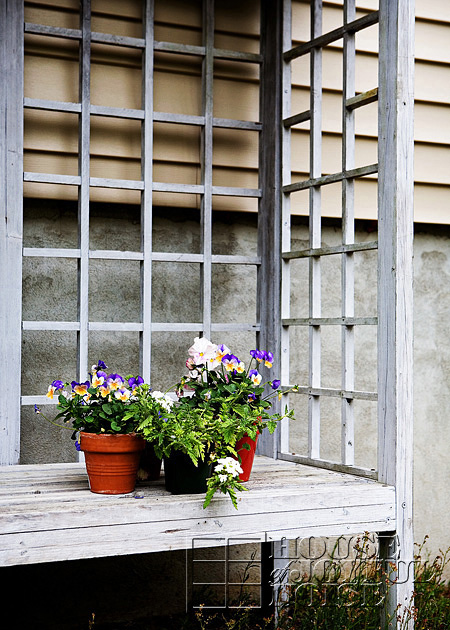 Over at my bench seat in the front near the garden beds, I have a few pots, that contain some of the leftover pansies and verbenas, after I had filled my box, and other bigger pots on steps and such.  The white verbenas are in bloom here.   The verbenas, by the way, will grow to spill and hang long over the edges of it's containers.   I look forward to them covering my heinous foundation wall under the deck. (Big plans for that coming up soon, to permanently take care of that! Very exciting project we'll be sharing here.)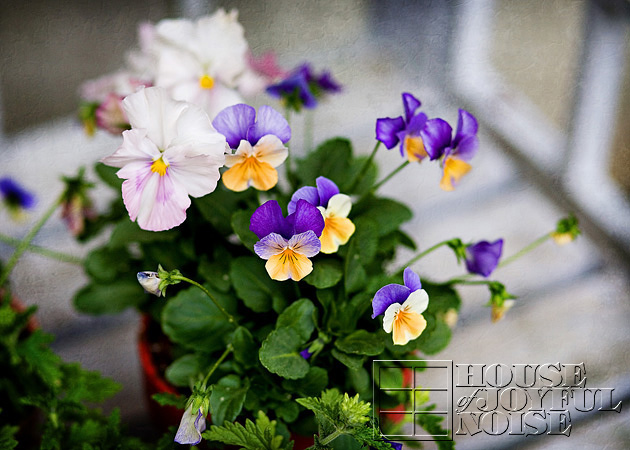 I really enjoyed, not only photographing the things I have grown around my yard, but processing them with textures.  Have you notice the textures on the photos?  Photographing whatever I am inspired to, and processing them any way I want, is often almost way more fun than I can take.  ; )  Especially without the pressure of time lines and deadlines, for clients, that often comes with the photos I take.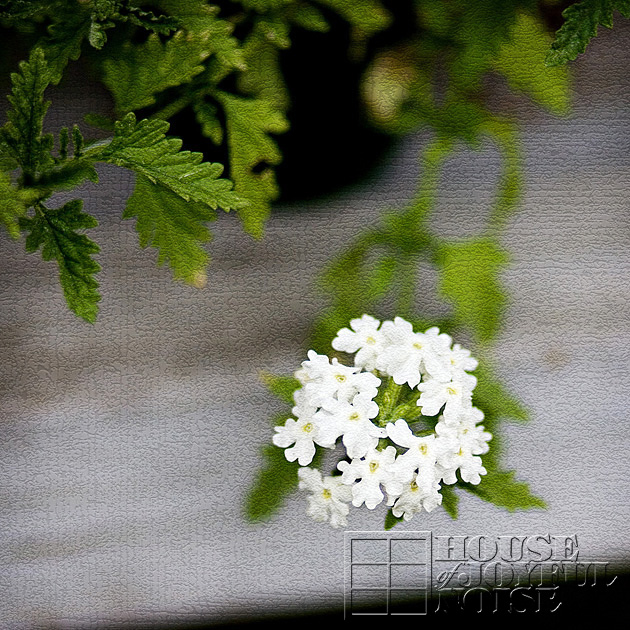 Here is a bloomed bunch of white verbenas.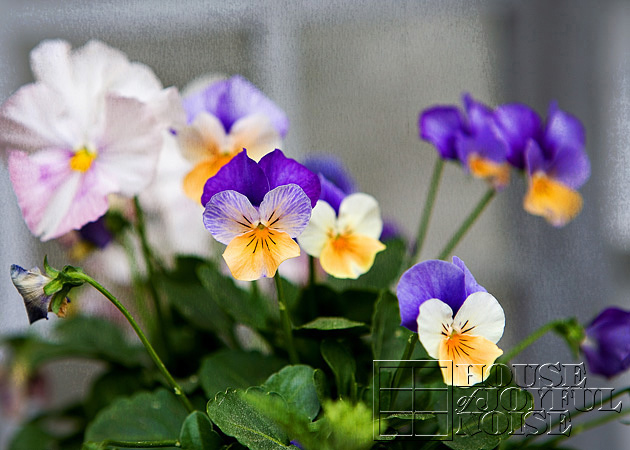 I forget the name of the  variety of these smaller pansies, but if anyone remembers, feel free to enlighten me. : )  If no one does, I can always look at the pot tag I saved out there somewhere near the pots.  (And I might have to.) But I sure do love their colors.