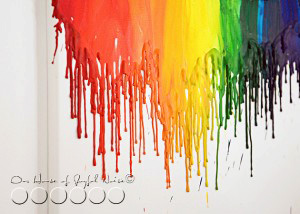 This crayon art thing that is happening….You know, the one that's sweeping the nation?  It's been pinned to death, and it's invaded Blogland, like there is tomorrow.  And although I am hardly ever one to copy someone else's ideas, or follow trends for the sake of everybody else doing it, I KNEW I was going to do this art-craft with my kids, the very-first-time I saw it.
Even at the risk, of being called 'Copy Cats'.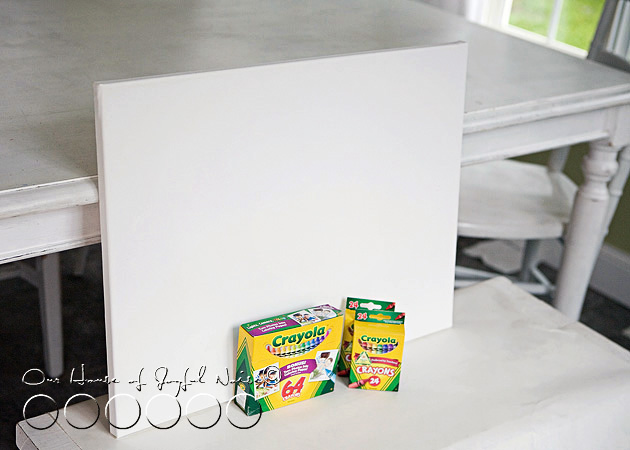 So I picked up a 16″ x 20″ white canvas. I knew I was going to love this piece when it was done so I wanted it as big as I thought we could manage, without buying every store in town out of Crayolas.  Oh yes! It has to be Crayola Crayons for me. IS there another brand? Huh. Not in my world. I've been a Crayon-Brat since I could….well, color! It's Crayola, or bust.
So we started with a box of 64, and two boxes of 24. And then…..we got a 3rd box of 24 after that.  Naturally, we couldn't use ALL of the crayons in every box.  Every color we did use, we needed 4 or more of, to make it across the canvas.  Some colors were just not going to work.  And some, I just didn't like.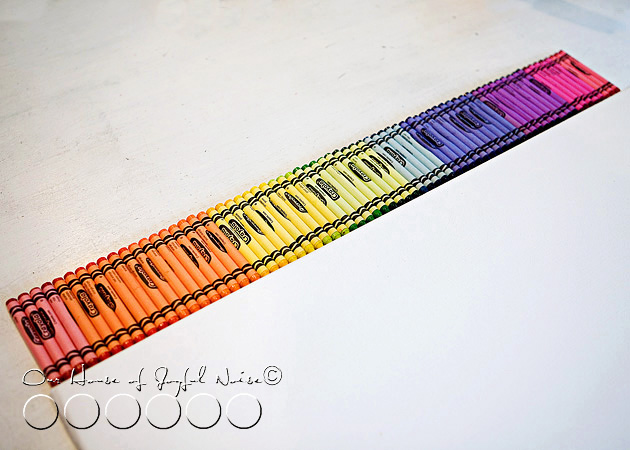 We laid our colors in the exact order we wanted, along the top of the canvas on the table.  Then we got ready to glue them.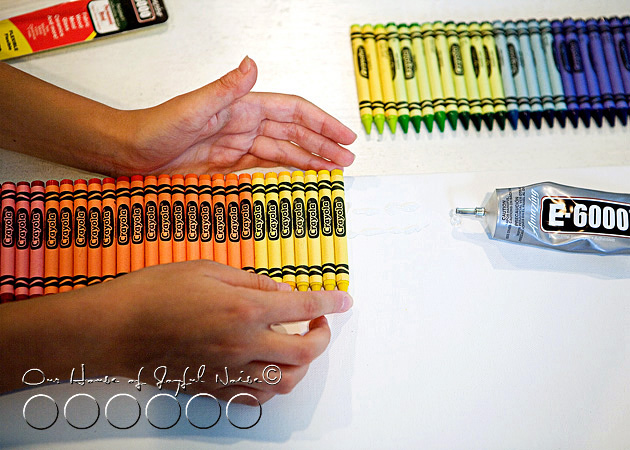 Our initial plan, was to hot glue the crayons down.  But we quickly decided that wasn't working for us.  The hot glue cooled and hardened too quickly.   So we broke out the 'Amazing E-6000'.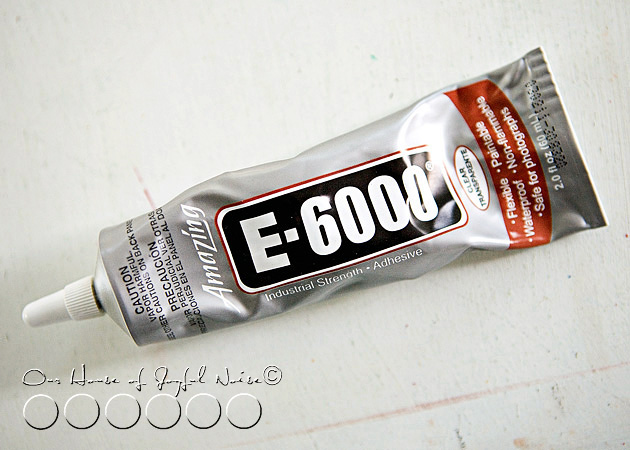 Amazing, is right.  I love the stuff!  It's the Mac-Daddy of all super glues, in my crafting world.
It really stinks though. I recommend ventilation, because the fumes can't be good for anyone.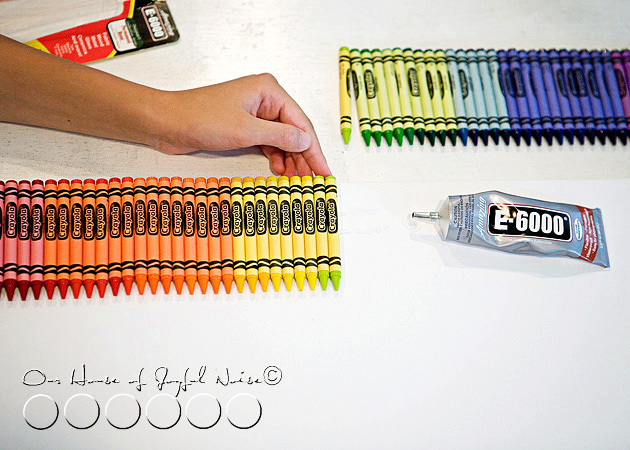 We just put a couple of lines of glue for a few inches at a time, and the kids helped lay down the crayons in order, as we went.   Alexis helped make sure the tops of the crayons, were as even as possible, aligned with the top of the canvas.

I wanted to just get to melting them right away.  But Alexis, often my handy voice of reason, convinced me that it really would be best, to let the glue crayons set overnight, if we were going to apply high heat to them.
I knew she was right. So I stomped away, and pretty much pouted the rest of the day.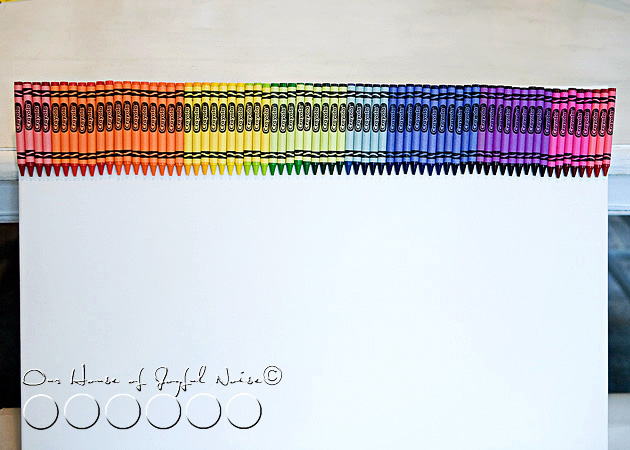 The next day, it was all set for sure! Those crayons weren't budging.   So we stood the canvas up on the bench, and leaned it against the table.   We put large sheets of paper underneath the canvas, because we knew we were about to make a hot mess. (Like usual, but literally this time.)  I highly advise a drop cloth or paper of some sort! The wax is bound to get dripping.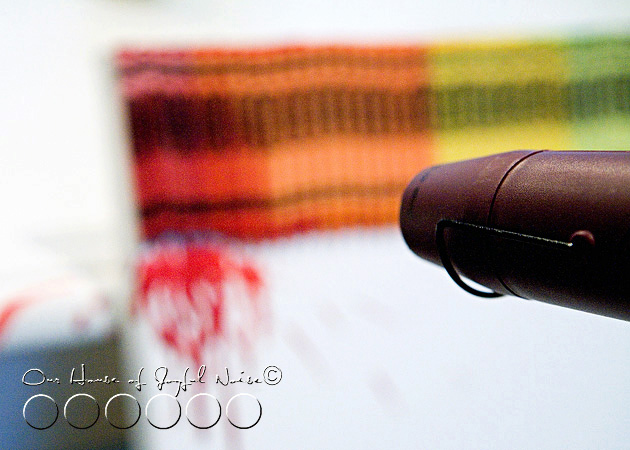 Finally, we could start melting the crayons!  (Yyyipeeee!!)   I can tell you, we tried a hair dryer, for about….ohhh, a milli-second. I knew there was no way I'd have that kind of patience. If it ever got the crayons melting at all, the hair dryer would probably be over-heating by then. So we plugged in my heat gun, I have used for embossing powder, over the years. I KNEW that would work.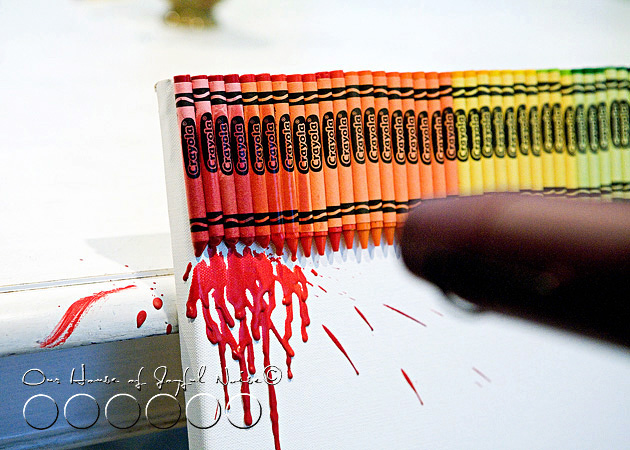 And boy did it ever.  We learned immediately that it could really blow some hot wax around!  Oops!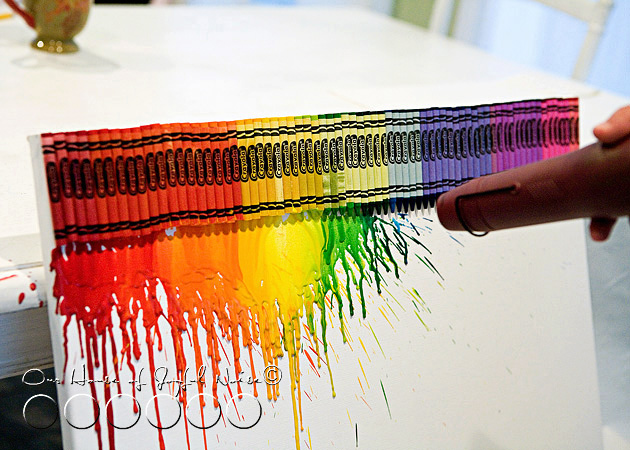 Very slowly, we worked our way across, watching what was happening as it was, and adjusting our distance and angle of the blowing hot air, as we did. I really didn't want the colors blowing sideways!  But….more 'control' therapy for me.  Sometimes, one cannot control the way the wind blows, completely. (I've tried, on many-a-photo-shoot.) Furthermore, I wanted this to be more the kid's masterpiece, than mine.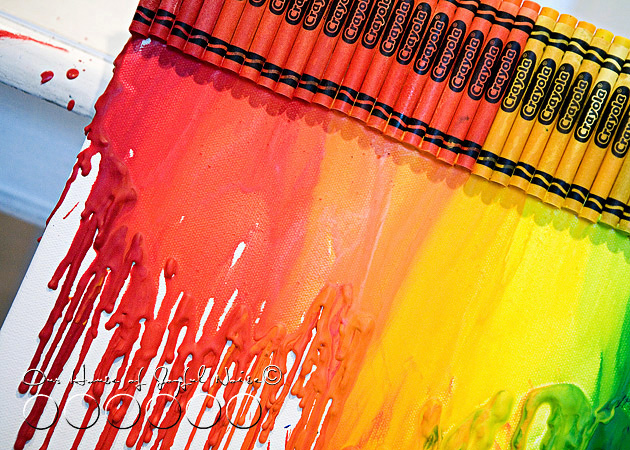 We were directing the heat onto the lower end of the crayons, and waving it around as needed.  The trick, is really to avoid getting too close to the top of the crayons, which we did not want to melt, and to not heat the middle either, as to have a crayon tip blob just fall out.  Sometimes, we started to see smoke, from the paper heating so much, so you want to be careful of that too.

We all took turns, while we all tried to verbally direct each other too. lol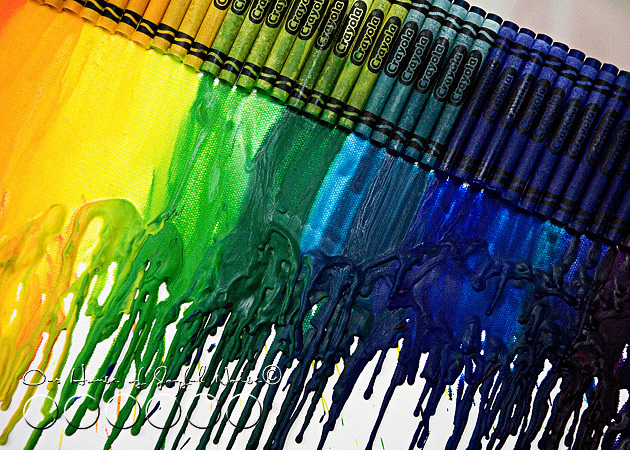 WARNING though:   This is really NOT  a craft for a young child to do alone.  The heat gun is hot, and the melting wax is really hot too.  But, it's a fun craft to do with your littles.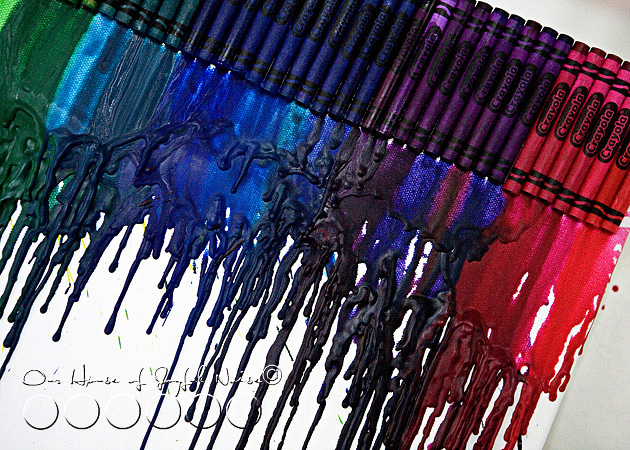 I really kept trying to go back, to try and perfect this, or fill in that, and the kids were like, "Mama, just leave it!!  It looks good. Don't ruin it!".   Excellent therapy for me, to just embrace the art that happened.   Because I have ALWAYS been the kind of technically sound type artist.  The kind that brings to life something I see, exactly as I see it in my head, down to the last detail.   My 'let-loose' therapy started in art school, the day I had to draw a nude model on paper, with a stick that had been dipped in ink, with my mouth. Talk about lack of control!  I think that exercise actually set me back a few years. lol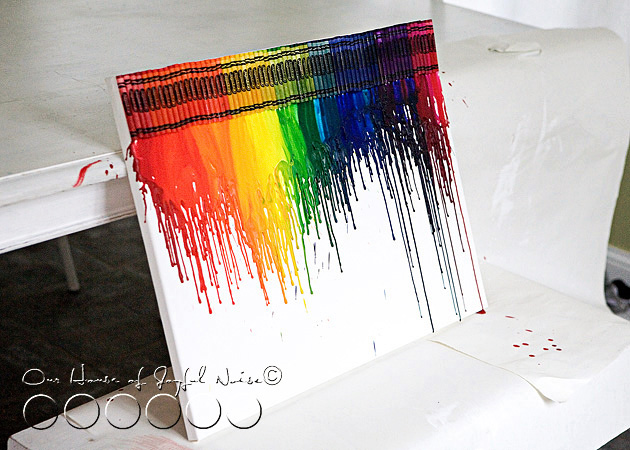 We all took a step back to take a good look at out artwork, and agreed to call it DONE.
Then we waited for Daddy to come home to see it. And of course, hang it up for us.  Somewhere.
But where?  That was the question.  I wanted it in every room I thought of!  It's colorful, and happy!  And the kids and I made it together.   It had to be in a good place.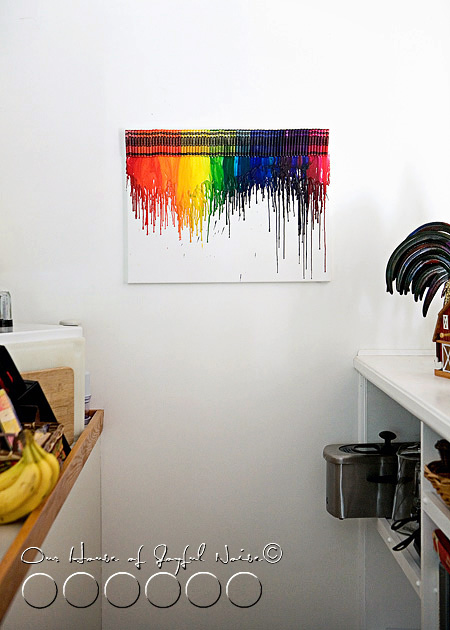 We decided on the wall over the stairwell in the kitchen, down to the lower levels, was a good place for awhile.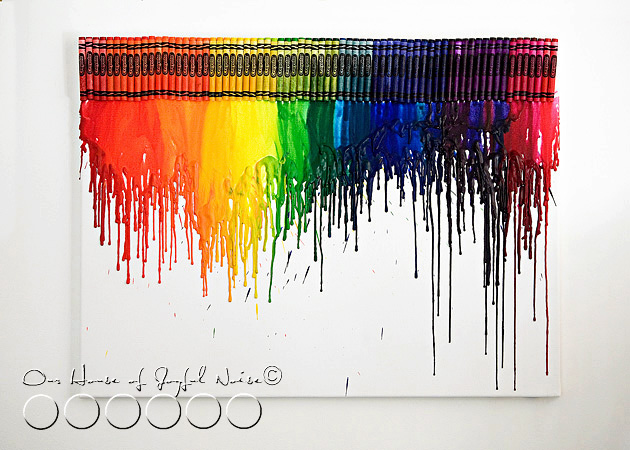 It was on the way down to what will at some point be the kids' Rec Room.
It's also on the way down to the Laundry Room.  And you all know, we ALL could use a smile, on the way to the Laundry Room!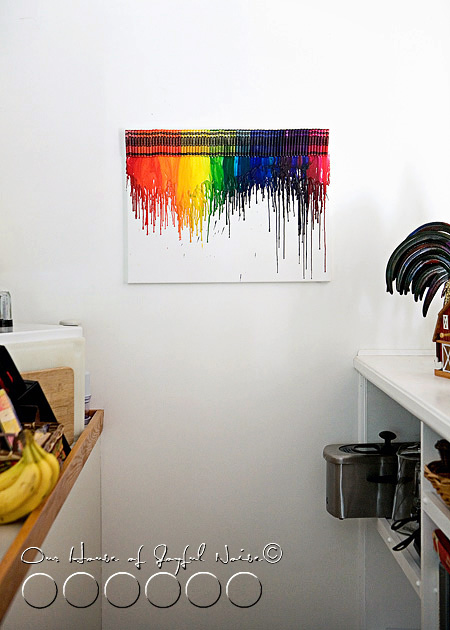 Being over the stairwell there, it can be seen from about half the house on that level.  The kitchen, the school room, and the living room.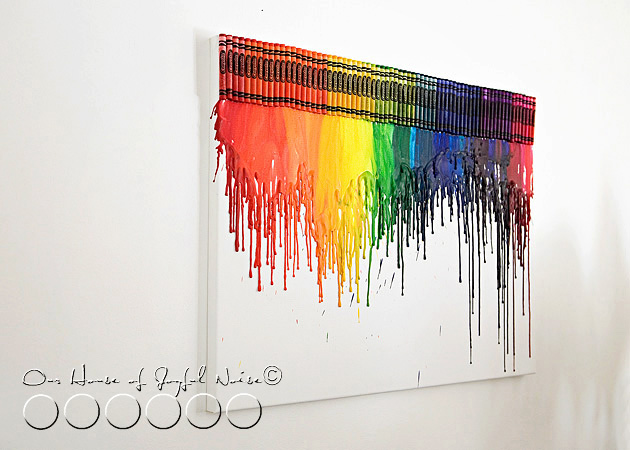 I have always said, "Colors make me happy."  They really do.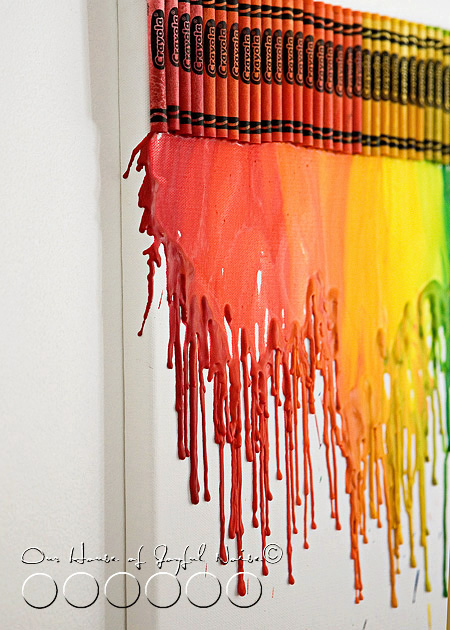 Oh, the texture!
I wonder what the Crayola Corporation thinks about this craze.  Surely they've caught wind of it by now.  Probably not being able to keep their crayons in stock at stores, and all. I'd have to guess they should be pleased, with what must be a sudden and dramatic increase in sales. We helped with that!!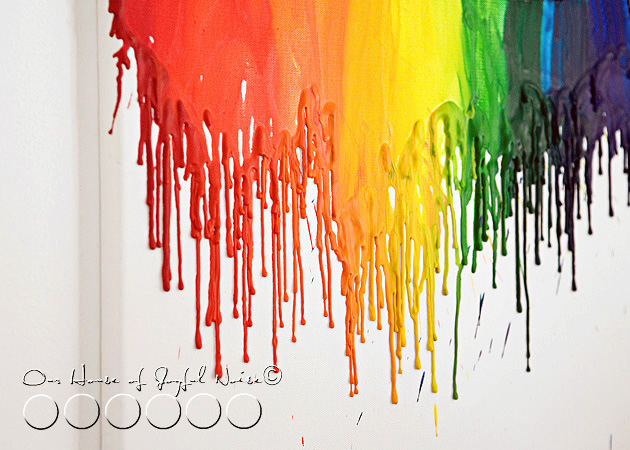 But again, it was not my idea.  I wish it was.  And although copying the latest craft happening will never be my style, I do not regret this once, for a minute.
I do want that thank, though, whoever did come up with this idea. Because we had so much fun doing it!

Have you, given this idea a try yet?  And if not, don't you want to now?

******



Save