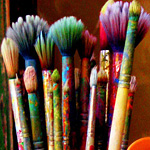 For the past several months, about one night a week, a friend of mine comes over to play with me in the art studio. It started out because she wanted me to give her watercolor lessons. But ultimately, I never could get quite comfortable in that role, and expressed it to her often, because honestly, she has some real skills herself, very different from mine. And I just felt like I had much to learn from her! Still, she continued to call it her lessons, until finally she realized that if we just called it having some creative time together, I'd settle in. And I did.
One of wonderful things about spending time with her, is that she has a whole new perspective in seeing her art, which I find intriguing. She has a way with expressing what she is trying to accomplish in a piece she is working on, or in retrospect, where she felt she went wrong, and what she could have done better. She enjoys the process of creating art, seeing where it takes her, and what she may learn along the way. Furthermore, she is always content enough with how it came out, and grateful for the lessons she took away from it.
I have never been like that!
I tend to expect instant perfection from myself. I want to plan it right, and execute it right, right off the bat. And I want it to come out as perfectly as I see it in my mind. And if it's not coming out that way, or I'm not happy with how it came out, well….it's practically useless to me. And more shamefully, I see the whole process almost as a waste of my time and materials.
Just imagine how that has hindered me over the years. Not only in productivity, but in an open willingness to experiment and learn. I am quite sure, that as a direct result of my demanding perspective, I have limited my productivity, and most certainly hindered myself from true growth as an artist. Which is just SAD. And years I cannot get back.
The good news is, I have noticed that my friend's healthy attitude and perspective practices, is rubbing off on me. I am trying to take this time with her, and any other time I can dig up, to just enjoy the process of art. As an artist should. And learn from it all I can, as I go, as well as when the project is complete.
Because of this, I am now growing as an artist, just a little bit so far, in my older years. I think that's a really good, if unexpected happenstance, for me.
So today I thought I would share with you a bit of what my style has always been, and then how I have actually felt drawn lately, to styles that have never appeared to have been my own before, and am digging up the courage to experiment with them.
First, just a handful of samples of my work from my past.
These are all scanned photos. Some even scanned photos, of photos of photos. (Did you follow that?) And I wasn't always a professional photographer, so the exposure and color balance is not great on them. But anyway…. I am talking many years old artwork, here. Some of it is almost hard for me to look at now, as I see mistakes and things I could have done better. But at the time I apparently was pleased enough with it. And this awkward and humbling experience is an opportunity for me to grow as well. Right?
But my really intention is sharing these with you, is to show you what my style has always been. In my own words, I would describe my work as very tight, with an effort to make my subjects look as real as possible. That goal has always been what my style has been about.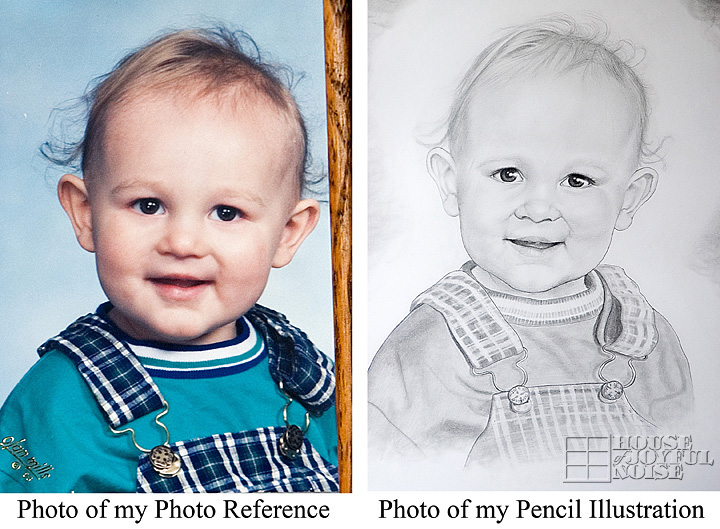 Allow me to gush for a moment. This is a portrait of my nephew and Godson. To give you an idea of just how old this is, he just turned 21! So adorable. Michael and I always thought he resembled the actor Gene Hackman, in this photo. (Right, anyone?). Anyway…..back in the day, as a freelance artist, I did a whole lot of large pencil and watercolor portraits, as client work. Approximately 22 x 30″, matted and framed. Mostly pencil. Possibly 100's before and after this one.
–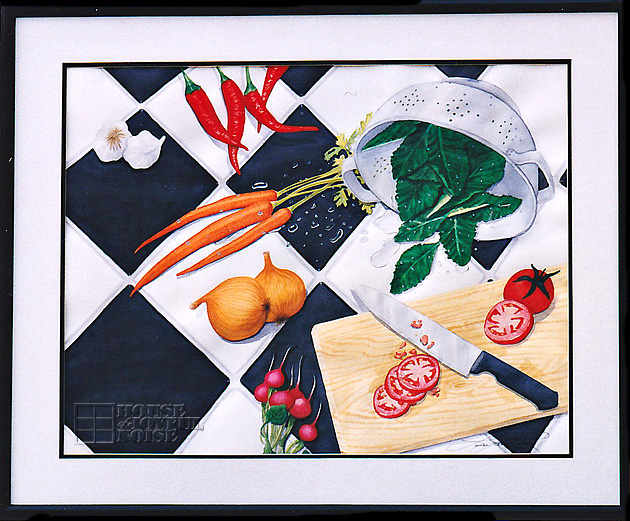 This was a HUGE watercolor painting I did for our own kitchen, before we had any children. (Although I may have been pregnant with our first?) It was a serious painting project, that probably took me months to do. It did hang it in our kitchen for years, and certainly served as a conversation piece at times, with guests. I always liked most of the work here, except the very inaccurate perspective of the black and white tiles. I just couldn't get that right. It was all to me more of an aerial perspective, but the tiles really tended to confuse the viewer I think. Which was usually me. Painting the water puddles and droplets were my most challenging and favorite part.
–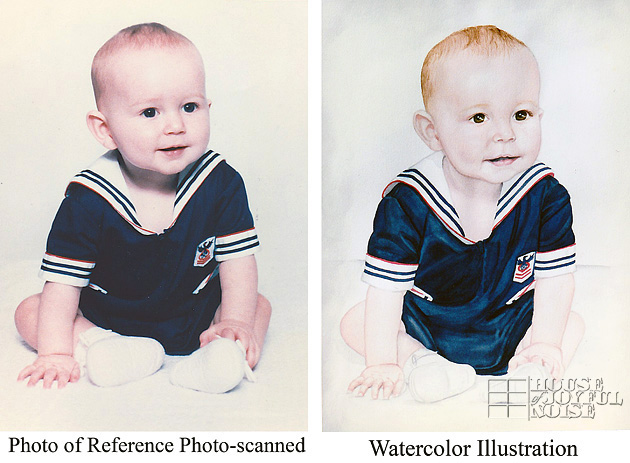 This was one of my first watercolor portraits. Working with the medium of watercolor in and of itself, has always been equally a joy and a challenge to me. I have always longed to work more loosely with the paint, and yet create work that, when viewed at a distance, really pulls together in a realistic way. I would seriously consider myself a very amateur watercolorist, at best.
–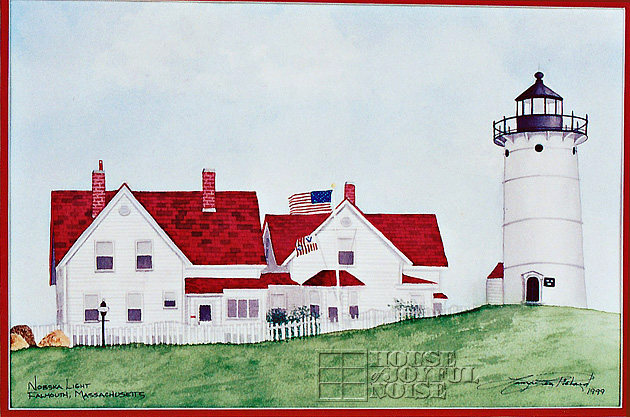 And yet I have sold many watercolor paintings. Including this one, I believe? I forget. This is Nobska Lighthouse in Falmouth, MA. I did a few lighthouse paintings in my time. This photo of this painting was very underexposed, so the color to the true painting is not accurate. Though in truth, nor was the painting accurate to the actual scene. Another challenge of mine: mixing the the color I need, with the paints I have.
Anyway, the shingles on the roof are an excellent example of how tight I always worked, when really, there is a looser form to paint such things, that appear realistic, for which I have not even begun to master yet. In conclusion, you have no idea how hard I would work, to replicate exactly when I was using as a reference. (Which was often from a photo given tome, or one I took myself. I never took liberty to change anything from the reality, which I think is a real weakness in an artist.
OK, so back to the present. Lately I have had an urge to create a more abstract piece of work. Which may quite possibly be because of the freedom it would lend me, when I have felt as of late, as I work in the studio with my friend, that I have lost any art skills I once had.
The style of abstract artwork is an area I have never even remotely been interested in. Not as a an artist, or a viewer. I have always somewhat liked mixed medium kind of artwork, but have never done such a piece of work myself. But in the past couple of months, an idea/visual of such a piece has begun to take shape in my mind. Something very much layered, and of mixed medium. I have decided that although I have decided on a theme of sorts, and a general palette of colors I'd like to work with, I am not going to try to make the vision in my head so clear in detail before I begin, nor make an effort to create that vision exactly.
I really want to just enjoy the process of creating art.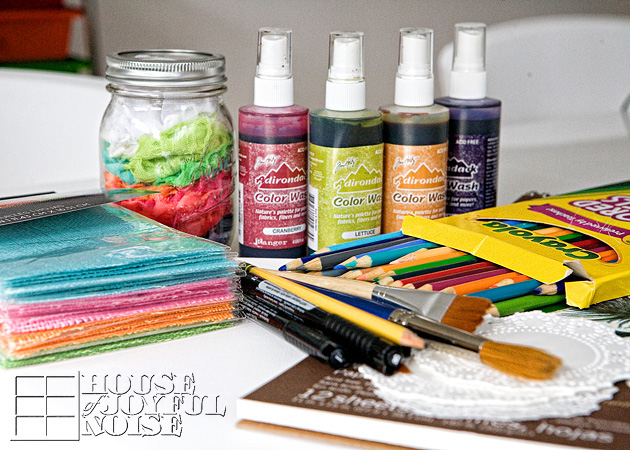 These are just some of the materials I gathered, to work with. I have thought of many other materials since, that I may, or may not, incorporate as I go. I decidedly don't know entirely, what I'll use as I go. I'm just going to go with the flow!
I do know, that I will share it with you when the piece is done. Whether or not I like it. And I will not see it as a waste of my time, or materials. For it's my intention to just enjoy the process of creating it, and seeing what lessons I can take from it along the way, or in the end. If nothing else, I will have grown from the experience.
And that alone, can often be the best piece of work, of it all.
– Laura
Save