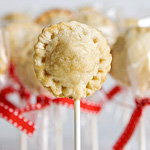 If you only knew the recipes I see in a day, a week, a month – that I have every intention of making!  I get to really making some, but most not, simply because there is really only so much time in a day, and so much food we can eat in it!  Granted some (little) people (my kids and husband), eat way more than others (myself.)  I actually am one of those with big eyes. I can be starving, and then eat 2 crackers, and I'm good. My kids cannot believe how little I eat. I just get full easy. Still, I consider myself a food lover, if only in my head. I love to find recipes, plan great food for my family, and photograph it too. And I really do enjoy eating. I'm just done sooner than everyone else.
Anyway, I first saw these pie pops almost 2 years ago at Bakerella's site.  As soon as I saw them that first time, I immediately fell smitten.  She had seen them at yet another's site. Since then I have seen them 100 times, all over the place.  Of course, you can make these pie pops with any kind of pie filling you'd like. But I have a particular fondness for apple pies, so that's what I was planning to make.  We do a lot of baking in the Fall, so last year got away before we made them. But not this year! This past weekend we finally made them, as well as some cute cookies I'll be sharing soon too!
So although these are not my idea, I thought I'd share how we made our Apple Pie Pops.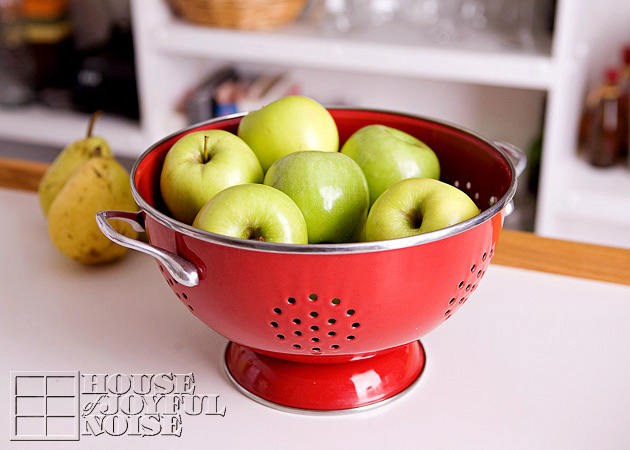 For any apple filling for baked goods, you want to start with good, firm apples, and a mix of the tart and sweet variety. Whether they are evenly mixed, or a little more of the sweet or tart, is all up to your preference.  I chose to keep it even, and used Granny Smiths (tart) and Golden Delicious (sweet).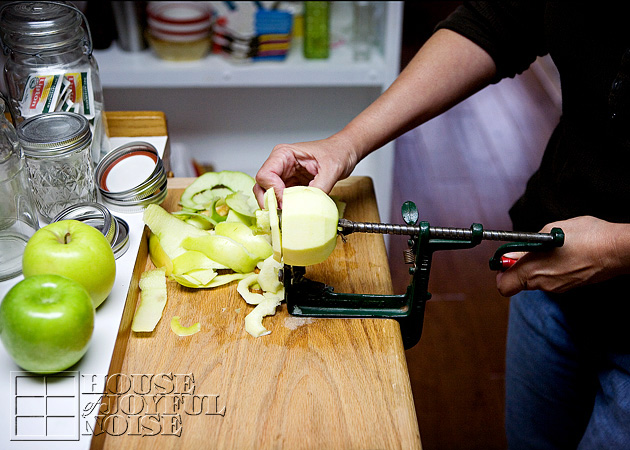 One of the greatest parts of making any baked goods that call for apples, is using my Aunt Dot's apple peeler-corer-slicer.  The peeler part actually needs to be replaced, but we have not been able to find it yet.  But that's alright – so we peel the apples by hand for now, or forever. We still feel so blessed to have this antique of my beloved aunt's, that is such a part of my most fondest childhood memories.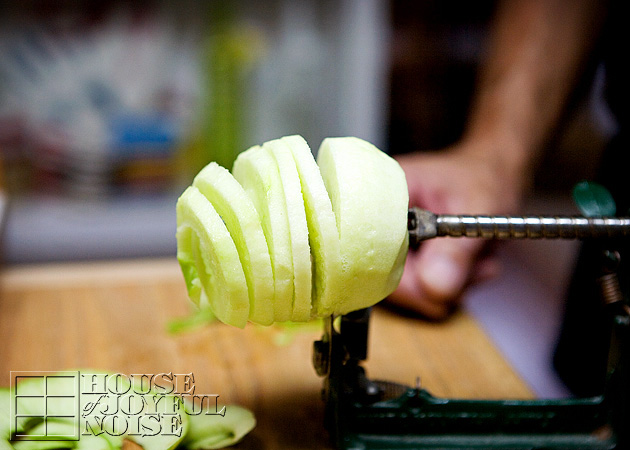 But I'll admit, it's damn handy!
Apple Pie Filling Recipe
6 C. peeled *apples, chopped small, and evenly sized as possible
3/4 C. sugar
2 T. all purpose flour
3/4 t. ground cinnamon
1/4 t. salt
1/8 t. nutmeg (Optional. I don't like it.)
1 T. lemon juice
*Reminder: Use a mix of sweet and tart firm apples.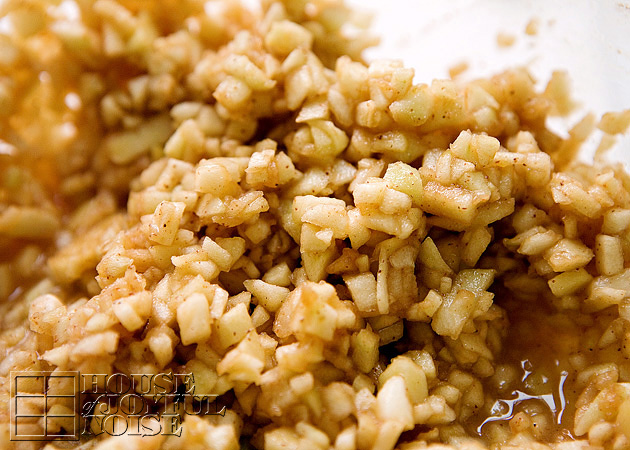 Mix it all up well in a bowl.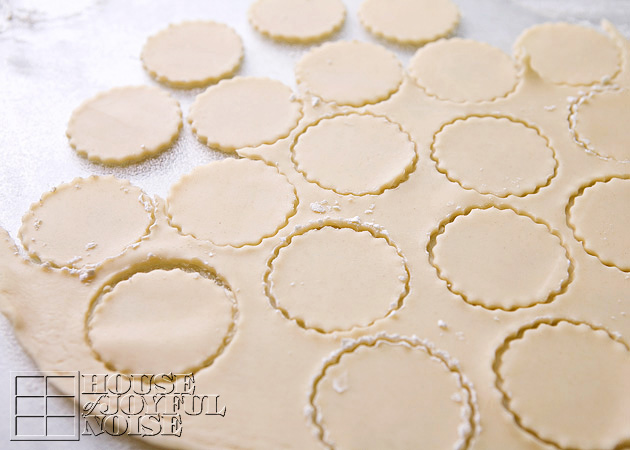 Pie Crust Dough: You can make your own, or use store-bought ready pie crust, such as Pillsbury.
On a flour dusted surface, roll out your dough.  If you are using ready pie crust that is already round, remember that the size of the circle of dough does not matter for our purpose with pie pops, as it would for a pie dish. So you can roll it out larger and thinner than as it comes, and get more out of it. (We wish we did roll ours out thinner, and will next time. I'll tell you about that at the end.)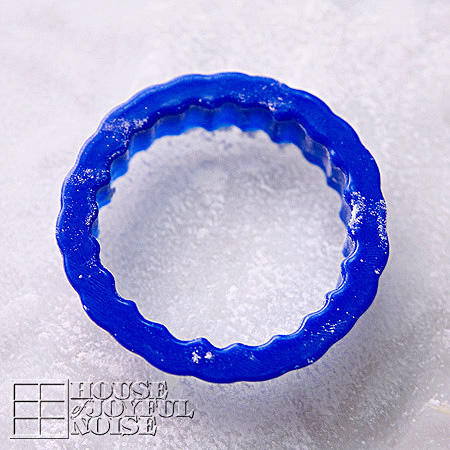 Use a scalloped or plain circle cutter, or any other manageable shape that you would like, that is about 2 inches in diameter.  I like the idea of our pops looking like real little pies, but using shapes like an apple, or a maple leaf, or a pumpkin, etc., would also be cute.  Cut your shapes out of your crust dough as closely as possible, to get as many out of your dough as you can. Weed out the scraps of dough, re-roll, and use again. (As seen 2 photos up.)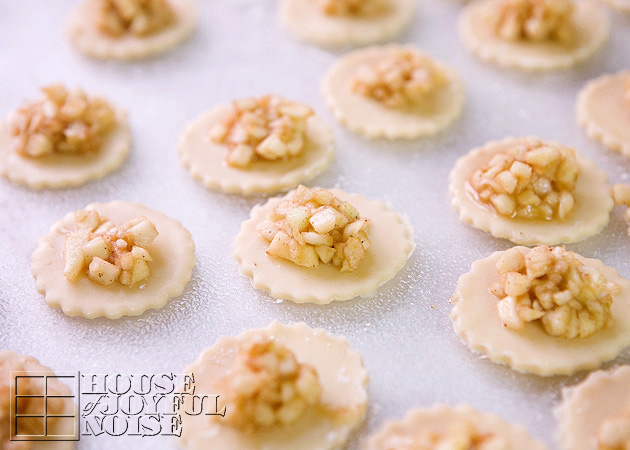 Put a good dollop (what a great word…dollop..) of apple filling in the center of half of all of your cut dough shapes, because you'll need the other half as tops, of course. You want to put as much as possible on there, but remembering you'll need to cover it with the other dough circles, and be able to seal it. Too much apple filling will be a problem, and too little will just be….sad.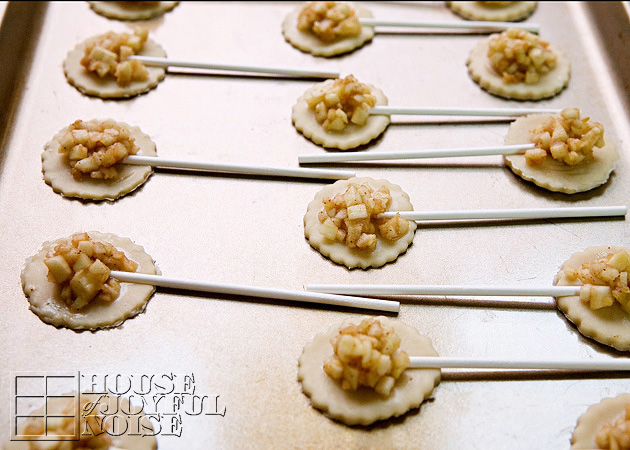 Transfer your pie bottoms with the filling onto a greased or sprayed cookie sheet.
If it easier for you, you can transfer the dough shapes first, and then put the filling on.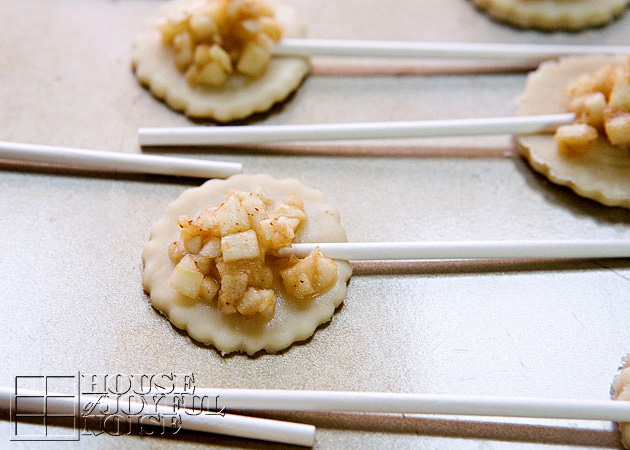 Also add your pop sticks. These are found in the candy making aisle of the craft stores. Now, I have seen that some cover their sticks with aluminum foil, to prevent them from burning. That is too tedious for me, and I was sure they wouldn't burn anyway, and they didn't, except where they got a little juice on them. No biggie, and still not worth covering them in foil. But you do what you want!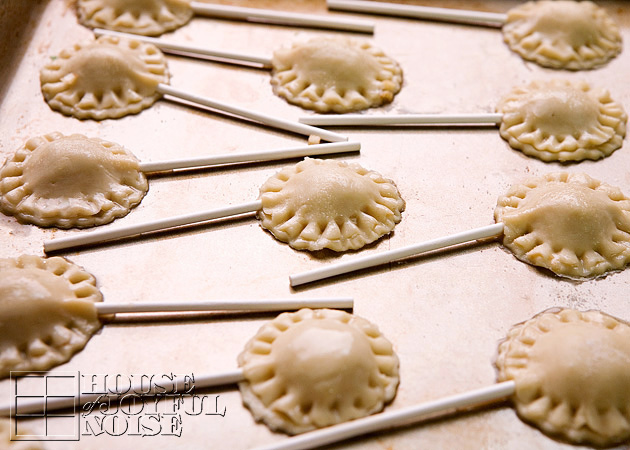 You may want to pre-heat you oven at this point, to 375°
 Now put on your tops. We had a little dish of water, just to dip one finger in, and wet the under-edge of the top all the way around, just to help it stick the bottom better. It also helps to stretch the top piece out bigger, to better fit over your dollop : ) of apple filling.
To make the wavy edge like a real pie, just cut off the end of a pop stick, and use it to press grooves all the way around each pie. This is a a bit tedious too, but one that is worth it to me!
Lastly, just brush each pie pop top with a little egg white, and if you wish, sprinkle with a bit of sugar for sparkle. The egg whites really help the pie crust kind of blister and look nice.
When the oven is up to temperature, you can put your pie pops in for 12-15 minutes.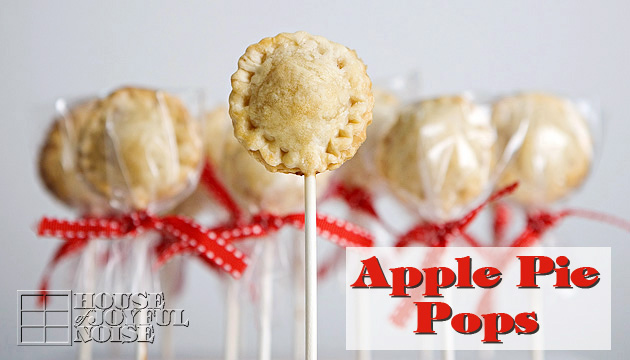 How's that for a high cute factor?
We bagged each one, and tied them closed with a little red stitched ribbon. Presentation is everything, Folks!
As mentioned earlier, we did not roll out our dough as thin as we will next time. Our pops seemed to be a little more crust, and a little less apple filling than we would have liked. We must remember the filling soaks in just a bit, and the dough really puffs as it bakes into pie crust. Nonetheless, they were oh so good, and next time they'll be perfect. : )
There are SO many Fall-time apple treats to enjoy – Apple Pie Pops, big Apple Pies, Apple Crisp, Caramel Apples, Apple Sauce, Apple Cake, Apple Cider…..it's endless, and there are no complaints here! My favorites are Apple Crisp and Apple Pie, both with Vanilla Ice Cream, please.
Do you eat more apples this time of year? What are your favorite apple or Fall treats?
******
Come follow me here or there:
Save



Save
Save