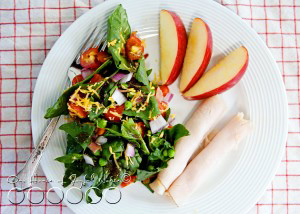 If you live in a climate where summers can be hot & humid, than you probably have days like me when you can't even think of cooking dinner, in a hot kitchen.  You're looking for a meal that is cool, light, and delicious.  We probably all have our regular stand-bys, but I just discovered a new favorite, and I'm here to share it with you!
One of the best parts of having link-up party on Tuesdays, has not only been the simple home decor or craft ideas, but the recipes shared!  This '7 Layer Salad' was a link-up, and I thought it was so enticing, we made it right away, and then featured it! >  Because our whole family loved it!  As I said in the feature, even the kids were 'scoffin' & commentin' through the whole meal, and were thrilled to have leftovers the next night.  (Honestly, they cheered.)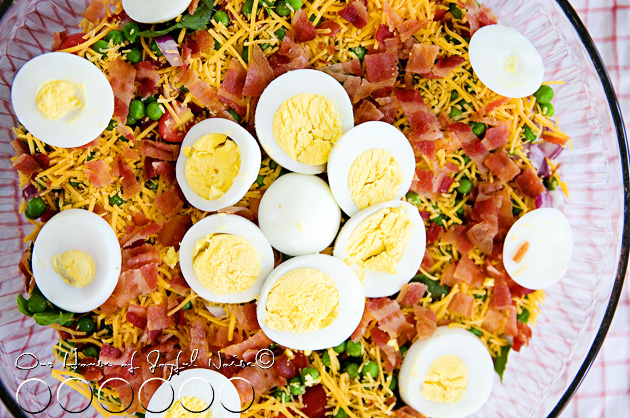 I think the name alone, 7 Layer Salad, is FUN, and sound enticing.  And the great thing is, if you don't care for one of the ingredients/layers, you can substitute it with something you prefer, and still call it 7 Layer Salad! But we made it just like the recipe called for, and it was a hit in our mouths, and our bellies.
Here's the recipe, layer-by-cool & easy-layer: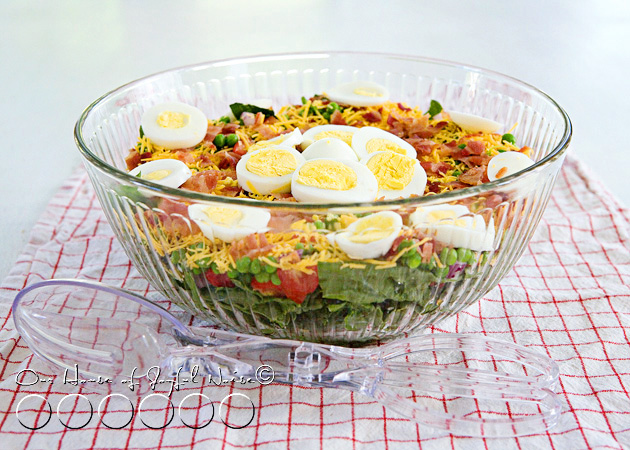 7 Layer Salad
*In order that ingredients are put into the bowl, building bottom to top:
6 cups fresh, washed

Spinach

2 cups

Grape Tomatoes

, halved (Cherry Tomatoes would work too.)
1 cup

Red Onion

, chopped
1-1/4 cup frozen

Peas

, thawed & drained
1 cup

Cheddar Cheese

, shredded
6 slices

Bacon

, cooked & chopped*
3 Hard-Boiled

Eggs

, quartered or sliced
* Use microwavable bacon!  Remember, we not cooking tonight! ; )
Then, I added a few perfect sides, still keeping the meal cool & light: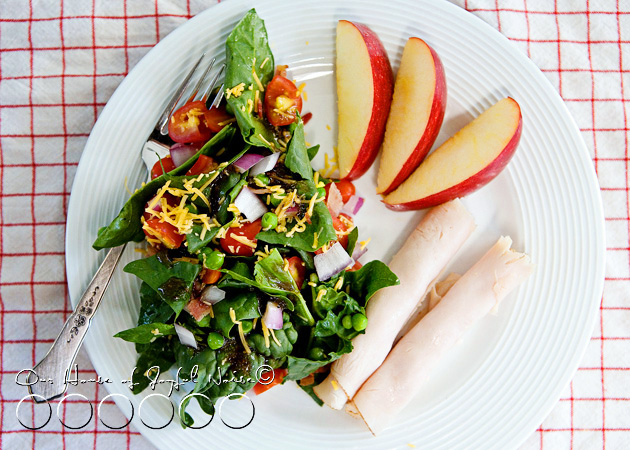 Some fresh and cold rolled-up Turkey meat & Apple slices.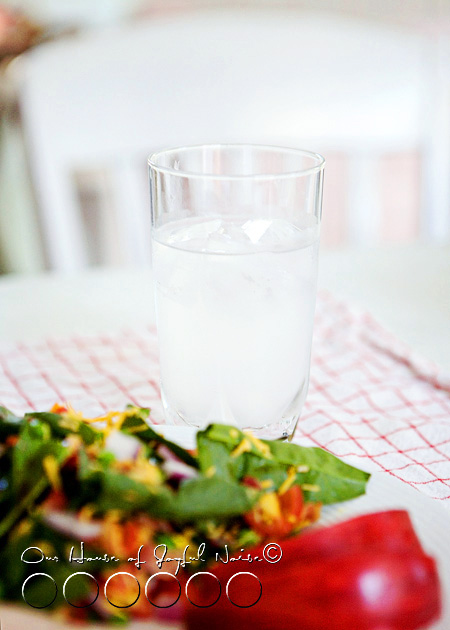 Serve with a tall glass of cold lemonade, and you have yourself a perfect and light summer meal!  Lunch or dinner!
(OK, that particular glass in the photo, happened to be my Mike's Hard Lemonade. But, you know, can do Country Time if you'd like!)
As a salad dressing, consider Balsamic Vinegar, or a Raspberry Vinaigrette.  My kids love both, but yours may prefer their regular favorite.
As if this meal wasn't perfect enough to me, I added my favorite topping.  Most every salad is 'betta, with Feta'.
Scrum-de-licious!
Of course, you have the option of swapping out any ingredient layer you don't care for, and swapping in one you do!
What changes might you make to your layer salad?




Save
Save
Save
Save