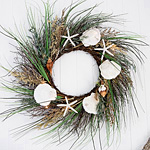 We're three weeks deep into the summer season, so I thought it was high time I got our summer mantels decor on the blog. It's not only fun to show, but hopefully it gives someone some home decorating ideas. And if you aren't aware of it, mantel decorating is twice the fun around here, because we have double mantels! Courtesy of the hard-working hands of my carpentry-able husband. So the mantels inspiration, ideas, photos, decor, fun….is always x2 here at the House Of Joyful Noise!
I knew the season of summer was going to be fun to work with. Once I got thinking about it, I started getting all kinds of 'theme' ideas that fit the summertime season! But, where we live right by the ocean, it only seemed to right to go with the beach/nautical/seaside authentic decor, this first summer with our new mantels. I am sure as the years go by, I'll continue to get this thrill from the creative process of putting together pieces to decorate the mantels, and so it will always be somewhat difference from year to year and season to season. And by seasons, I am referring to both the four seasons of New England climate, as well as holidays. In other words, no 2 summer double-mantels will be just the same.
That said, I AM so in love with my finished summer mantels right now, that I can't imagine ever taking it down, or putting it back together just like this, next year.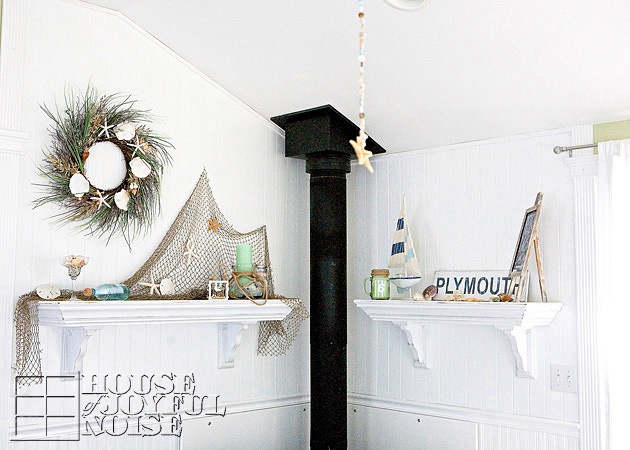 Do you love them too?
I just love seeing them. Whether on accident as I breeze through, or just sitting there, looking them over, and enjoying them.
I realize Autumn will descend on us at some point, and I'll have new excitement and inspiration for that season (which I love), but for now, I am digging summer. A LOT. In all kinds of ways.
Oh you know I took details photos, so I can tell you a little bit about this and that.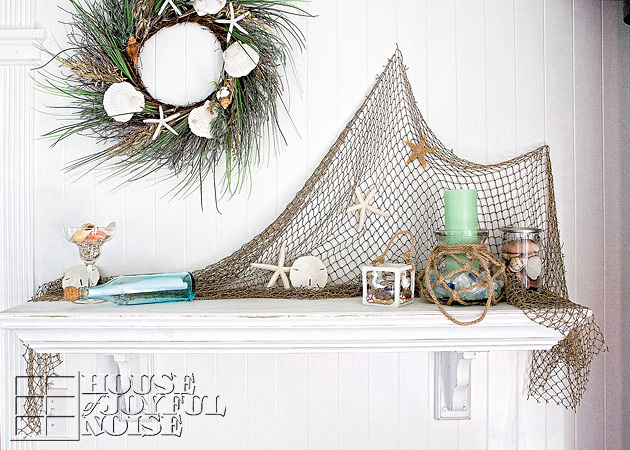 So here is a single mantel photo of Mantel #1.
–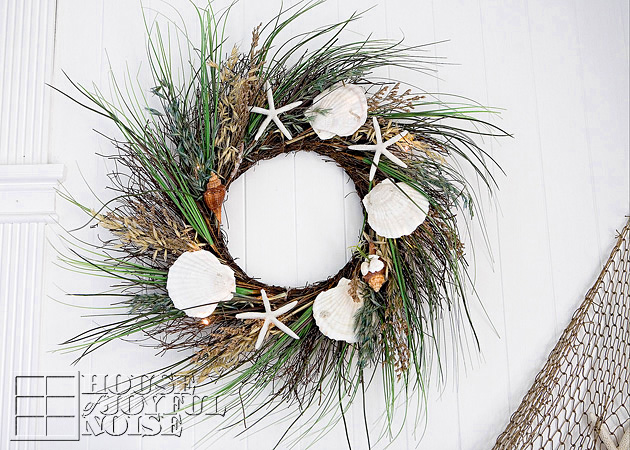 I picked up this beautiful seaside wreath at the Christmas Tree Shoppes! Which means it was very affordable. If you look closely, you'll see it has tiny lights in it, too! You just can't see them well as it was an early sunny morning, so the room was quite filled with bright light. It looks so lovely on cloudy days and evenings/nights though.
–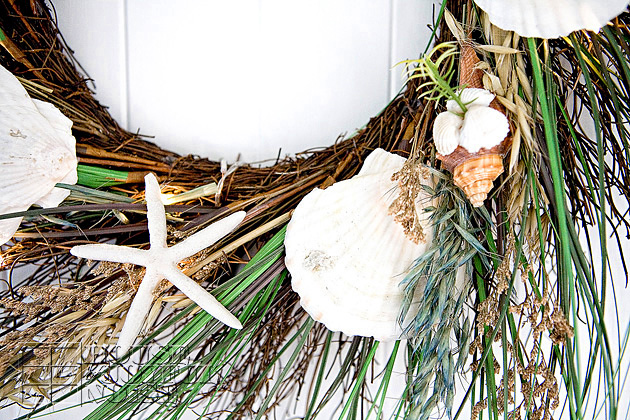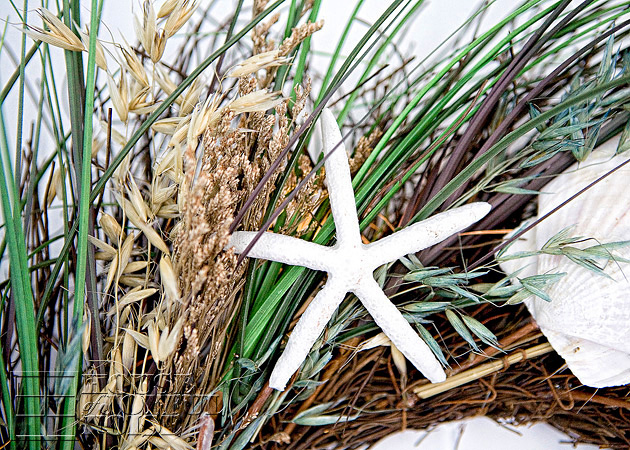 Just a couple more sea elements detail shots……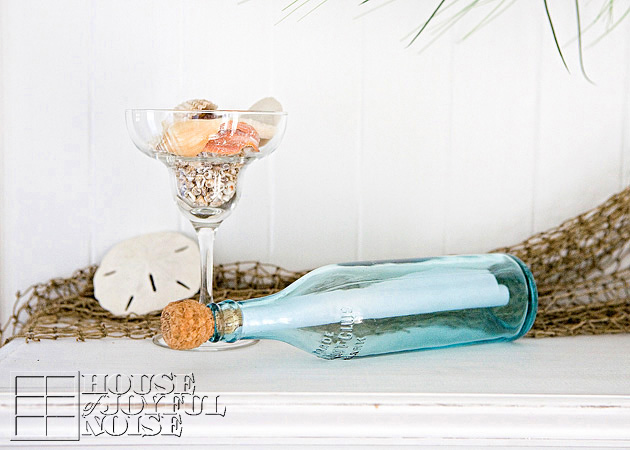 A message in a bottle. I believe I used the same teal bottle in my Spring mantels decor, in a different way. This time I laid it down as you can see, and grabbed a cork from a wine bottle we had. Pretty likely one can find an empty one around here, somewhere. ; ) I not only love the look of a message in a bottle, but this particular one makes me smile inside when I see it, because I know the message is a love letter my oldest daughter wrote me. <3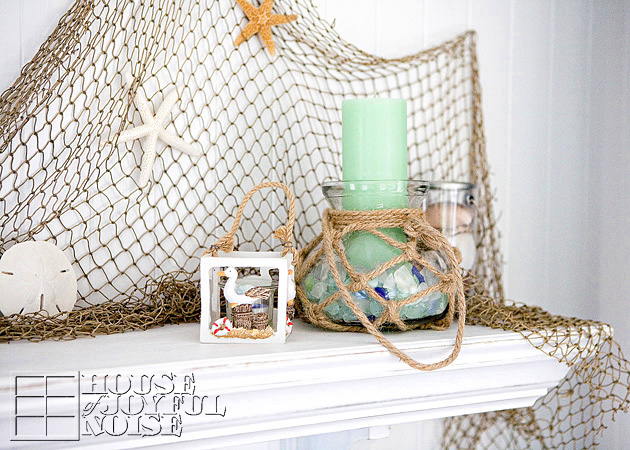 The far right end of the same mantel.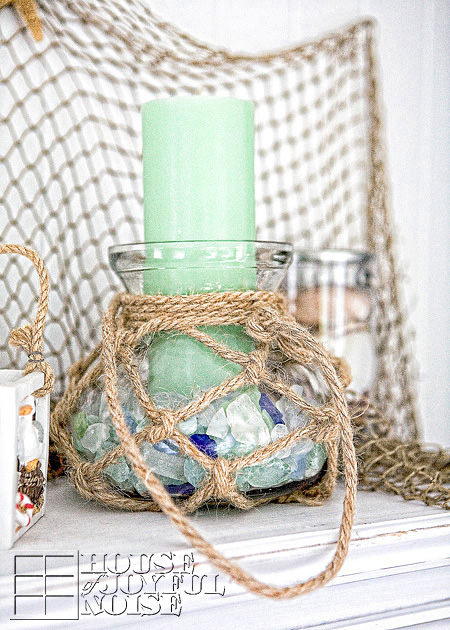 The large container wrapped in rope is filled with different colored sea glass, as well as the pillar candle. Behind that is a tall clear container, paint-can style, of seashells.
On to Mantel #2 . . . . . .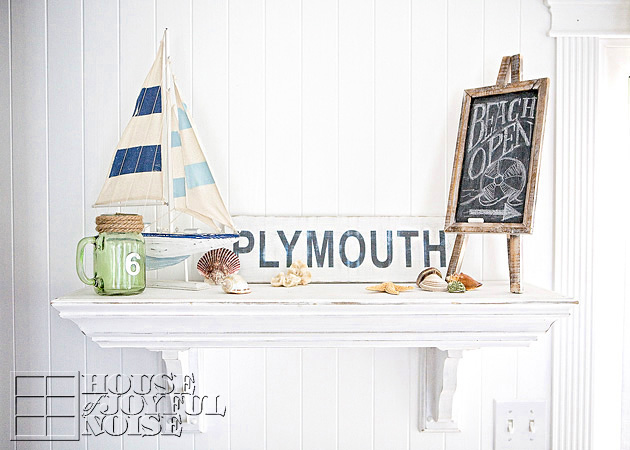 (The full mantel shot.)
Notice the simple Plymouth sign in the back. Our 10 year old son, JackMichael, made that for me.
I guess that makes him a 3rd generation sign-maker, already. 🙂
That warms my heart.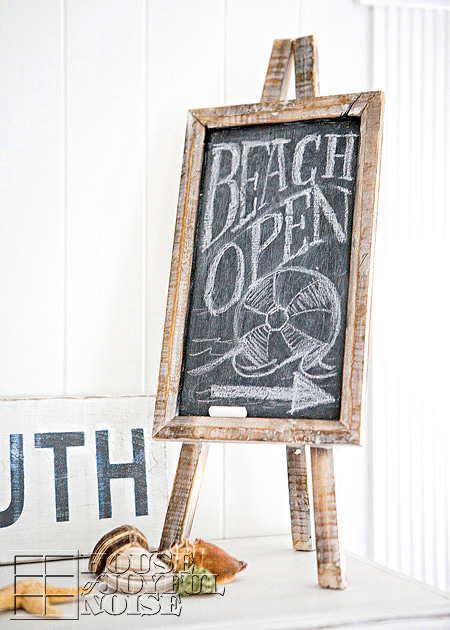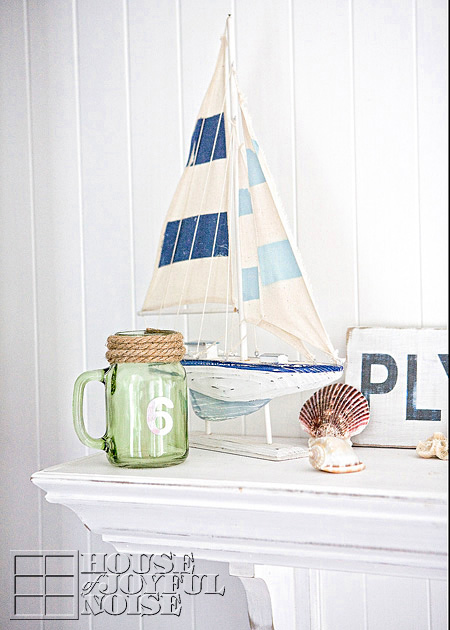 The green glass jar-mug was also picked up the Christmas Tree Shoppes.
It was a must-have because of the metal number 6 on it; a special number to us, as we are a family of 6.
I snagged/borrowed the sailboat from Alexis' room.
–
The same easel chalkboard that I used in the Spring mantels decor, but different sign work. It was a collaborative effort by Michael and I. Sadly, I suck at working on this thing. It's basically plywood painted with black chalkboard paint, and it's a small space to work in!
But enough of my lousy excuses.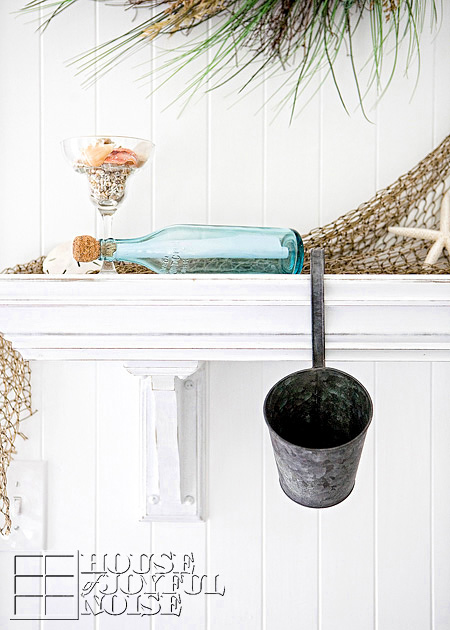 After already having photographed the full mantels and whatnot, I added this hanging pail. My instant thought was how awesome it would look to fill it to the brim and overflowing, with live crabs. But you know, that would probably smell bad, quickly.
–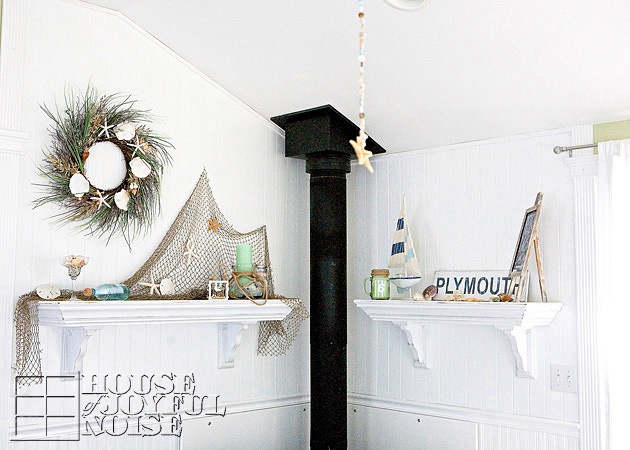 So there you have it!
And said to the tune of "If you're happy and you know it…..clap your hands…"….
If you love it and you know it, leave a comment!
Of course, if you hate it and you know it, you can tell me that too.
~Laura
* * * * * *
Please come follow us here and there:
Save
Save